Get ready to elevate your breakfast, lunch, and dinner game with these 15 delicious recipes using dosa batter. From classic masala dosa to innovative fusion dishes, there's something for everyone to enjoy. So grab your dosa batter and let's get cooking!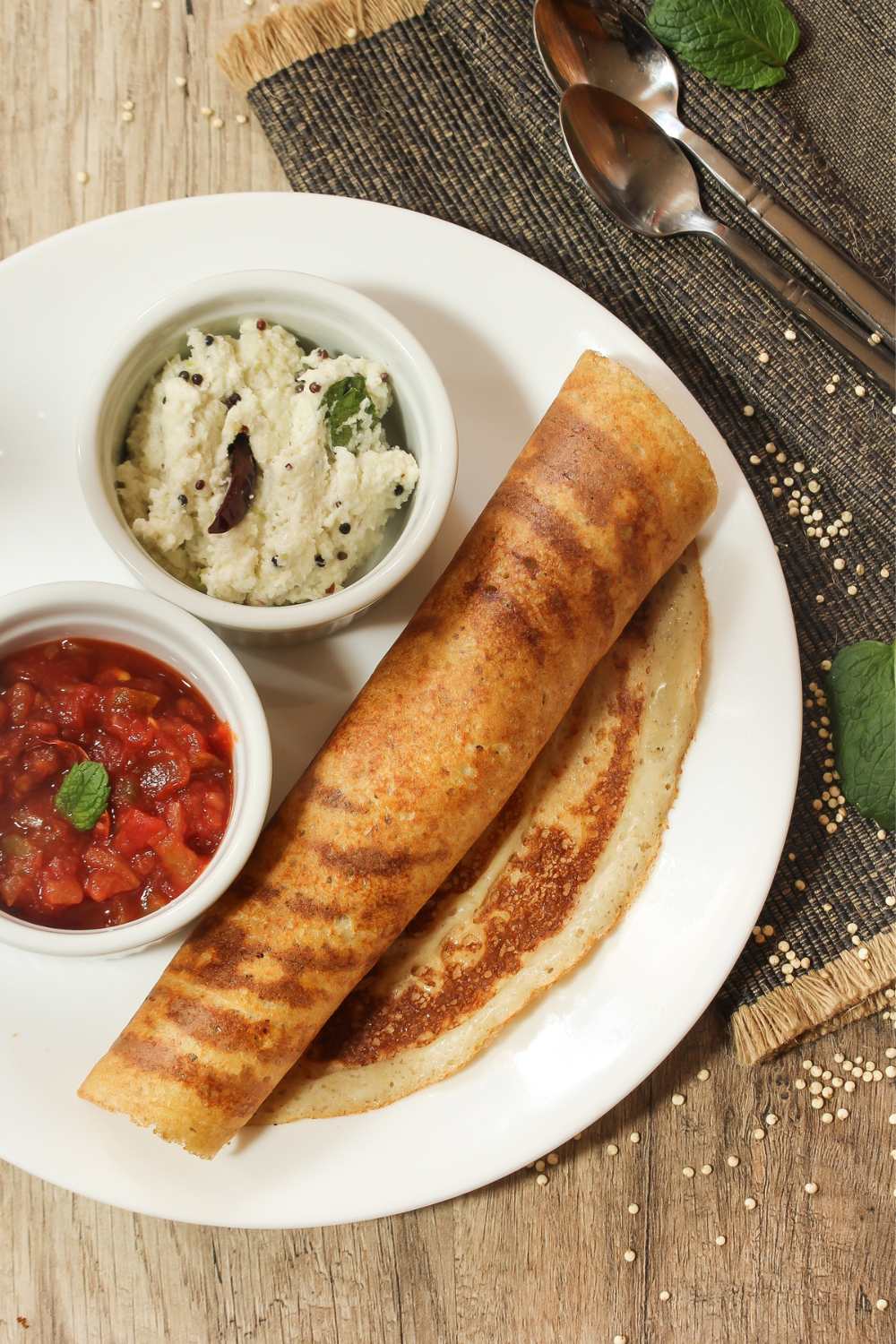 What Are Some Common Mistakes To Avoid When Making Dosa Batter?
Dosa batter is a versatile ingredient used in a variety of dishes, but it can be tricky to get it just right. Here are some common mistakes to avoid when making dosa batter:
Not soaking the ingredients long enough: The urad dal and rice need to soak for at least 6-8 hours or overnight for the best texture and flavor.
Not blending the batter enough: Make sure the batter is smooth and without any lumps for the perfect consistency.
Using the wrong type of rice: Use parboiled or idli rice for the best results, as regular rice can result in a gritty texture.
Not fermenting the batter long enough: Ferment the batter for at least 6-8 hours or overnight for a tangy and flavorful dosa.
How Do I Properly Store Dosa Batter?
The best way to store dosa batter is to transfer it to a container with a tight-fitting lid and store it in the refrigerator. Dosa batter can last up to a week in the fridge, but it's best to use it within 2-3 days. Be sure to stir the batter before using it as it may have settled during storage.
15 Recipes With Dosa Batter
Spice up your meals with these 15 flavorful recipes using dosa batter! From traditional dosa to unique fusion dishes:
Kuzhi Paniyaram is a traditional South Indian breakfast or snack made using leftover idli or dosa batter. This vegan and gluten-free recipe is easy to make and is perfect for a quick bite. The batter is flavored with onions, turmeric powder, cilantro, and a tempering of mustard seeds, curry leaves, urad dal, and green chilies. You can also add other veggies of your choice to the batter.
The batter is poured into an appe pan, and the paniyarams are cooked until golden brown on both sides. Serve hot with coconut chutney or any other dip of your choice.
Transform your leftover idli or dosa batter into a delicious and crispy snack with Punugulu! The batter is seasoned with spices such as cumin, coriander, and red chili powder before being fried to golden perfection.
Serve these tasty bites with your favorite spicy chutney, like coconut or peanut, and enjoy a perfect tea-time snack. Follow the notes and FAQs to ensure the perfect consistency and texture of your batter. And don't forget, this recipe can also be made with leftover dosa batter!
Dosa toast is a perfect way to use leftover dosa batter and turn it into a delicious breakfast. This recipe adds a twist to traditional french toast by using dosa batter and adding veggies to make it more nutritious.
Just mix the dosa batter with water and add in some finely chopped veggies like spring onions, capsicum, and onions along with salt, curry leaves, and green chilies. Dip bread slices in the batter and pan-fry them in little oil until they are cooked on both sides. Serve this tasty and healthy dish with some ketchup or chutney of your choice.
Try making tomato dosa, also known as instant thakkali dosai! Made from a mixture of tomato paste, rava, rice flour, and wheat flour, this dosa has a unique and delicious taste that's enhanced by the addition of cumin, pepper, and coriander.
Once the batter is ready, simply pour it onto a hot tawa, and cook until golden and crispy. Serve it hot with tomato chutney or coconut chutney for a tasty and satisfying breakfast that's perfect for any day of the week!
Uttapam Waffles are a fusion of Indian and Western cuisine that is sure to be a hit with your family and friends. This dish is made with a batter of idli and dosa, mixed with chaat masala and spices, and topped with a savory mix of onions, tomatoes, cilantro, and chili pepper.
The waffles are crispy on the outside and soft on the inside, and are served with your choice of chutney - coconut, cilantro, tamarind, or ketchup. These savory waffles are perfect for breakfast, brunch, or even as a snack. Same as the recipe before, adjust the veggies to your liking, and make sure the batter is pourable for the perfect waffles.
Get ready to spice up your breakfast with this delicious and nutritious Potato Dosa recipe! Made with a combination of all-purpose flour, chickpea flour, rice flour, flaxseed powder, and grated potatoes, this dosa is packed with flavor and nutrients. Optional ingredients like chopped spinach, cilantro, and jalapeno make this dish even more delicious.
Seasoned with turmeric and paprika, this dosa is crispy and golden brown. Perfect for breakfast or brunch, serve these Indian crepes with your favorite chutney and enjoy the warm, spicy flavors.
Experience the authentic taste of South India with this delicious onion rava dosa recipe. Made with a blend of rava, rice flour, wheat flour, or maida, and a touch of crushed pepper and cumin seeds, the batter is perfectly balanced with just the right amount of spice. The addition of finely chopped onions adds a satisfying crunch to this crispy and flavorful dosa.
Served hot with chutney and sambar, this hotel-style onion rava roast recipe is sure to be a crowd-pleaser. Don't forget to drizzle some oil over the edges of the dosa for an extra crispy texture!
Healthy breakfast just got a whole lot tastier with this crispy and nutritious Ragi Dosa. Made with urad dal, fenugreek seeds, ragi flour, and a variety of vegetables, this dosa batter recipe is perfect for those looking for a gluten-free and protein-packed option.
After fermenting the batter overnight, spread it on a hot tawa and add the delicious topping of onions, tomatoes, carrots, green chilies, and coriander leaves. Flip it over and add some ghee or oil for a crispy finish. Serve hot with your favorite chutney and start your day off right with this flavorful and healthy breakfast.
Take your dosa batter and turn it into something new with this Min Uttappam recipe. The mini Uttapams are a perfect option for breakfast or dinner and are easy to prepare. The recipe allows you to use various toppings such as peas, cashew, carrot, corn, onion, tomatoes, and capsicum.
Simply grate, chop, and use them. To prepare the dish, heat up a dosa pan and pour a mini dosa, sprinkle the desired toppings, and drizzle some oil. Cook with a closed lid until golden brown, flip over, and cook again. Serve hot with sambar or chutney for a delicious meal.
Poha Dosa, also known as Atukula Dosa, is a delicious South Indian breakfast dish made with flattened rice, rice, and lentils. The batter is prepared by soaking the ingredients in buttermilk for a few hours, then blended into a smooth batter, and fermenting overnight.
The result is a crispy and fluffy dosa that is perfect for a hearty breakfast. This dosa can be served with coconut chutney or sambar for a complete meal. Give this recipe a try and enjoy a flavorful and nutritious breakfast.
Instant Semiya Dosa is a quick and easy dish for breakfast that is crispy and delicious. Roasted semiya, rice flour, and rava are mixed with cumin, salt, and water to create a batter that is rested for 10 minutes.
Chopped onion, grated carrot, curry leaves, coriander, chili, and ginger are added to the batter to make it flavourful. The batter is then poured onto a hot pan, spread, and roasted with oil until crispy. Enjoy this mouth-watering dish with some onion chutney for a delightful breakfast experience.
Take a trip to South India with Barnyard Millet Dosa, a healthy and delicious breakfast option. Made with a blend of millet, urad dal, and chana dal, this dosa batter is high in protein and fiber.
The batter is fermented, giving the dosa a slightly tangy flavor and a crispy texture. Simply pour the batter onto a hot griddle, spread it evenly, and cook until golden brown. For a twist, try adding some potato masala in the center to make a Barnyard Millet Masala Dosa. Serve with your favorite chutney or gunpowder.
Get ready to indulge in the heavenly taste of Butter Masala Dosa or Davangere Benne Masala Dosa, a popular South Indian breakfast dish. The dosa batter is made using a blend of rice, urad dal, and poha, which is fermented overnight to create a light and crispy texture.
The potato bhaji or aloo sabzi is spiced with garlic, ginger, and turmeric, giving it a warm and flavorful taste. The dosa is then stuffed with this delicious filling and served hot with spicy green chutney on the side. This dish is a perfect combination of savory and spicy flavors and will surely leave you wanting more!
Jini Dosa is a popular street food from Mumbai that is loved by many for its spicy and tangy flavor. The dosa is filled with a mix of colorful vegetables like onions, capsicum, cabbage, carrots, and tomatoes, along with Schezwan sauce, tomato ketchup, and red chili sauce.
The filling is flavored with garam masala and chaat masala, giving it a lip-smacking taste. The dosa is then generously topped with grated cheese, making it even more irresistible. This cheesy delight can be cut into 3-4 parts, rolled up, and served hot with coconut chutney.
Vegetable Uthappam is a simple and healthful breakfast alternative. The somewhat sour dosa batter gets a boost of flavor from a mixture of vegetables sautéed with spices including mustard seeds, cumin seeds, and asafoetida.
When the batter has been mixed, it is put onto a hot tawa and fried until it is both crisp and fluffy. Have it hot with some sambar, idli podi, or coconut chutney. For a healthy and delicious breakfast option, try this dish.