If you're looking to add a unique and bold flavor to your recipes, black garlic is the way to go. From savory pasta and creamy chicken dishes to rich soups and decadent risottos, this list of 15 recipes will show you how to incorporate black garlic into your cooking in delicious ways.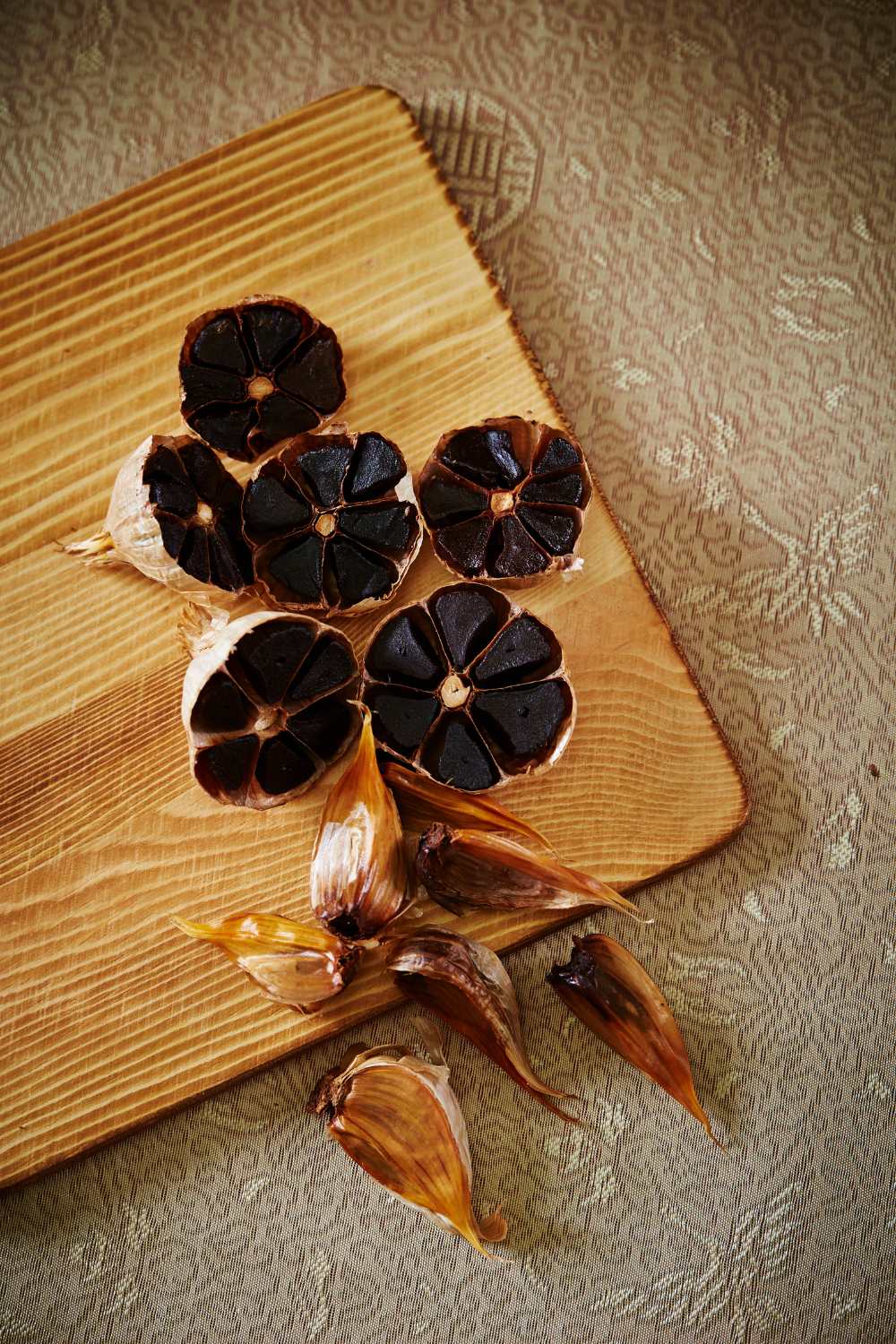 How Does Black Garlic Taste?
Black garlic has a unique and complex flavor profile that's often described as sweet and syrupy with hints of balsamic vinegar, tamarind, and molasses. It has a mellow and savory taste that's not as pungent or sharp as raw garlic, making it a popular ingredient in a variety of dishes.
How Do I Properly Store Black Garlic?
Proper storage is important to preserve the flavor and quality of black garlic. Store black garlic bulbs in a cool, dry place, away from direct sunlight, at room temperature. Once you have opened the package, store the remaining cloves in an airtight container in the fridge. Black garlic can last up to six months in the fridge when stored correctly.
Can Black Garlic Be Substituted For Regular Garlic in Recipes?
Black garlic can be used as a substitute for regular garlic in many recipes, but it will have a different taste profile. The mellow and sweet taste of black garlic pairs well with many dishes, but it's not recommended to use it as a direct substitute for raw garlic in dishes where the strong flavor of raw garlic is important.
15 Recipes With Black Garlic
Get ready to impress your taste buds with 15 flavorful recipes featuring the unique ingredient of black garlic. From pasta to soups and risottos, there's something for every food lover:
Indulge in a medley of rich, earthy flavors with Black Garlic & Mushroom Medley Pasta. This recipe blends three different mushroom varieties, cremini, oyster, and shiitake, with black garlic for a one-of-a-kind homemade pasta dish.
The black garlic, sauteed in butter and olive oil, provides a uniquely dark and savory base for the dish. Meanwhile, the mushrooms and onions add a depth of flavor that's complemented by the tanginess of the lemon juice. Top it off with Parmesan cheese, toasted pine nuts, and fresh basil for a delicious and satisfying meal.
Creamy Black Garlic Chicken is a delicious and easy-to-make dish that combines the flavors of juicy chicken with rich black garlic. The black garlic, known for its unique aroma and taste, creates a wonderful complement to the savory chicken.
The dish is made creamy by adding half and half and chicken stock to the pan, which is then used to bake the chicken until it's tender and fully cooked. Afterward, wilted spinach is added to the pan to give the dish a fresh touch, and a sprinkle of parsley adds a final touch of color and flavor.
Savor the delicious flavor of Crispy Chicken Thighs with Creamy Black Garlic Sauce. Start by searing chicken thighs in olive oil until the skin is golden brown and crispy. Then, bake the chicken thighs in a rich, creamy sauce flavored with white wine, shallots, and black garlic until they're fully cooked.
The black garlic adds a unique and pungent flavor that can be substituted with roasted garlic if needed. Once the chicken is fully cooked, add baby spinach to the sauce and stir it in until it's wilted. Top off the dish with freshly chopped parsley, and a squeeze of lemon, and serve while hot.
Experience a burst of rich and earthy flavors with Wild Mushroom and Black Garlic Soup. This recipe from Merchant restaurant in Madison, Wisconsin is easy to make and perfect for a cozy evening in.
To make the soup, melt butter in a Dutch oven and sauté onions until they start to brown. Then, add the vegetable broth and stir in the roux mixture, mushrooms, and black garlic. Once the soup is cooked, add heavy cream, fresh basil, and parsley, and puree until it's creamy. The end result is a velvety smooth soup that's rich in taste, with the black garlic adding a depth of flavor that will leave you wanting more.
This easy-to-make compound butter is perfect for adding flavor to vegetables, meat, fish, bread, and more. Made with softened unsalted butter, black garlic cloves, and kosher salt, this butter is blended together in a food processor until well mixed, and then seasoned to taste with more salt if necessary.
Once mixed, scrape it into a ramekin and refrigerate it for at least 2 hours to allow the flavors to fully meld. The result is a deliciously creamy butter that's packed with the unique and intense flavor of black garlic.
This comforting, flavorful bowl of Porcini Mushroom and Black Garlic Risotto, is perfect for a hearty and healthy family dinner. This recipe utilizes fresh seasonal porcini or rehydrated dried porcini mushrooms, along with arborio rice, black garlic cloves, chicken or veggie stock, frozen peas, and grana padano cheese or nutritional yeast flakes for a vegan twist.
To prepare, sauté onions and arborio rice with wine and black garlic before slowly adding in the hot stock and frozen peas. Serve hot with sautéed porcini mushrooms for an extra boost of flavor.
This Black Garlic Hummus is a simple yet flavorful appetizer or snack that combines the nuttiness of tahini and creaminess of chickpeas with the sweet, umami flavor of black garlic.
The key to a smooth hummus is to boil the chickpeas with baking soda until they are super soft and to slowly add ice-cold water while blending the ingredients. Serve this hummus with fresh veggies or pita chips, and drizzle with extra virgin olive oil and toppings such as sesame seeds, parsley, or smoked paprika for a beautiful presentation.
Black Garlic Bread recipe is a delicious and easy way to add extra flavor to any meal. The black garlic adds a rich umami taste to the creamy butter, which is then spread onto French bread and topped with shredded parmesan cheese. After a few minutes under the broiler, the bread comes out crispy, toasted, and oozing with the delicious garlic and cheese flavors. Perfect as an appetizer or a side dish, this recipe is sure to impress your guests or family.
Treat yourself to a deliciously different take on the traditional chocolate chip cookie with this recipe for Black Garlic Chocolate Chip Cookies.
Made with pureed black garlic for a rich, earthy flavor, these cookies are easy to make and sure to impress. The addition of espresso powder and a pan-banging technique gives these cookies a deep, complex flavor and a perfectly chewy texture. These cookies are perfect for any occasion and are sure to be a crowd-pleaser. Make a big batch and enjoy them with a tall glass of milk!
This Black Garlic Pappardelle Pasta Recipe is a vegetarian, main course dish that is sure to wow everyone at the table. The star of the show is the unique and delicious flavor of black garlic, which is highlighted in this beautiful dish.
The pasta is cooked al dente, then tossed with a savory sauce made with shallots, dry white wine, and black garlic, and finished with a touch of butter. Seasoned generously with salt and pepper, this dish is topped with chopped chives for a beautiful finish. A perfect dinner option for vegetarians and pasta lovers alike!
11. Spinach with Black Garlic
Black garlic spinach sauté is a simple and healthy side dish that packs a flavor punch. Thinly sliced black garlic, cooked in olive oil until fragrant, pairs perfectly with the earthy taste of baby spinach. A little bit of sambal oelek adds some heat and depth of flavor, while kosher salt and freshly ground black pepper tie everything together.
This dish comes together quickly and easily, making it the perfect accompaniment to any main course. Serve it up and watch as your guests enjoy the vibrant green colors and delightful flavors of this black garlic spinach sauté.
The Garlic Black Pepper Chicken recipe is a must-try for any chicken lover. In under 20 minutes, you'll have a tender and juicy chicken steak coated in Taiwanese night market Black Pepper sauce.
The sauce is made of oyster sauce, soy sauce, garlic, honey, ketchup, and of course, black pepper. The resulting flavor is bold and delicious. You can serve this dish with rice, and you'll be sure to wow your family or guests. Don't wait to try this recipe out, it'll become your new favorite way to enjoy chicken.
The Black Garlic Mushroom Burger is a delicious and savory burger that will satisfy your umami cravings. This burger is made with brown cremini mushrooms that are thinly sliced and cooked with black garlic, beef stock, fresh thyme leaves, and heavy cream to create a rich and flavorful mushroom gravy.
The burgers are pan-seared until they are crispy and juicy, and topped with Swiss cheese and white onions for an added bite. Serve on hamburger buns with a generous amount of mushroom gravy to make this burger a crowd-pleaser. Don't forget to season the burgers with salt and pepper to your liking.
Salmon with Black Garlic Glaze is a flavorful and healthy meal that's perfect for any seafood lover. The salmon fillets are seasoned with salt and pepper and then coated with a rich glaze made of soy sauce, olive oil, black garlic, lemon zest, lemon juice, freshly grated ginger, and brown sugar.
The glaze is slowly cooked to create a thick consistency, and the salmon is then pan-seared until it's tender and flaky. The dish is completed with sautéed mushrooms and baby spinach, which are cooked until the mushrooms are browned and the spinach is wilted. Serve over steamed basmati or jasmine rice for a satisfying meal that's full of bold flavors and essential nutrients.
Elevate your appetizer game with Black Garlic Bulgogi Beef Crostini. Marinated in a flavorful mixture of black garlic, soy sauce, pear, and other spices, the steak strips are grilled to perfection before being laid on top of a bed of black garlic spread and spring mix.
These delicious crostini are perfect for a special occasion or a fancy dinner party, and the best part is that they only take 15 minutes to cook.