Welcome to my beef cube extravaganza! These succulent little cubes are versatile, tender, and perfect for any dish you can think of.
From hearty stews to delicious skewers, this roundup has it all.
With 20 recipes to choose from, you won't be short on ideas for your next meal.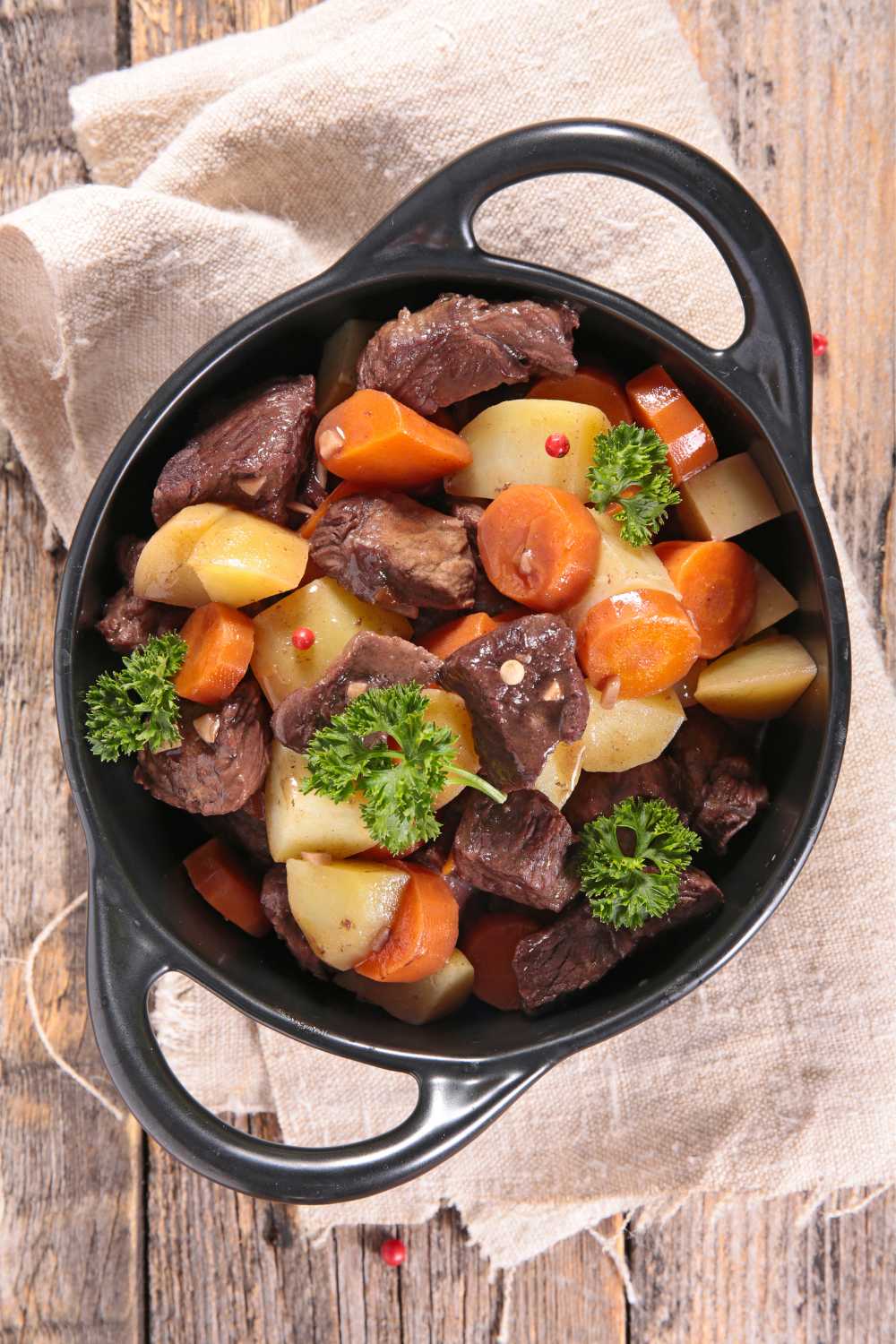 What Are Beef Cubes And How Are They Different From Other Beef Cuts?
Beef cubes are small pieces of beef that are usually cut from leaner cuts of meat, such as sirloin or tenderloin. They are different from other beef cuts because they are smaller and easier to cook quickly, which makes them perfect for stir-fries, kabobs, and stews. Beef cubes are also a healthier option because they are leaner and have less fat than some other cuts of beef.
Can I Substitute Other Beef Cuts For The Beef Cubes?
While beef cubes are typically cut from leaner cuts of meat, such as sirloin or tenderloin, other beef cuts can be substituted in a recipe if necessary. However, it is important to consider the cooking time and method for the substitute cut of beef to ensure that it is cooked properly and does not become tough or chewy. In terms of health, leaner cuts of beef, such as those used for beef cubes, are a healthier option due to their lower fat content.
20 Recipes With Beef Cubes
Whether you're craving a hearty stew or a sizzling stir-fry, these 20 recipes with beef cubes are sure to impress:
Experience the ultimate Asian flavor with these tender and juicy Asian Steak Bites and Potatoes. To start with, cut the beef into 1-inch thick cubes and coat it with ¼ teaspoon of salt and black pepper. Peel and cut the Yukon gold potatoes into ¾-inch thick cubes, then let them cook undisturbed in a heavy-bottomed pan until they are tender and slightly browned.
Then add the seared beef cubes and minced garlic to the pan, and stir in the cooked potatoes. Finally, add soy sauce and butter to coat everything with a deliciously tangy flavor. Sprinkle chopped parsley on top and serve hot
Prepare yourself for a supper that is both delectable and simple to prepare with this recipe for beef and broccoli cooked in a pan. Use beef cubes, sliced into 1-inch strips, and mix them with cornstarch, soy sauce, and musket powder for a tasty marinade. Cook the meat in a cast iron skillet until it's done, and set it aside. Then, sauté broccoli florets and thinly sliced onions in the same skillet before adding the meat back in.
Pour in the sauce made with soy sauce, brown sugar, minced garlic, and cornstarch, and let everything simmer until the sauce reduces. Serve it over rice for a satisfying and flavorful dinner. Don't forget to enjoy every single bite!
Nothing beats a warm and hearty bowl of homemade beef stew on a chilly day. For this recipe, use beef cubes instead of the beef chuck roast, cut them into 2-inch chunks, and coat them with flour, salt, and pepper for extra flavor. After browning the beef, add onions, garlic, carrots, potatoes, beef broth, tomato paste, Worcestershire sauce, bay leaf, and thyme to the pot.
Cook everything to a simmer before transferring it to the oven to cook for 2-2.5 hours until the beef is tender. Remove the bay leaf and season to taste. Serve with crusty bread for the ultimate comfort food experience.
Get ready to cozy up with a bowl of this rich and hearty beef stroganoff soup! While the recipe calls for stewing beef, beef cubes would work just as well. The meat is cooked until browned and then simmered with onion, mushrooms, red wine, and beef broth until it's tender and packed with flavor.
A touch of sour cream and parsley is added at the end to bring everything together. Serve it over a bed of cooked egg noodles for the ultimate comfort food experience. You'll want to make a big pot of this soup to savor all week long!
This 30-minute Mongolian Beef recipe is a game-changer for any busy weeknight. Take your beef cubes to a whole new level by coating them in cornstarch and pan-frying until crispy perfection. Then, add a delicious combination of ginger, garlic, tamari sauce, brown sugar, and green onions for a rich and flavorful sauce.
Serve over rice or noodles for a quick and easy meal that's sure to impress. Don't forget to tenderize your beef cubes before coating them in cornstarch to ensure they're juicy and full of flavor!
This hearty Beef Stifado will transport you straight to the Mediterranean with its aromatic herbs and spices! To start, marinate sliced beef in red wine, vinegar, and fragrant herbs like thyme, oregano, and cinnamon for at least three hours. Then, brown the beef with onions and garlic and transfer it to an oven-proof casserole dish.
Add a rich tomato sauce, made with canned cherry tomatoes, tomato puree, and beef stock, and let it cook low and slow in the oven for a few hours until the beef is melt-in-your-mouth tender. Serve this comforting stew over creamy mashed potatoes or with crusty bread to soak up all that delicious sauce.
Transport yourself to the vibrant streets of Mexico with this mouthwatering Carne con Papas recipe. The succulent beef cubes are coated with a blend of spices, before being simmered with freshly chopped tomatoes, onions, and garlic to create a rich, silky sauce. Tender potatoes and spicy serrano peppers are added to the mix, infusing the dish with layers of flavor and texture.
Serve with warm, soft corn tortillas and fluffy rice for a truly authentic experience. Don't forget to stir in the fragrant cilantro at the last minute for a final burst of freshness.
Travel to Korea with this delicious Cube Steak Bulgogi recipe. Marinated in a blend of soy sauce, toasted sesame oil, brown sugar, ginger, and garlic, these beef cubes are sliced into strips and pan-fried until crispy on the outside and tender on the inside.
Sprinkled with sesame seeds, scallions, and crushed red pepper, this dish is full of flavor and spice. Serve with warm rice, sliced cucumbers, kimchi, and butter lettuce leaves for a Korean-style feast. Don't forget to chill the marinated steak for at least 2 hours to infuse all the flavors.
This delectable recipe for ginger beef may be ready in just thirty minutes and will provide you with a supper that is filled with flavor! Although the recipe calls for skirt steak, you can easily substitute it with beef cubes for a twist on this classic dish.
Tossed in a cornstarch coating and fried to crispy perfection, the beef is then smothered in a sweet and savory ginger sauce that is sure to make your taste buds sing. With the addition of julienned carrots and toasted sesame seeds, this dish is not only bursting with flavor, but also texture. Don't wait any longer, serve this amazing dish with some freshly cooked rice and some sliced cucumbers to balance out the flavors.
This crispy chili beef with sweet chili sauce recipe is a flavor explosion in your mouth. Thin strips of beef cubes are marinated with ginger garlic paste, sesame oil, and other ingredients to give it a spicy kick.
Coat the beef strips with corn/potato flour and fry them till they're crispy. Then stir fry with onions, bell peppers, spring onions, and hot chilies, and top with a sweet chili sauce mixture. Serve with hot steamed rice or stir fry noodles for a perfect savory snack or dinner option.
This quick and easy Beef and Onion Stir Fry is perfect for a busy weeknight. Juicy and tender beef cubes are marinated in a mouthwatering mixture of soy sauce, oyster sauce, rice vinegar, and sesame oil, then stir-fried with onions until perfectly caramelized. The result is a deliciously savory and satisfying meal that pairs perfectly with steamed rice or noodles.
Whether you're a fan of classic Asian flavors or just looking for a simple and delicious dinner, this recipe is sure to become a family favorite. Note that this recipe uses sliced beef, but beef cubes can be substituted for an equally delicious result.
Indulge in a fusion of flavors with this Beef and Broccoli Ramen Stir Fry recipe. This dish brings the best of both worlds with the satisfying chewiness of ramen noodles and the juicy tenderness of sirloin steak. Beef cubes will work just as well!
The perfectly cooked broccoli florets add freshness to the dish, while the savory homemade sauce ties everything together. With a hint of heat from the red pepper flakes, this dish is sure to become a new favorite. Don't forget to garnish with sesame seeds for a final touch of flavor.
Take your taste buds on a sweet and savory journey with these Honey Garlic Steak Bites. This recipe uses beef cubes, which are seasoned with paprika, salt, and pepper, and then pan-fried until browned and cooked through. But that's not all – the steak cubes are then coated in a delicious honey garlic sauce made with soy sauce, garlic, honey, and other flavorful ingredients.
This dish is perfect for a weeknight dinner or as an appetizer for a party. Serve with a side of rice or veggies and garnish with sesame seeds and sliced green onions for a pop of color and added flavor.
Beef vegetable soup recipe is the ultimate comfort food on a chilly day! Although it calls for chuck beef, you can easily swap it out for beef cubes for a quicker cooking time. This soup is loaded with nutritious veggies like carrots, celery, green beans, and spinach, making it a perfect way to sneak in some extra greens for your family.
And don't forget the secret ingredient that adds a unique depth of flavor - V-8 juice! The tomato-based juice adds a delicious richness to the broth that will leave you wanting more. So grab your favorite soup pot, put on some cozy socks, and get ready to indulge in a bowl of warm, comforting goodness.
This hearty and rich beef and mushroom pie is sure to impress your guests! Tender and juicy beef chunks are combined with earthy dried porcini mushrooms and a variety of flavorful vegetables.
The filling is then covered with buttery, flaky puff pastry and baked to perfection. Don't miss out on the crispy golden crust, and be sure to let it rest for a few minutes before diving in. Perfect for a cozy night in or as the centerpiece of a dinner party, this epic chunky beef and mushroom pie will leave you feeling satisfied and warm.
Experience the flavors of India with this mouthwatering dish for Indian Beef Curry with Potatoes. In spite of the fact that the recipe calls for a chuck roast, we're going to simplify things by using beef cubes instead.
The beef is seasoned with a blend of fragrant spices, including turmeric, garam masala, cumin, coriander, cayenne, and more. The result is tender, flavorful beef in a rich and hearty sauce made with onions, garlic, ginger, tomato paste, and beef stock. The addition of carrots and potatoes makes it a complete meal. Garnish with fresh cilantro and serve with rice or naan bread for a complete Indian dining experience.
This beef and zucchini stir fry with roasted broccoli is the perfect way to add some excitement to your weeknight meals! Sliced thin beef is marinated in a flavorful sauce made from soy sauce, honey, and spices, before being stir-fried with fresh zucchini and fragrant ginger.
The roasted broccoli adds a nice crunch and earthy flavor to this delicious dish. Feel free to serve it over rice noodles or as is. Don't forget to try the optional beef broth to create a tasty sauce that will bring all the flavors together!
This recipe for shepherd's pie with curry is a rich and comfortable dinner that is ideal for a night when the temperature is on the cooler side. Although the recipe asks for ground beef, we'll be using beef cubes instead since they offer a more interesting texture and flavor profile. The fragrant blend of spices, including curry powder, cumin, and coriander, will transport your taste buds to exotic places.
The tender beef cubes are mixed with crushed tomatoes and chicken broth to create a savory filling that's topped with creamy mashed potatoes and peas. The dish is then finished off under the broiler until the potatoes are golden brown and crispy.
These juicy and tender beef kabobs are a perfect choice for a quick dinner. Instead of grilling, this recipe takes advantage of the oven. Marinated in a flavorful blend of coconut aminos, olive oil, and coconut sugar, the beef cubes are threaded on skewers with colorful bell peppers and onions.
The skewers are then baked to perfection, resulting in a delicious and easy meal. Serve these kabobs with a side salad or some rice, and you have a complete and satisfying meal. Don't forget to add a drizzle of pesto for an extra burst of flavor.
With this recipe for Mushroom and Beef Risotto with Peas, you can treat yourself to the perfect dish of comfort food. The creamy and savory dish is packed with delicious flavors from the tender beef, sautéed mushrooms, and fragrant shallots.
The Arborio rice is perfectly cooked in white wine and low-sodium chicken broth, giving the risotto a luscious texture. The addition of peas gives a fresh and sweet taste, while grated Parmesan cheese adds a nutty flavor and velvety finish.