Lemon cucumbers are a versatile and refreshing ingredient that can add a zesty twist to your summer recipes. From tangy Lemon Cucumber & Pesto to cool Easy Lemon Cucumber Water, there are plenty of ways to enjoy this juicy fruit. Try out some of our favorite recipes, like Creamy Lemon Cucumber Dill Salad or Lemon Cucumber Tofu Salad, for a tasty and nutritious meal.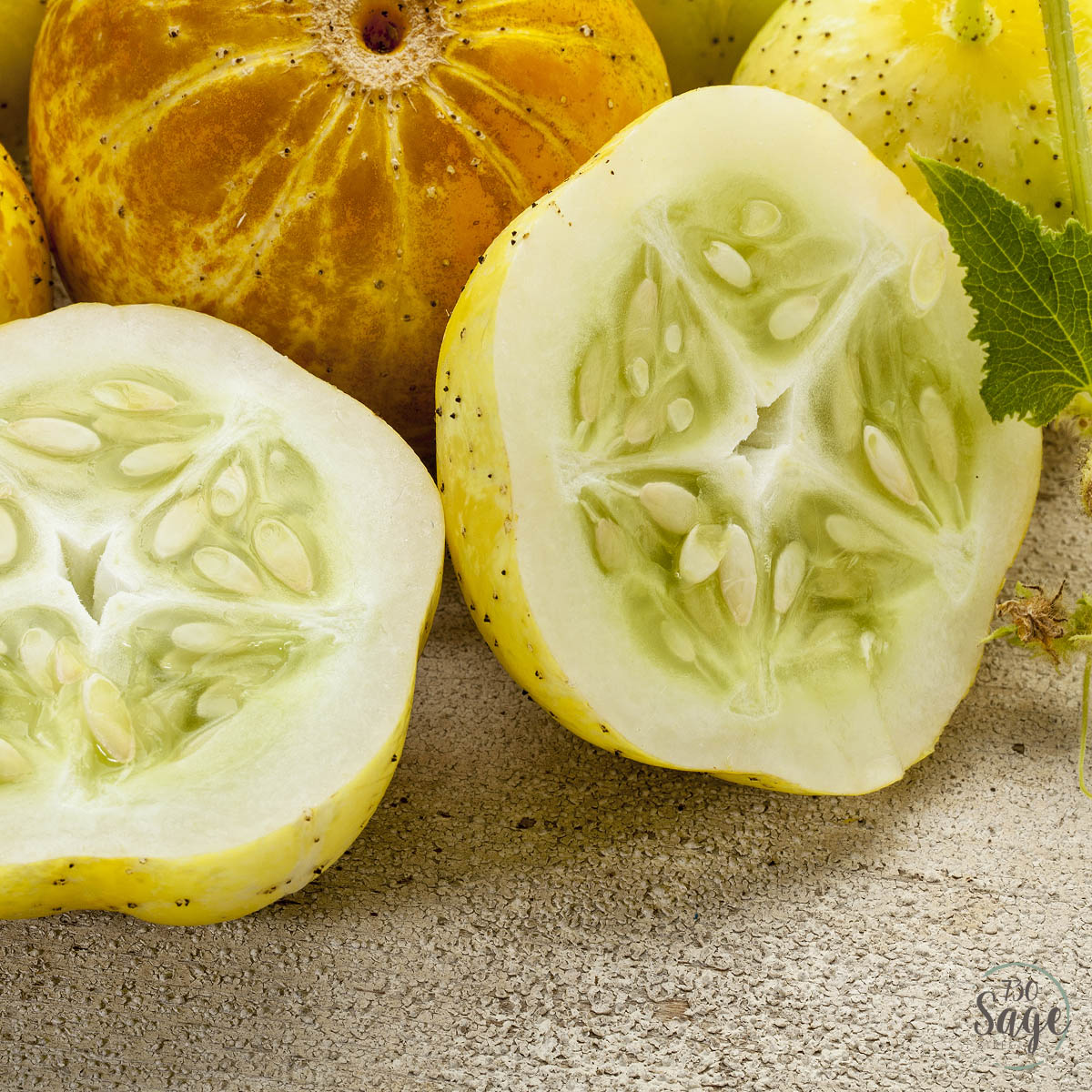 What Is Lemon Cucumber?
The lemon cucumber is a unique variety of cucumber that is gaining popularity due to its distinctive appearance and flavor. It is a small, round-shaped cucumber with bright yellow or lemon-colored skin. Lemon cucumbers are often referred to as "round cucumbers" due to their shape.
How Is A Lemon Cucumber Different From A Regular Cucumber?
One of the key differences between lemon cucumbers and regular cucumbers is their appearance. Lemon cucumbers have bright, sunny yellow skin that is much thinner than that regular cucumbers. They are also rounder in shape than regular cucumbers.
Another significant difference is their taste. Lemon cucumbers have a slightly sweeter, milder flavor with a tangy hint of lemon. They are often compared to a cross between a cucumber and a lemon.
Can I substitute lemon cucumber in most cucumber recipes?
Lemon cucumbers can be used as a substitute for regular cucumbers in most cucumber recipes. They have a similar texture and flavor to regular cucumbers, which makes them a versatile ingredient in the kitchen. They can be sliced and added to salads, pickled, juiced, or even used to make refreshing drinks.
Lemon cucumbers can add a unique twist to traditional cucumber recipes due to their distinctive flavor profile. Because they have thinner skin, they are also easier to prepare and require less time to cook.
20 Recipes With Lemon Cucumbers
Freshen up your summer meals with these 20 zesty recipes using lemon cucumbers, from salads to pickles and more:
This Lemon Cucumber & Pesto recipe is a perfect summer side dish that's quick and easy to prepare. Slightly thicker and seedier than regular cucumbers, the lemon cucumbers add a delicious crunch to this dish.
The pesto, made with fresh basil leaves, grated parmesan cheese, and toasted nuts, provides a rich and creamy flavor that perfectly complements the cucumbers. Add a dash of lemon juice and some red chili flakes for a hint of tanginess and spice. This recipe is versatile and can be adjusted to your personal preference. Simply dress the pesto over sliced or chopped lemon cucumbers and enjoy!
These easy Lemon Cucumber Pickles are a perfect way to enjoy the fresh taste of cucumbers with a bit of a tangy kick. Made with fresh basil leaves and champagne vinegar in the brine, these pickles are easy to make and require only a few ingredients.
Simply slice the lemon cucumbers, add fresh basil leaves to a jar, pour the cooled brine over the cucumbers, and refrigerate for two days. These pickles are a great accompaniment to sandwiches, burgers, or as a snack on their own. Quick, tasty, and healthy, these pickles are a great way to preserve the delicious flavor of lemon cucumbers.
Enjoy the refreshing taste of Lemon Cucumber Water, a healthy and delicious way to stay hydrated. Simply add thinly sliced lemon and lemon cucumber to a large pitcher of water, chill for 1-2 hours in the fridge, and enjoy! This drink is perfect for those looking for a low-calorie alternative to sugary drinks, and it's also great for weight loss and detox.
While the recipe calls for regular cucumbers, you can use lemon cucumbers instead for a unique twist on this classic drink. Try it today and stay cool, refreshed, and healthy!
This Creamy Lemon Cucumber Salad is a delicious and healthy addition to any meal, perfect for picnics and potlucks. The creamy dressing is made with Greek yogurt and fresh lemon juice, which makes this cucumber dill salad super healthy and refreshing.
This recipe calls for English cucumbers, but you can easily swap them with lemon cucumbers for a unique twist. Simply dice the cucumbers and onions, mix them with the dressing, and sprinkle with dill to create this creamy and flavorful salad. It's quick, easy, and always a hit at any gathering.
This Creamy Lemon Cucumber Salad is the perfect summer side dish that's light, fresh, and easy to make. The creamy dressing, made with sour cream, lemon juice, dried dill, sugar, and salt, gives this salad a deliciously tangy flavor.
Substitute the large cucumber with lemon cucumber for a unique twist on this classic dish. Thinly slice the lemon cucumber and red onion, and mix with the creamy dressing for a refreshing and satisfying salad. Let the salad sit for a few minutes to allow the flavors to meld, and then serve it as a perfect side dish to any summer meal. Enjoy the delicious combination of flavors, and don't forget to try this recipe with lemon cucumbers!
This Lemon Cucumber Vinegar Salad is a quick and easy side dish that's perfect for a summer barbecue or potluck. Although English cucumbers are called for in the recipe, I highly recommend using lemon cucumbers for a truly unique and delicious salad.
Thinly slice the lemon cucumbers and white onions, add fresh dill and mix with white vinegar, sugar, salt, and pepper. Cover the bowl with plastic wrap and apply pressure with another mixing bowl to allow the cucumbers to pickle. Refrigerate the salad for at least 30 minutes, or even overnight, to allow the flavors to meld. Serve this salad with a slotted spoon, and enjoy the fresh and tangy taste of lemon cucumbers in every bite!
Lemon Cucumber Pasta Salad is a delicious and easy-to-make dish that's perfect for any occasion. Cook your favorite pasta according to package directions, let it cool, and combine it with diced lemon cucumbers, red onion, and crumbled goat cheese. In a separate bowl, mix together fresh lemon juice, olive oil, oregano, garlic powder, salt, and pepper to create the dressing. Pour the dressing over the pasta salad and mix well.
The addition of lemon cucumbers gives this pasta salad a refreshing and unique twist that's sure to impress your guests. Serve and enjoy this delicious dish at your next gathering!
This easy Cucumber Onion Salad is the perfect accompaniment to any summer dish. It's tangy and refreshing, with a simple dressing made from apple cider vinegar, sugar, salt, and pepper. Slice up some fresh lemon cucumbers instead of regular ones for a unique twist. The combination of crispy cucumbers and sliced red onion creates a great texture and taste, making it perfect for any potluck or BBQ. And the best part? It only takes 10 minutes to make!
This Lemon Cucumber Tomato Avocado Salad takes the classic combo of cucumbers and tomatoes to the next level by adding creamy avocado and fresh cilantro.
Drizzled with a lemon and olive oil dressing, this refreshing and healthy salad is perfect for any summer meal. With just a few simple ingredients, this dish comes together quickly, making it perfect for a last-minute gathering or a busy weeknight dinner. Replace the regular cucumbers with lemon cucumbers to add a bright, citrusy note to this already delicious salad.
Cold Lemon Cucumber Soup is a refreshing dish that is perfect for a hot summer day. The recipe requires only 10 minutes to make and is a great starter or a quick lunch option.
The combination of Lemon cucumber, Greek-style yogurt, lemon juice, chives, mint, and basil creates a deliciously creamy and zesty flavor. To serve, top with finely sliced cucumbers, chives, and fresh mint leaves for an extra burst of flavor. Drizzle with some olive oil for an additional touch of richness. This soup is a healthy and low-calorie option that will leave you feeling cool and satisfied.
Asian Lemon Cucumber Salad is a refreshing and healthy appetizer with an Asian twist. This simple recipe requires just a handful of ingredients, including fresh cucumbers, garlic, and a mixture of Korean chili powder, chili oil, and sesame oil for a flavorful kick. The Lemon cucumber is first sliced and mixed with salt, then chilled for 15 minutes to soak up the seasoning. The garlic dressing is made separately, and once the cucumber has been drained, the dressing is added and tossed. Serve with a sprinkle of sesame seeds for a delicious and easy-to-make appetizer.
Try this Lemon Cucumber Avocado Feta Salad that comes with a refreshing citrus kick. Made with Lemon cucumber, avocado, feta cheese, and dill, it's a combination of creamy, tangy, and crunchy flavors that work together to create a perfect blend. Drizzle with olive oil, lemon juice, and zest, and serve on top of Boston lettuce leaves for a healthier option. The additional lemon juice, salt, and pepper give a nice kick to the dish while garnishing with dill and lemon zest adds a burst of flavor.
This easy-to-make Cilantro Lemon Cucumber Salad is both creamy and fresh, perfect for a quick and refreshing side dish. The salad is made with Greek yogurt, sour cream, fresh lemon juice, and apple cider vinegar, and packed with finely chopped cilantro. Replace the regular cucumber with lemon cucumber for an even more refreshing flavor. Topped with chopped chives, this tangy and creamy salad can be ready in just 10 minutes, and is perfect for any meal.
This Apple Cider Vinegar Lemon Cucumber Salad is a tangy and refreshing side dish that is perfect for summertime barbecues or a light lunch. With the use of stevia as a sweetener, this low-carb salad has all the taste without the added sugar.
Sliced lemon cucumbers are tossed in a mixture of apple cider vinegar, basil, celery seed, and olive oil for a perfect balance of flavors. Chill for an hour to let the flavors marinate, and enjoy this healthy and flavorful salad.
This Lemon Cucumber Tofu Salad is a perfect healthy and filling option for lunch or dinner. Crispy golden fried tofu, crunchy cucumber, and fresh herbs are tossed together in a simple dressing made with rice vinegar, honey, shallot, salt, and pepper.
The Lemon cucumber is soaked in salt water to give a refreshing and crispy texture. Julienned carrots, sliced onions, and herbs such as cilantro, Thai basil, and mint add extra texture and flavor. A great vegan option that is easy to make and sure to be a crowd-pleaser.
Lemon Cucumber Ginger Lemon Water is a refreshing drink that's perfect for staying hydrated on a hot day. This easy recipe uses sliced ginger, fresh lemon, and half a lemon cucumber. After adding filtered water to the mix, allow the flavors to infuse for a minimum of two hours at room temperature or in the refrigerator. For best results, refrigerate it overnight to let the cucumber and ginger release all their flavor. Enjoy a glass of this healthy drink as a great alternative to sugary drinks.
Upgrade your cucumber sandwich game with this recipe featuring lemon cucumbers! These sandwiches are perfect for any occasion, from tea parties to quick lunch bites.
Swap regular cucumbers for the unique flavor of lemon cucumbers and top with a creamy mixture of cream cheese, mayo, dill, lemon juice, garlic powder, and salt. Add fresh cracked pepper and more dill to your liking, and cut them into four triangles or squares. Enjoy the refreshing and flavorful combination of lemon cucumber and creamy spread between two slices of white bread!
This German lemon cucumber salad, or Gurkensalat, is a refreshing side dish perfect for any occasion. Thinly sliced lemon cucumbers and onions are salted and left to rest until a large amount of liquid is released, ensuring maximum flavor. After rinsing, the salad is mixed with fresh dill, vinegar, and either heavy cream or sour cream. Serve immediately or refrigerate until ready to enjoy. This simple, easy, and delicious recipe is sure to become a crowd favorite.
Easy Lemon Cucumber Muffins are a perfect way to use fresh lemon cucumbers in a new way! These kid-approved muffins are healthy, moist, and bursting with flavor. These muffins are a cinch to whip up and can be enjoyed for breakfast, snacks, or dessert thanks to the use of pureed lemon cucumber in place of ordinary cucumbers, along with eggs, oil, and sugar.
With a dash of vanilla, cinnamon, and ginger, the muffins have a delightful aroma that will fill your home with warmth and comfort. Bake a batch of these muffins in no time and enjoy a tasty and healthy treat that everyone will love.
Creamy Lemon Cucumber Dill Soup is a refreshing cold soup that is perfect for a hot summer day, made with pureed lemon cucumbers and avocado, it's creamy and delicious.
The addition of low-fat plain yogurt, fresh dill, lemon juice, salt, and pepper makes it a flavorful and healthy dish. Drizzle some extra-virgin olive oil and julienned radishes for garnish, and enjoy this satisfying soup. Refrigerate it for a more chilled option. This recipe is gluten-free, egg-free, nut-free, soy-free, and vegetarian.