Razor clams are delicate and flavorful shellfish that can be prepared in a variety of ways. Whether you prefer them grilled, fried, or in a hearty chowder, there's a razor clam recipe for everyone. Discover 15 delicious and easy-to-make recipes using fresh razor clams in this roundup article.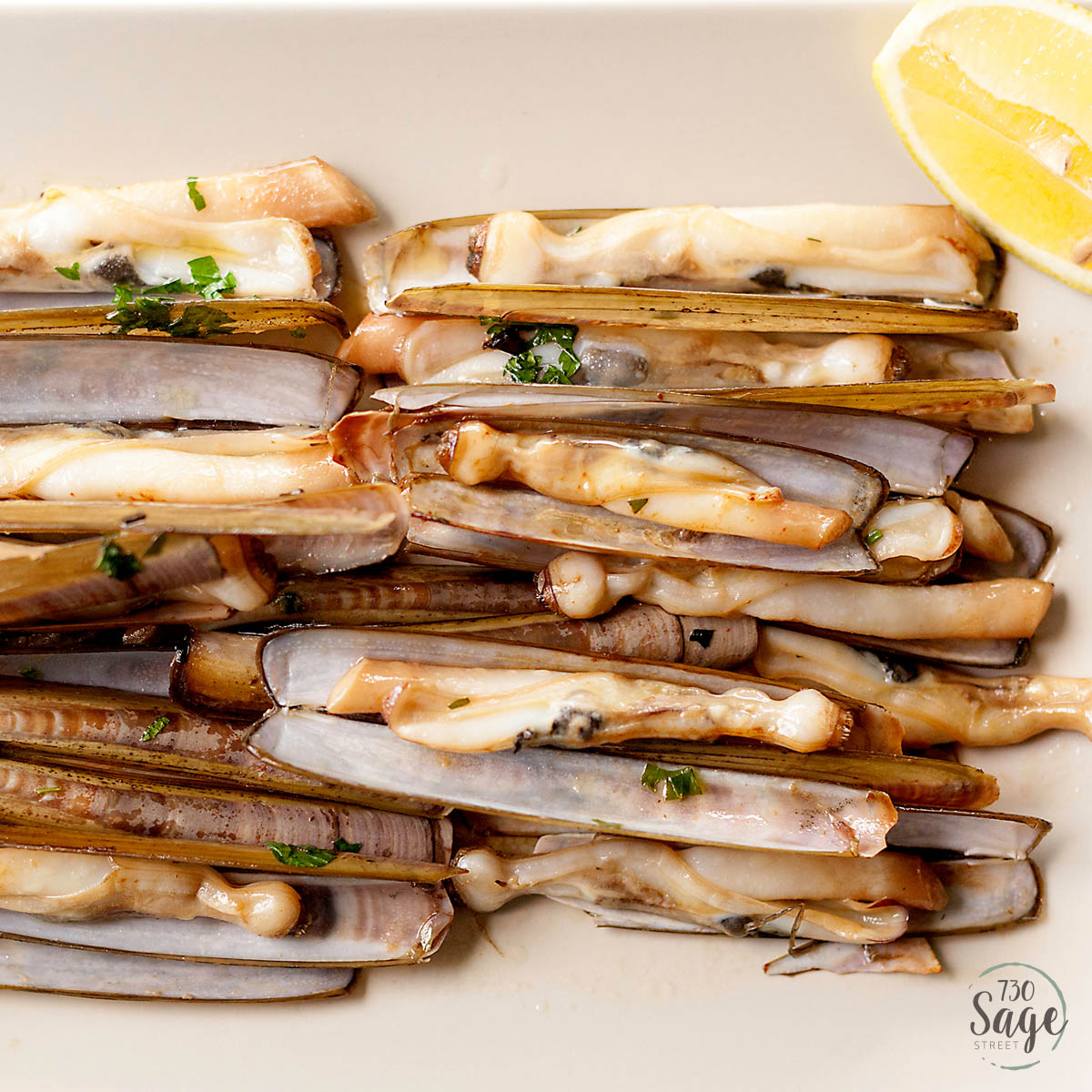 Where Can I Find Fresh Razor Clams?
Fresh razor clams can be found in coastal areas with sandy beaches and saltwater. They are harvested using specialized equipment and are often sold at local fish markets or seafood shops. Look for razor clams that are still alive and have tightly closed shells.
How Do I Properly Clean And Prepare Razor Clams For Cooking?
Before cooking, it's important to properly clean and prepare razor clams to remove any sand or grit. First, rinse them in cold water and gently scrub the shells to remove any debris. Then, soak them in a bowl of cold water for 30 minutes to allow them to expel any remaining sand. Finally, remove the dark skin covering the siphon and the stomach contents by using a sharp knife. Rinse again in cold water and they're ready to cook!
15 Recipes With Razor Clams
Bring the flavors of the sea to your kitchen with these 15 razor-clam recipes, featuring a variety of creative and delicious dishes:
This recipe for Panko-Breaded Fried Razor Clams is a perfect way to satisfy your seafood cravings. With only a few ingredients, including real Parmesan cheese and Japanese panko bread crumbs, these clams pack a flavorful punch.
Dip the clams in the egg and panko mixture, press it on evenly, and freeze until firm. Fry them for about 1 minute on each side until golden brown, and you're ready to enjoy these crispy and delicious clams!
If you're looking for a tasty and easy way to cook razor clams, look no further than this garlic butter razor clam recipe! Learn how to properly clean and prepare razor clams before cooking them in a cast-iron skillet until the shells open. Then, spoon on a delectable mixture of melted butter, garlic, black pepper, and scallions for added flavor.
The result is a savory and buttery razor clam dish that's perfect for a quick and delicious meal. This recipe can also be made with Manila clams or little neck clams, making it a versatile seafood dish that's sure to please.
This Arroz de Lingueirão recipe is a Portuguese-inspired dish featuring delicious razor clams paired with creamy rice. Using Carolino rice and turmeric, this dish gets a vibrant yellow color and creamy texture.
The razor clams are boiled and then the stomachs are removed to ensure there's no grit or sand. The rice is cooked in a flavorful base of onions, garlic, pepper, tomatoes, and bay leaf, with clam liquid and white wine. Serve this dish with freshly chopped cilantro and black pepper, and savor every spoonful of this delicious and hearty meal.
Clam Fritters are a delicious appetizer or side dish that you won't be able to resist! These crispy golden fritters are made with fresh chopped clams and flavored with tarragon and a touch of cayenne pepper.
The batter is made with flour, baking soda, egg, clam juice, and milk for a light and airy texture. Fry the fritters in hot oil until crispy and golden brown. Serve them hot with your favorite sauce, such as tartar sauce, shrimp sauce, or a squeeze of lemon. These fritters are the perfect accompaniment to an ice-cold beer on a warm summer day.
These Vietnamese tamarind razor clams are a flavor explosion in every bite! The combination of sweet, sour, heat, and umami from the tamarind sauce perfectly complements the delicate flavor of the razor clams.
The dish starts with cleaning and purging the razor clams before sautéing them with garlic, shallots, and peppercorns. Then, the tamarind sauce is poured over the clams and cooked until they open up, releasing their flavors. Finally, the sauce is thickened, and basil leaves and chilis are added for extra aroma and flavor. This appetizer is perfect for any seafood lover looking to try something new and exciting.
Gratinated razor clams with parmesan and chorizo are the perfect appetizer or main dish for seafood lovers. The dish is bursting with flavor from the chorizo and parmesan cheese, which add a slightly spicy and salty taste.
The razor clams are tender and juicy, making every bite a true delight. The dish is quick and easy to prepare, and the fresh parsley garnish adds a pop of color and freshness to the plate. Serve this dish hot and savor its decadent flavors with each bite.
Warm your soul with a hearty bowl of Razor Clam Chowder. This comforting soup is loaded with razor clam meat, potatoes, and smoky bacon in a rich creamy base. The recipe uses simple ingredients such as onions, fresh thyme, and oregano that add to its depth of flavor. Top it off with a dollop of sour cream and a sprinkling of fresh herbs for the perfect finishing touch.
This Razor Clam Chowder is a must-try for seafood lovers and will leave you craving more with each spoonful!
This refreshing Vietnamese razor clam salad is a burst of flavors with every bite! The tender razor clams are cooked to perfection, cut in half, and tossed with pickled carrots, daikon, and fragrant herbs.
The dressing is a mouth-watering combination of fish sauce, garlic, chili, and lime juice that brings everything together. Top it off with crunchy roasted peanuts and fried shallots for some added texture. This salad is perfect as an appetizer, lunch, or dinner and is sure to impress your guests with its bright and colorful presentation. Serve with prawn crackers for a delightful crunch.
It's time to pack your bags and head to Italy with this recipe for Linguine with Razor Clams. The classic Italian pasta dish is dairy-free and can be made gluten-free if desired, and it has razor clams, whose subtle sweetness is highlighted here. The linguine is doused in a delicious sauce made with simmered razor clams, garlic, chili, and extra-virgin olive oil.
Using some of the pasta boiling water might help the pasta taste more creamy. To amp up the taste, sprinkle over some freshly chopped parsley and add a few more drops of extra-virgin olive oil. This Linguine with Razor Clams dish is a delicious way to transport yourself to Italy.
Get ready for a taste explosion with this Razor Clams with Chile-Lime Vinaigrette recipe! The razor clams' sweetness is elevated with a tart and spicy vinaigrette, making it a bold and unforgettable dish.
Drizzled with extra-virgin olive oil and seasoned with kosher salt and pepper, the razor clams are seared in a cast-iron pan to create a good sear and prevent overcooking. The chile-lime vinaigrette adds a fresh twist to the dish with cilantro, Thai chile, garlic, and lime zest. This dish is the perfect appetizer that is guaranteed to leave your guests satisfied.
If you're looking for a flavorful and decadent appetizer, Razor Clams au Gratin is a perfect choice. After cooking, the razor clams are mixed with a mouth-watering sauce that includes butter, parsley, coriander, chili, and pepper. The dish is then finished off with a generous sprinkling of grated parmesan cheese and placed under the grill until golden brown.
This classic French dish is sure to impress your guests with its rich and savory taste. Don't forget to serve with a fresh lemon wedge to add a touch of tangy freshness to the dish!
These Razor Clams with Spicy Sauce are a must-try for any seafood lover! The clams are blanched and served in their shells with a deliciously spicy sauce made with Japanese mayo, sriracha sauce, and chili oil.
The scallions add a nice crunch to the dish, while the radish sprouts add a fresh finish. Cooked in the oven and then caramelized with a blow torch, these clams are an impressive appetizer that will leave your guests wanting more.
If you're a fan of seafood pasta, you'll love this spaghetti with razor clams. Tender clams are sautéed with garlic and onions and tossed with al dente spaghetti.
The sauce, made with white wine, chicken stock, and lemon zest, adds a bright, tangy flavor to the dish. Finish it off with freshly grated parmesan cheese, chopped parsley, and a pinch of crushed red pepper for a little kick. This is a perfect meal to impress your friends and family with your culinary skills.
Delight in the fresh and healthful tastes of the Pacific coast with this mouth-watering Razor Clam Ceviche recipe, adding some Mediterranean roots into the mix, this meal is overflowing with lemon, lime, red onion, jalapeño, garlic, cilantro, and mint. Each ingredient adds its own unique flavor to create a healthy spin on the beloved razor clams.
The dish comes together quickly, and the acids cook the clams to perfection in just 20-30 minutes. Serve it cold with plain pita and tortilla chips and enjoy a fresh and tasty appetizer that's perfect for any occasion.
Razor clams in spicy black bean sauce is a mouth-watering slow cooker recipe that will delight your taste buds with its Asian-inspired flavors. The combination of minced garlic, shallots, and ginger creates a robust and aromatic base for the dish, while red chili adds a kick of heat.
Fermented black beans, oyster sauce, and soy sauce give the dish a rich umami flavor that complements the sweet and briny taste of razor clams. The dish is thickened with cornstarch and water, creating a velvety sauce that coats the tender clam meat. Sprinkle some chopped cilantro on top for a fresh finish. This dish is best served hot over steamed rice.