This #CleantheUnseen post was sponsored on behalf of RAYCOP. All opinions stated are my own.
"When guests come over, I want them to not only see that I have dogs, I want them to see them, smell them and know that every surface of my home has had a dog on or near it."
Said no one ever.
I love my pets. I want everyone who visits to respect that I love my pets, and I'd like it if they loved my pets too. But the reality is that pets bring with them all sorts of unwanted things that can permeate every corner of our homes. Places where we live, sleep and eat, but that we can't pick up and toss in the washing machine. Pets leave dander and track in pollen and all sorts of other microscopic irritants. But pets aren't the only cause of allergens in our homes. Humans also track in pollen and other things on their skin and shoes that end up settling, unseen, in couches, pillows, mattresses, curtains and other fabrics.
So how do you get rid of them?
Vacuuming helps remove some of the particles, but it doesn't sanitize the surface so any remaining allergens can still wreak havoc on the air quality of your home.
While I know that tiny allergens lurk on all of the fabrics in my home, my couch is one of my biggest concerns because, despite my efforts to keep my three dogs off the furniture, they manage to find their way up there. They also enjoy stealing my throw pillows and using them as a bed. On the floor. Double gross whammy!
Seriously?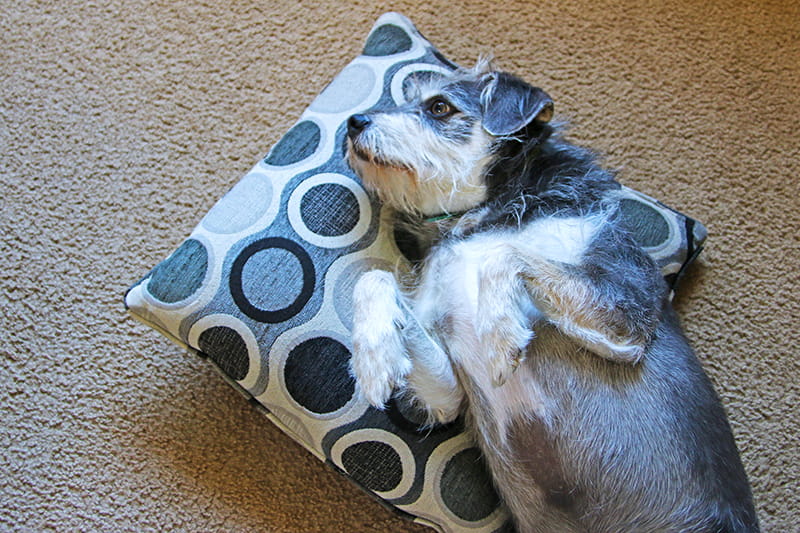 In the past, my only option was to vacuum and spray the fabrics with something that smells nice. This effort doesn't solve the problem, though, it merely temporarily masks it, but does nothing to eliminate the bacteria that can trigger allergies or asthma.
But that's all changed now that I have discovered the RAYCOP RS2 Purifier.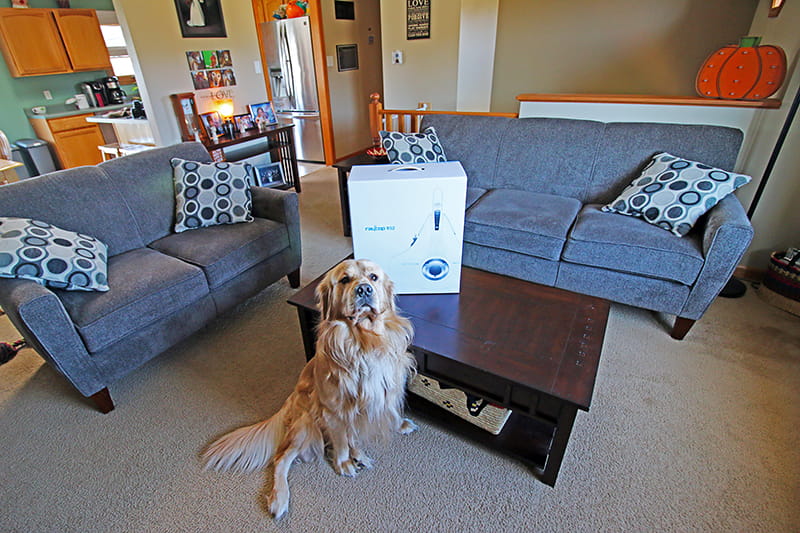 The RAYCOP RS2 is not a vacuum, but a purifier that works utilizing ultra-violet light. To me, it looks like a stingray, but it functions as a sort of hand-held vacuum with a rotating brush and dust collection cup but with the distinct difference of including an ultra-violet light tube to sanitize the surfaces.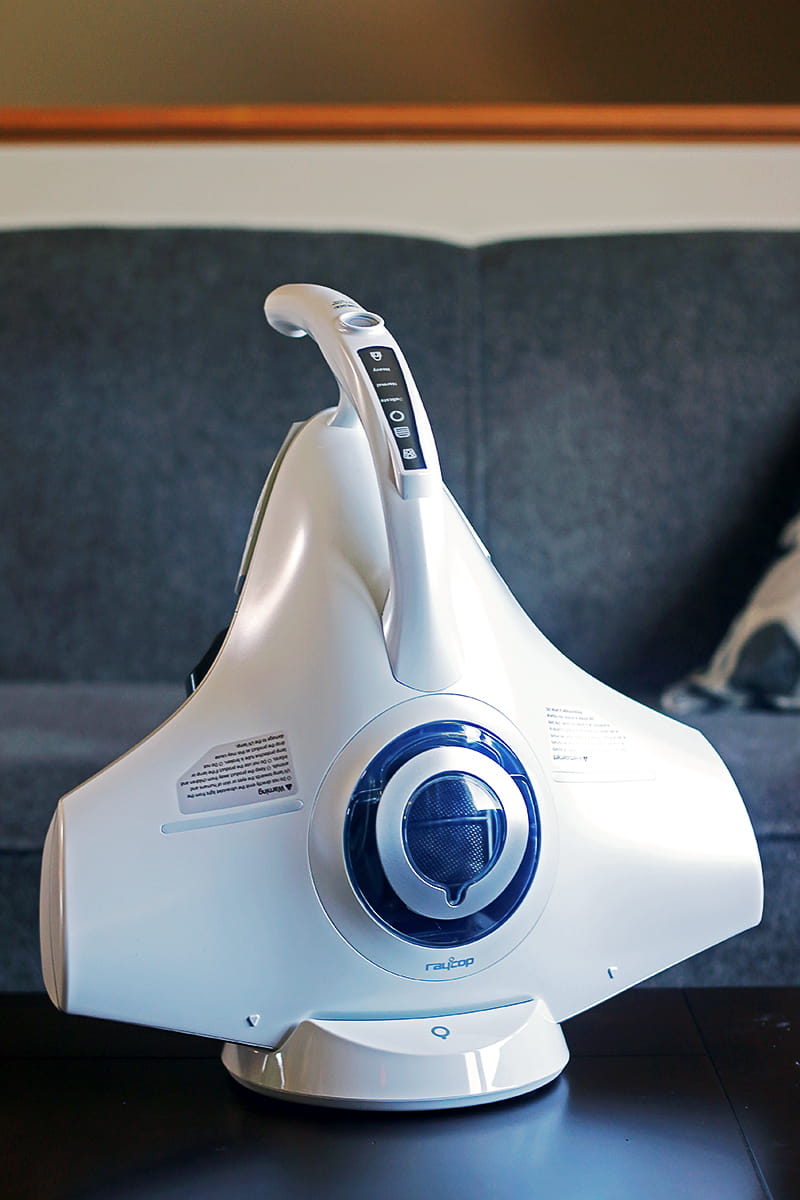 As I opened the package, I already had an idea of the quality and care of design put into this product. The packaging was simple and sleek, making it easy to remove the RAYCOP RS2 from the package and within just a few seconds I was able to begin sanitizing my couches and throw pillows.
The first thing I noticed about the RAYCOP RS2 (and it made me absolutely giddy) is the retractable cord. Wow, they thought of everything!
The RAYCOP RS2 includes a HEPA filter which is easy to access and helps trap and eliminate microparticles of pollen, dust mite matter, and dirt. The control panel on the handle alerts you when it's time to replace the HEPA filter.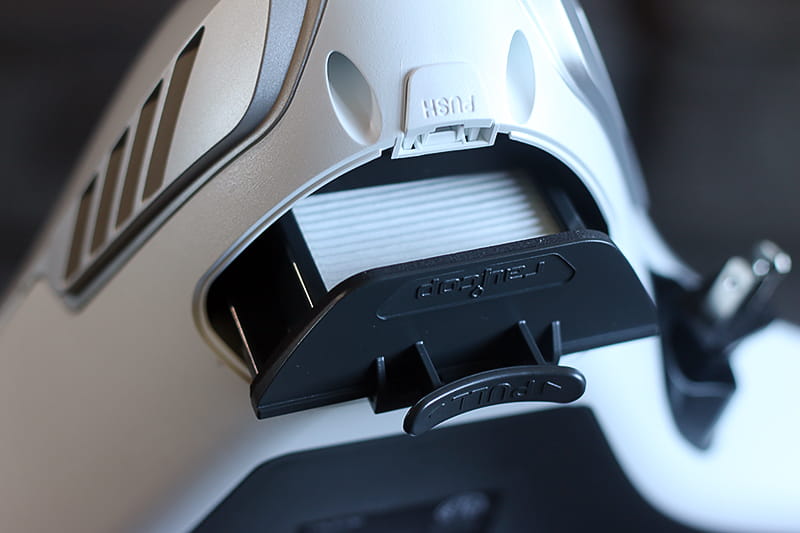 The dust collection box contains a washable filter for loose house dust that is suctioned up from the fabric. The RAYCOP RS2 comes with a second filter that you can use if you need to clean the first one. The control panel on the handle also alerts you when the dust box filter needs to be cleaned.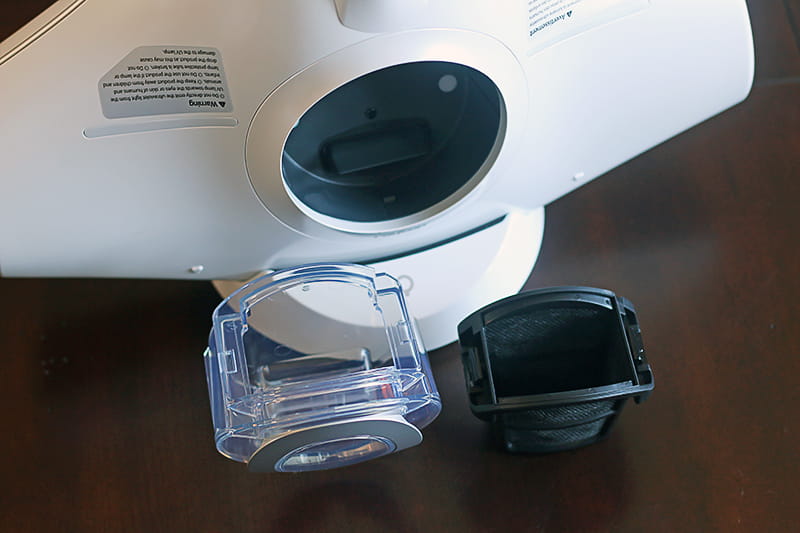 Below is the control panel that I mentioned above. It alerts you when the filters need cleaning, and displays the different power modes for the roller brush.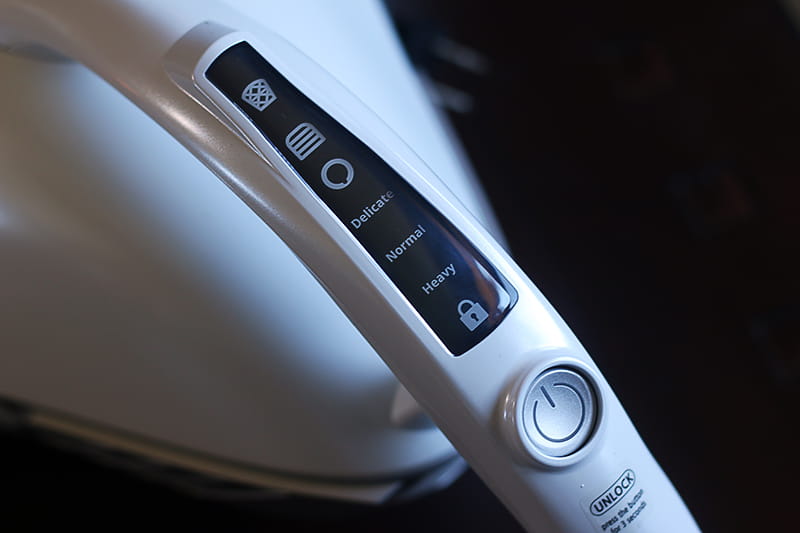 The blue lights on either side of the dust bin indicate when the UV light is active.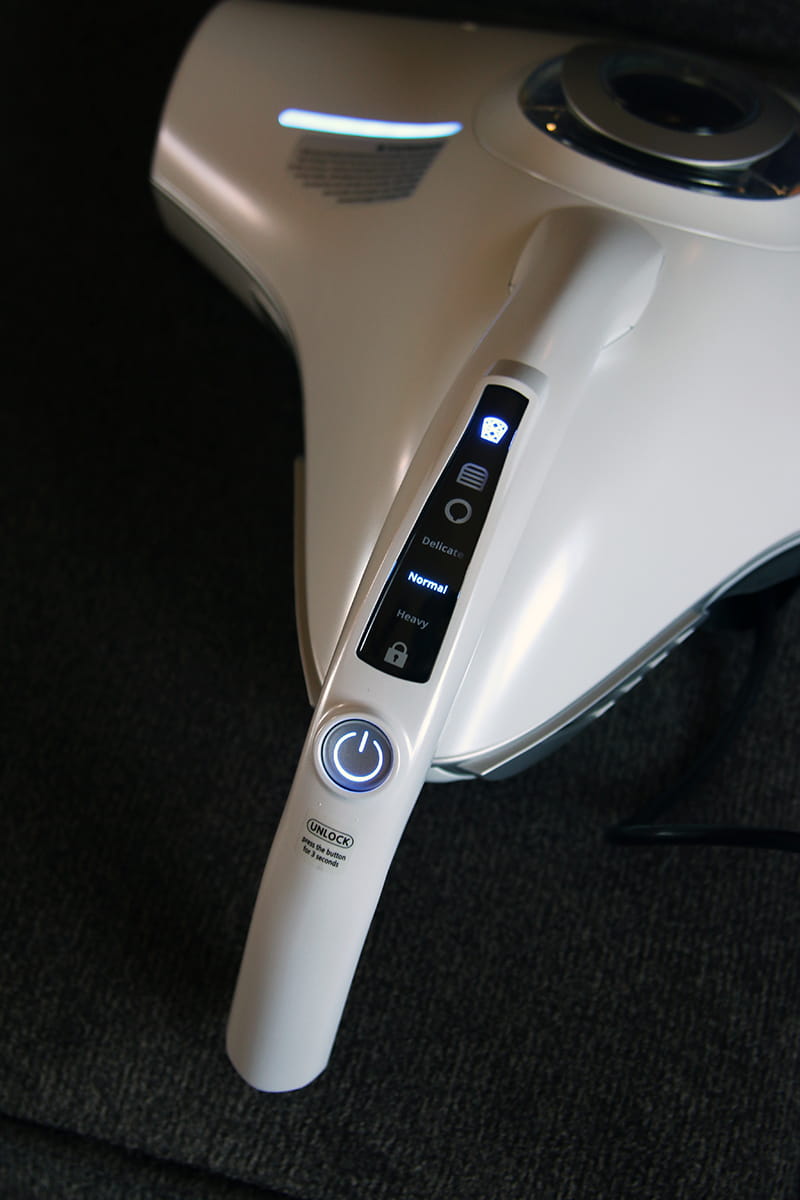 On the underside of the unit (only look at the bottom when the unit is not on, as the ultra-violet light should not be viewed or allowed to shine on skin or pets) is where the magic happens. You can see the tiny wheels that enable what looks like a large, heavy, unit to roll smoothly across any surface. You also see the brush roller, the UV light tube, and two small pads at the front of the unit. These pads pulsate (vibrating between 4,600-5,000 times per minute) to agitate and loosen allergens. This vibration, in addition to the suction and brush functions, removes dust and allergens three times better than a standard vacuum.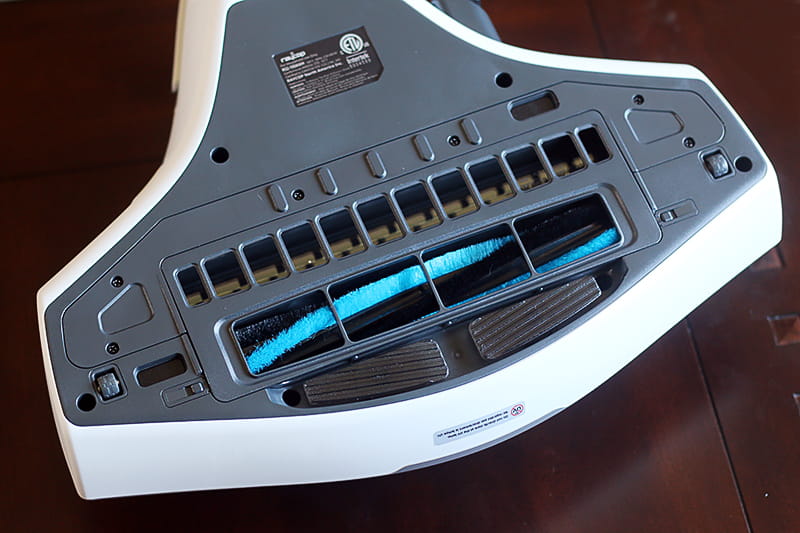 All this dust is just from the seats and pillows of one of my couches. They are only a few months old, and I vacuum them regularly, so I was impressed to find more than just dog hair in there. Raycop recommends not exposing the dust to air like I did, but instead to submerge the dust box with the filter still inside in water to avoid dust from scattering back into the air. I exposed it so you could see the dust. This dust box, combined with the HEPA filter is part of the RAYCOP RS2's dual filtration system which is totally unlike a regular vacuum and is proven to capture 99.9% of common allergens.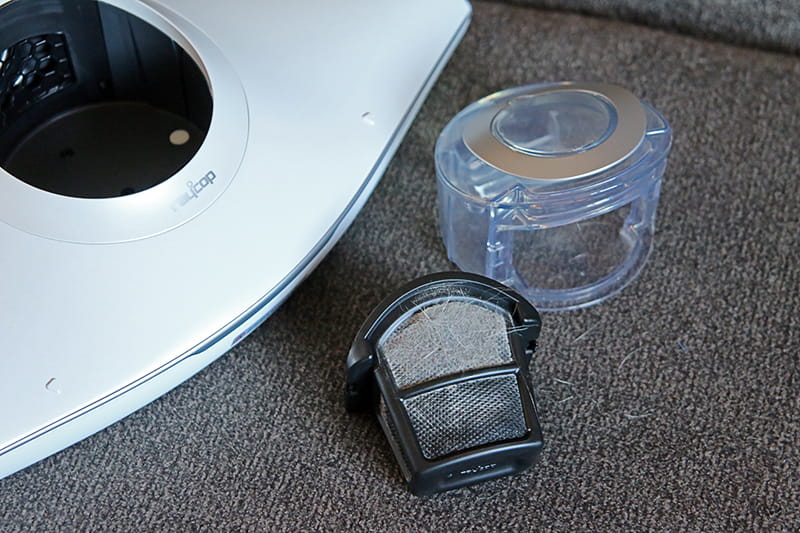 The RAYCOP RS2 isn't just for pet owners, though. It helps create a fresh, clean and pure environment for all homes by combating potentially harmful microorganisms that we can't see that happen regardless of whether or not pets are in the home. Have you ever seen a close-up of the dust mites that likely live in your mattress? Gross, right? The RAYCOP RS2 can eliminate dust mites and their carcasses and droppings. You can also use it to purify bed linens which can save water and energy because you don't have to run the washer. It can also lower your dry cleaning costs as well. The RAYCOP RS2 can be used on all fabrics, even the most delicate.
See a brief demonstration of how easy it is to use the RAYCOP RS2 by watching the video below.
Pet dander, pollen, dust mites, dirt and other particles end up embedded in all of the fabric surfaces of your home. These microorganisms are commonly irritating especially to family members who suffer from allergies and asthma. The RAYCOP RS2 uses patented (and proven) RayClean Technology® that is proven to be three times more effective than a standard vacuum at capturing allergens and outdoor pollutants to help purify the air in your home. Improving indoor air quality helps improve your quality of life and helps people breathe and sleep easier.
I am so excited to have the RAYCOP RS2 as a tool to keep my home as clean as possible. It stores neatly in the included stand and doesn't take up very much room.
And hopefully, now, the only evidence I have of dogs living here is the presence of the dogs themselves.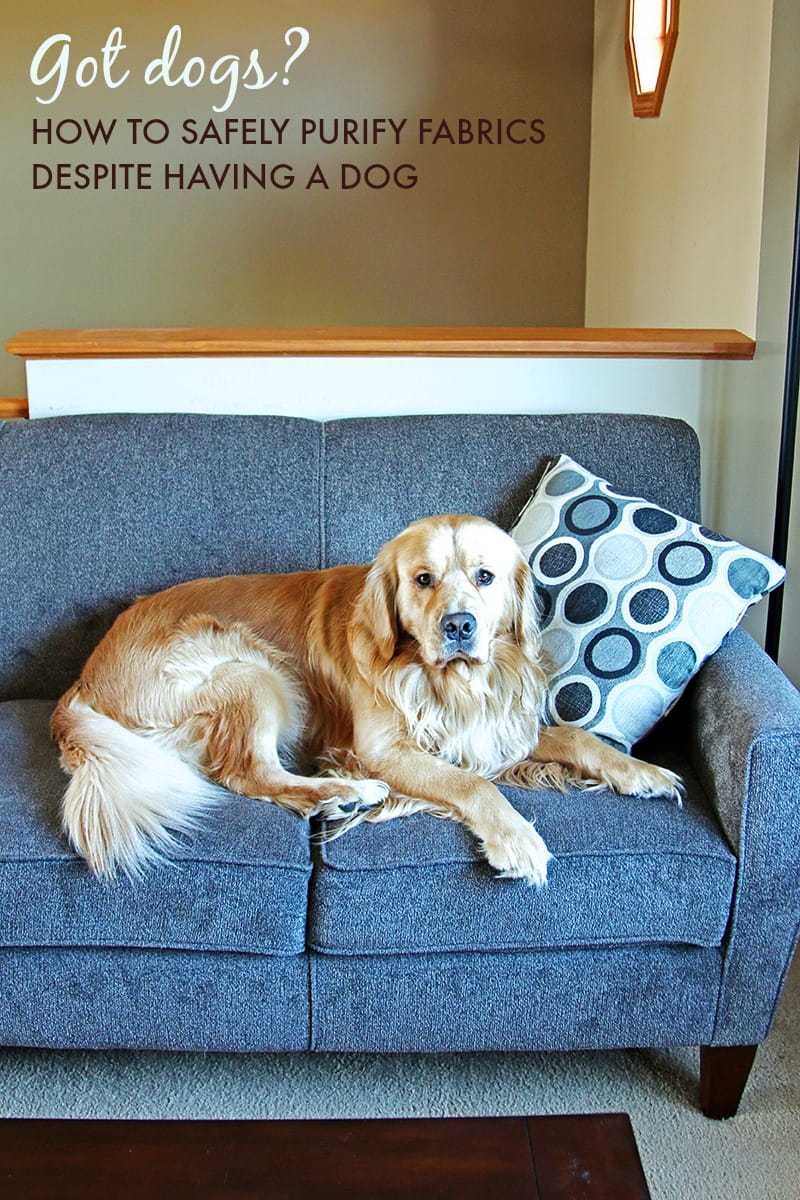 For more information about the RAYCOP RS2 you can subscribe to their eNewsletter and follow their social media channels.
Purchase a RAYCOP purifier today at: www.raycop.com/shop. Makes a great gift idea!
ENTER TO WIN A RAYCOP PURIFIER
One winner will receive a RAYCOP LITE (MSRP $189.99).
The RAYCOP LITE is the company's lightest and most portable purifier but it's still powerful enough for most sanitizing jobs. The RAYCOP LITE is more suited to delicate surfaces like clothes and even yoga mats.
a Rafflecopter giveaway
Join our newsletter!
Subscribe to get updates and great stuff via email including subscriber-only goodies like free printables and giveaways.