Welcome to the world of Ramen Noodle Recipes with Egg, where two beloved ingredients unite in delicious harmony.
In this collection, you'll discover 15 mouthwatering dishes that showcase the versatility of ramen noodles and the humble egg.
From cozy soups to flavor-packed stir-fries, these recipes are perfect for satisfying your cravings and exploring new culinary adventures.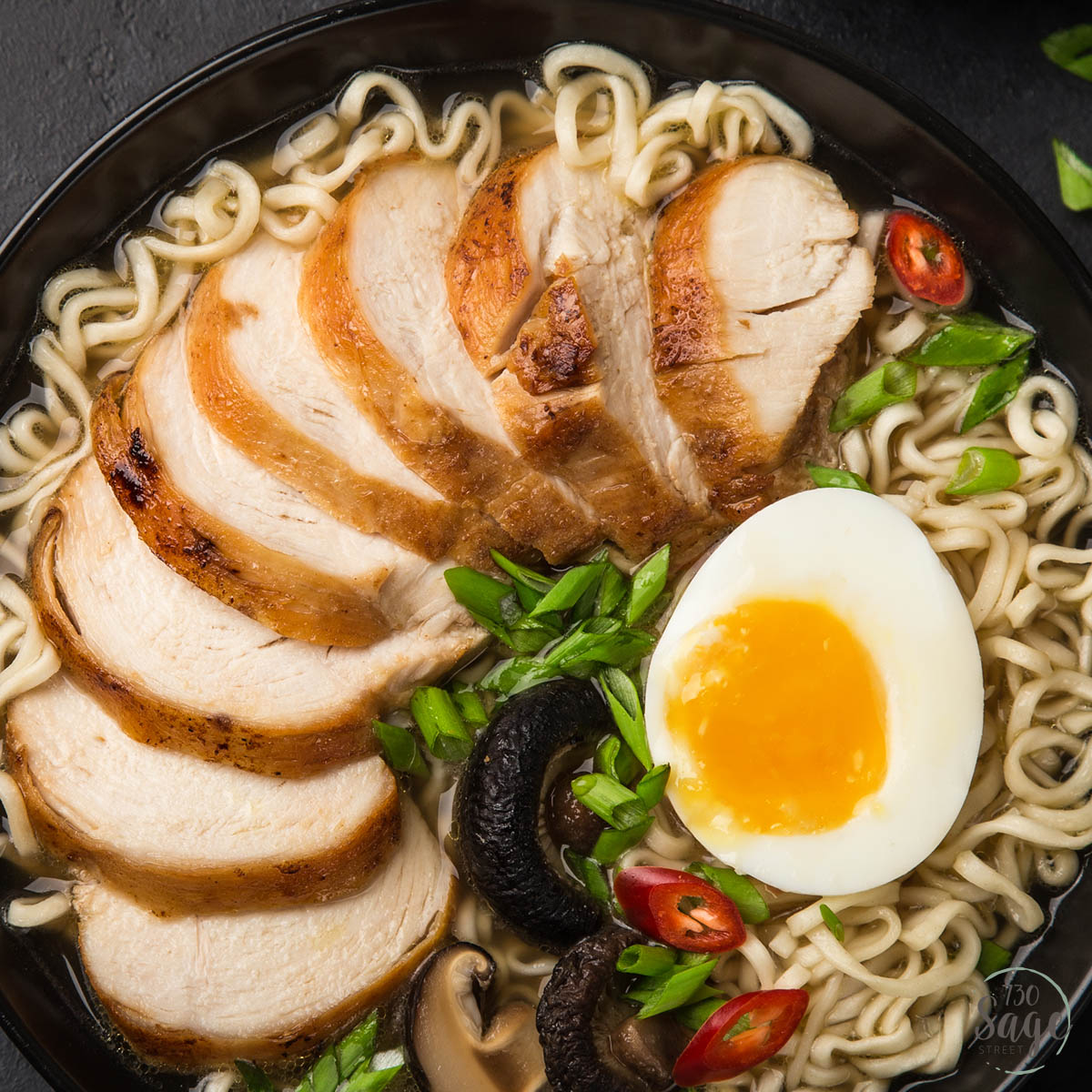 What Type Of Eggs Should I Use In My Ramen Noodle Recipes?
You can use any type of egg in your ramen noodle recipes, but soft-boiled or poached eggs are the most common. Using fresh, healthy eggs will produce the best taste and nutrition for your recipes. Consider using free-range or organic eggs for added health benefits.
How Can I Precisely Cook Or Poach Eggs For Ramen Noodles?
For boiled eggs, bring a pot of water to a boil and then gently add your eggs to the water using a slotted spoon. Boil for 6-7 minutes for soft-boiled and 8-9 minutes for hard-boiled. For poached eggs, bring a pot of water to a gentle simmer and add a splash of vinegar.
Crack your egg into a cup and then gently slide it into the simmering water. Cook for 2-3 minutes for a runny yolk or 4-5 minutes for a firmer yolk. Using fresh, healthy eggs will help ensure that they cook evenly and come out perfectly every time.
15 Ramen Noodle Recipes With Egg
Discover 15 delightful Ramen Noodle Recipes with Egg, blending cozy comfort and global flavors for a truly delectable experience:
Join me on a flavorful adventure with this Homemade Ramen with Bacon & Soft-Boiled Eggs. Get ready to savor the crispiness of the bacon, the aromatic blend of ginger, garlic, and lemongrass, and the comforting warmth of the chicken broth. The miso paste, soy sauce, and vinegar add a savory dimension to this ramen bowl, while the spinach and shallot provide a refreshing crunch.
And let's not forget the crowning glory - the soft-boiled or poached eggs, perfectly cooked to oozy perfection. Serve it up with chopped scallions and sriracha sauce for an extra kick. Get lost in the deliciousness of this ramen and forget all your worries.
Kimchi Ramen, which is a great mix of Korean and Japanese food, is sure to wake up your sense of taste. Poach the eggs until they are done to your liking, and then put them aside. Chicken broth, sliced kimchi, Korean hot pepper paste, chili powder, and instant ramen should all be heated before being combined. To the halfway-cooked ramen, add the mushrooms and sesame oil.
To finish, divide the noodles into dishes and top them with the poached eggs and scallion greens. This bowl of Kimchi Ramen is a fast and easy way to get a lot of flavor in very little time. Enjoy when hot.
Get ready to elevate your breakfast game with this scrumptious Ramen Scrambled Eggs recipe! Let the delightful fusion of flavors from ramen noodles, fresh parsley, and sautéed onions take you on a culinary adventure.
You'll be amazed at the harmony of textures, from the tender noodles to the perfectly cooked eggs. Don't forget to add your personal touch with your favorite ramen flavor! A pinch of salt ties everything together, making this dish an unforgettable way to start your day.
Indulge in a taste of Japan with this Rich and Creamy Tonkotsu Ramen Broth Recipe! The velvety, deeply flavorful broth is crafted with a medley of pig trotters, chicken bones, and aromatic charred vegetables. This comforting dish will make you feel like you've been transported to a cozy ramen shop in Tokyo.
The secret to this recipe's success? Cooking the broth low and slow, unlocking its rich, unctuous texture. When it's time to serve, customize your bowl with your choice of condiments and toppings, creating a personalized ramen experience that's truly unforgettable. Itadakimasu!
This delicious Thai coconut curry ramen will transport your taste to the exotic nation of Thailand. This recipe combines the exotic flavors of red curry paste, creamy coconut milk, and zesty ginger for a ramen experience like no other. The succulent ground pork, cooked with garlic and Fresno chili, adds a delightful kick to every bite.
Top it off with soft-boiled eggs, fresh cilantro, green onions, and a sprinkle of toasted sesame seeds for an irresistible symphony of flavors and textures. This ramen is perfect for those cozy nights when you crave a warm, comforting bowl of pure deliciousness.
A rich and flavorful broth made from vegetable stock, tamari, and miso paste is the basis of this recipe for Vegetarian Miso Ramen, perfect for soothing your weary spirit with a bowl of comfort food. Prepare the ramen noodles and scrambled eggs at the same time.
When the veggies have been added and cooked through, serve the noodles in a bowl and top with a sliced egg, shredded kale, and thinly sliced shiitake mushrooms from the broth. Include the green onions for that added zing of flavor. Perfect for a fast weeknight meal or a winter night in, this ramen is both healthful and satisfying.
Soba noodle bowls are a great way to get a variety of nutrients and satisfying tastes and textures in one dish. Delicious sesame dressing is the star of this dish, and it goes well with the hot soba noodles, shiitake mushrooms, and crispy greens. Add some additional flavor and texture with a soft-boiled egg, scallions, kimchi, and sesame seeds.
You may adjust the seasoning to your taste, and if you want a sweeter meal, try adding roasted sweet potatoes. Additionally, it's a great make-ahead option that works for lunch or supper; just remember to load up your bowl with extra kimchi!
This recipe for Spicy Shoyu Ramen is sure to satisfy your need for heat. The broth in this meal is packed with flavor thanks to the combination of chicken stock, dashi, soy sauce, sake, salt, sugar, and spicy chili bean paste. Hot noodles are topped with Chashu pig belly, soft-boiled eggs, fish cakes, seasoned bamboo shoots, and green onions.
Korean chili threads and Japanese chili oil provide an additional kick. Red pickled ginger, white pepper, and nori seaweed are all essential accompaniments. Enjoy this ramen dish every night of the week thanks to its ease of preparation and rapid cooking time.
A bowl of Ginger Garlic Miso Ramen Noodles with a Poached Egg is the perfect way to warm yourself on a cold day. Ramen noodles cooked to al dente are mixed with a savory sauce made from butter, garlic, ginger, and miso paste. Spiralized zucchini, green onion, and a freshly poached egg round off the meal.
Add some more heat by topping it with toasted sesame seeds, fresh cilantro, and Sriracha sauce. This ramen dish is great for a weeknight meal or a fast lunch on the go. Feel free to make a second batch and serve it to your loved ones!
This Homemade Salmon Ramen is a wild ride of flavors that will take your senses on a culinary journey like no other. The rich, savory broth is infused with the umami goodness of dried fish and seaweed, while the juicy salmon adds a burst of freshness to each bite.
The tender mushrooms are bathed in a soy sauce concoction that's simply addictive, and the crunchy julienned carrots and peppers offer a colorful contrast that's both eye-catching and mouth-watering. Top it all off with a perfectly boiled egg, and you've got a bowl of ramen that's fit for a king or queen!
Imagine the perfect fusion of New York bagel flavors with a classic Japanese ramen dish. That's what you get with Everything Bagel Ramen with Poached Egg - a delightful explosion of savory and salty seasonings, cooked to perfection in just 10 minutes.
The dish features delicious chicken flavor ramen noodles mixed with edamame and topped with a perfectly poached egg, cooked to gooey, yolky perfection. The dish is then finished with an extra sprinkle of everything bagel seasoning, bringing a burst of flavor and texture to every bite. Served in a bowl with chopsticks, it's a meal that's both comforting and exciting, perfect for a quick and easy lunch or dinner.
This Spicy Shrimp Ramen Noodle recipe is a delicious and easy-to-make dish that will transport you to a world of flavor. The smoky and savory taste of the bacon, combined with the heat from the ginger and garlic, creates a rich and aromatic broth that will leave you wanting more.
The tender shrimp and hearty shiitake mushrooms add a burst of umami to the dish, while the vegan ramen noodles make it a guilt-free meal. Customize your bowl with your favorite toppings like a soft-boiled egg, and get ready to experience a culinary adventure in the comfort of your own home.
This recipe for Brown Butter Toast Ramen with Poached Egg and Chili Crisp will take your ramen game to the next level. The pig trotters and chicken bones combine with charred onions, garlic, and ginger to make a flavorful soup. Toasted bread, Parmesan cheese, and white miso all provide layers of flavor.
In a bowl, place cooked ramen noodles and ladle the soup on top. Garnish with a hard-boiled egg, fresh corn, and a combination of crumbled bacon and chili crisp. Ideal for entertaining friends or enjoying a quiet evening at home.
This homemade chicken ramen recipe is packed with flavor and a comforting bowl of goodness. The caramelized soy chicken is roasted to perfection and topped with a savory glaze, adding a depth of flavor to the dish.
The ramen base is made with ginger, garlic, and a combination of mirin and soy sauce, creating a rich and flavorful broth. Soft-boiled or marinated ramen eggs add a creamy texture, while the steamed greens provide a fresh crunch. With toppings like sliced radishes and scallions, this dish is a complete meal that will have you savoring every last bite.
Get ready to heat things up with this Spicy Ramen with Chicken Katsu! This recipe packs a flavorful punch with its gochujang and soy sauce broth, tender chicken katsu, and perfectly cooked noodles.
The addition of coconut milk adds a creamy texture and balances out the spiciness of the dish. Plus, the 6 ½-minute egg adds an extra layer of richness to every bite. You'll love the crunch of the sesame seed and panko breadcrumb coating on the chicken, which is perfectly cooked in the air fryer. With a sprinkle of chopped spring onion and a sheet of nori, this dish is ready to be devoured!