Whether you're a vegetarian or simply looking to switch up your usual protein sources, check out these 20 mouth-watering Rajma recipes that are sure to become your new favorites. From spicy stews to savory curries, there's something for everyone to enjoy.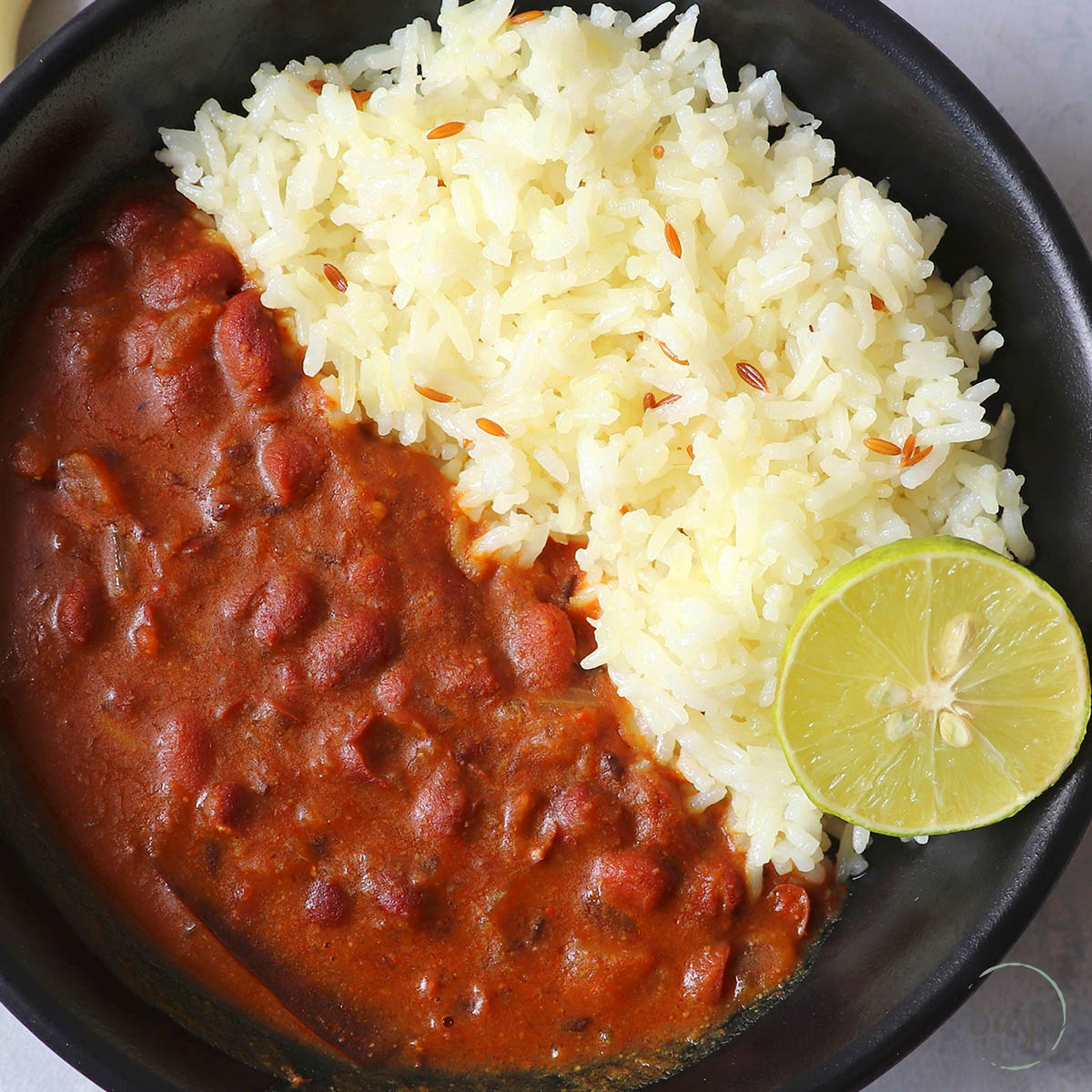 Is It Necessary To Soak Rajma Before Cooking It?
Soaking dried rajma before cooking can help to reduce cooking time and make it easier to digest. It is recommended to soak them overnight, or at least for six to eight hours, before cooking. This helps to soften the beans and remove some of the indigestible sugars that can cause discomfort.
Can I Use Canned Rajma Instead Of Dried?
Yes, canned rajma can be used as a substitute for dried rajma in recipes. Canned rajma is already cooked and ready to use, making it a convenient option for those who don't have the time or patience to soak and cook dried rajma. However, canned rajma tends to have a softer texture and less flavor than dried rajma, so adjustments may need to be made to the cooking time and seasoning of the recipe.
20 Recipes With Rajma
Prepare to be enlightened by these 20 mouthwatering dishes that celebrate the versatility of this legume:
These Rajma Kebabs are a mouthwatering twist on classic Indian flavors. Boiled rajma or kidney beans and potatoes are lightly mashed together with chopped onions, minced garlic, grated ginger, and chopped green chilies. The mixture is then seasoned with a blend of flavorful spices such as red chili powder, chaat masala, jeera powder, coriander powder, and garam masala.
Once the dough is smooth, it is shaped into kebabs and fried in oil until they turn golden brown. The kebabs are best served hot with onion rings, lime wedges, and green coriander chutney for a flavorful and refreshing twist.
Rajma Masala is a classic Indian vegetarian dish made with red kidney beans simmered in a spiced tomato-onion gravy. To make this delicious recipe, start by soaking the kidney beans overnight, then pressure cooks them until they are tender. In a separate pan, sauté onions until they turn golden brown, and then add ginger-garlic-green chili paste and tomatoes. Once the tomatoes are soft, add in the spice powders and cook until the mixture thickens and becomes glossy.
Add the cooked kidney beans and some water, and simmer for some time until the curry thickens. Mash a few rajma beans with a spoon, add some kasuri methi, and cream. Serve hot with steamed basmati rice or naan, and enjoy a wholesome and filling meal.
This flavorful kidney bean curry is a perfect combination of creamy and spicy flavors. The tender kidney beans in a delicious coconut cream sauce make this dish rich and comforting. The fragrant spices and fresh herbs give this curry a warm and aromatic touch.
This dish is a great option for a quick, easy, and healthy meal. The perfect combination of texture and flavor, this dish will satisfy your cravings and leave you feeling satisfied. Enjoy this hearty dish with some steamed white rice or crusty bread.
This recipe for Rajma Masala is a delicious way to sample the many complex tastes found in Punjabi cuisine. The kidney beans are soaked overnight and then pressure cooked until soft. A special blend of Punjabi Garam Masala is added to the sauteed onions, ginger, and garlic to make the perfect base for this dish. Tomatoes and spices are added to the mix and cooked until fragrant.
The cooked rajma is added to this mixture and simmered to perfection. The dish is then finished with a dollop of fresh cream, desi ghee, and freshly chopped coriander leaves. Serve this flavorful dish with some plain white rice or chawal and enjoy the rich, warm flavors of Punjab.
Rajma salad is a delicious and healthy way to enjoy kidney beans. Start by soaking the rajma overnight, then pressure cook until tender. Once cooked, mix with a colorful medley of chopped onion, capsicum, and tomato, along with finely chopped red chili for a bit of spice.
Fresh coriander adds a fragrant and herbaceous note, while a squeeze of lemon juice brings brightness to the dish. This salad is a great option for a light lunch or as a side dish for dinner.
If you're looking for a snack that's not only tasty but also simple to create and delivers a powerful punch, then you should definitely try a Rajma Masala Sandwich. The spicy, flavorful Rajma Masala is perfectly paired with cream cheese and crispy lettuce between two slices of bread. This sandwich is perfect for lunch, snack time, or even breakfast!
The Rajma Masala is made by pressure cooking Rajma with a blend of spices and then mixing it with sautéed onions, ginger, and curry leaves. The result is a delicious and wholesome sandwich that is sure to satisfy your cravings.
These delightful patties are made from a mixture of mashed kidney beans and boiled potatoes that are spiced up with fragrant cumin seeds, fresh ginger, and garlic. The addition of cilantro, mint, and green chilies gives them a kick of freshness and flavor. Pan-fried until golden brown, these kebabs are perfect for a quick and easy snack or a fun appetizer for your next party.
Don't forget to serve with a squeeze of lemon juice and some tangy chaat masala for the ultimate burst of flavor.
These crispy and flavorful rajma patties are a delicious twist on the classic veggie burger. Soaked rajma or kidney beans are mashed and mixed with sautéed onions, garlic, and red bell pepper, as well as a blend of spices and sauces for added depth. A generous amount of cheese and breadcrumbs add texture and crunch to the patties, which are then shallow-fried until golden brown.
These patties are perfectly served on a bun with your favorite toppings or as a tasty snack on their own. The addition of boiled potato is optional, and you can use sweet potato as a healthier alternative.
Rajma Masala, also known as Red Kidney Bean Curry, is a flavorful and spicy dish made with soaked red kidney beans and aromatic spices. This dish can be prepared on the stovetop or in an Instant Pot. The kidney beans are first soaked and then pressure cooked until soft and mashed.
The onion-tomato base is infused with cumin, bay leaf, ginger-garlic paste, and a variety of spices to give it a depth of flavor. The addition of kasuri methi, lemon juice, and coriander leaves at the end adds a burst of freshness and tanginess to the dish. Serve this delectable curry with rice, roti, or naan for a hearty and wholesome meal.
Rajma Chawal, the ultimate comfort food for any Indian household, is a delicious combination of curried kidney beans and rice. The creamy and aromatic Rajma masala is made by cooking the beans with whole spices like bay leaf, cinnamon, and cloves, along with ginger, garlic, onions, tomatoes, and a blend of spices.
The Rajma is thickened with a paste made from boiled beans and water and finished with dried fenugreek leaves for an extra layer of flavor. The rice is cooked separately and can be enjoyed with a drizzle of ghee or a squeeze of lemon juice.
Bean Quesadilla or Vegetarian Rajma Quesadilla is a protein-packed Mexican dish that will satisfy your taste buds. These tortillas filled with cheese and a healthy mixture of red kidney beans, corn, onion, tomato, and capsicum will make your kids ask for more. You can use whole wheat roti or chapati instead of store-bought tortillas.
Spread the cheese and vegetable mixture on the tortilla, fold it in half and cook it in a non-stick pan or sandwich maker until the cheese melts. Serve it hot and crispy. You can even adjust the quantity of cheese as per your preference.
This Red Kidney Bean Burrito or Rajma Wrap is perfect for a quick and healthy meal. Soft and flavorful whole wheat wraps filled with a protein-packed red kidney bean filling and crunchy, colorful vegetables, make it a complete and satisfying dish. The salad, made with cucumbers, tomatoes, onions, and capsicum, seasoned with oregano, pepper, and salt, adds a refreshing burst of flavor to each bite.
To assemble, just add some ketchup, mustard sauce, and cheese spread on the wrap, top it with the kidney bean mixture, salad, and a little more mustard sauce, then wrap it up and enjoy.
Vegan Rajma Kebabs are a flavorful twist on traditional kebabs. Made with mashed red kidney beans and boiled potatoes, they are loaded with aromatic spices like cumin, ginger, and green chilies. Once the mixture is combined and kneaded, small patties are formed and pan-fried until crispy on the outside and soft on the inside.
Serve them hot as an appetizer or a light meal with your favorite chutney or dip. These kebabs are perfect for a vegetarian or vegan diet and can be made easily with canned or cooked kidney beans.
This crowd-pleasing chili recipe is perfect for a cozy night in or for entertaining guests. Start by browning ground beef and adding onions and garlic for a flavorful base. Spices such as cumin, chili powder, and coriander are added along with chipotle paste for some smokiness. Canned chopped tomatoes and kidney beans are then mixed in and simmered with a square of dark chocolate for a rich, velvety texture.
Serve with your favorite toppings such as sour cream, shredded cheese, and green onions for a delicious and satisfying meal.
Rajma Dum Biryani is a delicious and fragrant rice dish that will transport you straight to the heart of North India. Made with kidney beans or rajma that are cooked in a blend of aromatic spices and dum style, this biryani is truly unique. The basmati rice is cooked to perfection and layered with fried onions, fresh mint, and coriander leaves.
The secret to the perfect flavor of this biryani is the saffron and ghee that are added to the top layer of the rice. Don't forget to serve with a side of raita to balance out the heat and richness of this dish.
Add a twist to your traditional paratha recipe with this Rajma Paratha! The soft and delicious whole wheat dough is stuffed with a flavorful mixture of cooked kidney beans, onions, and spices, giving it a unique and satisfying taste. Every bite of this paratha is a perfect blend of the warm, comforting texture of the dough and the flavorful filling.
This recipe is easy to follow and perfect for a cozy family dinner or a special occasion. Pair it with some cool and refreshing yogurt for a balanced and nutritious meal.
Rajma Dosa, also known as Red Kidney Beans Crepe, is a delicious and nutritious twist to the traditional dosa recipe. The combination of red kidney beans and brown rice makes it a protein-packed meal perfect for breakfast or lunch. The batter is made by grinding soaked beans and rice with ginger, cumin seeds, and green chilies. The dosa is then cooked on a non-stick skillet with a drizzle of oil until golden brown on both sides.
Serve it hot with your favorite chutney or dip. Don't forget to save some batter for later as it can be refrigerated for up to two days.
These Oats and Rajma Cutlets are a perfect snack for those who are looking for a healthy yet tasty option. The combination of rajma and paneer with saffola classic masala oats, garam masala powder, fennel seeds, coriander leaves, ginger, and garlic gives the cutlets a flavorful taste.
The cutlets are coated with egg white and whole wheat breadcrumbs and then pan-fried until crispy and golden. Serve them as a starter for your next party or enjoy them as an evening snack with some mint chutney or tomato ketchup.
Take a bite of the crispy and savory Indian samosas and be transported to the vibrant streets of India. This traditional recipe is a must-try for all food lovers. Made with a delectable filling of mashed potatoes, tender split peas, and fragrant spices like coriander and garam masala, these samosas are an explosion of flavor in every bite.
The crispy outer layer, made with a combination of flour, yogurt, and oil, adds the perfect crunch to these irresistible pockets of goodness. Serve them hot with your favorite chutney or tomato ketchup and savor the taste of India.
Eggplant Tikka Masala is a delicious Indian curry that combines juicy chunks of eggplant with a flavorful tomato-based sauce. The eggplant is first marinated in a yogurt and spice mixture and then baked until crispy. Meanwhile, the rich and creamy tomato sauce is prepared by sautéing onions and spices in oil, adding tomato puree and cream or coconut milk for a velvety texture.
The baked eggplant is then mixed into the sauce and cooked until everything is well combined. The result is a mouthwatering vegetarian dish that can be enjoyed with rice or naan bread.