This is a sponsored post written by me on behalf of Rainbow Light. All opinions are 100% mine.
It's not likely that you could rattle off a list of everything that your body needs to be healthy. Sure, you may know some of the major vitamins and minerals, and have a general sense that you should have them, but would you know if you were deficient?
Got Vitamins?
Even minor vitamin deficiencies can affect us, especially when our lives are so busy. Also, as we get older our nutritional needs change and fluctuate and it's really challenging to get everything you need through diet alone.
But there is no way to know, short of in-depth medical tests, whether your recent bout of tiredness or that cold that just won't go away is a symptom of a deficiency or just coincidence. And there certainly is no way to know if your body is absorbing enough nutrition from your daily diet without those tests.
But you do have some control over your ability to at least try and ensure you are giving your body everything it needs – by taking a multivitamin. But not all multivitamins are created equal. Sure, any multivitamin is probably better than nothing, but certain multivitamins offer benefits that make them a better choice.
Like the Women's One multivitamin from Rainbow Light.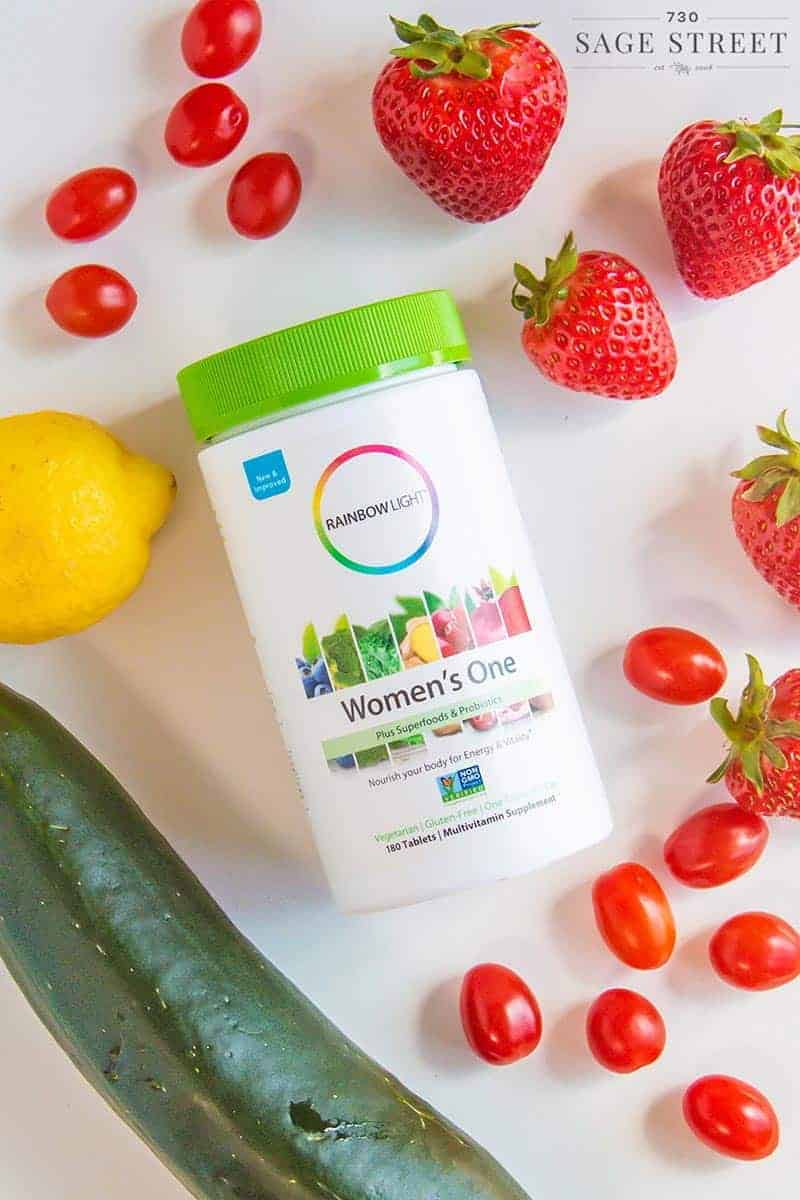 5 Reasons to Take Rainbow Light Women's One Multivitamin
1. Purity Safeguard
I really feel that with all of the options available to you for a multivitamin, that purity should not be compromised. There is no reason to settle for a vitamin that contains artificial colors and preservatives, weird fillers or allergens.
Rainbow Light Women's One multivitamin is non-GMO and is made with natural, pure ingredients. It doesn't contain anything artificial nor does it contain common allergens such as eggs, fish, gluten, milk, nuts or wheat.
2. Designed Specifically for Women
Women's One is a formula that addresses the specific nutritional needs of women using herbs and food-based nutrients. It includes a Women's Vitality Blend of nourishing chlorella, pomegranate, grape extract, and lutein to support a women's unique needs.
3. Contains Superfoods
Rainbow Light Women's One also contains a superfoods blend of nutrient rich spirulina, beet, broccoli, kale, spinach, blackberry, blueberry, carrot, and cranberry. This Organic Rainbow Superfoods Blend can support energy levels and boost your immune system.
4. Supports Digestive Health
Women's One from Rainbow Light contains a Digestive Support Blend with probiotics to support gut health and immune health. It's also gentle on the stomach as well.
5. Comprehensive
Rainbow Light Women's One contains a wide variety of scientifically studied ingredients that help in so many areas of your wellness.
B vitamins promote energy and vigor and support the nervous system, vitamin D and calcium support bone health and vitamin C and zinc support a healthy immune system.
This range of vitamins and minerals combined with the Women's Vitality Blend, the Organic Rainbow Superfoods Blend and the Digestive Support Blend, make Rainbow Light Women's One a comprehensive multivitamin that fuels your body on a cellular level. Add all that to their Purity Safeguard, and you have the perfect solution for long-term health and vitality with just one tablet a day.
It's kind of a no-brainer!
Make Rainbow Light Women's One a Part of Your Daily Routine
I have been taking Women's One for about a week now, and I definitely notice a positive difference in my energy level. I haven't had the normal afternoon crash where I feel like I need a nap. In the past I would have a cup of coffee around 2 or 3 in the afternoon to combat that but I haven't needed one since I started taking this multivitamin.
I also have noticed I don't seem to get as stressed out, and I am handling more stressful situations a little bit better. I think I can focus better as well.
I am loving the effects so far, Rainbow Light Women's One has definitely become a permanent part of my daily routine. Even more important than my morning coffee, which if you know me, is really saying a lot.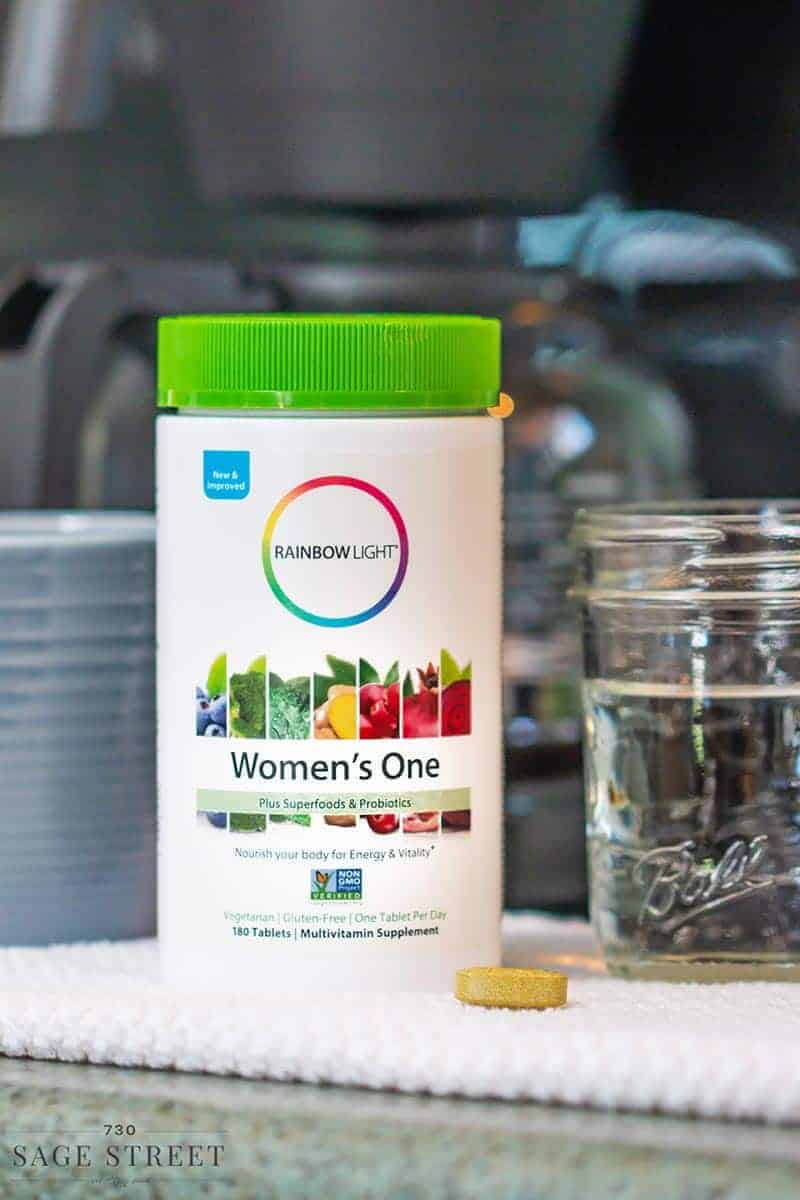 My Women's One comes before my coffee. I set it all out the night before when I prep the coffee pot and I don't get my coffee until I take my vitamin.
Rainbow Light and Vitamin Angels
Another reason to love Rainbow Light, in addition to their amazing Women's One product is their partnership with Vitamin Angels.
Vitamin Angels is a charity that provides lifesaving vitamins to mothers and children who are at risk of malnutrition. Their efforts save lives.
From 5/1/19 through 6/30/19 you can help save newborn lives when you purchase Rainbow Light Women's One and/or Prenatal One. For every purchase and for every share of the campaign on Instagram or Twitter, Rainbow Light will make a donation to Vitamin Angels up to $25,000. Wow! You can support your own wellness, and help someone else at the same time.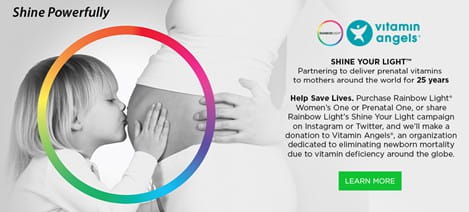 Visit RainbowLight.com for the official rules and to learn more about this fantastic partnership!
Where to Buy Rainbow Light Women's One
Rainbow Light Women's One is available at Sam's Club in a 180 count bottle. I love that bottle size, it lasts around 6 months!
Head over to Sam's Club to purchase your Rainbow Light today!