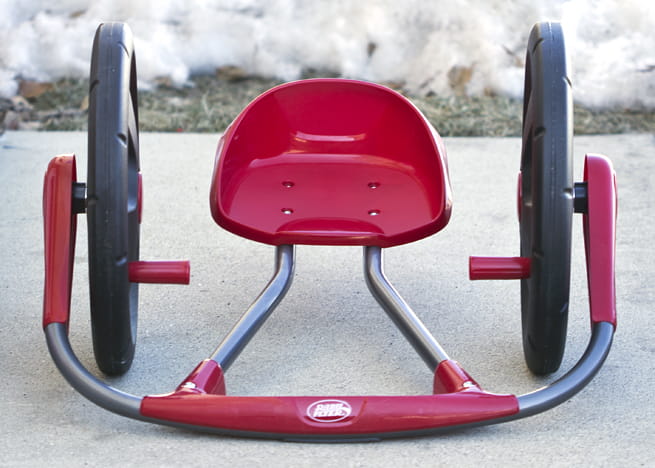 I put that thing down on our front sidewalk when my daughter came home from school one day and she said "what the heck is that?"
And she followed it up with "can I have it?"
Before she even knew what it was.
It's intriguing isn't it? You can tell it will be fun just by the way it looks!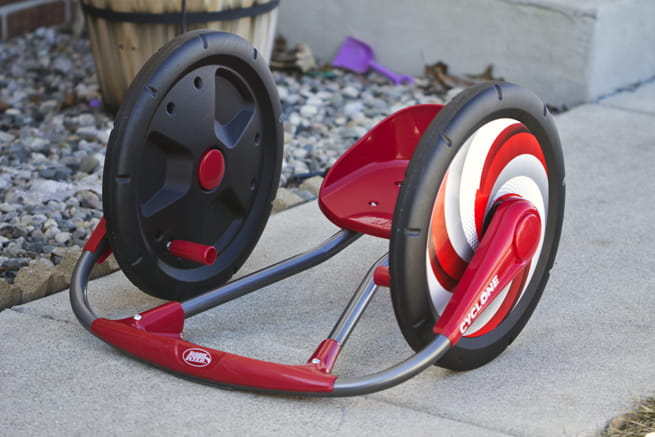 About the Radio Flyer Cyclone:
Zoom, Spin and Grin with Cyclone™ from Radio Flyer. Using arm powered action, you can spin 360? for unlimited fun. Whether you are zooming forward or rolling in reverse, the 16" wheels offer a smooth ride. This ride on also features comfort handgrips to guide your ride and an ergonomic seat and frame for a comfort ride. The solid steel frame and rear caster wheel ensure years of classic Radio Flyer fun.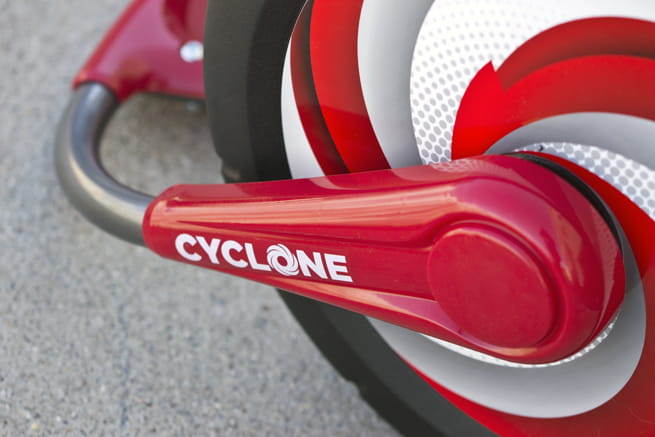 The new Radio Flyer Cyclone lives up to its name!
The weather here, as in most of the country has been downright crazy, so the only time we would get out and try the cyclone with a clear driveway was when it was about 4 degrees out. The videos below show my daughter enjoying it for the first time and trying to get a handle on how to get it to do what she wanted it to. The bulk of her coat was not overly helpful but it wasn't slowing her down too much, I couldn't get her to come in the house to warm up.
It was interesting to watch her as she tried to figure out the physics of it and what she needed to do to get it to move where she wanted it to. What a great way to improve hand-eye coordination and improve problem solving.
I am sure that before too long she will be a pro with the Cyclone like the kids in this video are:
Features & Specs
For ages 3-7
Weight capacity 69 lbs
Arm powered action
360? spins
Zoom forward or roll in reverse
16″ Wheels for a smooth ride
Comfort handgrips guide your ride
Solid steel frame
Ergonomic seat & frame for a comfort ride
Rear caster wheel enhances the fun
My daughter seriously can't get enough of the Radio Flyer Cyclone. She keeps begging to go ride it and unfortunately the weather had made it next to impossible. Hopefully we will get a break soon and she will be able to be out there all the time learning great new tricks!
Note: we received the product shown as part of our review.
Join our newsletter!
Subscribe to get updates and great stuff via email including subscriber-only goodies like free printables and giveaways.