Because of its high protein, fiber, and nutrient content, quinoa has gained popularity as a "superfood" in recent years.
From salads to soups to casseroles, these 15 quinoa dishes with chicken are guaranteed to delight your taste buds and leave you feeling pleased and fed, plus they're all quick to cook and excellent for a weekday supper or meal prep.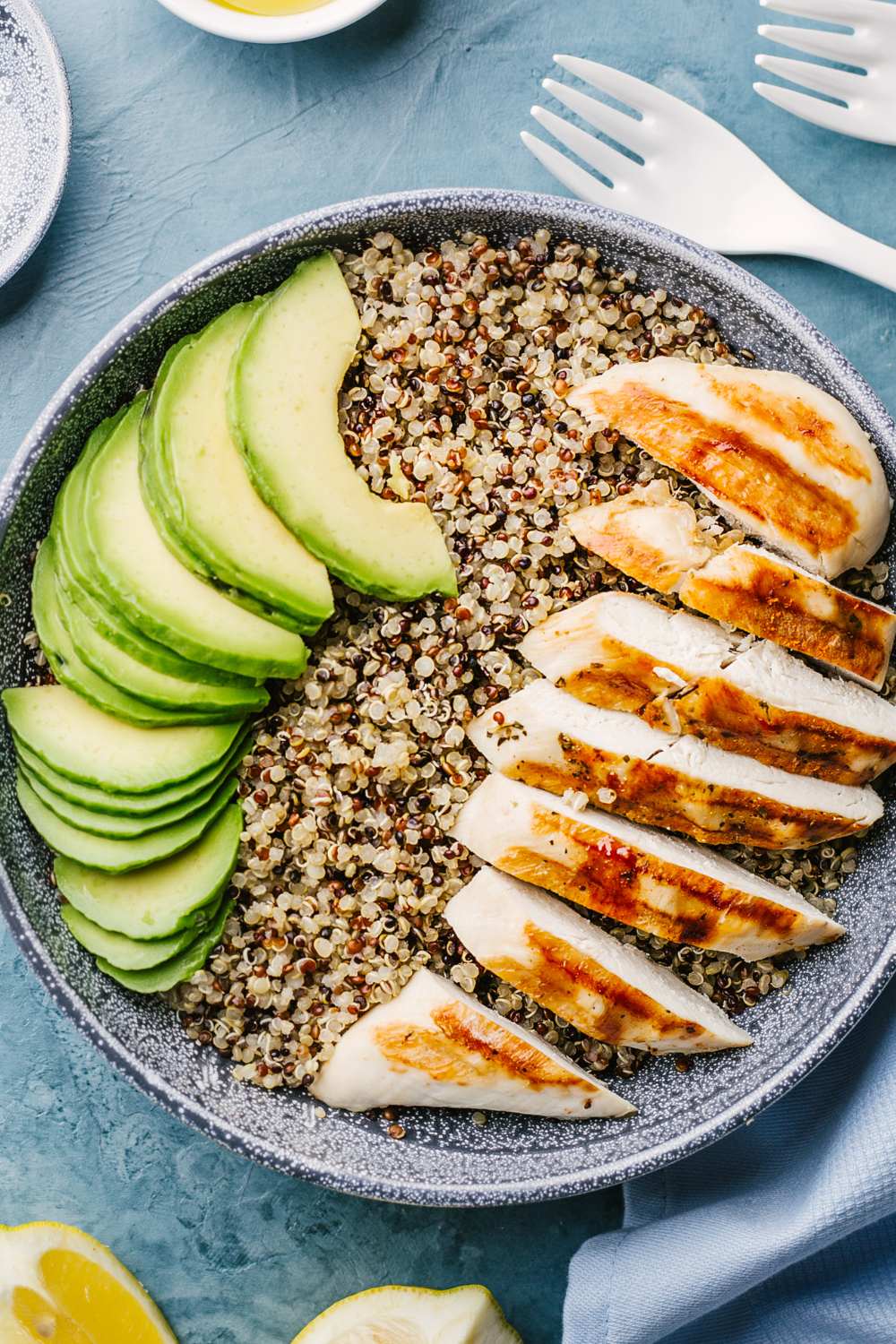 What Are Some Decent Quinoa Brands To Use?
Quinoa is a versatile and healthful grain that can be used in a number of cuisines, but there are so many brands to select from that it may be difficult to know which one to use. Here are some popular brands to consider and their unique features:
Ancient Harvest: This brand offers organic and gluten-free quinoa in a variety of colors and textures.
Bob's Red Mill: Their quinoa is organic and non-GMO, and they offer both regular and tri-color varieties.
Trader Joe's: Their quinoa is affordable and comes in both regular and tri-color options.
Alter Eco: This brand sources its quinoa from small-scale farmers in the Bolivian Andes and offers both white and red quinoa.
NOW Foods: Their quinoa is organic and non-GMO, and they offer both regular and tri-color varieties.
Can I Substitute Chicken With Another Protein In These Recipes?
Absolutely! Quinoa is a versatile protein that pairs well with many other ingredients. Feel free to swap chicken with tofu, shrimp, turkey, or even roasted vegetables for a vegetarian option. These substitutes will not only add variety to your meals but also provide a healthy source of protein. Experiment with different flavors and textures to find the perfect combination for you
15 Quinoa Recipes With Chicken
These 15 Quinoa Dishes with Chicken, from salads to stir-fries, are excellent for adding extra whole grains and lean protein to your diet:
Get whisked away to Buffalo, New York, with this scrumptious Buffalo Chicken Quinoa Salad featuring broccoli! The spicy hot sauce dressing perfectly marries with tender chicken pieces and crunchy veggies, while blue cheese crumbles add a tangy twist.
As you savor each bite, the avocado and green onions provide a delightful freshness. This dish will surely make you feel like you're enjoying a game day feast, right from the comfort of your own kitchen. Don't forget to drizzle more dressing for that extra kick!
Dive into this vibrant Chicken and Quinoa Bowl, bursting with flavors from a blend of exotic spices. The paprika, turmeric, coriander, and onion powder create a mesmerizing melody, as the succulent chicken and fluffy quinoa take center stage.
Dance through a garden of chopped kale, cherry tomatoes, and toasted almonds, where each bite leaves you craving more. Finally, let the chopped parsley be your guide, leading you to a world of nutritious satisfaction.
Imagine a cozy Italian trattoria, and let this Chicken Parmesan & Quinoa Stuffed Peppers recipe transport you there! Nestled within vibrant red bell peppers, you'll discover a mouthwatering mix of quinoa, shredded chicken, and marinara sauce, all beautifully adorned with Parmesan cheese and fresh basil.
As the melted mozzarella cheese sings its sweet, melty tune, these peppers will make you feel like you're enjoying a lovingly-prepared meal in the heart of Italy. One bite and you'll be dreaming of cobblestone streets and candlelit dinners.
As we continue our flavorful journey with quinoa and chicken, let's warm our souls with this Hearty Chicken-Vegetable Quinoa Soup. Brimming with nourishing ingredients like carrots, celery, white beans, peas, and corn, this soup is a warm embrace on a chilly day. The Italian seasoning adds a touch of Mediterranean flair, while the balsamic vinegar deepens the flavor.
Whether you simmer this masterpiece on the stovetop or let it slow cook to perfection, it's a comforting companion to the vibrant stuffed peppers we enjoyed earlier. Savor the connections between these dishes as you delight in every spoonful.
Continuing our culinary adventure with quinoa and chicken, let's add a playful twist to a classic favorite: Quinoa Crusted Chicken Tenders! These tender, juicy morsels come wrapped in crispy quinoa and whole wheat panko crust, seasoned with a symphony of spices.
Paired with a sweet and tangy honey mustard sauce and a dollop of ketchup, these chicken tenders will take you back to the days of childhood. As you enjoy the crunch and savor the flavors, you'll feel the thread connecting this playful dish to the heartwarming soup and the Italian-inspired stuffed peppers we relished before.
Our quinoa and chicken exploration leads us to the enticing world of Asian cuisine with this delicious Fried Quinoa recipe. Infused with the irresistible flavors of soy sauce, sesame oil, and chili garlic sauce, this dish will have your taste buds dancing. Toss in tender chicken pieces, wholesome veggies, and fluffy quinoa, then top it off with fragrant scallion greens.
As you savor this Asian-inspired creation, you'll feel the connection to the comfort of our soup, the zest of our stuffed peppers, and the playful crunch of our chicken tenders. Delight in the harmony of flavors and textures that unite these diverse dishes.
Next up in our quinoa and chicken journey, we're taking a detour to the world of smoky, tangy flavors with these Barbecue Chicken Quinoa Bowls. Loaded with succulent shredded chicken, hearty black beans, roasted corn, and vibrant cherry tomatoes, this dish offers a perfect balance of flavors and textures.
The star of the show is the velvety avocado crema drizzled on top, adding a refreshing touch to this bold and satisfying meal. As you dive into this zesty creation, feel the link between our Asian-inspired fried quinoa, the heartwarming soup, the Italian-style stuffed peppers, and the fun chicken tenders.
Take your taste buds on a Mediterranean getaway with this vibrant and refreshing Mediterranean Kale Salad! Brimming with wholesome ingredients like curly green kale, shredded chicken, quinoa, and an assortment of colorful veggies, it's a nutritious delight for any meal.
The zesty lemon vinaigrette adds a delightful tang, perfectly complementing the salad's earthy flavors. To elevate your experience, try using tricolor quinoa from Trader Joe's, and make sure to massage that kale for ultimate tenderness. Enjoy this wholesome salad with extra dressing and a spritz of lemon for a true Mediterranean escape!
Delight in the comforting flavors of this Chicken Quinoa Enchilada Casserole, a savory and satisfying dish that brings the essence of Mexican cuisine straight to your table.
Imagine layers of perfectly cooked quinoa, tender shredded chicken, black beans, and green chiles, all smothered in a rich enchilada sauce and topped with gooey, melted cheese. The finishing touch? A dollop of sour cream and a sprinkle of freshly chopped cilantro for an extra burst of flavor. Serve this scrumptious casserole with lime wedges for a zesty twist and watch it disappear from the plate!
Take a cozy culinary journey with this scrumptious Quinoa White Chicken Chili, a delicious bowl of comforting goodness packed with flavorful ingredients. With a mouthwatering combination of tender chicken, white beans, quinoa, and jalapeno peppers, this chili boasts a unique twist on a classic favorite.
The salsa verde and lime juice add a zesty kick, while the cilantro offers a fresh, herbaceous touch. Whether you're looking for a warming meal on a chilly day or a hearty dish to share with loved ones, this delightful chili will surely impress and satisfy you.
Transport yourself to a world of flavor with these Chicken Quinoa Lettuce Wraps with Peanut Sauce, a perfect blend of savory, crunchy, and oh-so-satisfying! The teriyaki-marinated chicken and nutrient-packed quinoa form a hearty base, while the fresh veggies add a delightful crunch.
The peanut dipping sauce, however, steals the show by adding a creamy, nutty contrast to each mouthful. Gather your loved ones around and enjoy the fun of assembling these wraps together – a scrumptious, interactive, and wholesome meal awaits!
Whip up these vibrant Chicken Quinoa Burrito Bowls for a meal that's as nourishing as it is bursting with flavor! With tender taco-seasoned chicken, colorful sautéed veggies, zesty corn salsa, and creamy guacamole atop a bed of wholesome quinoa, this dish is a fiesta in a bowl.
A sprinkle of cotija cheese adds a savory touch, while lime wedges provide a bright, citrusy finish. Make these burrito bowls for a fun, customizable dinner experience that will leave everyone's tummies full and hearts happy.
Cozy up with these Healthy Quinoa Chicken Curry Bowls for a meal that warms the soul and delights the senses. Tender chicken thigh pieces are lovingly simmered with aromatic spices, fresh tomatoes, and eggplant, while quinoa adds a delightful nutty flavor and texture.
Each spoonful is a delightful dance of flavors, and when it's time to serve, let your creativity shine with an array of toppings like crushed almonds, cilantro, green onions, or even a dollop of almond butter. These curry bowls are perfect for a satisfying weeknight dinner or a meal to share with loved ones.
This Slow Cooker Chicken Parmesan Quinoa Toss is a delicious way to indulge in the delectable flavors of Italy. Tender ground chicken breasts, bright yellow onions, diced tomatoes, tangy Italian dressing, fresh spicy oregano, and grated parmesan cheese come together in a meal that is sure to please.
This slow-cooked meal is not only tasty but also quite simple to prepare. This recipe will quickly become a family favorite when served with perfectly fluffy quinoa for a filling and healthy main dish.
Stuffed Acorn Squash with Garlic Herb Chicken Sausage and Quinoa will take you on a culinary adventure. Delicious quinoa, onion, garlic, and roasted garlic and herb chicken sausage fill the roasted acorn squash halves. Parmesan cheese is grated fresh before being sprinkled on top and roasted till golden.
There's just the right amount of heat from the cinnamon and cayenne pepper to complement the sweetness of the maple syrup. Perfect for a homey meal or a get-together with loved ones, this dish is not only tasty but also full of nutrients that will leave you feeling satiated and energetic.