I always tell people that I have a great dog.
His name is Simon and usually people share my opinion after spending a few minutes with him.
Simon is a purebred Golden Retriever who joined our family at 12 weeks old in early 2002. He will be 12 years old on December 31, 2013, but those 12 years weren't always easy. At 8 months old he was diagnosed with severe hip displacia in both hips. We were told that without surgery he would be lame by the time he was 2 years old. He underwent 2 surgeries to correct his hips that required a total of 16 weeks of recovery. During those 16 weeks he was confined mostly to a crate, we have to use a towel to hold up his back end to help him walk and care for large incisions with staples in them.
It was all worth it.
Many years later he has developed allergies, epilepsy, arthritis and always has some medical malady that sends us to the vet.
But there has been one critical element in his care that has helped ensure that he can remain active and relatively pain-free.
Weight maintenance.
Simon is a big dog but at one point he weighed over 100 lbs. This was not at all good for his joints and made it very difficult for him to get around. Our vet prescribed a reduced diet but more importantly he prescribed physical activity to help get him slim and trim. With the commitment we made to him, he lost about 20 lbs and manages to maintain it at about +/- 5 lbs. A recent new addition to our family made this commitment even easier. You see, Simon loves his tennis ball and Toby loves to be chased.
Give Toby the ball, and GAME ON.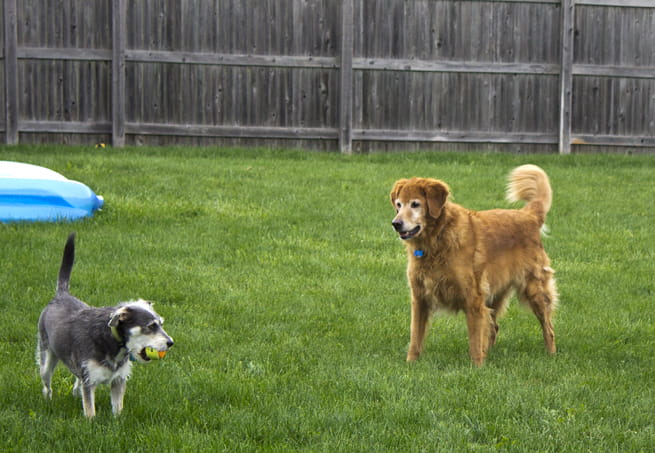 But a little bit of running around the backyard isn't really enough exercise to keep his weight in check and sitting in a lawn chair watching them certainly doesn't help me.
This is where Purina® Pro Plan® 's MapMyFitness LeashOn Challenge comes in.
About the LeashOn Challenge
The Purina® Pro Plan®  LeashOn Challenge is a MapMyFitness challenge and encourages you to get active with your dog. Once you join the challenge, every time you log a walk or a run with the MapMyFitness app you are entered to win great prizes including a year's supply of Purina® Pro Plan® Dog Food.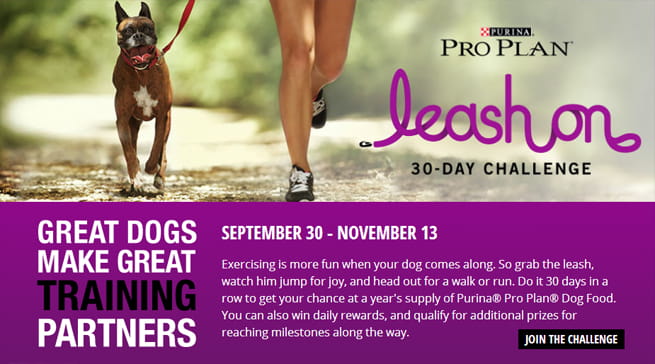 There are three ways to win:

From September 30 through November 13, 2013, log a walk or run together with your dog each day for 30 consecutive days for the chance to win a year's supply of Purina® Pro Plan® Dog Food.
During the same period, every day you log a walk or run with your dog, you can also win the daily prize: one of two Purina® Pro Plan® branded Camelbak® water bottles.
When the challenge ends, in addition to the grand prize, each participant that has earned at least one badge will be entered into a drawing to win one of 100 coupons good for one FREE (up to $18.99) bag of Purina® Pro Plan® Dog Food. Participants will get one entry for every badge earned.
Take the Challenge
Both of my dogs love to go for a walk. Simon is a bit of a slow-poke due to his age and the damage done to his rear legs from the last set of seizures he had. But he still loves to get out and sniff and pee on all kinds of things. Toby is my runner. He loves to run along-side me (and in front of me, and trip me…but that's a whole other issue) and because he is only 2 years old, he can run for quite a long time. Because of this I have to take them out separately because they just don't operate at the same pace. Which is fine with me because it gives me even more exercise!
Combining our exercise with the Purina® Pro Plan® Fitness Group on MapMyFitness makes it easier to stay motivated. I can track our daily average and see what other group members have done to stay active with their dogs. From the group page you can access the LeashOn Challenge page and see how you stack up against the leaderboard.
For more information about Purina® Pro Plan®  products visit: Purina® Pro Plan® Products
—————————————————
Purina® ProPlan®
has partnered with MapMyFitness and created the Purina® ProPlan® Fitness Group Page to get pet owner's more active with their dogs.  Check out the Fitness Group page here and start getting active with your dog today!
This is a sponsored conversation written by me on behalf of Purina® ProPlan® . The opinions and text are all mine.
Join our newsletter!
Subscribe to get updates and great stuff via email including subscriber-only goodies like free printables and giveaways.