Stop buying flavored instant oatmeal.
Stop it.
Flavored instant oatmeal is a better choice than a doughnut or a multitude of other unhealthy breakfast options, but it's really not hard to make your own tasty oatmeal from scratch without all the additives and sugar that is in packaged, flavored, instant oatmeal.  The unflavored without sugar or anything is not a bad choice, in fact it has very similar nutrition information to old-fashioned oats, but I'm a purist when it comes to nutrition and prefer to use the steel cut or old-fashioned oats.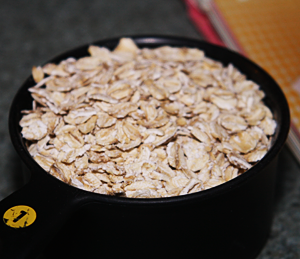 Below is a recipe I originally found in the Deceptively Delicious Cookbook by Jessica Seinfeld by I have taken it a step further and removed the sugar from it and use honey.  And as you'll see it doesn't take that much more time to prepare the oatmeal from scratch.
Ingredients:
1 cup skim milk
1 tablespoon honey
1/4 cup canned pumpkin
1 teaspoon vanilla extract
1/4 teaspoon cinnamon
1 cup old-fashioned oats
Preperation:
Combine milk, honey, pumpkin, vanilla & cinnamon in a small pan and bring to a gentle boil.
Stir in oatmeal, reduce heat, and simmer for 3 minutes.
Enjoy
You can add raisins or nuts or even stir in a teaspoon or two of peanut butter before eating if you would like.  I like to top mine with a few chopped pecans.
Serves 2
Join our newsletter!
Subscribe to get updates and great stuff via email including subscriber-only goodies like free printables and giveaways.