My daughter is in preschool and one of her classmates is a little boy who is full of spunk and passion and uniqueness that often displays itself in ways that some kids (and adults) might find difficult to deal with. He's an intense kid but so sweet and when he finds something (or someone) that he likes, he latches on with all he's got.
A few months ago, Abby told me that this boy tried to hold her hand and she didn't like it, so I told the preschool teacher. She told me she would make sure Abby didn't feel uncomfortable around the boy, but the reason he likes her so much is because she is nice to him and helps him and plays with him, something not all the kids do because of the reasons I mentioned earlier. I was proud of Abby that day but I also wanted to make sure that she was not put in a position where she was uncomfortable, even though these kids are only 4 years old.
The time passed and while it seemed the boy still had an affection for Abby, she didn't complain further.
Last week we arrived at preschool one day and the boy told her that he had named his new fish "Abby" after her. She seemed confused but I told her (and him) that that was a very sweet thing to do. Then today we arrived and the little boy had a gift for her, a book about her favorite topic – ladybugs. I swear I had a tear in my eye over this sweet gesture.
Two things struck me in this moment.
First, more pride over the way my daughter treats this sweet boy. She looks beyond the things that may bother others and treats him like she would want to be treated.
Second, and more profound, is the great gifts this little boy has to offer, and I don't just mean books about ladybugs. On the surface he can be a bit daunting and challenging but beyond that, he has managed to make Abby feel special and help her see that simple gestures like being someone's friend are valuable and important. He has such a sweet heart and when we judge people purely on a first impression or gut reaction (I'm way too guilty of this myself) we can miss out on getting to know someone who is extraordinary.
I will always remember this little boy. He has touched my heart with his love of dinosaurs, construction trucks, and of course, my daughter. Not to mention his Halloween costume – not many kids can pull off a Venus Flytrap….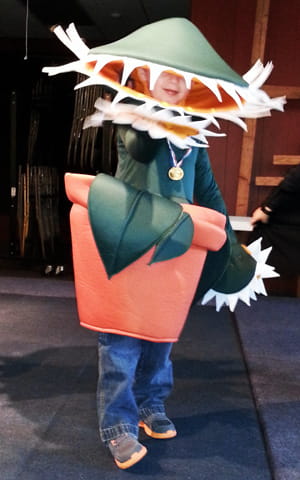 The next time you come across someone where your instinct reacts based upon a first impression, I urge you to look past that and look for what makes that person special. I promise you that what you find will change your life for the better.
Join our newsletter!
Subscribe to get updates and great stuff via email including subscriber-only goodies like free printables and giveaways.