The product in this article was provided by mophie to facilitate my review.
Around here we are always on devices. Part of the problem is that my husband and I work from home and there isn't a clear cut-off when work ends and home begins. The other part of the problem is that when we do power down, the kids want a chance to power up, usually with my iPad. But by dinner it is seriously in need of charging and I get all kinds of groans and complaints when I tell them they have to sit on the floor in the corner in order to use it. What rough lives they lead, right?
But they don't have to be inconvenienced any longer with the Mophie Juice Pack Powerstation® PRO.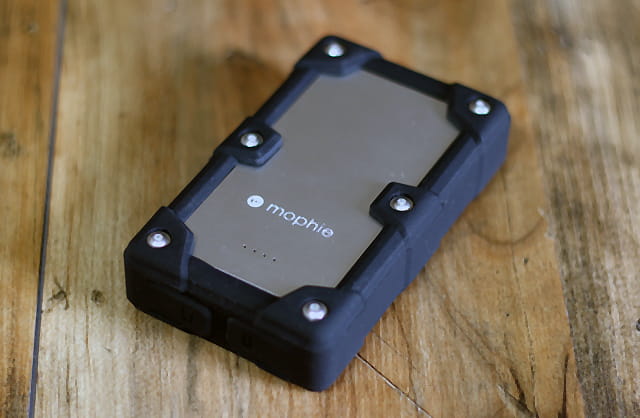 That little box has saved us from dealing with dead devices both at home and out and about. It is a portable, durable battery pack that will charge most portable devices.
About Mophie Juice Pack Powerstation® PRO:
With the powerstation PRO, you will have confidence that you'll have all the power you need when and where you need it. With an impact & splash resistant design and 6000 mAh capacity – you can be assured that no matter how extreme your weekend gets, all your gear will have the power it needs come Monday.
The powerstation PRO is in a class of its own. Tough design and up to 2.1amp, high-output charging, keeps you going in the most extreme conditions. This powerstation has the largest capacity of all juice packs and has the ability to handle all of your smart devices, including the iPad.
Rugged
The Powerstation PRO is extremely durable. It has a rating of IP65 which tests dust and water resistance. The 65 rating indicates the unit is pretty much completely dust proof but that it is only water resistant for sprayed water. You can't submerge it in water, however.
Powerful
The Powerstation PRO is very powerful. It has a capacity of 6,000 mAh which, depending upon your device, can keep you charged up for days.
Compatibility
The Powerstation PRO is compatible with many devices, but if you want to know for sure, look here: Mophie Juice Pack Powerstation® PRO compatibility chart. It is compatible with most USB smartphone and tablet devices.
Performance
We have used the powerstation PRO for charging my iPad 2 and my iPhone 5. It only charges 1 device at a time, which is a bit of a drawback, but it does a great job with the one device it does charge. The powerstation PRO will charge my iPhone at least 3-4 times before needing a charge itself and will charge my iPad almost fully before needing to be charged again. It has been dropped a few times and didn't appear to have been damaged. It is durable enough that I don't have to be concerned about my kids handling it.
The size is great, it's not much bigger than my phone, adds a bit of weight but not unbearable, and is very easy to put in my purse to take with so we are never without power for our devices.
The powerstation PRO comes with a micro USB charging cord that connects to the USB port on your computer. It charges up fast so it is ready when I need it.
For more information and to purchase the Powerstation PRO visit: mophie.com.
Join our newsletter!
Subscribe to get updates and great stuff via email including subscriber-only goodies like free printables and giveaways.