Potatoes are one of the most versatile ingredients in the culinary world. With their neutral flavor, they can be paired with almost anything.
One classic pairing that's always a crowd-pleaser is dill. It's light and fresh taste pairs perfectly with the creaminess of potatoes.
In this round-up, we've compiled 15 delicious potato salad recipes with dill, from classic to unique twists, that are sure to be a hit at your next gathering.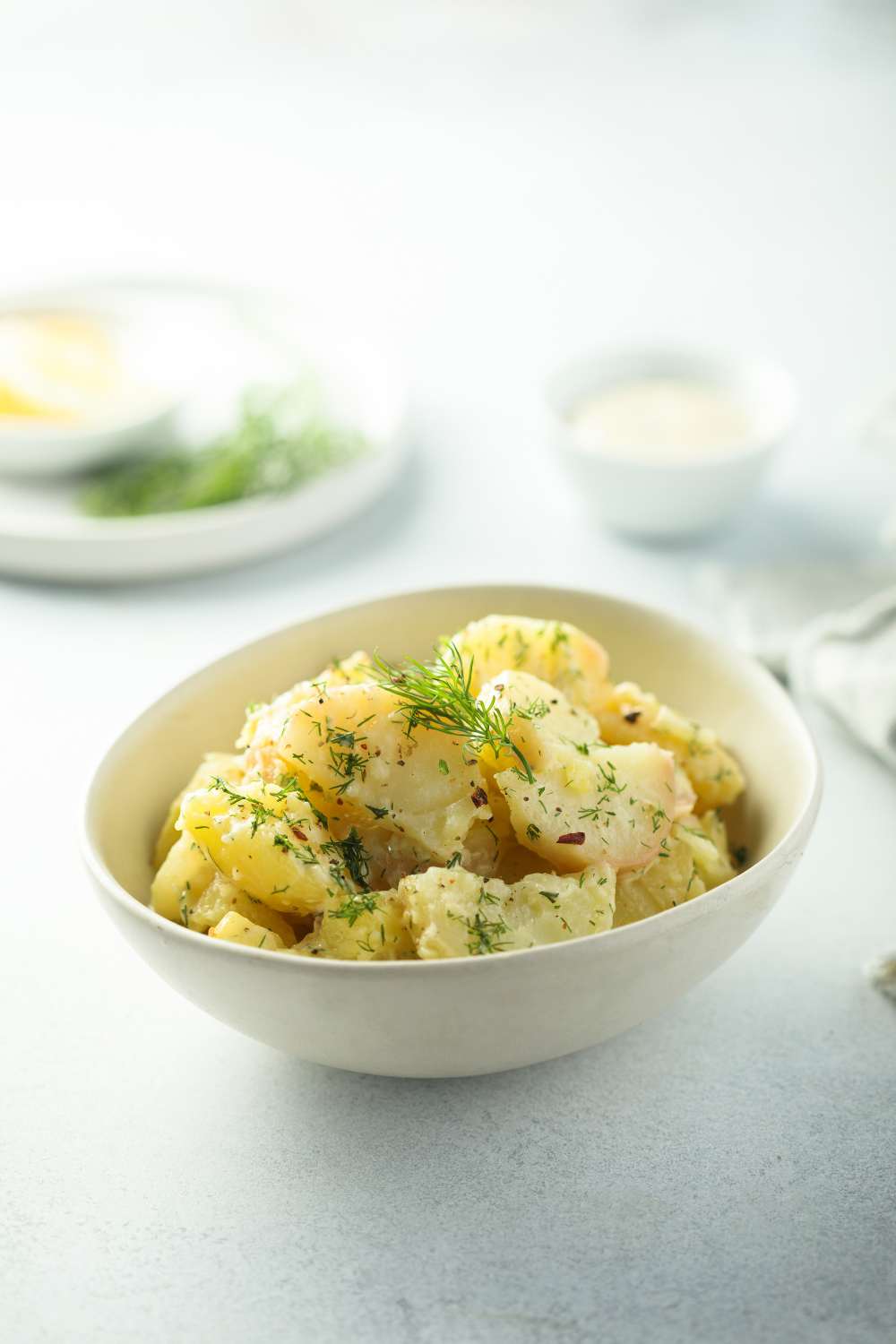 What Are The Best Poatoes For These Potato Salads?
Potatoes are an essential ingredient in making a delicious potato salad, and different varieties have their unique textures and flavors. Here are six varieties of potatoes to consider:
Russet Potatoes: A starchy potato with a high starch content, perfect for making fluffy and soft potato salads.
Yukon Gold Potatoes: These have a creamy, buttery texture and are perfect for salads that require a firm, yet tender texture.
Fingerling Potatoes: This variety is small and elongated, lending a firm texture and slightly sweet flavor to potato salads.
Red Potatoes: These are firm, yet tender with a slightly sweet flavor. They are perfect for salads that require a vibrant, bright color.
Baby Potatoes: These small and tender potatoes work well in salads where a creamy, buttery texture is required.
Purple Potatoes: These have a slightly sweet flavor and a firm texture. They are perfect for salads that require a pop of color and a unique texture.
When choosing potatoes for your salad, consider the type of potato and its texture. Starchy potatoes are perfect for salads that require a soft and fluffy texture, while firmer potatoes are better for salads that require a crisp and tender texture. Also, consider the flavor profile and color, as each variety has its unique qualities.
Can I Use Dried Dill Instead Of Fresh?
Yes, you can use dried dill instead of fresh dill. However, be aware that dried dill has a more concentrated flavor, so use it sparingly. One teaspoon of dried dill is equivalent to one tablespoon of fresh dill. It's best to add the dried dill at the beginning of the cooking process to give it time to release its flavor.
15 Potato Salad Recipes With Dill
Prepare for the best summer side dish ever with these 15 Potato Salad Recipes with Dill, including both traditional and creative takes on the classic:
Our first stop on this potato salad journey is the Creamy Avocado Potato Salad. This recipe combines the creamy texture of avocado with the hearty texture of potatoes for a perfect blend.
Adding asparagus tips, broccoli florets, and celery adds a fresh crunch to this dish. Seasoned with whole-grain mustard, salt, pepper, and olive oil, this potato salad is a healthy option that doesn't skimp on flavor. Don't forget to garnish with sliced chives to make this dish look as good as it tastes!
Creamy Dill Potato Salad is a classic side dish that never disappoints. This recipe starts with perfectly cooked baby red or yellow potatoes mixed with creamy mayonnaise, tangy sour cream or Greek yogurt, and grainy Dijon mustard.
Finely chopped red onion and fresh dill give the dish a zesty kick, while sliced celery adds some crunch. A splash of apple cider vinegar rounds out the flavors of this dish. Serve this salad chilled and garnish with extra dill for a refreshing side dish that complements any meal.
Get ready for a zesty treat with this Lemony Dill Potato and Egg Salad! Imagine a warm blend of diced potatoes, chopped hardboiled eggs, and a tangy, creamy dressing infused with fresh lemon juice and minced dill.
The perfect balance of salty and sour, this dish is sure to brighten up your day. Whip up a batch and let it chill in the fridge until ready to serve at your next potluck or picnic.
This Mustard Dill Potato Salad is a flavorful and healthy version of a classic favorite. Tender baby potatoes, crunchy celery, and refreshing radishes are tossed together in a light and zesty dressing made with olive oil, red wine vinegar, garlic, and Dijon mustard.
Fresh dill and parsley add a burst of herbaceousness to the mix. This potato salad can be served cold or at room temperature, perfect for a summer picnic or a quick weeknight dinner. Make it ahead of time and store it in the fridge for up to three days.
If you're looking for the ultimate creamy dill potato salad, look no further! This recipe is packed with flavor and texture that will leave you wanting more. The red potatoes are steamed to perfection and then mixed with crunchy celery, boiled eggs, and scallions.
The creamy dressing is made with mayonnaise, dill pickle brine, ground mustard, apple cider vinegar, sugar, and spices. The result is a deliciously creamy and tangy dressing that perfectly complements the potatoes.
Cool, crisp, and creamy, this Cucumber Dill Potato Salad recipe is the perfect side dish for any occasion. The red potatoes are boiled until fork-tender and mixed with fresh cucumber, minced shallot, and boiled eggs.
Then, the dressing, made with Greek yogurt, fresh dill, parsley, lemon juice, and a pinch of sea salt, is poured over the potato mixture and folded to coat. Chill in the refrigerator for an hour or more to let the flavors meld together. Serve this refreshing salad cold and enjoy the tangy and herbaceous flavors in every bite!
This dill pickle potato salad is a delicious and unique take on traditional potato salad. The combination of mayonnaise, dill relish, and dried dill creates a dressing that is the ideal complement to the mild taste of Yukon Gold potatoes.
The addition of bacon crumbles, hard-boiled eggs, and sliced green onions make this a party- or picnic-ready meal. Whether served hot or cold, this potato salad is the best accompaniment you'll ever have.
Looking for a new twist on classic potato salad? Try this Parmesan Dill Potato Salad! Creamy mayo, tangy sour cream, and bold Dijon mustard make the perfect base for tender red potatoes.
Tossed with freshly minced dill weed, savory Parmesan cheese, and a hint of zesty lemon, this salad packs a flavorful punch. Serve chilled for a refreshing side dish at any summer barbecue or picnic.
The traditional and hearty German Potato Salad is a great addition to any get-together. Yukon gold potatoes are cooked until fork-tender, chilled, and then sliced into tiny cubes for this dish. The bacon is slow-cooked to perfection, allowing the fat to render and the salty, crunchy particles to form.
An acidic dressing of apple cider vinegar, white vinegar, brown mustard, and sugar is tossed with onions and garlic that have been sautéed in bacon fat. Once the dressing is hot, add the potatoes, bacon, and fresh parsley to make a delicious potato salad that would be great at a barbecue or as a side dish with any meal.
Olivier Salad, also known as Russian Salad or Salad Olivier, is a classic salad that is enjoyed in many countries around the world. It is a delicious combination of potatoes, carrots, eggs, pickles, and peas, all tossed in a creamy mayonnaise-based dressing with a touch of fresh dill.
The salad is typically served chilled and makes a perfect side dish for picnics, potlucks, or holiday gatherings. With its vibrant colors and fresh flavors, Olivier Salad is sure to be a hit with everyone at your next party or family dinner.
This recipe is a twist on traditional potato salad, with fingerling potatoes and asparagus roasted to perfection and then combined with red onion, fresh dill, mayonnaise, and Dijon mustard for a flavorful and unique dish.
The roasted vegetables add a depth of flavor and texture, while the combination of mayo and mustard creates a creamy and tangy dressing. It's simple to prepare and tastes great both warm and cold, making it a versatile addition to any meal. Give this non-traditional potato salad a try and impress your guests with a fresh take on a classic dish!
This vibrant salad brings together the earthy sweetness of roasted beets and the comforting simplicity of boiled potatoes, all tied together with a creamy dill dressing. The beets are roasted to tender perfection, then cubed and combined with boiled yellow potatoes for a pop of color and flavor.
The creamy dressing is a perfect complement to the natural sweetness of the beets and the slightly tangy flavor of the potatoes. The dressing is made with a mix of sour cream, mayonnaise, and horseradish sauce, with fresh chopped dill adding a burst of herbaceous flavor. Serve this salad as a colorful side dish or enjoy it as a light lunch.
This delicious Imitation Crab and Potato Salad is the ideal dish to bring to any summertime picnic or gathering! The crisp cucumbers, delicate potatoes, and sweet corn all go well with the acidic and creamy sauce that has been drizzled over the salad.
The salad gets a boost in both nutrition and taste from the inclusion of imitation crab, which also gives it a seafood spin. The fresh dill lends the meal a flavor that is both bright and herbaceous; as a result, the dish is both invigorating and delectable, and it is sure to be a hit with everyone.
Picture a potato paradise, where fluffy cubes of potato mingle with creamy mayo and tangy Dijon mustard. As if that wasn't enough, fresh dill and briny capers add a burst of herbaceous and salty goodness.
Hard-boiled eggs provide a protein-packed punch, while green onions lend a subtle onion flavor and vibrant pop of color. This dish is perfect for any time you want a hearty, comforting side dish that will leave you feeling satisfied and content. So, grab your apron and get cooking!
This salad is like a colorful explosion of healthy goodness in your mouth! The creamy mashed avocados mix with the tender, perfectly cooked potatoes and are accentuated by the zingy scallions and chili peppers.
The bright green peas add a pop of sweetness, while the fresh dill brings a fragrant, herby note. And let's not forget the pinch of sea salt - it really brings out the flavors in this dish. With a sprinkle of red pepper flakes for a touch of heat and lime slices on the side, this salad is a surefire hit for any meal or snack time.