Pork is a common filler for egg rolls because of its savory and wonderful taste and because it is a versatile element. In this post, we have included 15 distinct egg roll recipes with pork that are certain to fulfill your needs. Ranging from conventional Chinese egg rolls to egg rolls with novel taste combinations, these recipes are ideal for every occasion you can think of.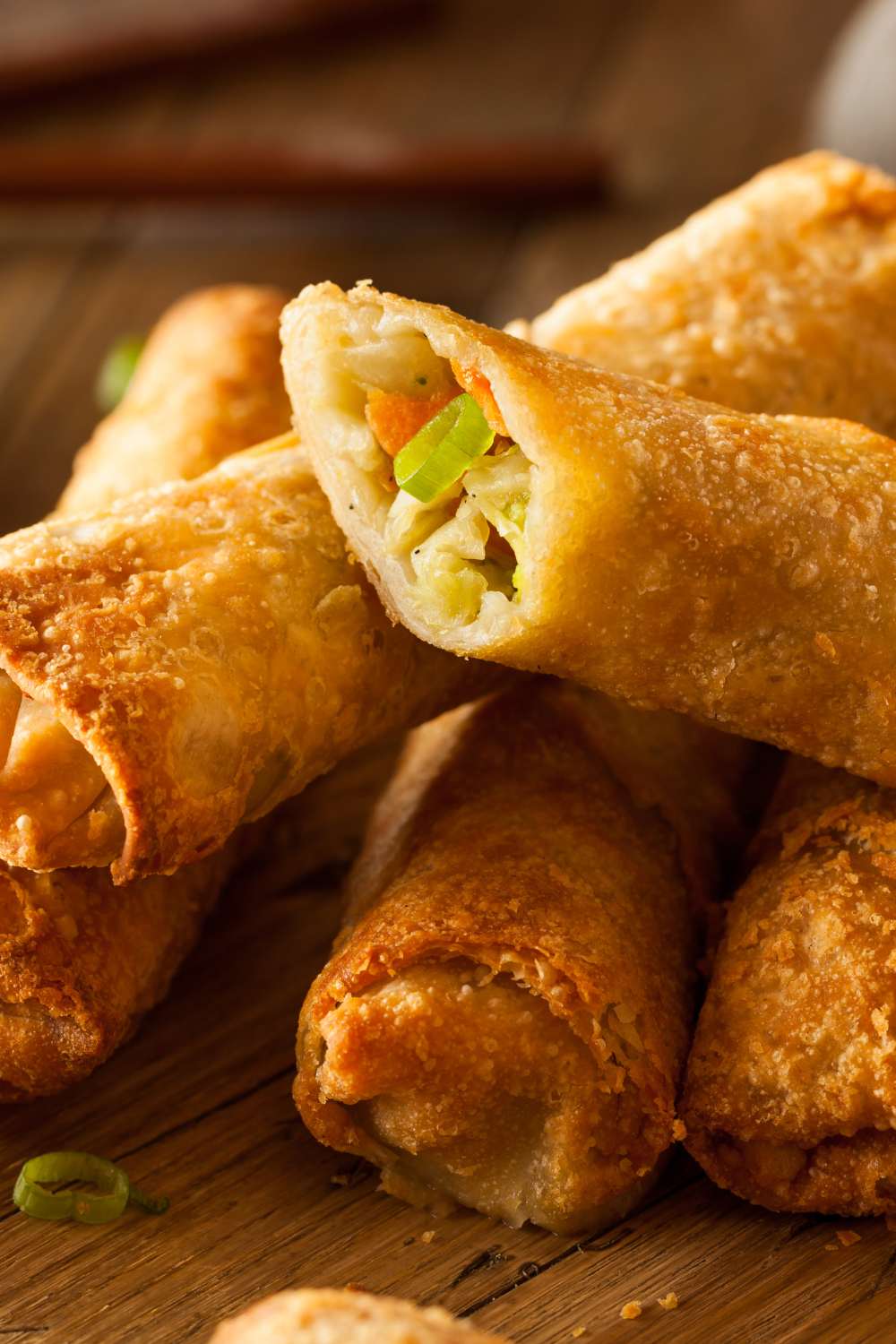 From basic to inventive, these 15 Pork Egg Roll Recipes are the ideal complement to your appetizer game:
Savor the fusion of Southern charm and Asian flair in these Pulled Pork Egg Rolls! Smoky pulled pork drenched in BBQ sauce meets a tangy, crisp coleslaw mix, all wrapped up in a golden, crunchy egg roll wrapper. The unique combination of flavors will leave your mouth watering, while the delightful contrast of textures keeps you reaching for more.
Don't forget to dunk each crispy roll into some extra BBQ sauce for a finger-licking good experience. This appetizer is perfect for gatherings or just treating yourself to a scrumptious snack.
Introducing Vietnamese Spring Rolls, a delightful medley of flavors wrapped in a delicate rice paper hug! These exquisite rolls combine tender ground pork, minced shrimp, and optional crab meat with a burst of shredded carrots and softened mung bean noodles.
Each bite is seasoned to perfection with garlic, shallot, fish sauce, and a touch of black pepper. Fried to a gentle golden brown, these spring rolls pair perfectly with nuoc cham for dipping. Add a lettuce leaf and aromatic herbs for an extra layer of freshness that will transport your senses to the vibrant streets of Vietnam.
Feast your eyes on these Korean Mandu Egg Rolls, a harmonious blend of ground beef and pork mixed with shredded cabbage, bean sprouts, and minced celery. The fragrant green onion, soy sauce, sesame oil, and seasonings elevate the filling to new heights, ensuring every bite is packed with flavor.
Encased in a crisp wonton wrapper and fried to perfection, these scrumptious egg rolls are a must-try for any Korean cuisine lover. Savor them fresh out of the fryer and delight in the satisfying crunch that accompanies each flavorful mouthful.
Southern barbecue meets traditional Chinese flavors in Neely's BBQ Pulled Pork Egg Rolls. Succulent pork butt seasoned with smoked paprika and cooked to perfection in a medley of tangy and savory sauces, making every bite a tender, juicy delight.
Paired with a crunchy coleslaw, these scrumptious egg rolls are fried to a crispy golden brown in peanut oil. Served with a delectable peach dipping sauce that boasts a blend of peach preserves, rice wine vinegar, Dijon mustard, ginger, and a hint of spice, these egg rolls will have you coming back for more!
Savor the delightful fusion of flavors in these Homemade Pork and Vegetable Egg Rolls, accompanied by a tangy Sweet, and Sour Dipping Sauce. The filling features succulent Char Siu pork and a medley of fresh vegetables, all seasoned with a blend of oyster sauce, soy sauce, and aromatic scallions.
Wrapped in crispy egg roll wrappers and deep-fried or baked to golden perfection, these egg rolls are the epitome of comfort food. Serve them hot with vibrant, well-balanced sweet and sour sauce, and watch them become the star of your next meal or gathering.
Get ready to make homemade egg rolls that rival those served at your favorite restaurants. Garlic powder, lemon pepper, and soy sauce are added to finely chopped pork roast or ground pork. A liberal quantity of smooth peanut butter is mixed up with shredded cabbage, bean sprouts, water chestnuts, and bamboo shoots.
After the filling is done, it may be rolled into egg roll wrappers and fried in oil. For dipping, provide a sweet and sour sauce prepared from preserves of peach and apricot, vinegar, soy sauce, mustard, and garlic powder.
This ginger pork egg roll recipe is packed with flavor! Ground pork meat is combined with a mix of finely diced veggies including onion, mushrooms, bell pepper, carrot, and shredded cabbage. The mixture is seasoned with fish sauce, tamari, sesame seed oil, fresh ginger, and garlic.
The filling is then wrapped in egg roll wrappers and fried to golden brown perfection. These crispy egg rolls are perfect for dipping in soy sauce, oyster sauce, or sweet chili sauce. They make a great appetizer or party food!
The stuffing for these egg rolls is a typical combination of ground pork, veggies, and vermicelli rice noodles, and the outer shell is fried to a golden crisp. Soy sauce, sesame oil, salt, and black pepper are added to the mix before it is cooked to perfection in peanut or canola oil.
They make a great appetizer when served with a savory dipping sauce. Whether you're feeding a crowd or simply looking for a quick bite, these egg rolls are a fantastic option.
Get ready for a lighter and healthier alternative to traditional egg rolls. Prepared in an air fryer for crispiness, these egg rolls are stuffed with ground pork, onion, coleslaw mix, mushrooms, and celery. Every mouthful is bursting with flavor thanks to the filling, which is seasoned with only a pinch of salt.
This tasty and healthy appetizer is ready in no time with only a small spray of frying oil. These delicious egg rolls are likely to be a hit at your next gathering, so don't pass up the chance to try them.
These Cuban sandwich egg rolls will transport your taste senses to the tropics. These grilled pork chops are folded in an egg roll wrapper with Swiss cheese, deli ham, and dill pickles after being marinated in lime and orange juice, garlic, and spices.
Toss in a tangy sauce of yellow mustard, mayonnaise, sugar, champagne vinegar, and hot sauce, and fry until golden and crispy (if desired). These egg rolls are great for sharing as an appetizer or as a light snack.
If you're looking for a new take on an old favorite, go no further than these Pork and Apple Egg Rolls, which are stuffed with marinated pork strips, sautéed garlic, spaghetti squash, apples, carrots, and scallions.
Crunchy on the outside with a juicy, savory center, this combination is rolled up in egg roll wrappers and cooked till golden brown. These egg rolls, whether served as an appetizer or a main course, are guaranteed to be a hit with your guests and leave them wanting more.
These Pulled Pork and Collard Green Egg Rolls with Alabama White BBQ Sauce are a delicious take on a Southern staple. Egg roll wrappers are stuffed with shredded pork shoulder and collard greens that have been seasoned with salt and pepper, then fried till golden brown.
The end result is a satisfying crunch and burst of flavor that will have you reaching for more. The Alabama White BBQ Dipping Sauce, which is provided with egg rolls, is the ideal complement to the sweet and spicy filling. You may serve this dish at your next party or use it as a fun spin on a regular evening meal.
Take your leftover moo shu pork to the next level with these Moo Shu Pork Egg Rolls. The cold or room temperature filling is wrapped in crispy egg roll wrappers and fried until golden brown. Dip them in a tangy Hoisin soy sauce mixture for a burst of flavor in every bite.
These egg rolls are perfect as an appetizer or snack, and you won't be able to resist having just one. They're easy to make and a great way to use up any leftover moo shu pork you have. Try making these Moo Shu Pork Egg Rolls for your next game day or family gathering.
These crispy and savory pork and shrimp egg rolls will quickly become a family favorite. The succulent ground pork is combined with plump and juicy shrimp, all seasoned with soy sauce, rice wine, and white pepper. The vegetables, including green cabbage, carrot, and bamboo shoots, are stir-fried until tender and crispy, creating a satisfying and healthy filling.
Each egg roll is wrapped in an egg roll wrapper and deep-fried until golden brown and crunchy. The result is a delicious and crispy snack that will satisfy your hunger pangs. Enjoy them with your favorite dipping sauce!
These baked pork and napa cabbage egg rolls are a wonderful change from the usual deep-fried kind. Egg rolls stuffed with ground pork, shredded carrots, chopped onion, wilted napa cabbage, minced garlic, oyster sauce, fish sauce, ground ginger, and other delectable and healthful ingredients.
Each roll is roasted till golden brown after being wrapped in a crispy egg roll wrapper, making for a delicious and nutritious snack that can be enjoyed on any occasion. If you want to wow your guests, serve them fresh from the oven with some zesty duck sauce.
Can I Use Pre-made Egg Roll Wrappers For These Recipes?
Yes, pre-made egg roll wrappers can be used for these recipes, but make sure to follow the recipe's instructions for the proper filling and rolling technique.
How Do I Make The Egg Roll Wrapper Crispy?
To make egg roll wrappers crispy, brush them with a little bit of oil and bake them in the oven or fry them in hot oil until they turn golden brown. Make sure not to overcrowd the pan when frying to ensure even cooking and crispiness.