The sweetness of apples pairs well with the savory taste of pork, making this a traditional combination that has been loved for decades. Here are 15 of the greatest pork chop recipes with apples to try at home. From skillet to sheet pan, these dishes are simple to cook and great for both weekday and weekend dinners.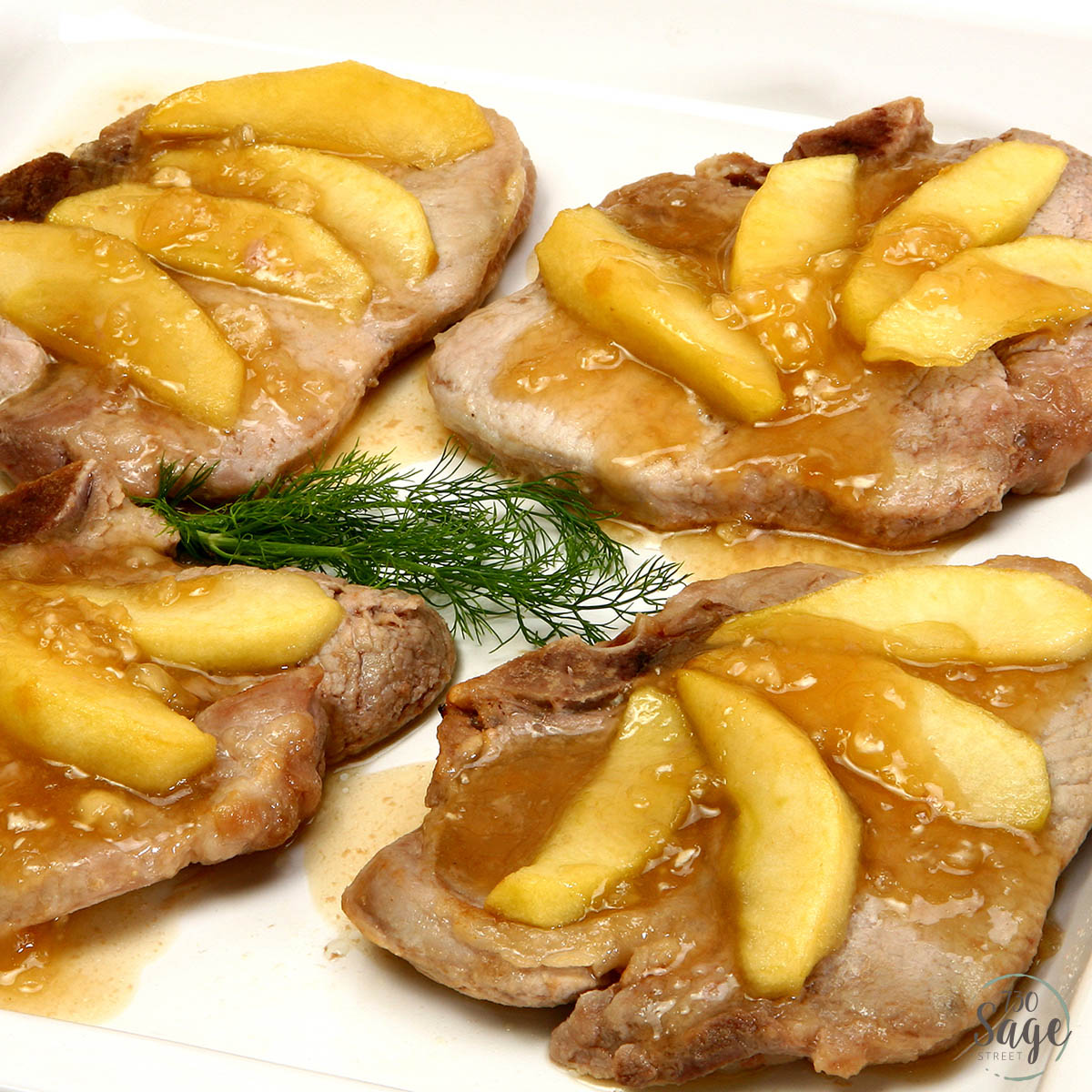 What Are The Best Types Of Apples To Use In Pork Chop Recipes?
When it comes to pork chop recipes with apples, choosing the right type of apple can make all the difference. Some great options include Granny Smith, Honeycrisp, Jonathan, or Braeburn. Granny Smith apples are tart and firm, which makes them perfect for cooking.
Honeycrisp apples are sweet and juicy, adding a crisp and refreshing flavor to your pork chops. Jonathan apples are tart and tangy, which helps to balance out the sweetness of the pork. Braeburn apples are sweet and spicy, which makes them ideal for roasting with pork chops.
Can I Use Boneless Pork Chops In These Recipes?
Yes, you can definitely use boneless pork chops in these recipes. Bone-in or boneless, the choice is yours. However, bone-in pork chops tend to have more flavor and are juicier compared to boneless. If using boneless pork chops, make sure to adjust the cooking time accordingly as they tend to cook faster than bone-in.
Can I Use Canned Apples Instead Of Fresh?
While fresh apples are always the best option, canned apples can also be used in pork chop recipes. However, make sure to drain the canned apples of their syrup or liquid before adding them to the recipe. Canned apples tend to be softer and sweeter compared to fresh apples, which could alter the final taste of the dish.
15 Pork Chop Recipes With Apples
Fall in love with pork chops all over again with these 15 delicious recipes featuring the perfect pairing of juicy pork and sweet, crisp apples:
The Pecan Crusted Pork Chops with Apple Chutney is a perfect combination of nutty, savory, and sweet flavors that will tantalize your taste buds. Juicy boneless pork chops are dipped in stone ground mustard and eggs, then coated with pecan, thyme, salt, garlic powder, and pepper mixture.
The chops are fried to a golden brown and then baked in the oven until they reach the perfect internal temperature. The apple chutney, made with gala or fuji apples, shallots, whole grain mustard, brown sugar, apple cider vinegar, cinnamon, and salt, brings a sweet and tangy flavor to this dish. The result is a mouthwatering dish that is perfect for a cozy night in or a dinner party with friends.
These juicy pork chops will delight your taste buds with their sweet and tangy flavors! This recipe features bone-in pork chops that are seasoned with a delicious rub made from brown sugar, chili powder, garlic powder, salt, and pepper. Then, they are grilled to perfection with a mouthwatering glaze made from apple cider, maple syrup, Dijon mustard, crushed red pepper flakes, and salt.
The result is a perfect balance of flavors that will leave you wanting more. As a bonus, you can also grill some apples alongside the chops, brushed with the same glaze, for a perfectly complementary side dish.
These juicy pork chops are the perfect comfort food for a cozy night in. The thick cuts are seared to perfection with a sprinkle of salt, pepper, and poultry seasoning. The highlight of this dish is the sweet and savory maple syrup glaze that is poured over the sauteed apples and onions.
A pinch of nutmeg adds a unique flavor to the dish that is sure to impress. The apples and onions are the perfect accompaniment to the pork chops and the glaze perfectly coats everything, making this dish a perfect balance of flavors.
Apple and Onion-Stuffed Pork Chops with Orange-Pineapple Gravy are the perfect balance of sweet and savory. The juicy pork chops are stuffed with a delicious mixture of caramelized onions, tart Granny Smith apples, and fragrant herbs, making every bite a flavor explosion.
The orange pineapple gravy, with its zesty lemon and fresh parsley, is the perfect accompaniment to these delicious chops. Searing the chops first before finishing them off in the oven helps to keep them tender and juicy. This is a satisfying and comforting meal that will warm you up from the inside out.
Get ready to savor the delicious flavors of fall with these Apple and Sage Pork Chops! These thick, boneless pork chops are seasoned with a blend of savory spices and seared to perfection in olive oil. The chops are then simmered with tender onions and juicy red apples in a sweet and tangy sauce made with apple juice and brown sugar.
With a fragrant aroma of sage and thyme, these chops are the ultimate comfort food that will leave your taste buds craving more! Serve with a side of roasted vegetables or mashed potatoes to make a complete meal.
These Apple Rosemary Pork Chops are a perfect blend of savory and sweet. The juicy pork chops are seasoned with a mixture of salt, pepper, and allspice and seared to perfection, locking in all those delicious flavors.
The sweetness of the Gala apples and the tanginess of the apple cider vinegar creates a perfect contrast to the pork chops, while the fresh rosemary adds an earthy aroma and flavor. The pomegranate arils on top add a pop of color and texture, making this dish not only tasty but also visually appealing.
These Pork Chops with Cranberry Apple Pan Sauce are the answer to your search for the ideal autumn meal. The fresh apples, cranberries, thyme, chicken stock, pomegranate juice, maple syrup, and Dijon mustard sauce is a delicious complement to the perfectly grilled pork chops.
This warm and satisfying meal is ideal for a cold winter evening. For an additional flavorful bite, serve the pork chops with the fruit and sauce.
Prepare yourself for a taste bomb when you bite into one of these Apple and Provolone Stuffed Pork Chops that are wrapped in Bacon. The pork chops are butterflied before being packed with delicious Autumn Glory apples and creamy provolone cheese.
The pork chops are then wrapped in smokey thick-cut bacon and served. The basis of the meal is given a fragrant and flavorful quality by the sautéed onions and fresh rosemary. All of the delightful tastes of the meal are absorbed by the short-grain rice that is served with it. The rice is cooked in apple juice and vegetable broth.
Whisk yourself away to a cozy autumn evening with these delightful Apple Cinnamon Pork Chops. Tender, seasoned bone-in pork chops are perfectly paired with warm, spiced apples, creating a symphony of flavors that will make your heart sing.
The accompanying mashed sweet potatoes, infused with buttery goodness and a touch of cinnamon, make for a comforting and satisfying meal. When you plate it up, don't forget to garnish it with a sprig of fresh rosemary, adding that extra special touch to this unforgettable dish.
Imagine yourself dining in a rustic countryside kitchen with these Skillet Pork Chops with Apple Plum Pan Sauce. Juicy, seasoned pork chops are expertly seared to perfection before being reunited with a heavenly sauce featuring the bold flavors of Dijon mustard and fragrant rosemary.
The apple plum compote (or apple sauce) adds a delightful touch of sweetness, creating a harmonious balance in each bite. Served alongside your favorite mashed or roasted potatoes, this scrumptious meal will have you dreaming of serene landscapes and peaceful moments.
Take a flavorful trip to the vibrant bayou with these Cajun Pork Chops, topped with tantalizing Honey, Apple & Raisin Chutney. The pork chops are generously coated in Cajun seasoning and expertly seared, forming a beautiful crust that seals in all the juicy goodness.
The chutney brings together Honeycrisp apples, golden honey, and plump raisins, creating a fruity medley that perfectly complements the spicy pork. This mouthwatering combination of flavors will transport you to the lively world of Cajun cuisine, leaving you longing for more.
Escape to a culinary wonderland with these Pork Chops with Apple Sauce and Blue Cheese. The succulent pork chops are seasoned to perfection and seared in a hot pan, creating a gorgeous crust and locking in their juicy flavors.
The real magic happens when you top these beauties with a dollop of apple sauce and a generous slice of blue cheese. As the cheese melts under the broiler, it melds with the sweet apple sauce, creating an incredibly rich and satisfying blend of flavors. Serve it up, and savor the symphony of tastes in every unforgettable bite.
As you continue your culinary adventure, the enticing aroma of Pork Chops and Apples in White Wine Pan Sauce will draw you in. This recipe features perfectly seared pork chops and golden apple wedges, enhanced by a luxurious sauce made with white wine, Dijon mustard, and apple cider vinegar.
The fresh sage leaves lend an earthy depth of flavor, while the heavy cream and butter create a silky, velvety finish. Serve this masterpiece with scalloped or mashed potatoes and a crisp autumn salad adorned with chopped apples, and savor the harmony of flavors that unite in every bite.
Embrace the delightful fusion of flavors in these Apple and Gorgonzola Stuffed Pork Chops, a dish that's sure to leave you feeling satisfied and content. These thick-cut pork chops are butterflied and filled with a scrumptious blend of tender, sautéed apple chunks and tangy Gorgonzola crumbles.
The chops are then seared to perfection in a hot pan, sealing in the rich flavors and creating a beautiful crust. Pair this mouthwatering creation with fluffy mashed potatoes and vibrant green beans for a well-rounded, comforting meal that celebrates the best of fall's bounty.
Infuse your pork chops with a delightful combination of sweet, tangy, and smoky flavors in this Apple Honey Chipotle BBQ Pork Chops recipe. The secret to this delectable dish lies in the homemade barbecue sauce, which is a harmonious blend of barbecue sauce, honey, chipotle peppers, adobo sauce, and applesauce.
By seasoning the pork chops with adobo and then slow-cooking them in the rich sauce, you'll create a tender and juicy meal that's bursting with layers of flavor. These pork chops are perfect for a cozy dinner and can be easily adjusted to suit your desired level of spiciness.