Sunday. This time of year it means game day. For the males in my house, it means lots of yelling and cheering. For the girls, well, it essentially means we say "quiet down" a lot and it also means we get to eat yummy food. We may not be as into football as the rest of them, but with the right food, I can cheer and yell like any good sports fan should. Even if I'm not exactly sure why I am cheering or what exactly just happened.
Soon, the biggest game day of the year will be here and I plan to be ready with the best game day snacks ever! So I headed out to Walmart and picked up some of my favorite ingredients to make a game day pizza fondue including Ragú Old World Style Traditional pasta sauce
. I got everything I needed for my pizza fondue recipe, and other game day favorites
to keep us satisfied all day. Ragu has quality ingredients including tomatoes, onions and extra virgin olive oil that make it the perfect complement for game day recipes.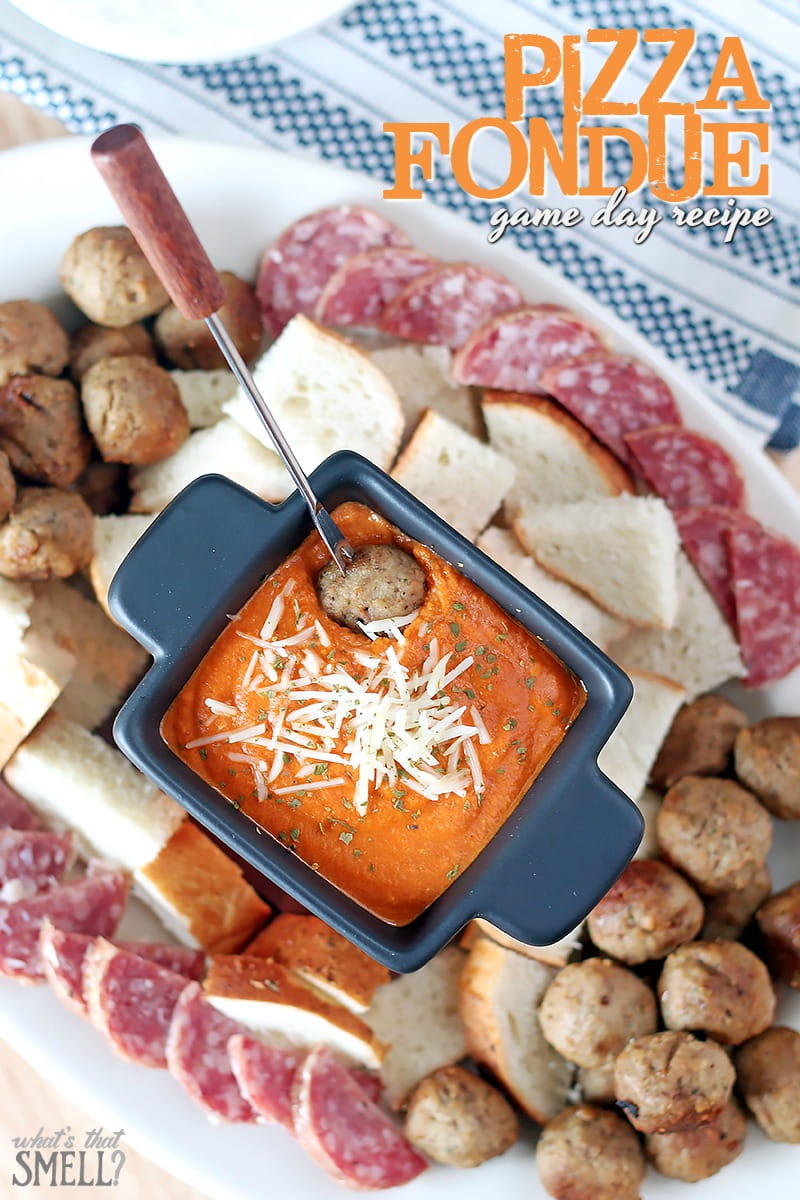 I was honestly so surprised at how good this turned out, it's delicious and really super easy to make.
You need one jar of Ragú® Old World Style Traditional pasta sauce, a brick of cream cheese and a brick of mozzarella cheese. For the rest of the ingredients, you can use whatever you most enjoy on your pizza.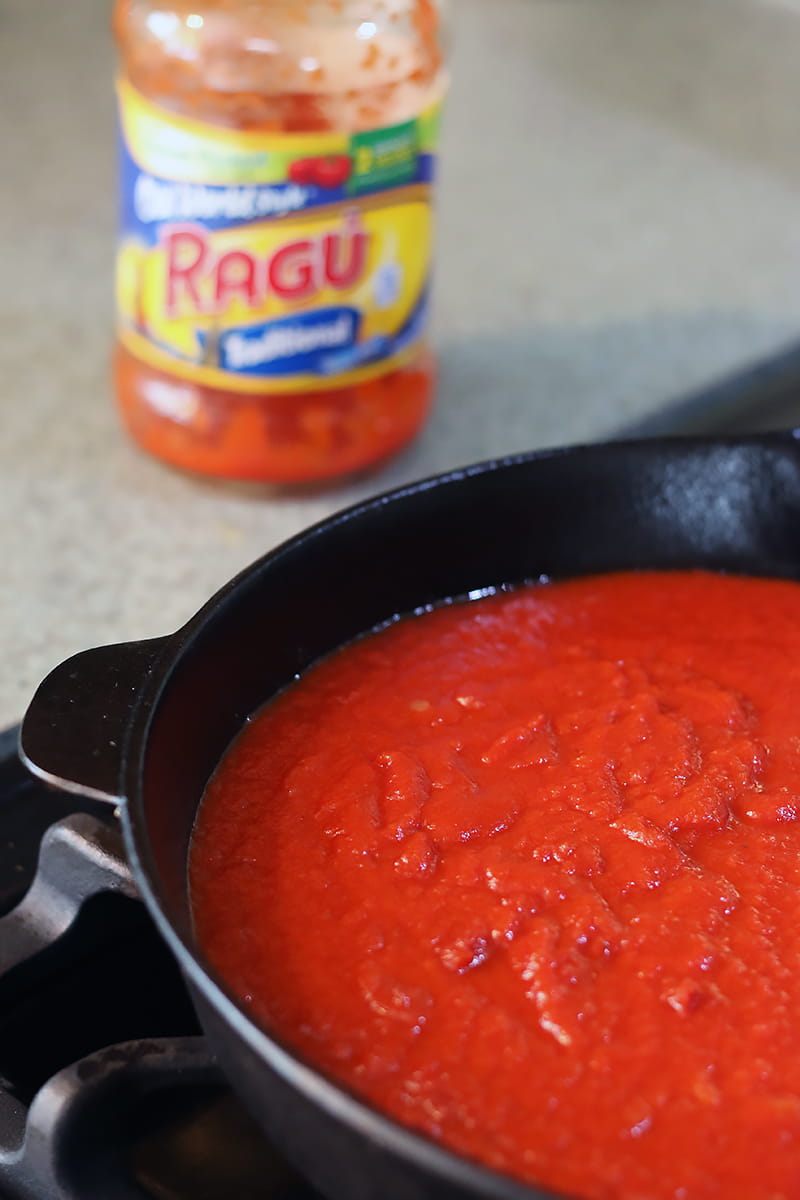 Pour the sauce into a deep skillet
or saucepan. Ragu is my favorite for this because their Old World Style Traditional pasta sauce is full of flavor but isn't chunky. I'm not a chunky sauce person. If you prefer a chunky sauce, Ragu Chunky Tomato, Garlic & Onion would work great in this recipe too.
About Ragu Chunky Tomato, Garlic & Onion:
Developed over generations of time-tested traditions, Ragú® Chunky Tomato, Garlic & Onion is a tasty classic Italian sauce that delivers a delicious taste. Full of tasty vegetables, Ragú® Chunky Tomato, Garlic & Onion creates a high quality pasta dish that your whole family will love.

Full of tasty vegetables
Contains two servings of veggies in every 1Ž2 cup of sauce
100% California Grown Tomatoes
Also available in 45oz and 66oz jars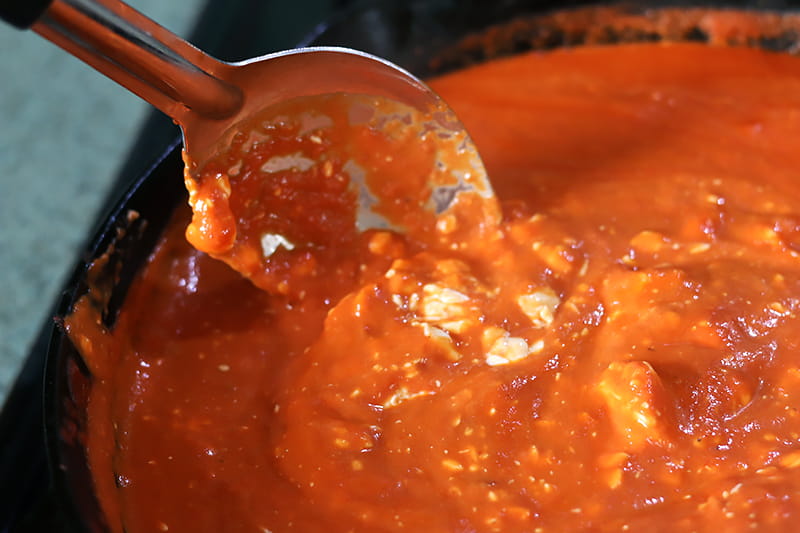 Heat the sauce over low heat until it's nice and warm, then add in the cream cheese and mozzarella cheese. Continue over low heat until smooth.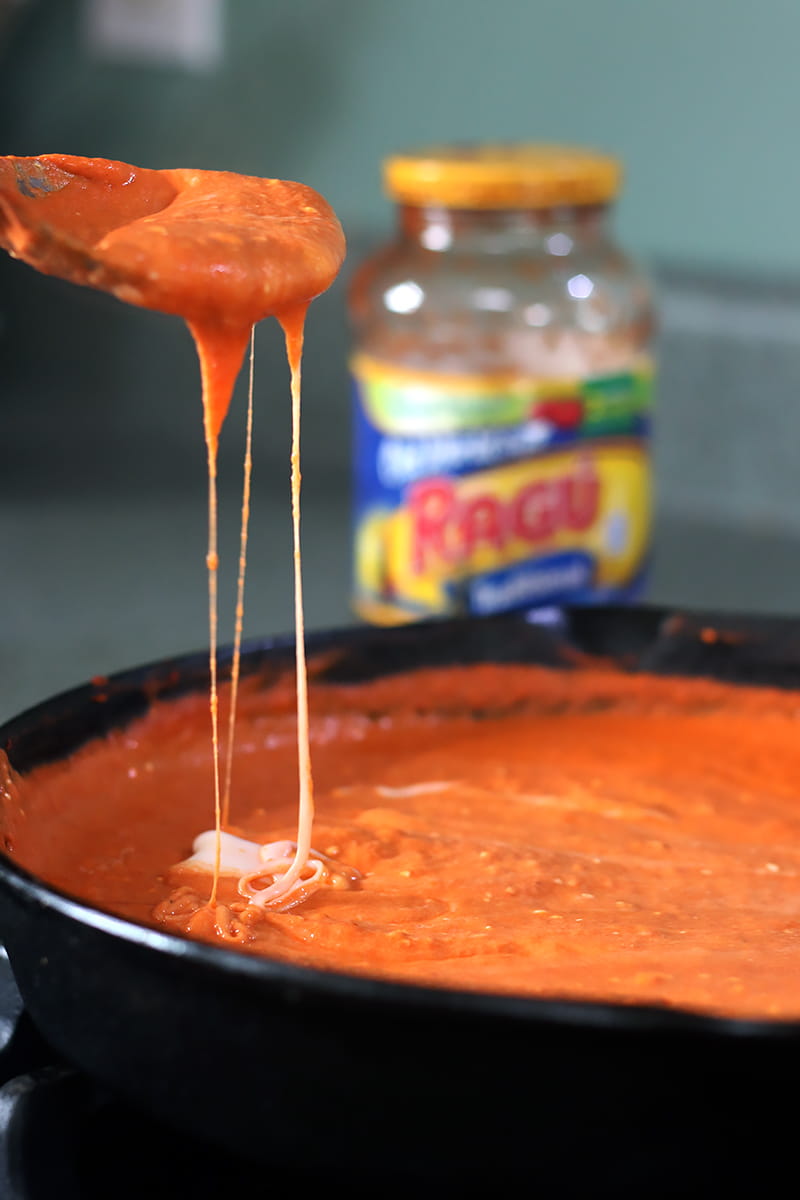 Look at all that yummy cheese! Once the sauce and cheese are blended, simmer over low heat until thickened about 5 minutes or so.
While the sauce is cooking, you can prepare your favorite pizza toppings. I like meatballs and pepperoni but you can also cut up bread, mushrooms, green peppers, ham, olives, pineapple - whatever your heart desires.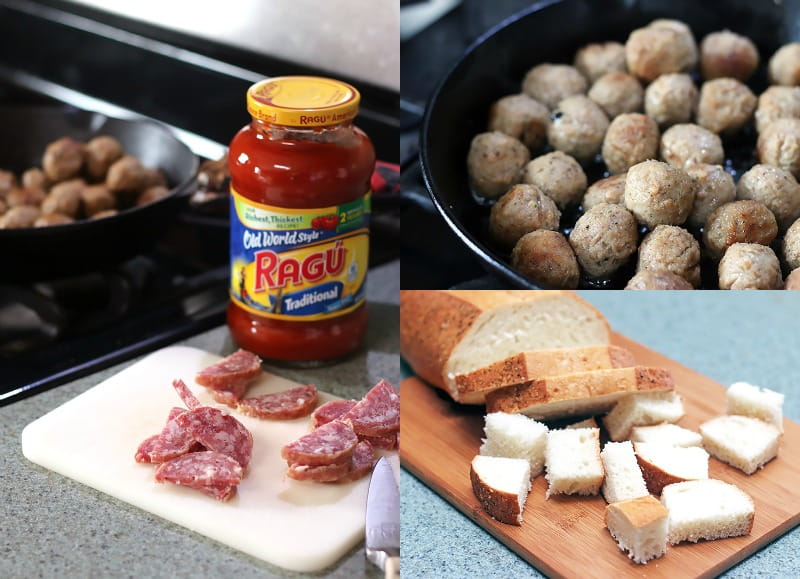 Serve the sauce in a fondue pot
or bowl if you don't have a fondue pot. The fondue pot is nice because it keeps the sauce nice and warm. I have a Boska Fondue Pot
.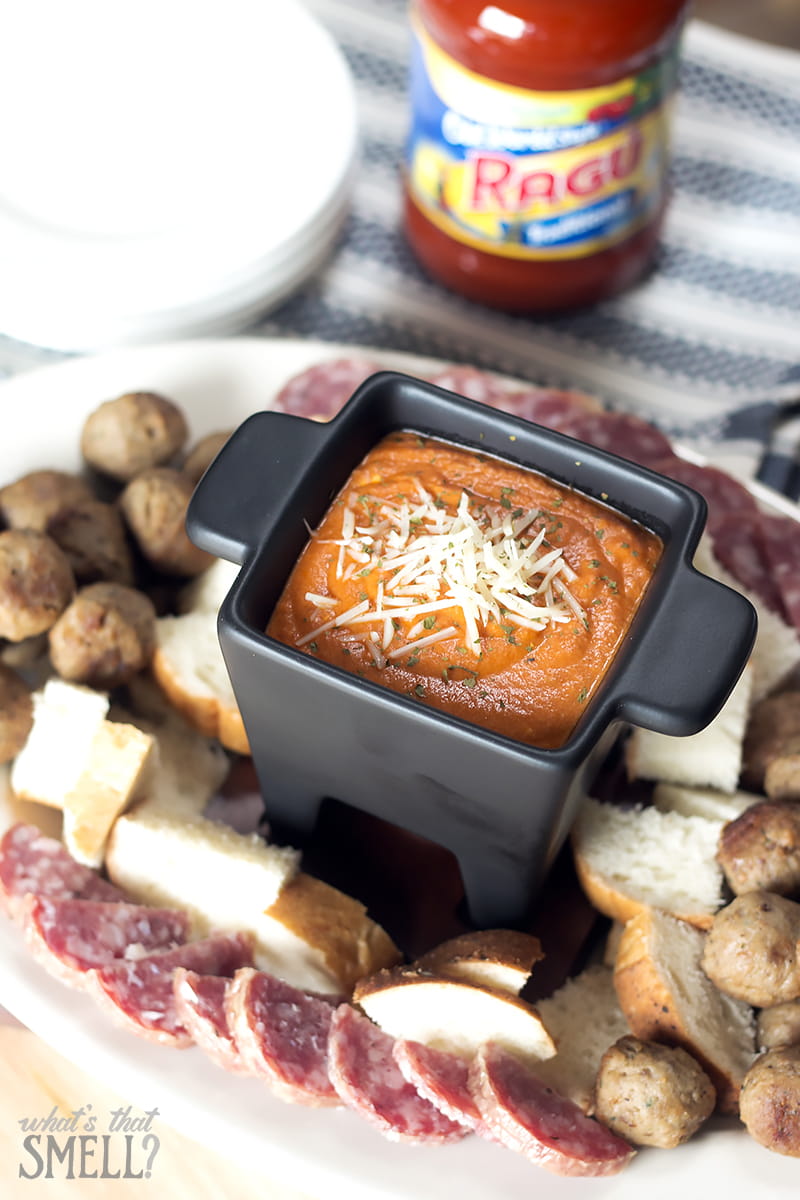 You can serve as-is or top with shredded Parmesan cheese and dried parsley or oregano. You could even add more mozzarella on top. You can never have too much mozzarella cheese.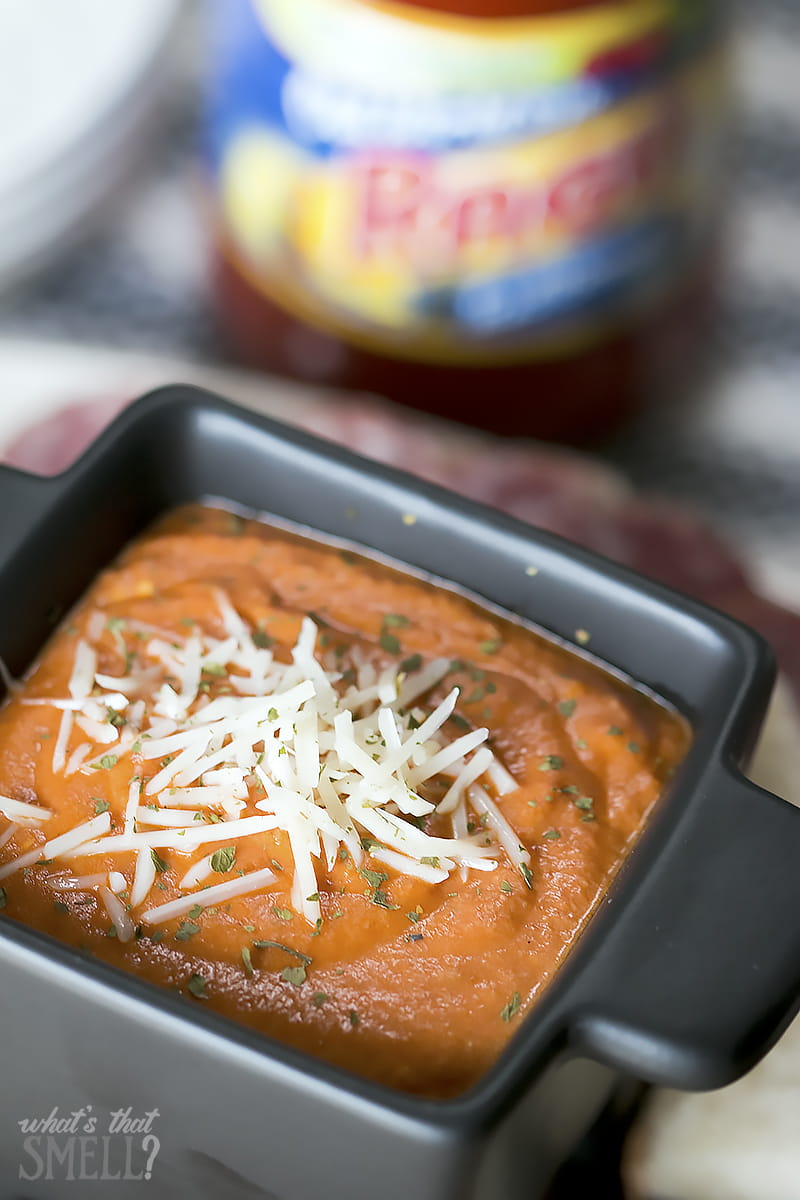 The texture on this is perfect. It sticks to the toppings and doesn't drip, which is perfect for game day food, because you know that mid-bite you will be distracted by a good play that will leave your arm about 12 feet from your mouth (ok maybe not quite that far) as you swivel your head to see the play. This way your fondue doesn't end up on your floor. Licking food off the floor is embarrassing, but trust me that you will want to.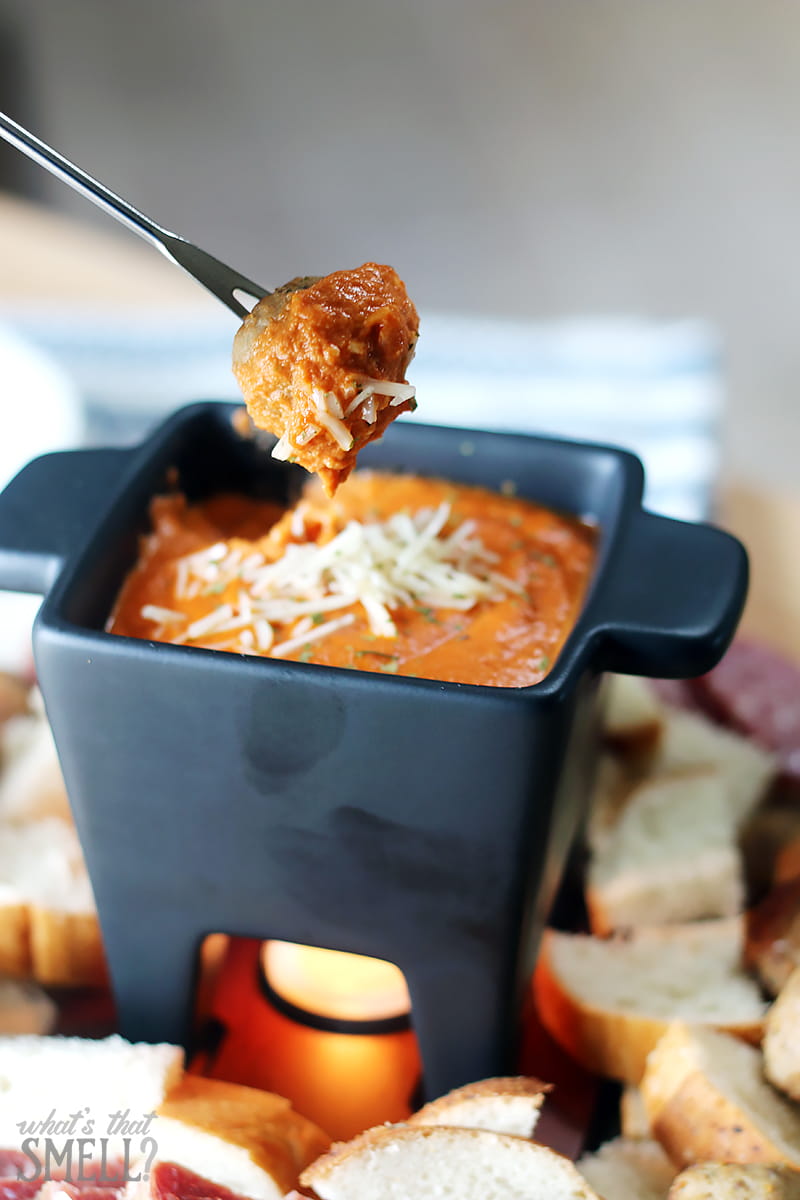 You may want to double the recipe...just sayin'.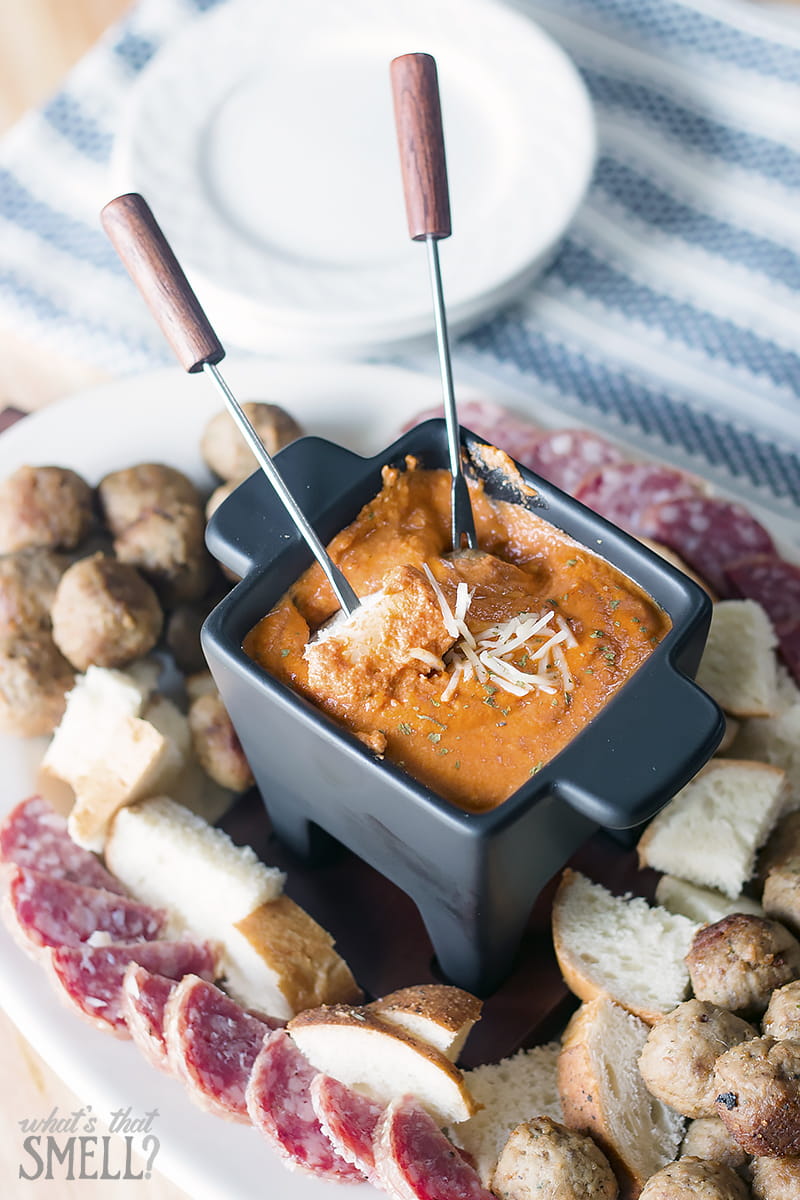 You can find a few additional recipes from What's That Smell? here: appetizers for game day.
What is your favorite game day tradition?
Post Sponsored by Lunchbox. All opinions are 100% my own.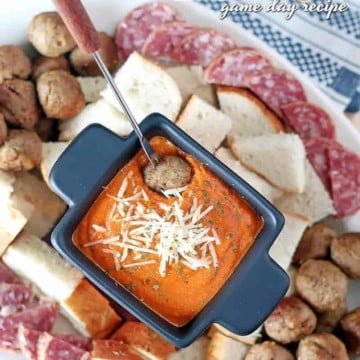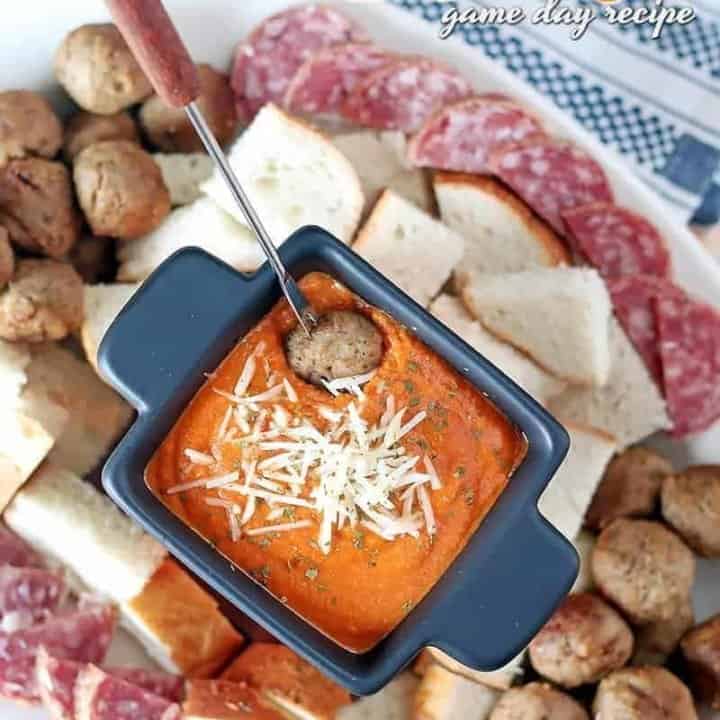 Ingredients
1 - 24

oz

jar Ragu Old World Style Traditional pasta sauce

8

ounces

cream cheese - softened

8

ounces

mozzarella cheese

-

shredded or cut into slices

your favorite pizza toppings prepared / cut into bite sized pieces
Instructions
Add pasta sauce to a deep skillet or saucepan and heat over low heat until warm.

Add cream cheese and mozzarella and stir frequently until smooth.

Once the cheeses are blended into the sauce, simmer over low heat until thickened, about 5 minutes.

Serve in a fondue pot to keep warm, or in a regular bowl with bite-sized toppings and small forks.