My daughter loves Peppa Pig.
Love with a capital L-O-V-E.
She will watch the show over and over again and never gets bored with it. I admit that I find it pretty cute too.
My favorite episode is the one where Peppa and George want to watch mommy while she works on the computer and Daddy Pig tells them they have to be very quiet while Mommy Pig is working. It's a familiar story around here…
Peppa is an animated pig who lives in the UK and until now, her toys were only available in there. But now you can get great Peppa Pig toys and merchandise at Toys R Us.
We were sent a selection of the toys to try out.
Tree House Playset
Peppa & Family 4-Pack Figures
Sip 'n Oink Tea Set
Ballerina Peppa Plush
Muddy Puddles & Other Stories DVD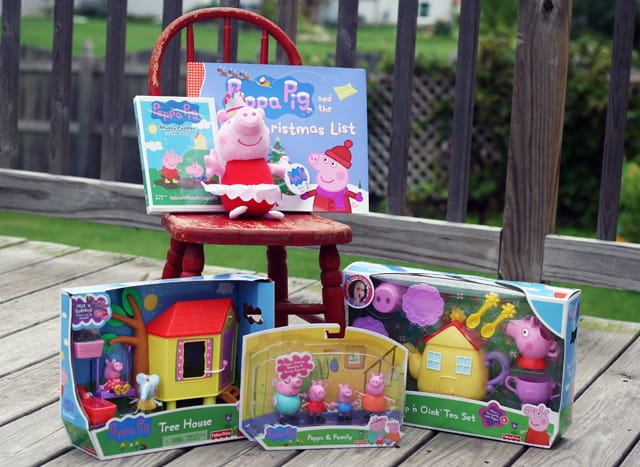 Abby almost burst when I opened the box full of toys….

I think her favorite toy is the Peppa Plush. She sleeps with her and takes her everywhere she goes.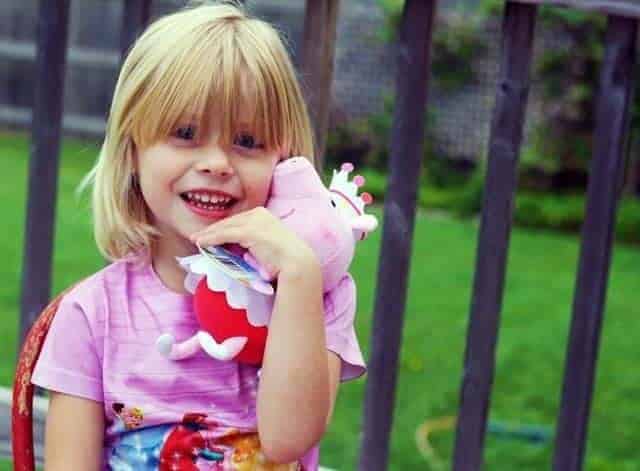 My favorite part is hearing Abby imitate Daddy Pig.
There is something about Peppa Pig. Her accent and pig snorts are endearing to children. Her stories are engaging. From a parents perspective though, the stories have lessons and teach about families working together and having fun.
For more information about Peppa Pig, visit www.PeppaPig.com. You can also visit: www.facebook.com/OfficialPeppaPigUS. You can view the Peppa Pig toys available at ToysRUs.com here: http://www.toysrus.com/family/index.jsp?categoryId=13113749.
Note: we received the Peppa Pig merchandise shown from Team Mom in order to help us spread the word about Peppa Pig.
Join our newsletter!
Subscribe to get updates and great stuff via email including subscriber-only goodies like free printables and giveaways.