A traditional dessert, peach cobbler is sweet, relaxing, and great for a summer send-off since it's prepared with fresh peaches.
From classic Southern-style cobblers to modern takes on the classic dessert, this roundup of 15 recipes is guaranteed to include something that will satisfy your sweet craving.
Have some juicy peaches and have your oven ready to preheat!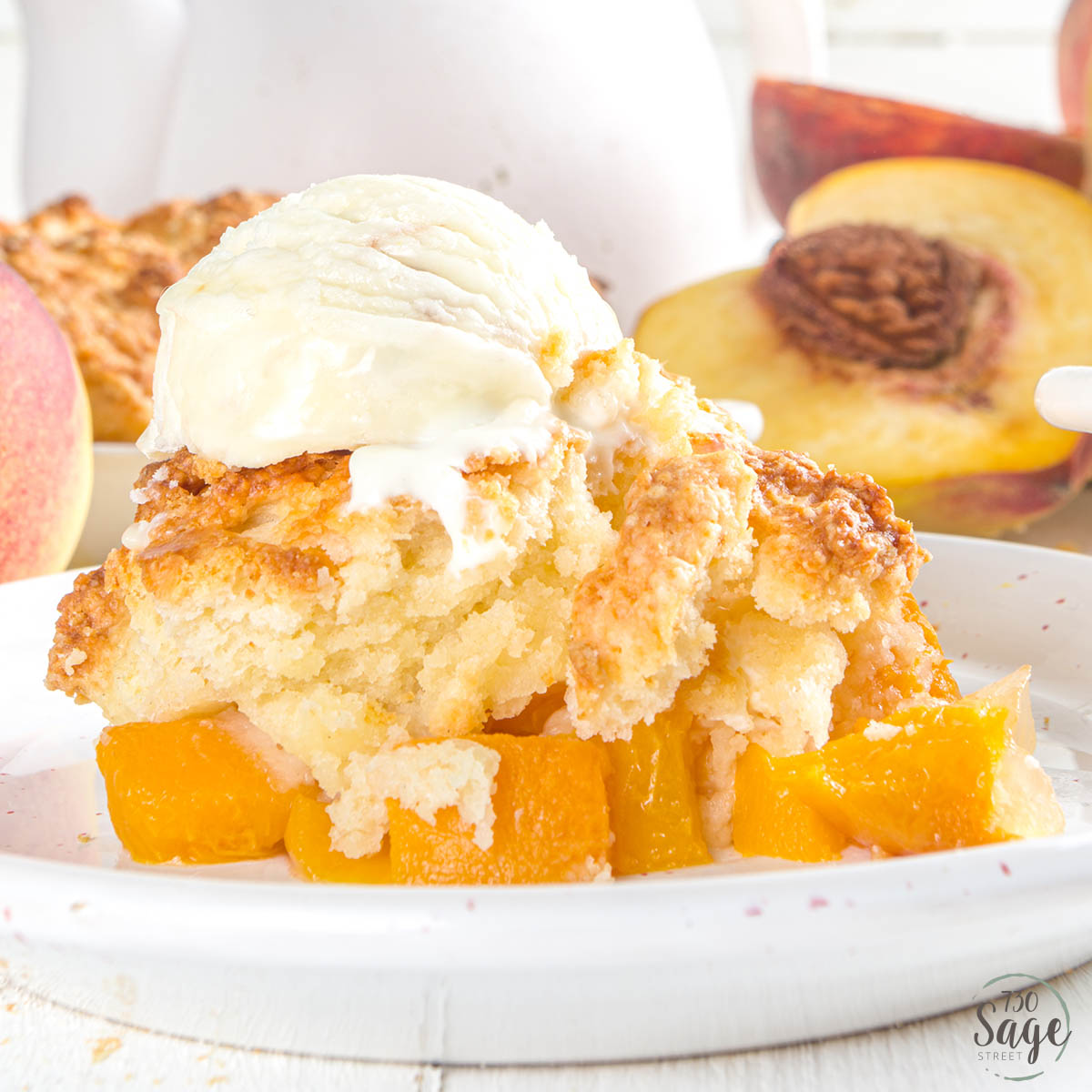 Can I Use Canned Peaches Instead In These Recipes?
While fresh peaches are ideal for peach cobbler, canned peaches can also be used as a convenient alternative. Here are six varieties of canned peaches to consider:
Syrup-packed canned peaches: These are the most common type of canned peaches, and are usually sweetened with heavy syrup. While they can be used in cobbler recipes, they may result in a cloyingly sweet dessert.
Light syrup canned peaches: These peaches are sweetened with a lighter syrup than the syrup-packed variety, making them a slightly healthier option.
No-sugar-added canned peaches: These are a good option for those looking to cut down on sugar. They may not be as sweet as other canned peach varieties, so you may need to add additional sweeteners to your cobbler recipe.
Organic canned peaches: If you prefer organic ingredients, look for canned peaches that are certified organic. They may be a bit pricier than conventional canned peaches, but they are free from pesticides and other chemicals.
Diced canned peaches: If you prefer smaller pieces of peaches in your cobbler, consider using diced canned peaches. They are convenient and easy to use, but may not have the same texture as fresh peaches.
Peach pie filling: While not technically canned peaches, peach pie filling can be used as a shortcut for making peach cobbler. It contains peaches that are already sweetened and thickened with cornstarch so that you can skip those steps in your recipe. However, it may not be as flavorful as using fresh or canned peaches.
15 Peach Cobbler Recipes With Fresh Peaches
Juicy, sweet, and bursting with flavor - these 15 Peach Cobbler Recipes With Fresh Peaches will transport you to summertime bliss with every bite!
This Homemade Peach Cobbler is a warm, comforting dessert that's perfect for any time of year. Fresh sliced peaches are coated in a blend of granulated sugar, flour, cinnamon, cardamom, and kosher salt, and then topped with a sweet and buttery cobbler mixture made with flour, sugar, baking powder, buttermilk, egg, and chunks of cold butter.
After baking in the oven for 45-55 minutes, the result is a bubbling, golden-brown cobbler that pairs perfectly with a scoop of vanilla ice cream. Don't wait too long to try this delicious dessert, it's best served warm!
This Bourbon Peach Cobbler is a warm and cozy dessert that's perfect for chilly evenings. The sliced peaches are soaked in a delicious bourbon sauce and combined with a sweet cinnamon mixture to create a juicy and flavorful filling.
The dough for the dumplings is made with flour, sugar, baking powder, salt, and butter, then mixed with heavy cream to create a soft and fluffy texture. After being baked in a skillet, the dumplings become light and airy, and the peaches become soft and syrupy. Serve with a scoop of vanilla ice cream for a classic dessert everyone will love.
This pecan cobbler recipe is a must-have for any dessert lovers out there. The combination of warm and nutty flavors from the pecans, brown sugar, and vanilla is truly irresistible. The texture is soft and spongy, with a crispy top layer that's perfect for scooping into with a spoon.
The recipe is also easy to follow, with no complicated steps involved. Simply mix the ingredients, pour them over the butter and pecans, and bake for a golden brown finish. Serve it hot with a scoop of ice cream to fully enjoy its deliciousness.
This Peach and Blueberry Cobbler recipe is a delicious combination of sweet and tart flavors that perfectly complement each other. The soft and spongy texture of the cobbler is a perfect match for the warm and nutty flavors of the peaches and blueberries.
The recipe is easy to follow and requires only a few simple steps, making it a great dessert option for any occasion. For best results, serve it hot with a scoop of vanilla ice cream. This cobbler is sure to be a hit with your family and friends.
The Peach Cherry Cobbler recipe is a perfect summer treat with a delightful blend of sweet and tangy flavors. The juicy peaches and pitted cherries are layered in a baking dish and coated with a mixture of sugar, cornstarch, and cinnamon. The buttery biscuit topping is made by combining flour, sugar, baking powder, salt, and grated butter.
The mixture is then moistened with a beaten egg, milk, and vanilla extract, and dropped over the fruit in heaping tablespoons. The cobbler is baked to perfection until the biscuits are golden brown, and the filling is bubbling. It's best served warm with a scoop of vanilla ice cream.
This Amazing Vegan Peach Cobbler is a must-try for vegans and non-vegans alike. The juicy peaches combine with organic sugar and cinnamon to create a delicious filling that pairs perfectly with the light and fluffy batter.
This cobbler is made with vegan butter, all-purpose flour, and non-dairy milk, making it dairy-free and vegan-friendly. The cobbler is baked to perfection until the peach mixture is bubbly and the batter is set and lightly browned. The result is a warm and comforting dessert that will satisfy your sweet tooth. Add a scoop of vegan vanilla ice cream for an extra treat.
Campfire peach cobbler recipe is a must-try for outdoor enthusiasts. The combination of canned peaches, cinnamon, and salted butter creates a sweet and savory flavor that is hard to resist.
The crust is made from unbleached all-purpose flour, pure cane sugar, and unsalted butter that is crumbled over the top of the peach mixture. The entire dish is then baked in a cast iron skillet over hot coals until the crumbled topping turns golden brown. Serve warm and enjoy the delicious aroma and flavors of this homemade peach cobbler.
If you're looking for a unique take on traditional peach cobbler, give this blueberry drop biscuit version a try. With fresh, juicy peaches and plump blueberries, this cobbler is bursting with flavor. The homemade crust is made from unbleached all-purpose flour, pure cane sugar, and unsalted butter, giving it a rich and buttery taste.
And if you're a fan of sweet and savory flavors, you won't be disappointed! This cobbler strikes the perfect balance between the two, making it a favorite for all. Don't forget to top it off with a sprinkle of turbinado sugar for an extra sweet and crunchy finish.
This Paleo Peach Cobbler recipe is a healthy twist on a classic dessert. Made with fresh peaches, coconut sugar, and almond flour, this cobbler is gluten-free, dairy-free, and refined sugar-free.
The sweet and juicy peaches are complemented by a cinnamon-infused coconut oil mixture and topped with a buttery almond flour biscuit. Serve it warm with a scoop of ice cream for a perfect summer treat, or enjoy it cold for breakfast the next day. This cobbler is a guilt-free indulgence that's perfect for anyone following a Paleo lifestyle or looking for a healthier dessert option.
The gluten-free peach cobbler recipe is perfect for those with dietary restrictions. Using almond flour in place of regular flour, this cobbler is not only gluten-free but also has a nutty flavor and a crispy texture.
The juicy peaches mixed with lemon juice, sugar, cornstarch, and vanilla create a sweet and tangy filling. The almond flour, sugar, baking powder, salt, butter, eggs, and almond milk make up the crispy and buttery topping. This delicious and juicy campfire peach cobbler can be enjoyed on a summertime camping trip or in your own backyard.
Get ready to taste the sunshine with this Peach Cobbler with Cake Mix recipe! Bursting with juicy peaches, warm cinnamon, and sweet brown sugar, this dessert is a true crowd-pleaser. It's so easy to make, you'll feel like a pro baker in no time! Plus, it's a great way to use up those extra cans of peaches in your pantry.
The cake mix topping is perfectly crispy and buttery, while the melted butter and brown sugar add an extra layer of decadence. Serve it fresh out of the oven with a dollop of whipped cream or a scoop of vanilla ice cream, and watch your taste buds dance with joy!
Indulge in the heavenly taste of Salted Caramel Peach Cobbler that takes the classic summer dessert to a whole new level. This easy-to-make cobbler recipe features fresh, juicy peaches mixed with homemade salted caramel sauce and baked to perfection under a golden-brown crust.
The recipe uses a simple baking technique that blends all-purpose flour, baking powder, kosher salt, milk, and vanilla extract with the peaches and caramel mixture. The finished product is a mouth-watering dessert that's perfect for any occasion. Serve it warm with whipped cream or vanilla ice cream and enjoy the perfect blend of sweet and salty flavors.
This Crock Pot Peach Cobbler recipe will transport your taste buds to a sunny orchard in the countryside. Imagine biting into juicy peaches coated in warm cinnamon and sweet brown sugar, all while a golden-brown crust crumbles in your mouth.
The best part? This dessert practically makes itself! Simply toss the ingredients in your crock pot and let the magic happen. The result is a perfect balance of sweet and tart, with a scoop of vanilla ice cream melting on top. Serve it up at your next gathering and watch your guests swoon over this deliciously easy treat.
Peach and Apple Cobbler recipe is a delightful treat for anyone who loves a good fruit-filled dessert. The pie filling consists of thick wedges of fresh peaches and baking apples, mixed with flour, sugar, whole milk, lemon juice, cornstarch, cinnamon, nutmeg, and Kosher salt.
The mixture is then poured over a buttered pie dough, covered with another layer of pie dough, and baked to perfection for 45-60 minutes. The cobbler is served warm and topped with homemade spiced rum-spiked whipped cream, making it an irresistible and decadent dessert.
Picture this: a warm, gooey, and sweet heaven in a skillet. The peaches, perfectly sliced and coated in brown sugar, are nestled in a bed of buttery goodness. As you take a bite, you can feel the tender peaches and the soft, cake-like topping lovingly mingling in your mouth.
The flavors of vanilla and cinnamon blend together, dancing on your taste buds, and the warmth of the cobbler makes you feel like you're wrapped in a cozy blanket. And to top it all off, a scoop of velvety vanilla ice cream melts on top, adding a creamy finishing touch. It's like a symphony of flavors and textures, all in one dish.