With its cool, creamy texture and robust flavor, pasta salad is a versatile summertime staple that can be served at any time of day.
We've put together a collection of 15 pasta salad recipes with mayo that are simple to create and will fulfill everyone's appetites.
There's a pasta salad here for everyone, from the tried-and-true macaroni salad to the more out-there combinations with vegetables and pickles.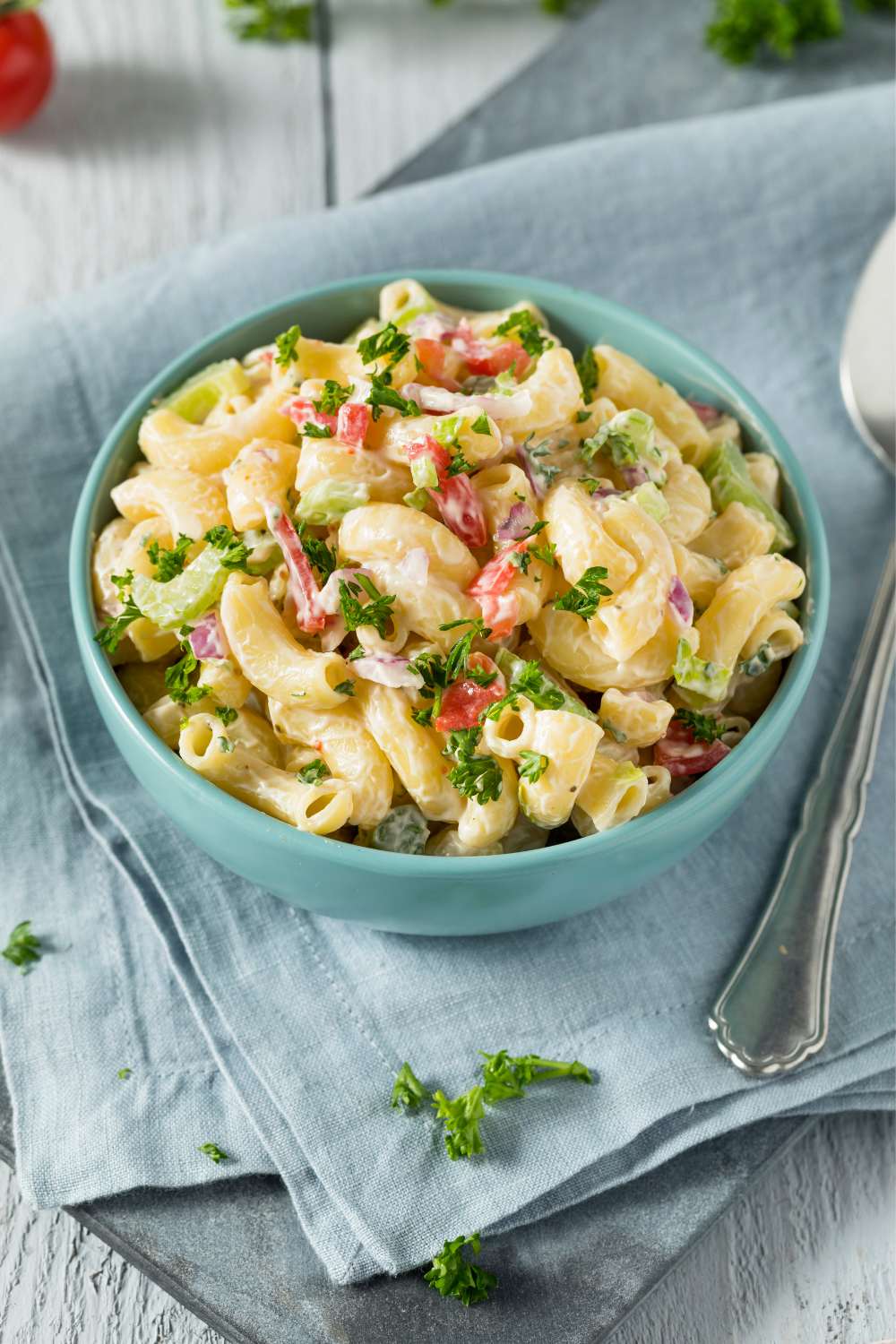 Can You Make Mayo-based Pasta Salad Ahead Of Time?
Yes, you can make mayo-based pasta salad ahead of time. In fact, it's better to prepare it ahead of time to let the flavors meld together. You can store it in the fridge for up to 3-4 days. However, it's important to keep the salad chilled and covered to prevent bacterial growth. You can add a splash of lemon juice to keep the salad fresh for longer.
Can I Freeze These Mayo-Based Salads?
Since mayonnaise separates when frozen, the texture of salads made with mayonnaise doesn't hold up well when frozen. The pasta and veggies in a pasta salad made with mayonnaise will turn mushy and sloppy if the salad is frozen.
But, you may boil the pasta, rinse it with cold water, and toss it with a little olive oil to avoid sticking if you wish to create the salad ahead of time. Then store it in the fridge in an airtight container until you're ready to prepare the salad, at which point you can simply add the other ingredients and the mayonnaise-based dressing for a tasty and fresh dish.
15 Pasta Salad Recipes With Mayo
From basic macaroni salad to more creative variations, these 15 mayo-based pasta salad recipes are excellent for picnics, potlucks, or weekday dinners:
This classic macaroni salad recipe is the ultimate side dish for your next picnic or BBQ. Cooked al dente macaroni pasta is tossed with crunchy celery, red bell pepper, and onions, and then mixed with cubed cheddar cheese and boiled eggs.
The creamy and tangy dressing is made from mayonnaise, sour cream, pickle juice, cider vinegar, Dijon mustard, and a sprinkle of garlic powder. This refreshing salad is perfect to enjoy on a sunny day and is sure to be a crowd-pleaser. Don't forget to garnish with a sprinkle of paprika for that extra pop of color and flavor.
This Turkish Pasta Salad with Yogurt and Mayo is a delicious and refreshing twist on a classic macaroni salad. With the addition of carrots, potatoes, peas, and pickles, it's packed with veggies and flavor.
The creamy dressing made with thinned Greek yogurt and mayonnaise, adds a tangy and slightly sweet taste, perfectly balanced with the fresh dill. This easy-to-make salad is perfect for a summer picnic or potluck, and it can be stored in the fridge for up to three days.
This mayo pasta salad recipe is a creamy and flavorful delight that you won't be able to resist. Al dente penne pasta is tossed in a delicious mix of sautéed garlic, onions, carrots, sweet corn, and capsicum. The vegetables are seasoned with crushed black pepper, mixed herbs, and chili flakes, and then mixed with creamy eggless mayonnaise for that perfect texture.
The leftover pasta water adds a touch of moisture to the dish. Serve this dish with a sprinkle of cheese and chili flakes on top for that extra punch of flavor. This recipe is a quick and easy meal that's perfect for lunch or dinner and is sure to become a family favorite.
This deviled egg macaroni salad recipe is a delightful twist on the classic macaroni salad that everyone loves. Al dente elbow macaroni is mixed with chopped hard-boiled eggs, dill pickles, red onions, celery, and sliced black olives for that extra crunch.
The creamy and tangy dressing is made from mashed egg yolks, Dijon mustard, and mayonnaise, making this dish irresistible. Season with salt and pepper to taste, and sprinkle smoked paprika and chopped chives on top for that added touch of flavor and color. This salad may serve as a side dish or a light meal, so prepare to be satisfied by its delicious flavors.
Make this creamy Southern macaroni salad recipe at your next barbecue or potluck. Diced celery, sweet gherkins, hard-boiled eggs, red onions, and sliced black olives are tossed with al dente small shells or elbow macaroni. The dressing has a tangy and sweet flavor thanks to the combination of Miracle Whip or mayonnaise, yellow mustard, sweet pickle juice, salt, and freshly ground black pepper.
Sweet paprika and chopped parsley both give a splash of color and may be used as a garnish for this meal. It's refreshing on hot summer days and is guaranteed to be a hit with your guests; just remember to chill it before serving.
This Amish pasta salad recipe is a great option for a side dish at any gathering, as it combines cooked pasta with chopped celery, red onions, and sliced red bell pepper, as well as hard-boiled eggs for protein. Mayonnaise, sweet pickle relish, chopped garlic, celery seed, Dijon mustard, apple cider vinegar, Worcestershire sauce, and a dash of sugar go into making this luscious sauce.
This salad is great for a picnic or party on a warm summer day. Serve it right away or keep it in the fridge until you're ready to serve it, either way, it's going to be a smash and everyone will want the recipe.
This macaroni and egg salad dish is a certain hit for any party, whether it's a potluck or a picnic. The meal has a pleasant crunch because of the combination of al dente elbow macaroni with finely diced pickles, celery, and red onion. Stonyfield plain whole milk yogurt, Dijon mustard, red wine vinegar, honey, and pickle brine come together in a delicious dressing that is equal parts tart and sweet.
Black pepper that has been freshly cracked and chopped parsley lend a burst of brightness to the meal. This macaroni and egg salad is versatile enough to be served warm or cold, so it's sure to become a regular in your recipe rotation.
This recipe for creamy bacon ranch pasta salad is certain to be a success as a side dish at your next get-together. Pasta salad with a creamy and savory dressing made from sour cream, mayonnaise, ranch seasoning, parsley, and dill is the result of well-cooked shell pasta that has been chilled.
Crumbled bacon, cubed mild or strong cheddar cheese, and frozen peas are all great additions that take this meal to the next level. Season the salad with salt and pepper to taste, then refrigerate it for at least an hour to let the flavors combine. This delicious creamy bacon ranch pasta salad is perfect for any occasion, whether it be a picnic, potluck, or just because!
BLT Pasta Salad is the perfect side dish to bring to a summer barbecue or potluck! This salad is a combination of cooked rotini pasta, crispy bacon, diced red onion, cheddar cheese, avocado, cherry tomatoes, and romaine lettuce, all tossed in a creamy dressing made with Hidden Valley Ranch Dressing Mix, mayonnaise, and sour cream.
The flavors and textures come together perfectly to make a refreshing and delicious salad that everyone will love. Don't forget to refrigerate the dressing mix for 30 minutes before combining it with the other ingredients for the best results.
This Tuna Pasta Salad strikes the ideal mix between a creamy texture and a zesty flavor. This pasta salad has a delightful crunch thanks to the albacore white tuna, peas, celery, and red onion.
The mayonnaise and Greek yogurt dressing give it a creamy and tangy taste. The addition of a little dill plant gives the dish a hint of herbaceousness. Enjoy the delightful and savory richness of this pasta salad even more by serving it cold.
Buffalo Chicken Pasta Salad is the perfect option if you're looking to add some heat to your pasta salad. Tender chicken, crunchy celery, and shredded carrot are swirled in a creamy and zesty homemade dressing prepared from mayonnaise, ranch dressing, and Frank's RedHot sauce.
Crumble some blue cheese on top for a tangy final touch. This spaghetti salad will be a hit at any gathering, whether you're hosting or attending.
Delicate cheese-filled tortellini is mixed with sliced pepperoni, salami, deli ham, and provolone cheese to create a pasta salad that recreates the tastes of a traditional Italian sub. After that, the salad is drizzled with an aromatic concoction that consists of mayonnaise, Italian dressing, and dried oregano.
The salad is given more texture and flavor with the addition of chopped tomatoes, shredded iceberg lettuce, and sliced banana peppers. This Italian sub pasta salad is perfect for serving as either the main dish or as a side dish to your favorite Italian dinner.
This Mexican street corn pasta salad is going to make your tongue feel like it's in the middle of a party! Spices like cumin, paprika, chili powder, and Sriracha provide depth of flavor to this salad made with soft farfalle pasta, smoked bacon, creamy queso fresco cheese, and fresh avocado.
The dish's signature street food taste comes from roasting the corn until it's charred and crunchy. Finished with a zesty lime dressing, this salad will quickly become your new favorite summertime side for any next barbecue or picnic.
If you are looking for a recipe for a pasta salad that is creamy and filling, this Creamy Bacon Broccoli Pasta Salad is the ideal meal for you to prepare. This pasta salad is topped with a sweet and tangy dressing made of mayonnaise, red wine vinegar, sugar, salt, and pepper.
It has a delectable combination of rotini pasta, fresh broccoli, crispy bacon, and sliced red onion. Put it in the refrigerator for a few hours, and when you take a mouthful, you will experience the ideal combination of tastes and textures.
Prepare to be wowed by this wonderful shrimp pasta salad, which mixes roasted shrimp and asparagus with whole-wheat farfalle, thinly sliced shallots, and grated Parmesan cheese. The zesty dressing is made by combining mayonnaise, lemon juice, garlic, Dijon mustard, and Worcestershire sauce.
After chilling in the fridge for at least 30 minutes, serve with lemon wedges and sprinkle with chopped parsley for added freshness. This shrimp pasta salad is perfect for any get-together and is loaded with flavor.