Whether you're looking for a traditional linguine with clams recipe or something a little more out of the ordinary, these 15 pasta dishes with clams are certain to satisfy your cravings.
These dishes are delicious and simple to prepare, perfect for anybody from seafood enthusiasts to adventurous eaters.
Prepare to be submerged in a sea of spaghetti and clams with these scrumptious dishes.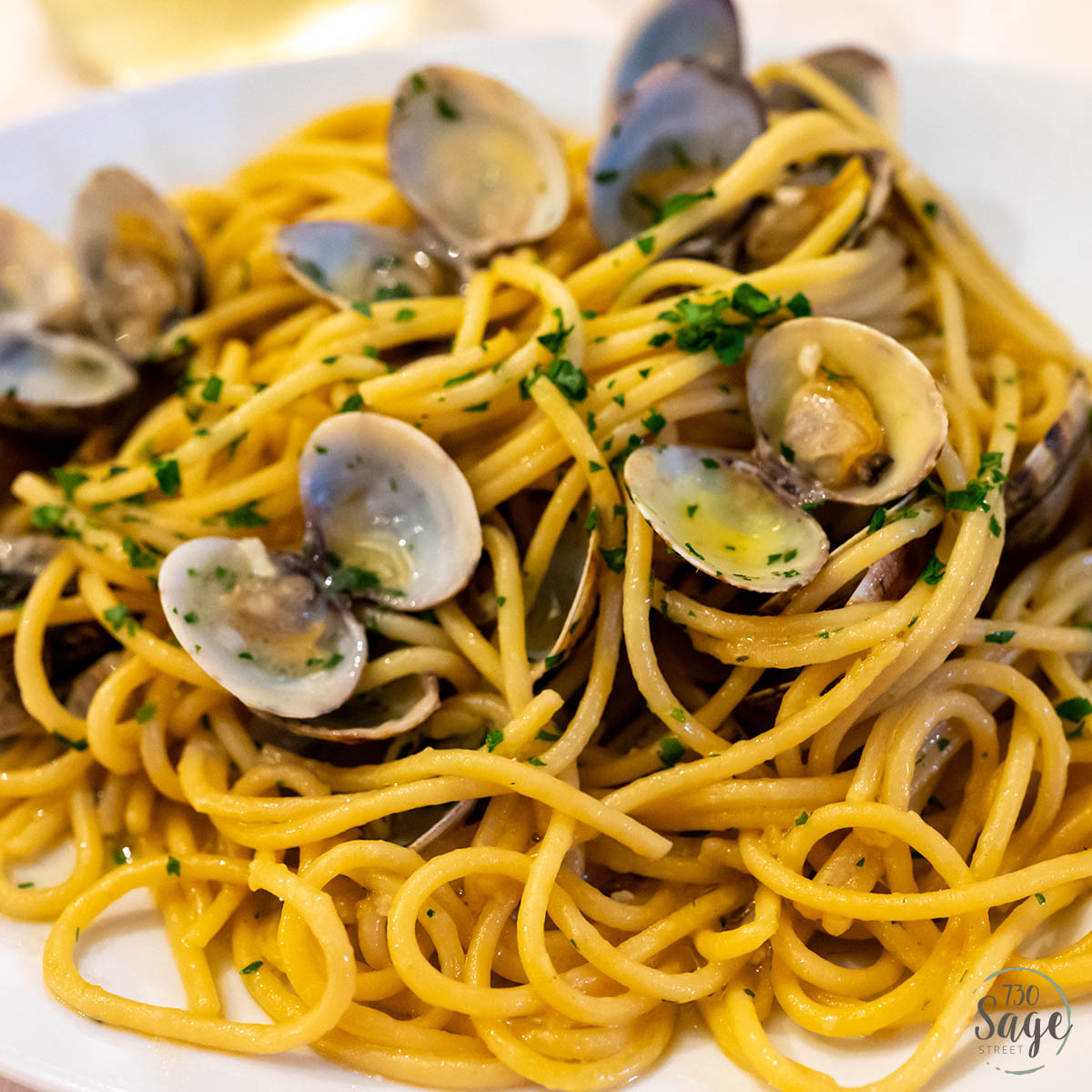 How Do I Properly Clean And Prepare Fresh Clams?
Fresh clams should be soaked in cold water with ⅓ cup of salt for 20 minutes to remove any dirt or sand. Afterward, scrub the shells with a brush under cold running water, and discard any clams that are open or cracked. Then, place the cleaned clams in a bowl with fresh water and refrigerate until you're ready to use them.
Can I Use Canned Clams Instead Of Fresh In These Pasta Recipes?
Yes, canned clams can be used instead of fresh in pasta recipes. Drain the liquid and reserve it for later use if necessary. Canned clams have a softer texture and a slightly briny flavor, so they're a good substitute for fresh clams in pasta dishes.
15 Pasta Recipes With Clams
From classic linguine alle vongole to spicy clam spaghetti, these 15 pasta recipes with clams will transport you to the Italian seaside with every bite:
Spaghetti alle vongole is a classic Italian dish that combines the briny taste of clams with the perfect al dente pasta. This dish is made with thick spaghetti or linguine, cooked until perfectly tender, and served in a flavorful broth made with white wine or Japanese cooking sake.
The clams are the star of the show here, perfectly cooked until they're tender and juicy. Garlic, butter, and olive oil provide the perfect base for this seafood pasta recipe. Finish with a sprinkle of freshly chopped Italian parsley and a squeeze of lemon to add a touch of acidity to the dish. This recipe is a perfect combination of simplicity and elegance, making it a great choice for a romantic dinner or an intimate gathering.
Experience a fiery and flavorful journey with Spicy White Clam Sauce With Linguine. The sauce is made with garlic, onion, and hot chili flakes, giving it a strong flavor that is addictive. The dish is prepared by sautéing it in a mixture of butter and olive oil. Dry white wine or chicken broth is added to enrich the flavor.
Finally, cornstarch is used to thicken the sauce to create a creamy texture. Next, baby clams are added to enhance the flavors of the dish. The linguine is cooked al dente and served with parsley, black pepper, and freshly shredded Parmesan cheese. The pasta is mouthwatering and delicious.
Let this recipe for Pappardelle Pasta with fish Sauce transport you to the beach, complete with crashing waves and the intoxicating scent of freshly caught fish. The creamy, buttery sauce infused with garlic, white wine, and tomato, is the perfect complement to the combination of raw shrimp, small scallops, and littleneck clams.
As you twirl the al dente pappardelle pasta with your fork, the flavors of the seafood sauce will burst in your mouth, leaving you wanting more. Whip up this dish for a memorable and satisfying dinner that transports you to the ocean's edge.
Experience the richness of Italian cuisine with this mouthwatering Clams Carbonara recipe. This dish features freshly shucked razor or littleneck clams, cooked until just opened, and then tossed with al dente spaghetti in a decadent sauce made with eggs, pancetta, garlic, and Parmigiano-Reggiano cheese.
The creamy carbonara sauce is seasoned with a pinch of nutmeg and finished with a sprinkle of freshly chopped parsley. This dish is perfect for a cozy weeknight dinner or for impressing guests at a dinner party. Serve with a glass of wine and enjoy the delicious flavors of this classic Italian pasta dish.
Canned clam spaghetti is a simple way to transport yourself to the Mediterranean coast. The white wine and lemon juice offer a refreshing tang, while the garlic and basil round out the dish's delicate and savory clam tastes.
Pasta is tossed with a savory sauce of clam juice and low-sodium chicken broth after being cooked to al dente. Enjoy the salty flavor of the sea and the fresh scent of chopped parsley in every mouthful. A fast and delectable meal, ideal for a relaxing evening at home.
Linguine in a red clam sauce is a delicious way to savor the sea's bounty. The crushed red pepper flakes and anchovy fillets give the sauce a pleasant spiciness and depth of flavor. Made with sauvignon blanc, plum tomatoes, and clam juice, this sauce is the ideal complement to any pasta with shellfish.
Add the cooked linguine to the sauce and let it sit there to absorb all of the delicious aromas. Littleneck clams, known for their subtle sweetness, serve as the dish's last flourish. For a luxurious pasta dish, serve in bowls and top with a few drops of virgin olive oil.
Spaghetti with clams and zucchini is a delicious way to transport yourself to the Italian seaside, with the sweetness of Manila clams balanced by the light and fresh flavor of zucchini.
A fragrant sauce of melted butter, garlic, and white wine is mixed over al dente pasta. When the clams begin to open, throw in some zucchini, and season with salt, pepper, and lemon juice. Chopped fresh parsley adds color and a burst of flavor toward the finish. Light and filling, this meal is ideal for a sunny summer night.
This crimson sauce made with sun-dried tomatoes and fresh clams and prawns are sure to take your taste senses on an adventure. The Bella Sun Luci Sun Dried Tomatoes give this meal a new dimension thanks to their intense taste. A delicious and tender seafood foundation is created by cooking the clams and prawns to perfection.
The puree of sun-dried tomatoes and crushed tomatoes are then added to the pan, along with a dash of oregano, some white wine, and some minced garlic, making a delicious sauce to go with the al dente linguine. Fresh parsley leaves provide a burst of color and brightness, and the meal itself is filling and tasty on its own.
This dish for Linguine with Clams and Porcini Mushrooms will take you on a flavorful adventure, so get ready! A robust base is achieved by rehydrating dried porcini mushrooms and combining them with garlic and red pepper flakes.
The sauce is made somewhat thicker with tomatoes, clam juice, and parsley, and it has fresh clams and dry white wine. Just before serving, the clam and mushroom sauce is combined with the al dente linguine. The meal tastes delicious and has the right amount of texture and seasoning as a consequence.
Embrace the bold flavors of Italy with this delicious Orecchiette with Clams, Sausage, and Peppers recipe. Orecchiette pasta is cooked al dente and then combined with a savory mixture of browned hot Italian sausage, roasted red peppers, and fresh clams.
The clams are cooked until they open and then added back into the mix with the pasta. The sauce is thickened with reserved pasta water and seasoned with salt and freshly ground pepper. The dish is finished off with a generous helping of fresh parsley, adding a pop of bright flavor to every bite.
Let's take a culinary trip to the seaside with Scott Conant's Gnocchi with Clams! This classic dish brings back memories of long summer days spent by the shore. But this version is extra special because it swaps spaghetti for pillowy gnocchi, which means every bite is bursting with flavor and texture.
The clams, cooked in white wine, garlic, and shallots, pair perfectly with the tender dumplings, creating a taste sensation that will transport you straight to the beach. And the toasted breadcrumbs on top add just the right amount of crunch. Don't forget to save some of the pasta water to emulsify the sauce for a creamy finish.
Paccheri with Clams is a celebration of the delicate briny tastes of fresh clams, and the al dente paccheri pasta is the ideal vessel for them. The meal gets a little heat from the garlic and red pepper flakes, while the white wine and parsley enhance the clams' inherent sweetness.
Also, emulsify the sauce so that it is smooth and rich. With each mouthful, you'll be whisked away to a sleepy fishing hamlet where the salty air and ocean flavor tantalizes your taste buds. Get the whole family together and get into this delicious meal.
This Tagliatelle with Garlic Clam Sauce is a delicious new take on an old favorite. Envision the flavor of delicate, succulent clams, the salty tang of parmesan cheese, and the scent of sautéed onions and garlic. The sauce is created with a little flour and white wine, creating a silky consistency that is great for coating the tagliatelle.
The toppings of crumbled bacon and fresh parsley provide an added dimension of taste to every mouthful. This is a meal that works well every night of the week, whether you're having friends over or staying home.
Prepare yourself for a fusion of two traditional comfort meals with this recipe for Clam Chowder Ravioli, which mixes the rich tastes of clam chowder with the light, airy texture of ravioli.
The sauce, which includes bacon, clam broth, cream, carrot, onion, and celery, is rich and flavorful, and it goes well with the buttery potato and clam stuffing. Add a splash of sour cream and some chopped parsley for a finishing touch that will make any pasta fan happy.
When it comes to comfort food, crispy gnocchi with littleneck clams is the ultimate crowd-pleaser. The pillowy potato dumplings are delicately browned until crisp, then paired with succulent clams that have been cooked in a flavorful broth of potato skins, garlic, and butter.
The dish is brought together with a tangy sauce made from clam cooking liquid, pasta cooking liquid, and lemon juice, adding brightness to the rich flavors. Topped with fresh chives, this dish is both elegant and comforting, perfect for any dinner party or a cozy night in.