It's a crying shame, but chicken just doesn't get the credit it deserves anymore. Well, today we're all about changing that, and making chicken not just popular, but desirable again. Think about it — easy chicken recipes are now such a regular staple of our diet that the magic seems to have faded. Unless we're ordering buckets of it to go from a fast-food chain, it's become just a plain old form of sustenance for some.
This becomes even more prevalent when we talk about healthy eating. Too often, we portray Keto chicken recipes and low-carb chicken dishes as functional food. But this is wrong — chicken deserves better!
With these delicious, imaginative chicken recipes, we're all about putting the soul back in chicken. To make things better, not only are they totally delicious, but the first 5 are either no carb or low-carb and naturally healthy.
For a little added self-love, we've also tagged 2 less carb friendly, but still healthy comfort food options. Because everyone needs to bend the rules every so often.
Low-Carb Baked Chicken Tenders (They're gluten-free too!)
We said it when we wrote this recipe, and we'll say it again now: It doesn't matter how old you are, there's just something totally irresistible about breaded chicken tenders or chicken strips.
However, we all know that usually, this spells danger for our health, but no longer! This delicious recipe for low-carb baked chicken tenders is a wonderfully healthy alternative to the fast-food chains and a bonus. In essence, it's gluten-free as well!
This fantastic easy chicken recipe takes just 10 to 15 minutes to prepare and 10 minutes to cook. And if you enjoy crushing pork rinds as much as we do, well, then it's a fun recipe too! If not, maybe it's time to get the kids or other family members involved as your crushing assistants?
I mean, just take another look at that image and try to fathom how some people think chicken is boring!
There's nothing complicated about the ingredients either. Pork rind aside, everything else is stuff you probably have at home anyway. Plus, this recipe gets top marks for flexibility since it's easy to tweak the flavor profile with your favorite spice blend. It couldn't be any easier to make this absolutely delicious, low-carb chicken dish.
Low-Carb Chicken Enchilada Casserole
I could eat Mexican food every single day of the week and would never get bored of it. Scratch that — I have eaten Mexican food every day for a week before and was perfectly happy! The only problem with Mexican food? It's gotta be the carbs.
But we've come up with a great way to eat delicious Mexican food minus the carbs, making it perfect for a low-carb diet. It's incredibly easy to make, but you will need around 30 minutes of prep time. After this, it's all passive. Just throw it in the oven and wait for all that cheesy goodness to melt to a heavenly goo. One of the best things about this easy low-carb chicken enchilada recipe is that it's super family friendly too, since it can be made in large amounts. Cooking for one? That's fine too, I do it a lot myself. Just reheat it the next day and enjoy it all over again.
A great alternative to this recipe is the skillet only sour cream chicken enchiladas, which uses a delicious riced cauliflower as a keto-friendly rice alternative.
30 Minute Keto Chicken Carbonara
Chicken recipes don't come much more homely than the carbonara. Inspired by the famous pasta carbonara, this is a delicious, filling, zero carb alternative. And an added bonus, all that minced garlic, basil, onion, and chicken broth means that it smells absolutely heavenly while it's cooking! To that end, this might be one to save for when you have guests to impress, or maybe a special date visiting.
It takes just over 30 minutes to make this delicious keto chicken carbonara dish. Not only is the recipe easy to follow, but the hands-on approach means it's a lot of fun to make!
Low-Carb Cauliflower Casserole With Chicken & Cheese
You might have picked up on the fact that I'm a huge casserole fan. They're just so straightforward to make. And when that casserole involves a) cheese, and b) no carbs, well then I'm sold.
The preparation is therapeutic, and while it cooks up in the oven, I can busy myself with something else or just relax. And to top it all off, if I make too much, then there's plenty for the following day!
This low-carb cauliflower cheese recipe is straightforward to make. Pretty much all of the ingredients are likely already in your pantry, fridge, or the nearest grocery store. The only thing you may have to dig a little deeper for is a bone broth, but that's becoming easier and easier to get a hold of these days. And frankly, any broth will work in a pinch!
This low-carb casserole is worth the fuss, though. Rich, creamy and cheesy, it's got that kind of comforting "homemade by grandma" taste, bringing you right back to your childhood – minus the carbs.
Low-Carb & Ketoish Butter Chicken
I'm not writing a chicken inspired blog without bringing up an Indian dish. Indian is one of my all-time favorite cuisines. While some Indian flavors can be a little strong at first taste, this ketoish, low-carb butter chicken recipe is the perfect gateway into a wonderful culinary world. It might be called "butter chicken," but in truth, that doesn't reflect the flavor at all. Think cumin, garam masala, and turmeric for the flavors on this one, but think creamy butter for the mouthwatering texture.
These delicious and healthy spices coupled with the buttery mouthfeel makes this a dish to salivate over. The best thing is that it's so much easier to make than you might think. Some people literally spend hours making butter chicken. Still, this simple recipe allows you to get from start to finish in less than 60 minutes.
If you feel the need to pair the butter chicken recipe with something more carb-like, check out yet another easy alternative in the form of cauliflower rice.
Greek Inspired Chicken, Lemon & Rice Soup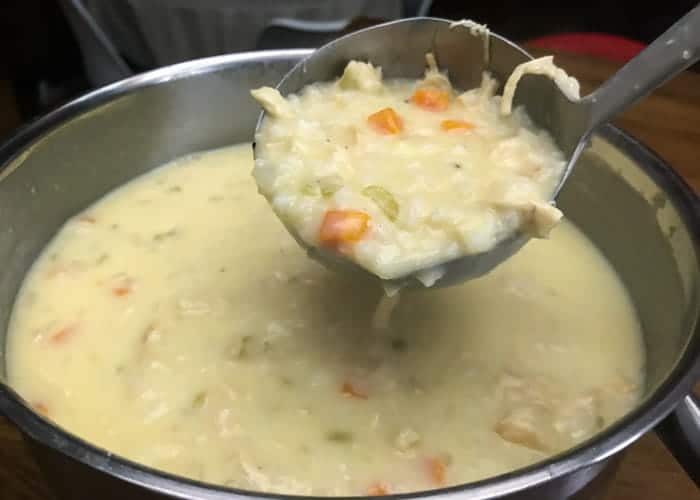 Is there anything more comforting to the ears than the words' chicken' and 'soup'? This delicious rendition is inspired by the Greek food staple avgolemono. A meal doesn't come much more hearty than soup with rice and when you add chicken into the equation…
That rich taste and heartiness are perfectly balanced with the tangy lemon notes, while the dish is very easy to make. It takes only about 45 minutes to prepare and cook before you've got yourself a delicious and comforting pot of soup.
While this chicken soup recipe isn't too decadent for a cheat day meal, we're going to finish in real style with…
Homemade Chicken & Biscuits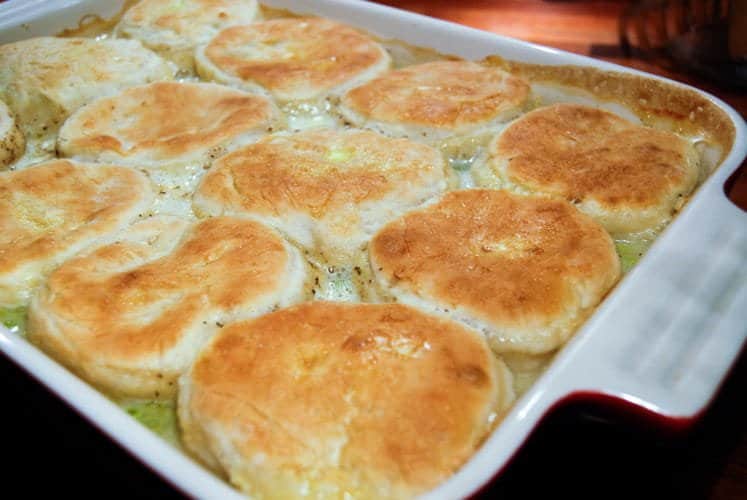 One of the best things about writing a food blog is that I spend a great deal of the day with my mouth-watering. That's the case now more than ever!
I have a real soft spot for good old fashioned chicken recipes. And when I get that craving, few things satisfy it more than this homemade chicken and biscuits recipe. It's rich, creamy, and comforting, and those biscuits swimming in the stew are simply divine… in moderation, of course!
It's incredibly simple to make and much faster than you might think, taking about 50 minutes to prepare and cook.
What is your favorite Chicken Recipe?
Now that I've shared our best chicken recipes, how's that for proof chicken doesn't have to be boring or difficult to be healthy, low-carb, or keto-friendly? And these two comfort recipes show that you don't have to resort to fast-food chains to taste soul-nourishing chicken either!