I was compensated by Peapod to share my experience organic grocery shopping online using their grocery delivery service.
There are two types of people in this world. Ok, well, there are far more than two types of people, but for the sake of my argument and to keep this from being much longer than it needs to be, let's pretend.
Pretend that there are two types of people.
Are you pretending?
Good.
So, as I was saying, there are two types of people in this world. Those who like to leave the house and those who don't. I am the latter. I would almost never leave the house given a choice.
Now, let me clarify. I don't mean that I have a fear of leaving that house that paralyzes me and causes me to have panic attacks and is a real, psychological condition. Me, I'm just weird. And the older I get, the more I realize time is precious. And I'd rather spend it at home with my family and my dogs than dealing with traffic and shopping.
Don't get me wrong. I like shopping. From the comfort of my chair. Wearing slippers. Drinking coffee. Possibly even without a bra on, but that's probably too much information.
Grocery shopping, however, has been that one trip that I have been unable to avoid. You just can't order fresh and frozen foods online and have them delivered to your home, especially when you prefer to buy organic foods. Well, that was true, but now there is Peapod.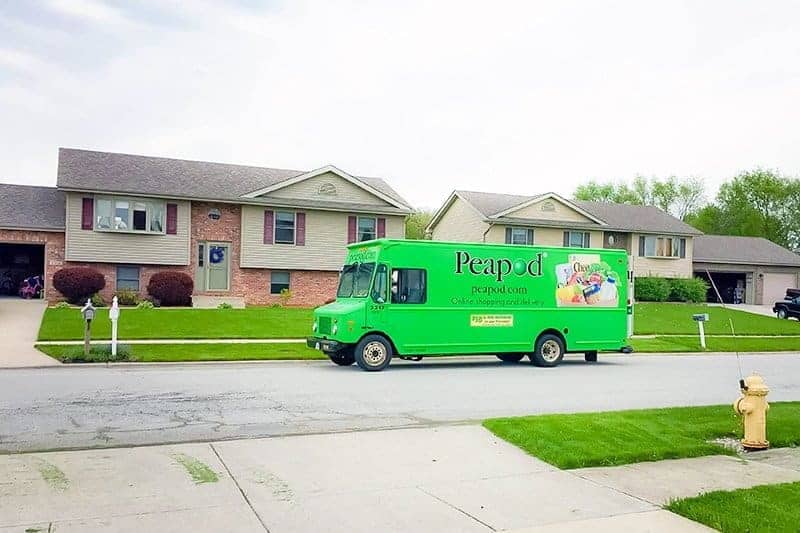 Organic Grocery Shopping Online with Peapod
With Peapod I can order all of my organic favorites including fresh fruits, vegetables, and frozen foods as well. Regardless of whether or not I'm wearing undergarments. And they will deliver it right to my house, at the time I choose. Although, it is recommended to ensure decent attire when you greet the delivery driver. Because you probably would like them to return to deliver your subsequent orders.
Doing my organic grocery shopping online with Peapod is super easy. They have just about everything you could ever need, even my favorite organic and natural brands!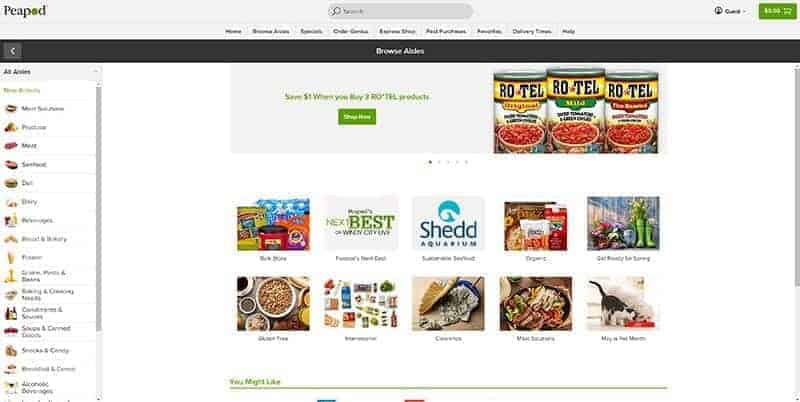 The organic foods are organized by category, so you can search for them or browse by food type. Typing the word "organic" into the Peapod search bar brings up the page below. The selection was incredible!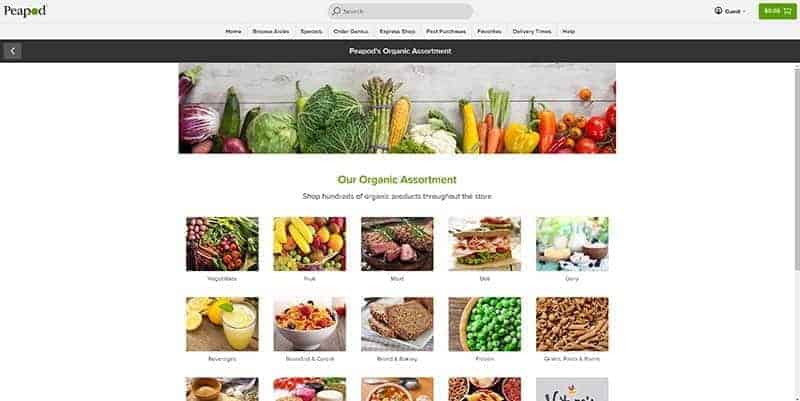 I found Peapod's prices to be right in line with the grocery store, often less, and their Nature's Promise line of organic and natural foods are an especially great value. For example, the organic, grass-fed, ground beef was on sale and came to only $7 /lb. That's a fantastic saving over what I usually pay. I noticed the same savings with all the Nature's Promise items I bought. They have eggs, milk, cheese, juices, frozen foods, produce, bread, sauces, dressings, seasonings, you name it, they have it!
Once you have selected all of your items, you will be prompted to choose a delivery date and time window that fits your schedule. I love that you can make changes to your order until the day before the delivery. That's super convenient in case you forgot something.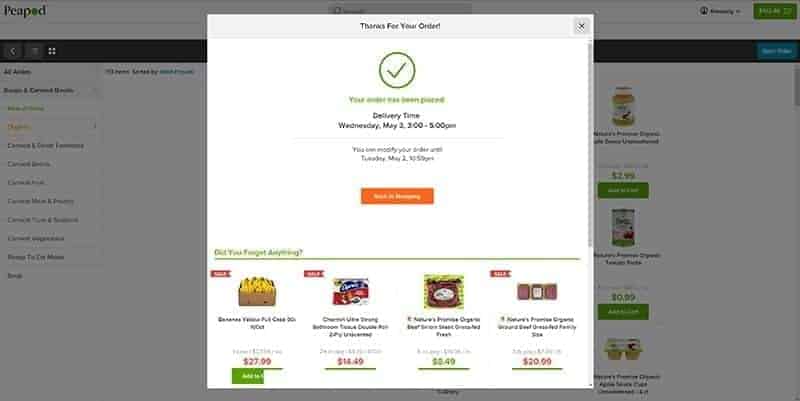 I was anxiously awaiting my Peapod delivery as I was mowing the lawn before a predicted storm. I was hoping to get it done before the rain started. I was covered in grass and dirt but still had an hour before the delivery window (3 pm – 5 pm) even started. At around 2 pm while I was busy defending my backyard against mutant weeds with my weed-whacker, my phone rang.
It was Peapod, and they said the driver was already in front of the house with my order. I do wish they had called ahead and given me a warning that they might arrive early so I could better prepare, but the driver said that if I had not been home, he would have left the cooler boxes with the dry ice in them to keep everything cold until I got home. He said after I got home, I would then call and they would pick up the boxes.
I assure you that I was dressed appropriately upon his arrival, although I did probably look like I had fallen into a shrub and rolled around in it just for fun.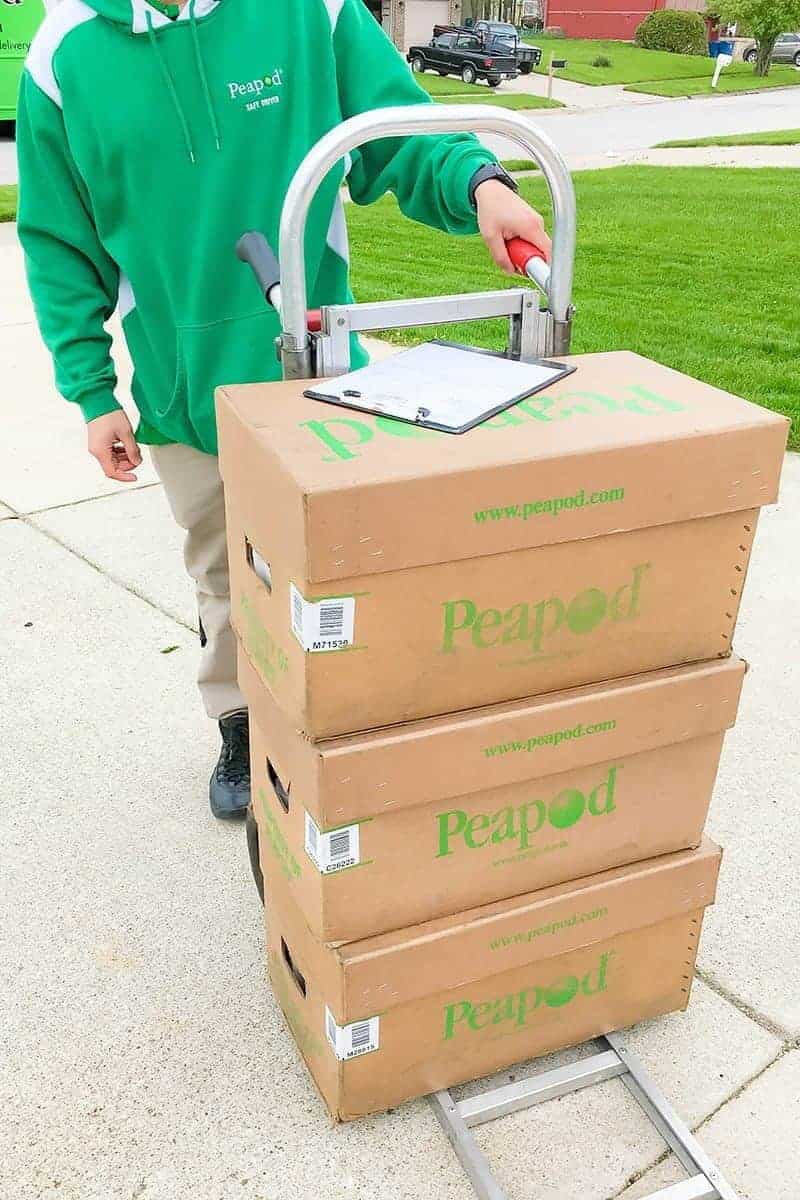 Oooh I was excited! Even though I knew what I had ordered, it was still fun anticipating what was inside the boxes.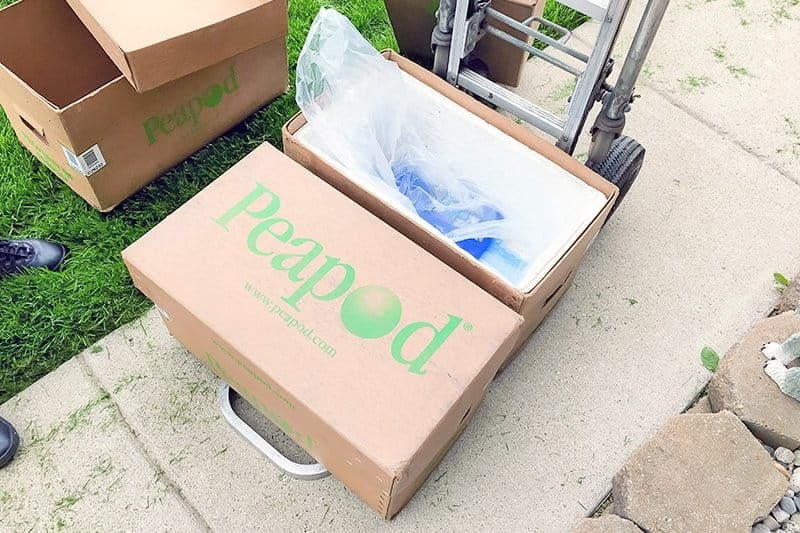 The driver was very friendly, he brought everything up to the house in boxes and asked where I would like the groceries. I had assumed he would just hand them to me, but no, he carried them up the stairs and put them on my table for me. That was awesome. I hate lugging the groceries up the stairs!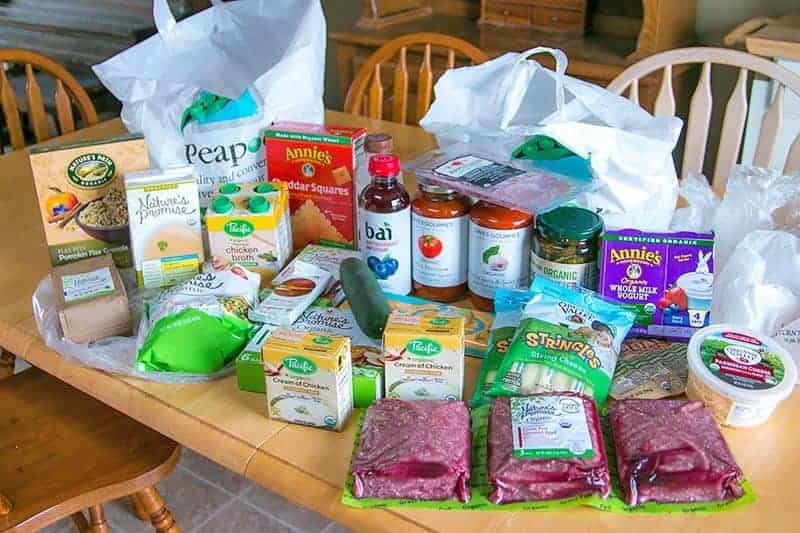 You can see that I didn't order much in the way of produce, mostly because I was concerned about someone picking out my produce for me. I'm picky. I figured I'd take baby steps and only ordered an organic cucumber this time around. It was perfect! So I'll definitely order more produce next time.
I did get some family favorites, some lunchbox items, and some refrigerated items. Another concern I had ordering my groceries and not picking them out myself was the expiration date on perishable items, but everything was good in that area too.
Save time!
I really believe that by doing my weekly organic grocery shopping online with Peapod that I will save time and money. The time part is pretty obvious, especially when you have a 40-minute drive to the grocery store like I do. We have a local store, but their organic selection isn't enough for me to do my weekly shopping at. Then the shopping itself take a good hour or more. And trying to navigate aisles and look at a list often causes me to have to double back for things I missed which will take more time.
Save money!
With Peapod's Nature's Promise brand, I think I will save money on the same types of products I buy regularly when I do my organic grocery shopping online. I will also save money on gas, and on those impulse purchases that I buy on a whim but don't need. Especially the ones at the checkout lines. I also love that as I shop I can see the total so I know exactly how much I am spending. This is great to ensure I stay within the weekly budget!
Get Peapod!
Peapod has a minimum delivery order size of $60. Delivery fees start at $2.95 with discounts. Right now you can get $20 off your first order and get free delivery for six months when you use the code 6MOSFREE at checkout. If you have a small order but need to save time, in some areas you can use Peapod to place and pay for your order and pick it up and one of Peapod's pick-up locations. Visit their website for more information.
Peapod makes it easy to shop and save! Check out weekly sale items, use ExpressShop to easily find your groceries, and create a personal shopping list to easily re-order on staples for your home!
Will you do your organic grocery shopping online after reading about Peapod?
Pin me!