Throughout the year we are inundated with requests for people soliciting money for charitable organizations. Or at least they claim to be collecting money for charity.
How do you tell the difference?
How can you be sure you are giving your credit card information to a legitimate company?
How can you be sure you won't be ripped off?
Lifelock wants you to know that you can donate safely online, you just have to be smart about how you do it. There are things to look out for. Things you can do to ensure that your credit card information is being given to a legit source.
This time of year, requests for donations are ramped up. Families are in need. We all want to help but people are often afraid of the risk or just hand over their credit card number blindly. Neither one of these is the best way to spread holiday cheer.
October is National CyberSecurity Awareness Month and National Crime Prevention Month so it is the perfect time to talk about tips that you can use when donating online.
Knowledge: Research the charity. Make sure it is a legit non-profit organization that wasn't formed yesterday. Check out the contact information and even call to make sure the charity is what and who they say they are and that they are registered in your state.
Security: Prior to typing in your credit card info onto a website, make sure it is secure. This is easy to tell by looking in the address bar. If the URL begins with http:// the site is not necessarily secure meaning your credit card numbers could be shared across the web. You want to look for https:// in the address bar to ensure the data is encrypted.
Source: If you are donating to a charity to a third party website, considering going directly to the actual charity's website. Eliminating the middle man helps make sure your donation gets to where it is intended, as quickly as possible. It also eliminates the possibility that the third party site might have a similar name as the actual charity, but is not actually representing a legit charity.
Receipt: Always, always, always print a receipt. If something does happen it is your proof of the amount you gave. The "print screen" button on your keyboard is a marvelous tool.
Email: If you are approached in an email about a charity solicitation, be very, very wary of it's origins.
Online giving has the potential to do so much good, it's a shame it is ruined by people who would take advantage of people with big hearts who just want to help. But the good news is that you don't have to avoid using your credit card to donate online – you just have to be smart about it. A lot of positive change can come with your charitable donation but you also need to trust your gut. If something seems off, it is probably not worth the risk.
For more about donating safely online, you can visit LifeLock on Facebook and play the LifeLock for Life game.  October's questions deal directly with the issue of donating safely and will provide you with tips and information to help you donate smart. You also will be entered to win donations to the charity of your choice.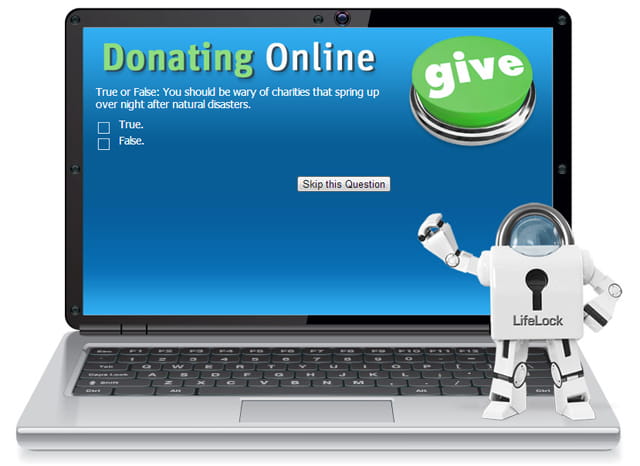 Note: I have received compensation for my participation as a LifeLock Ambassador. All opinions are my own.
Join our newsletter!
Subscribe to get updates and great stuff via email including subscriber-only goodies like free printables and giveaways.