I think most of us are always on the lookout for a way to make things easier to run our households.
Trying to juggle our kids ever-growing extra-curricular calendars, plan meals, run errands, maintain the budget, and manage to keep the house clean and serve food other than cereal for dinner can be a huge challenge. Add to that things like birthday parties, trying to connect with loved ones who live far away and make sure that you return field trip permission slips on time, and you have a recipe for chaos and disaster.
I have spent countless hours trying to find programs or apps to help organize my daily tasks and activities but trying to juggle different apps added another layer of confusion instead of providing organization and order. Not to mention the learning curve. Ugh.
Well now you can get the organization you need with program suite that you already know how to use! With Office 365 Personal, Microsoft has made it affordable and easy for home users to access all of the great 365 program across all of their devices. The ease of using the programs you already use, with the convenience of being able to share them on your mobile devices.
About Microsoft Office 365 Personal
Introducing Office Personal 365, a brand new version just for you. Personal gives you all the perks of Office 365 for less — including installations on 1 PC or Mac, 1 Tablet + mobile, as well as subscriptions for your favorite Office Professional apps like Word, PowerPoint, Excel, OneNote and Outlook. Get anywhere access across your devices for the low price of $69.99 annually or $6.99 monthly. Your apps will always be up to date and you can enjoy the benefits of 20 GB of additional OneDrive storage plus 60 minutes of Skype calling per month. 
What's Included with Office 365 Personal
Your subscription ($69.99 annually or $6.99 monthly) includes the following:
Full installed Office Applications: Word, Excel, PowerPoint, OneNote, Outlook, Publisher & Access.
Access across devices: For 1 PC or Mac and 1 tablet or iPad plus smartphone access.
20 GB of extra online storage
60 minutes of Skype calling per month to 60+ countries
Programs are always up-to-date
The possibilities are endless with Office 365, and when it comes to essential household tasks, it really can help streamline your life.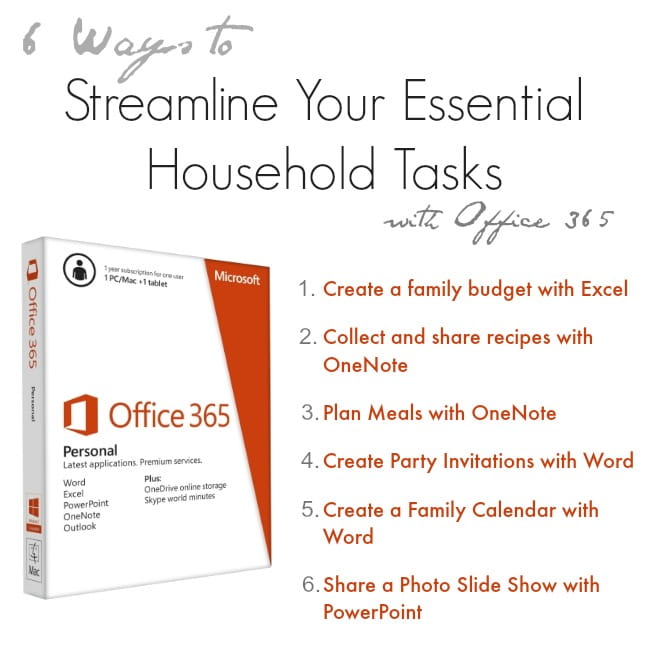 There are so many household projects and tasks that Office 365 can help streamline. I love that I can create a project on my computer, and then access and share it on my iPad or phone so that way I always have my budget, my grocery list, my meal plan and anything else I access on a daily basis right at my fingertips, created in programs that I am already familiar with.
How to purchase Office 365 Personal
You can purchase Office 365 Personal (and other Office 365 versions) at Walmart.
And if you are really lucky, you can win a $50 Walmart GC to help offset the costs! See below for more information.
Enter to win a $50 Walmart GC
The perfect way to purchase an Office 365 subscription!
To enter simply ReTweet my Tweet below.
6 Ways to Streamline Your Essential Household Tasks with Office 365 – $50 #OfficeGiveaway http://t.co/c3lxtmKmlm pic.twitter.com/VGdqx42eMg

— Kimberly Grabinski (@WhatsThatSmell) April 16, 2014
I recommend leaving a comment with a link to your ReTweet (or Twitter profile) so I can find you from your email address if you are the winner, but it's not required. You will be contacted on Twitter otherwise.
Rules:
This giveaway sweepstakes is open to USA residents and ends on April 30th, 2014 at midnight CST. One winner will be drawn at random from RT entries. Winner will have 48 hours to respond if selected and a new winner will be chosen. 
So, what is your favorite Office 365 program? What household task do you use it for?
Join our newsletter!
Subscribe to get updates and great stuff via email including subscriber-only goodies like free printables and giveaways.

This is a sponsored post and giveaway. Opinions are mine!