How do you feel when you're driving at night?
Do you tense up and grip the steering wheel a little harder when you see oncoming headlights?
Does it take you a moment to adjust to the darkness when a car finally passes by?
Do you get a little frustrated every time it seems like another vehicles headlights are pointed directly at your eyes?
I do.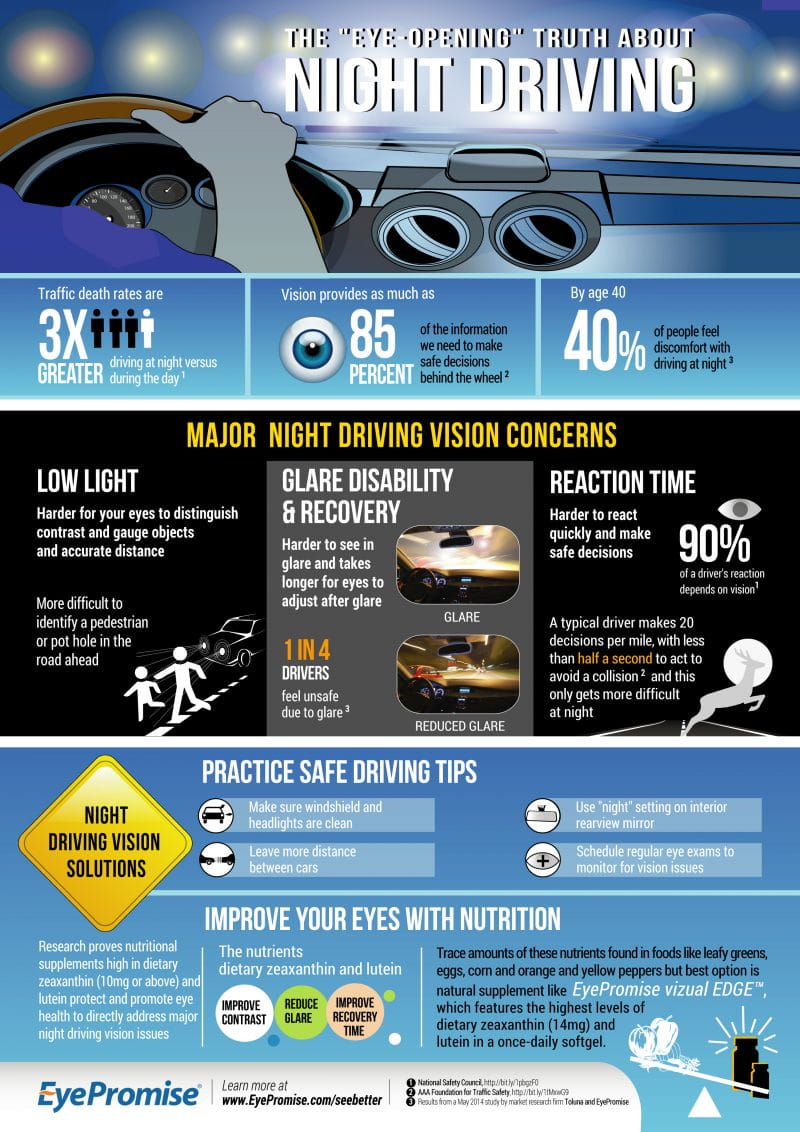 Night driving can be scary, and no matter how hard the DMV and driver's training teachers try they can never fully prepare you for the experience.
If you can relate to my experience, even in the slightest bit, you might be interested to know that a recent survey found that 40% of drivers over the age of 40 are anxious about driving at night. Even scarier, is that 1 in 4 drivers feel unsafe driving at night due to the glare.
You're not alone.
A lot of people feel the anxiousness of night driving.
Nighttime Related Vision Issues
Difficulties with vision when driving at night can be broken up into three categories.
Low Light: Difficult for your eyes to recognize contrast and gauge objects and distance.
Glare Disability & Recovery: Harder to see due to the glare of oncoming headlights. Takes longer than normal for eyes to adjust after the glare has subsided.
Reaction Time: More difficult to react quickly to dangerous situations. An interesting fact regarding this category is 90% of drivers reaction times rely on their vision.
Science has been on our side on this issue, though. Studies have been conducted that found that our diet and nutrients have everything to do with our vision. More importantly is the fact that American diets don't contribute enough of the necessary carotenoids zeaxanthin and lutein that help fight glare within our vision. Even though trace amounts of these beneficial carotenoids can be found in some foods such as leafy greens and corn, optometrists highly suggest adding a nutritional supplement like EyePromise vizual EDGE™ to your vitamin routine.

EyePromise vizual EDGE™ contains the highest levels of dietary zeaxanthin on the market and has been proven via scientific studies to help improve night driving visual performance. This means it helps with contrast and helps reduce glare sensitivity and recovery time.
Night driving safety is not something we should take for granted. It relies so much on visual performance that it is smart to discuss your eyesight concerns with your optometrist and consider adding a supplement like EyePromise vizual EDGE™ to your health routine.
EyePromise vizual EDGE™ Giveaway
I want to help three people with their night driving worries, so I'm giving away three EyePromise Night Driving Confidence kits that include the following:
Car Emergency Tool/Flashlight
Head & Taillight Towel
EyePromise Sport Bag
Coupon for a discount on EyePromise vizual EDGE™
For tips on night driving safety, visit eyepromise.com/nightdrivingvision.
Join our newsletter!
Subscribe to get updates and great stuff via email including subscriber-only goodies like free printables and giveaways.