We drink a lot of water around here year round, but the summer especially finds us using gallons a day.
From drinking water and making hot or iced tea to filling the dog's water bowls and making oatmeal, someone is always filling up something with water.
We also have a problem with our ice maker keeping up with our water consumption. It just doesn't produce enough ice to cool down as much water as we drink in a day.
This demand for so much cold water, combined with the lack of ice cubes was a daily challenge for us to overcome.
Well, it was.
Now we have the NewAir WCD-100W Water Dispenser and it has completely changed things for the better!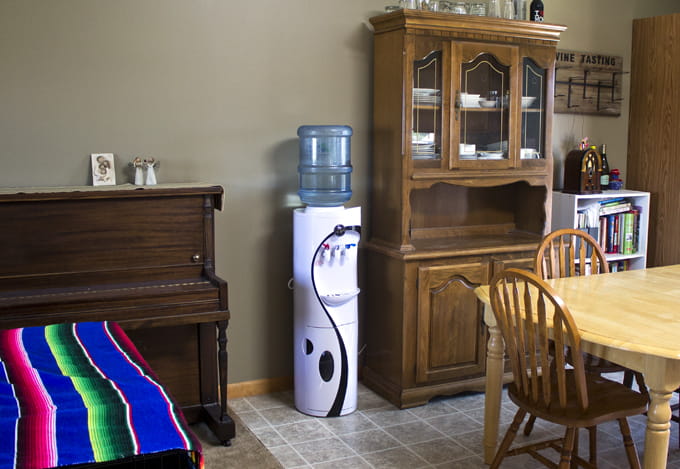 About the NewAir WCD-100W Water Dispenser
The NewAir WCD-100W Water Dispenser is a 3-tap water dispenser that provides immediate access to hot, cold and room temperature water at the press of a nozzle.
Features
Never ending flow of fresh water
3 water temperatures
Compatible with 2,3 or 5 gallon bottles of water
Spike Puncture for bottle seal
Soft-touch faucets
Sleek and sophisticated design
Compact small storage area in base
Removable drip tray catch spillage
Free standing design
Instant hot or cold water
Ultra quiet
Faucets accommodate just about any size bottle
Stainless steel water tank for plastic-free taste
Unpacking
The dispenser arrived well packaged in a box that made removing the unit from the box a breeze! You cut the straps and simply lift the box off the base. The base is only a couple of inches high which means you don't have to figure out how to lift such a tall unit out of the box.
Setup
Setup of the water dispenser was super simple. We followed the directions and let the unit come to room temperature and then put a 5-gallon bottle of water on top. Then plugged the unit it. We somehow missed the part in the manual where you are supposed to drain the unit once to clean dust out of it. We only drained some of the water through the faucets to flush anything out, but the manual does recommend a more complicated initial cleaning.
We had the perfect spot for the dispenser in our kitchen. It's accessible easily from our living room and kitchen.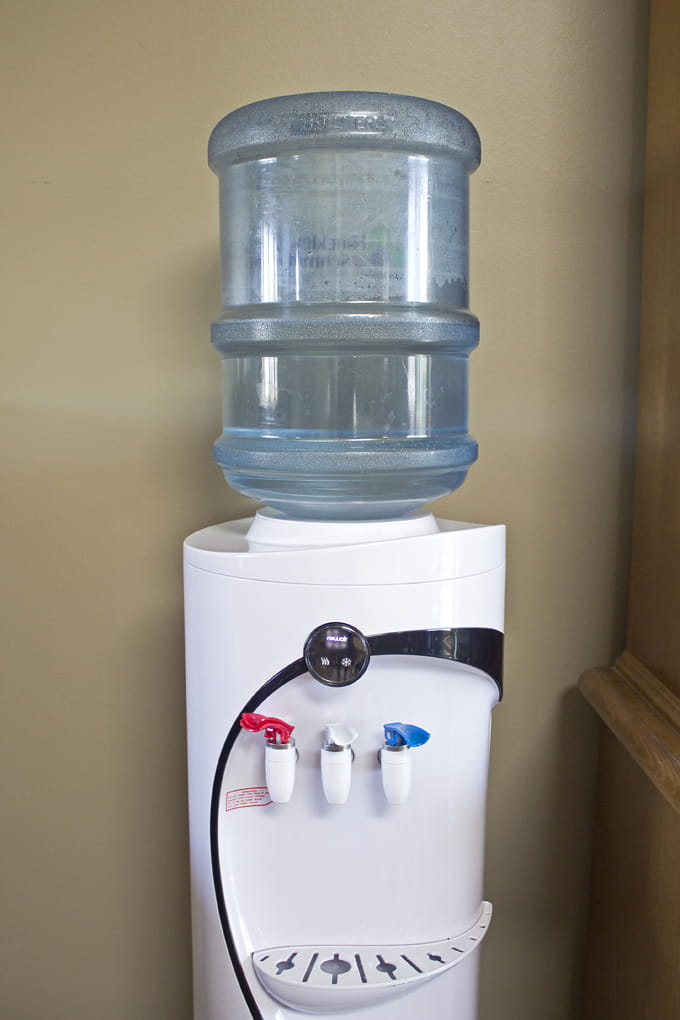 Usage
Every member of the family can use the water dispenser with ease. The soft touch faucets are easy enough for my 6-yr old to use and I very much appreciate the safety feature of the hot water faucet. For hot water, you cannot just press down on the handle to open the flow of water. You have to press the 2 pieces together and then press down which does take a bit of coordination.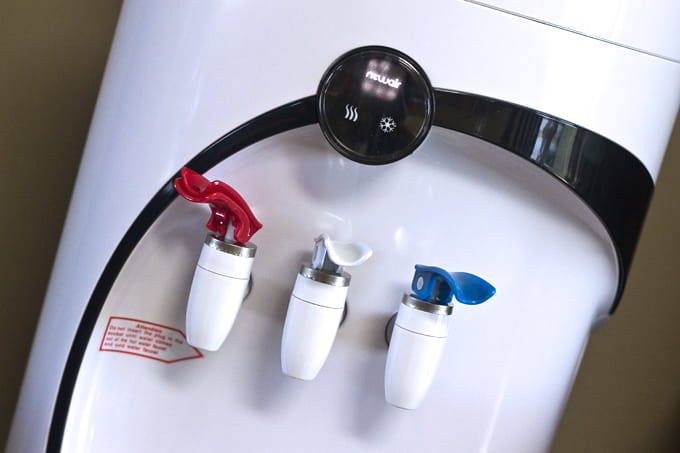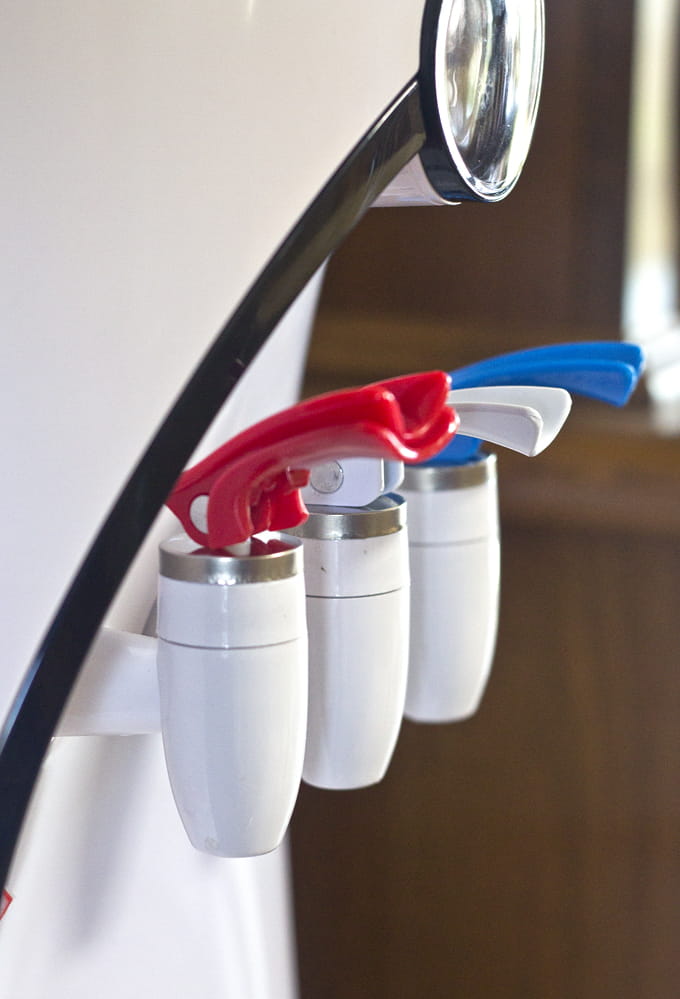 Pros
The NewAir WCD-100W Water Dispenser has really made a great addition to our lifestyle. I'm actually shocked we went this long without it. I love having cold water available all the time and my kids are even drinking more water than they were before which is fantastic!
The drip tray is a great features because my daughter sometimes lets go of the faucet too late so some water spills over her cup and we do like the storage n the bottom of the unit. Also, the stainless steel tank means the water tastes great, and not at all like plastic.
The hot water dispenser is amazing. No more waiting for water to heat up in a teapot, we have instant hot water whenever we need it.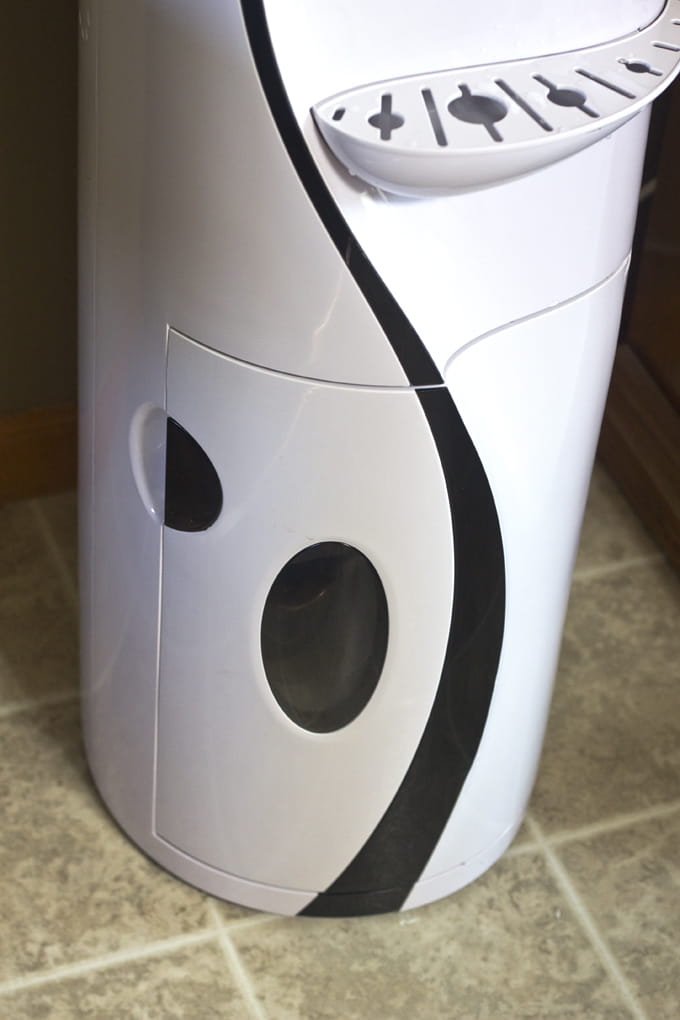 Cons
Overall I really think this is a great water dispenser that would make a great fit for home or office, but I did want to point out a couple of things that I think are important for parents of small children.
First, while the hot water dispenser does have a safety to keep kids from accidentally pressing it, it is certainly not fool-proof and I feel like it wouldn't be too difficult for some kids to accidentally grab it the right way and pull it down. Also, the faucet part does get a bit hot.
Second, the unit is a bit top-heavy making it a potential hazard if a child decides to climb it.
See it in action
Check out the NewAir WCD-100W Water Dispenser in the video below:
Where to purchase
You can buy the NewAir WCD-100W Water Dispenser at Amazon.com.
Note: I received the product shown to facilitate my review.
Join our newsletter!
Subscribe to get updates and great stuff via email including subscriber-only goodies like free printables and giveaways.