We love Peppa Pig.
Yes.
WE.
I think the characters are adorable and sweet and they teach simple, yet important life lessons.
And their accents are just endearing!
Recently received a fun little box of new Peppa Pig toys and Abby couldn't have been happier with them.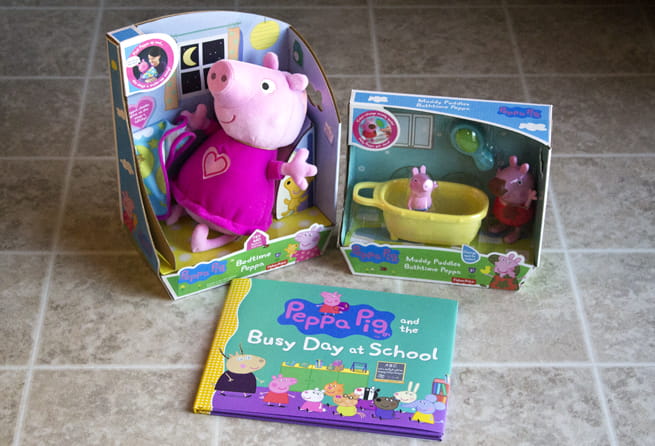 We received:
Bedtime Peppa ($26.99) Get ready for bedtime! This plush doll sings lullaby songs, oinks and even plays a counting sheep game.
Muddy Puddles Bathtime Peppa ($12.99) Make the bath more fun with Peppa and George! Watch Peppa's muddy spots disappear in warm water. The set's storage container adheres to the tub wall with suction cups for easy storage.
Peppa Pig and the Busy Day at School book ($12.99) Follow the adventures of Peppa in school as she learns her numbers, letters and more!
As always, the Peppa Pig toys are super cute!
The Bedtime Peppa sings songs, counts sheep and lights up. I hear Abby in bed giggling most nights now after I tuck her in, and Peppa counting sheep. it's a soft toy and she really loves that Peppa has her blanket with her. The book is just as engaging as other Peppa stories, leaving us giggling and her wanting me to read it to her over and over again. She especially relates to it because she started kindergarten this year.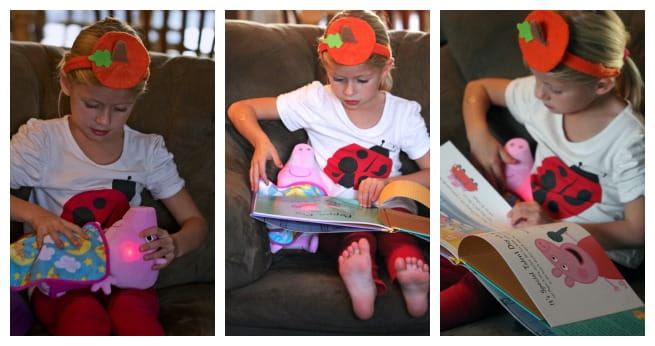 The bath toy was a big hit too.  Peppa is covered in muddy spots that can be washed away in water, and George's bathtub can be attached to the wall, and water will drain out of the bottom. She loves having adventures Peppa and George in the tub!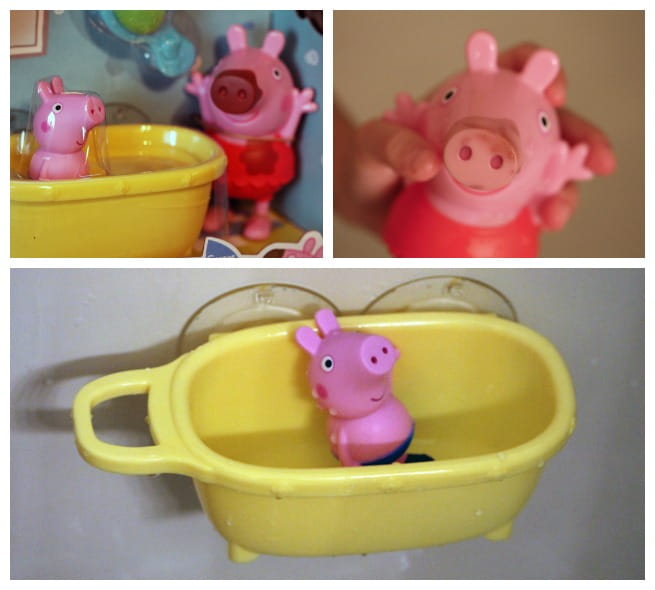 One of the things I love about the Peppa Pig toys are the simplicity. There is not a million pieces to be lost. They are bright, look just like the cartoon characters and really inspired her imagination.
Even though it makes her want to play in muddy puddles.
Do you have a Peppa Pig fan in your house?
Note: we received the products shown to facilitate our review.
Join our newsletter!
Subscribe to get updates and great stuff via email including subscriber-only goodies like free printables and giveaways.