This post, Netflix Summer Vacation Movie Scavenger Hunt, is part of my participation with the Netflix #StreamTeam. Opinions are my own.
Today officially marks the start of summer vacation for my kids.
I must admit that I have a sort of love-hate relationship with summer vacation. I love the freedom, but hate that I get very little alone time. During school, from 8 am – 2:30 pm, time was mine, all mine!
But it is nice to be able to not worry about helping them get ready to catch the bus on time. I won't miss staring at homework that even I don't understand and feeling quite inadequate. And I definitely won't miss how quickly the day seems to fly by after school and homework is done.
As much as I am a person who likes routine, summer is also nice to take a step back from routine and just let the days flow as they may.
ZTE Spro 2 (Wi-Fi Only) Android Projector with 5
One of our most favorite things to do during the summer after the sun sets is to setup the projector and watch movies on the garage door. It's a great way to spend time outdoors and the cool things is that you can invite the whole neighborhood! We use a ZTE Spro 2 wi-fi smart projector but there are plenty of other options. We can cue up Netflix right from the projector and play any movie in the Netflix catalog. Of course, when watching outside we choose family-friendly movies.
If you don't have a garage door, you can make a homemade screen. They are easy and affordable! Check out this DIY outdoor movie screen tutorial.
To help make your kids summer movie viewing a little more fun, I created a Netflix Summer Vacation Movie Scavenger Hunt that you can print and use to help choose movies for the younger viewers in your household. All of the movies are rated PG or G. Some of the clues are totally obvious, others may take a bit of searching and research to figure out. But it will help make movie viewing a bit more fun.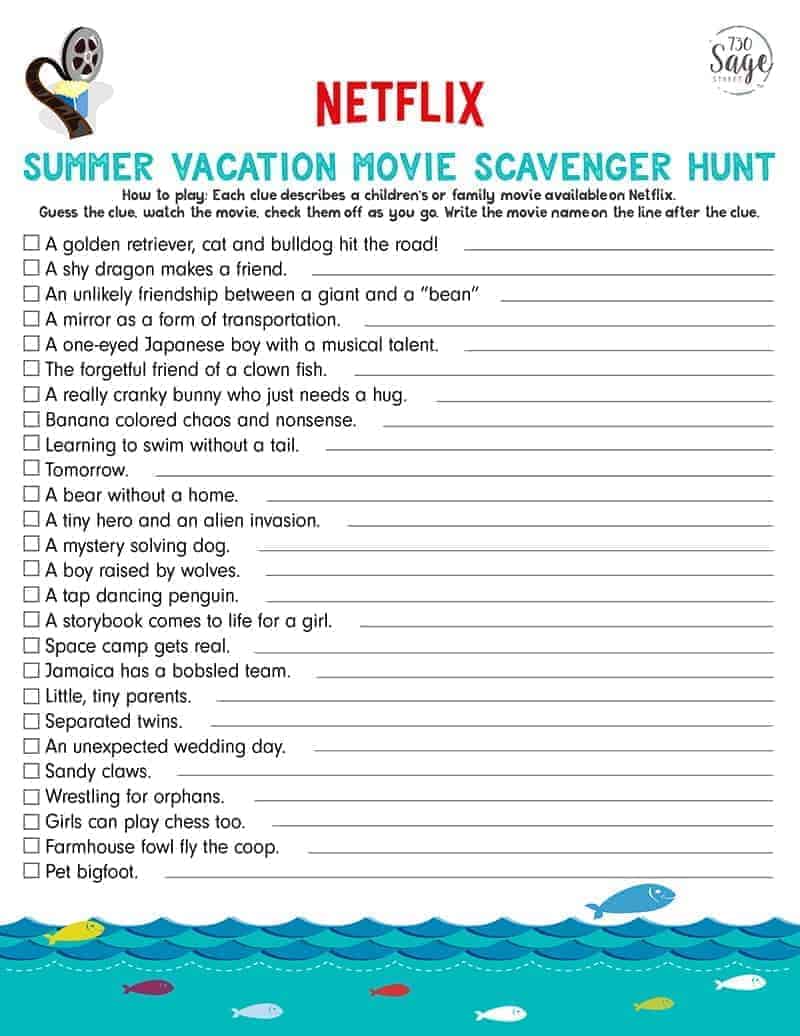 To print, click the image or click here: Movie Scavenger Hunt Printable. The answers are at the bottom of the post in case you need some help. The link will open a PDF that you can print to any print. It fits on an 8 1/2 x 11 sheet. You can print on regular printer paper or I would recommend printing on cardstock since it is meant to last all summer.
PRINTABLE USE TERMS
730 Sage Street has provided this printable free of charge for personal use. You may NOT link directly to the PDF file, resell, or use commercially. This is  a violation of the terms of the graphics and the copyright. Personal use includes parties, classrooms, home school, church, community activities, etc.
Check out out printables category for more great printables and activities.
OUTDOOR MOVIE SCREENS
There are a lot of great affordable screen options if you don't want to make your own like I mentioned above. But it does work well on our light grey garage door, although a screen would certainly be much better.
JaeilPLM 100-Inch Wrinkle-Free Portable Outdoor Projection Screen + Setup Stand + Transportable Bag Full Set
Outdoor Projector Screen – Foldable Portable Outdoor Front Movie Screen, Setup Stand, Transportable Full Set Bag for Camping and Recreational Events,74.4 Inch (16:9) by Vamvo
Excelvan Outdoor Portable Movie Screen 120 Inch 16:9 Home Cinema Projector Screen, PVC Fabric
Taotaole Blackout Cloth, 16:9, 100 Inches DIY Portable Projector Screen, Finished Edges with Grommets, White
PRINTING TIPS
The PDF should print easily to your default print size without having to change anything. It prints to an 8-1/2 x 11 size sheet which is standard paper size.
Use cardstock so it holds up all summer!
Consider getting a laser printer for your printables, they have come way down in price.
Turn printables into a write on / wipe off page with a thermal laminator.
Make sure to Pin this Netflix Summer Vacation Movie Scavenger Hunt on Pinterest for later in case you don't have access to a printer right now!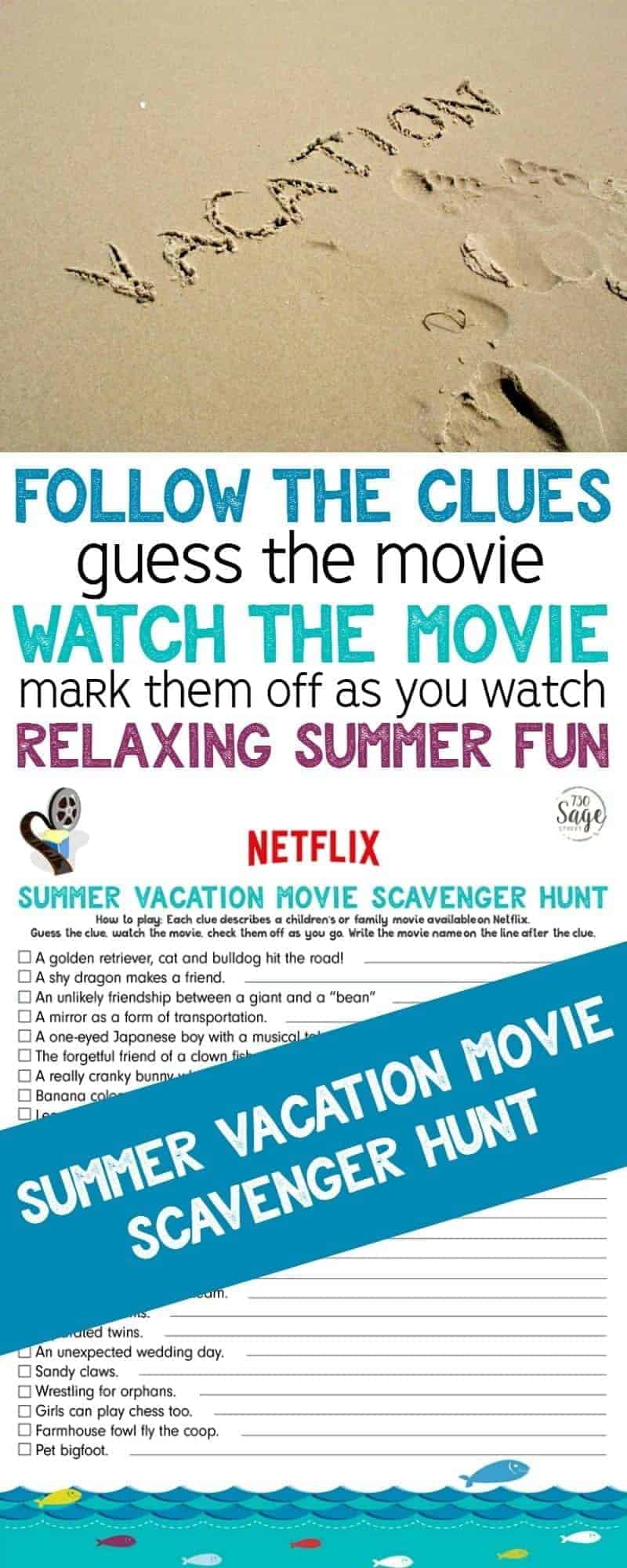 SPOILER ALERT
Don't scroll down unless you want to see the answers!
3…
2…
1…
ANSWERS
In case you can't figure out the answers, they are below.
Homeward Bound
Pete's Dragon
The BFG
Alice Through the Looking Glass
Kubo and the Two Strings
Finding Dory
The Secret Life of Pets
Minions
Dolphin Tale
Annie
Paddington
Chicken Little
Scooby-Doo
The Jungle Book
Happy Feet
The Secret of Moonacre
Space Warriors
Cool Runnings
Honey, We Shrunk Ourselves
The Parent Trap
Corpse Bride
The Nightmare Before Christmas
Nacho Libre
Queen of Katwe
Chicken Run
Harry and the Hendersons