In my house, there is no shortage of reasons we constantly have messy floors.
You can find four of those reasons below.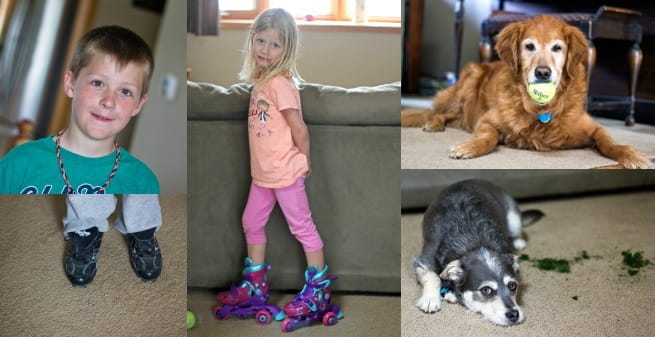 Simon likes to take the fuzz off of tennis balls and leave a trail of it through the house. Toby likes to bring clumps of grass inside and roll around in it. Jake forgets to take his baseball cleats off after coming in the house. Abby likes to wear her roller skates. Everywhere.
When you combine this with the normal dirt provided by everyday life, I end up with quite the daily challenge to keep my floors clean. And as much as I have the best of intentions to keep up with it by vacuuming daily, the reality is that rarely happens.
Wouldn't it be nice if someone, or something did the vacuuming for me?
Well, my wish has been granted with the Neato XV Essential.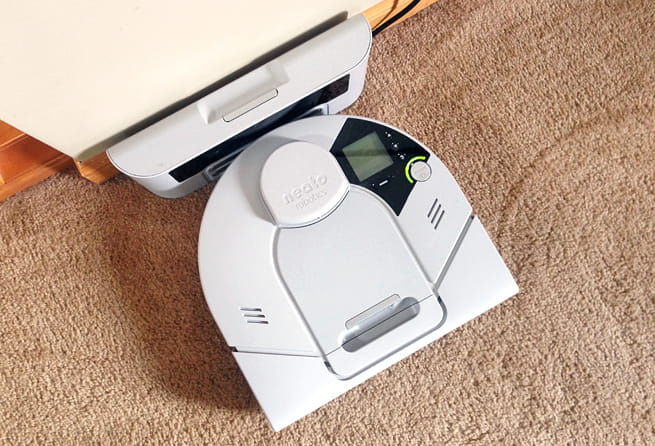 Neato XV is Neato Robotics' line of vacuums that offers great performance at an affordable price.
Neato XV Essential Key Features
Patented Neato BotVision – Scans and maps the room, plans, and methodically cleans—instead of just bumping around.
Best for Picking Up Pet Hair – Industry reviewers like CNET agree, Neato leads the pack for homes with pets.
Auto Charge and Resume – When it needs more juice, it goes back to its charge base then returns and finishes the job.
Super Suction – As in a real vacuum—not a sweeper. Suctions dirt, dust, and pet hair like only a true vacuum can.
Oohs. And Awe – Get that "just vacuumed" look on carpet. Neato does the work. You get the credit.
Instant Upgrade – Your smart robot gets smarter as new features become available. Just download them right into your Neato robot vacuum.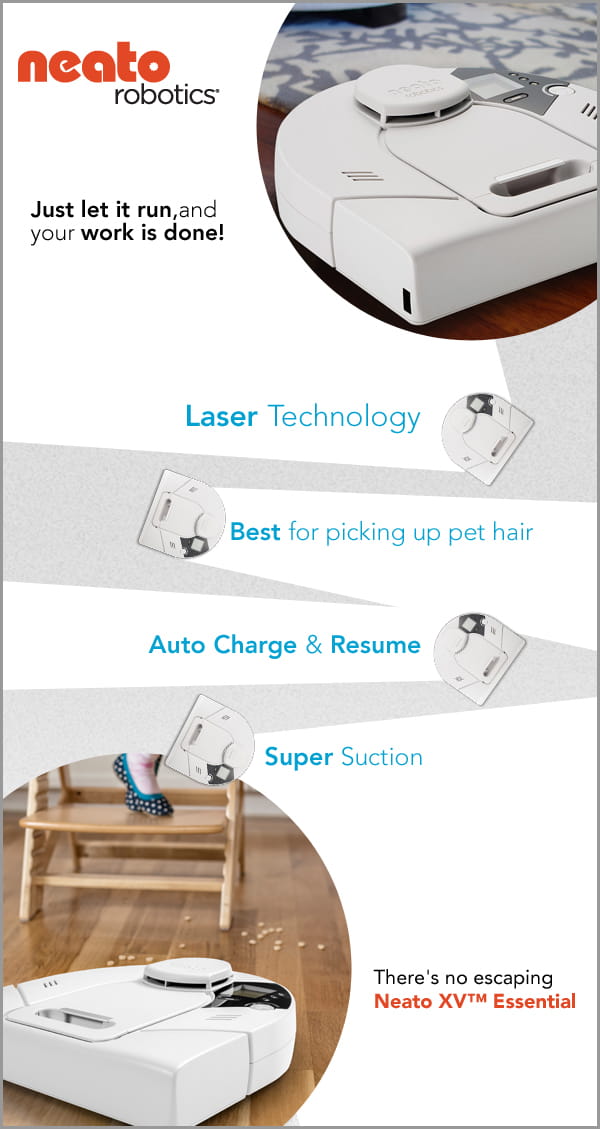 The best way for me to demonstrate how the Neato XV Essential works is to show you, so take a look.
Overall the Neato XV Essential is a great fit for our busy, and messy household. It really does save me a lot of time by eliminating a household chore and makes my son very happy that I no longer ask him to vacuum for me. Which is a win-win because I have plenty of other chores I need his help with.
My husband and I were both quite impressed at the cleaning ability of this unit, especially considering it is budget-friendly. It picked up a ton of dog hair, Toby's grass, and the rocks that my son tracked through on his baseball cleats.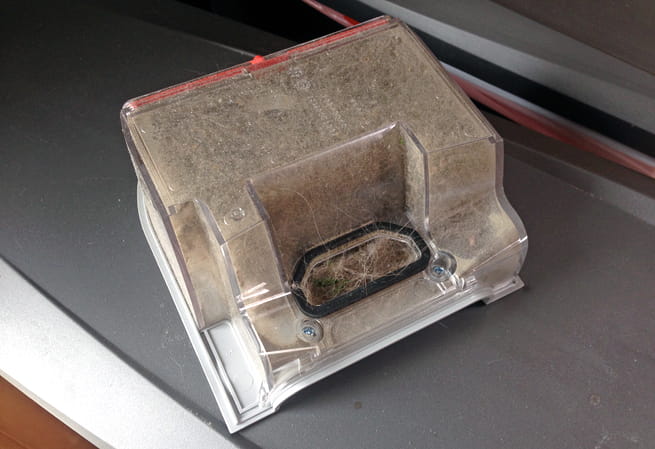 The dirt collection bin isn't huge, but you really can't expect much more in a small unit that has as much power and suction ability as the Neato XV Essential has. I do have to empty it mid-clean each time, but it's 20 seconds of my time and then the Neato gets back to work!
The Neato XV Essential comes with a rubber blade brush for all floor types. While not specifically design for households with pets like the more advanced models, I really think this brush held its own against the pet hair on our floors. I did notice that on hard floors the brush was louder than on the carpet, so we make sure it runs during times when we aren't in the room with the hard floors. Although I'm not sure it's any louder than a traditional vacuum, it just makes a slightly different sound.
We did also find that the Neato will get easily confused if things change frequently in the rooms while it is mapping its path, like if the dogs walk in front of it and cause it to change direction, then aren't there the next time it is in that area. It has prevented the Neato from returning to its base when needing to be charged. It's a simple fix – we just keep them out of the room that is being cleaned.
I enjoy having my floors vacuumed for me, and I love the "new carpet" lines the Neato leaves behind.