When you take a vitamin or mineral supplement what do you expect it to have in it? I would imagine most people expect it to have vitamins and minerals, some natural filler to make it into pill form, and that's it.
Right?
That's what I expected a vitamin and mineral supplement would have, especially from such a well known brand as Nature Made.
Vitamin and supplement brands, because of the nature of the products they provide, offer the perception that they are advocates for human health. Their products give us the vitamins and minerals our bodies might be lacking which can affect our health.
Their products support healthy immune systems.
Their products support joint strength.
Their products support healthy heart function.
Their products support memory.
Their products contain artificial colors.
Wait, what?
Yup.

I have been having trouble with foot and muscle cramps when I eat bananas, so I did some research and determined that it *might* be a magnesium deficiency, so I figured I would pick up a magnesium supplement to see if it would help. While at the store, I specifically chose the Nature Made Magnesium because I trusted the name. They advertise quality, no artificial flavors and no preservatives. It was an easy choice when faced with a decision between 3 or 4 grocery store level supplements.
Now, I am a label reader. An obsessive, annoyingly consistent, serial label reader. I read labels just out of curiosity even if I have no intention of buying something. I read labels even if I have already read the label before. I read labels at friends house. I have no shame when it comes to reading ingredients.
But I didn't read the label of the magnesium supplement because I trusted the brand.
I began taking the supplement and noticed a few things. First, I still can't eat bananas, and second I was feeling tired and run down, so I figured I would stop taking the magnesium.
As I pulled the bottle out of the cabinet where we keep our daily vitamins, I noticed something on the label under "other ingredients"….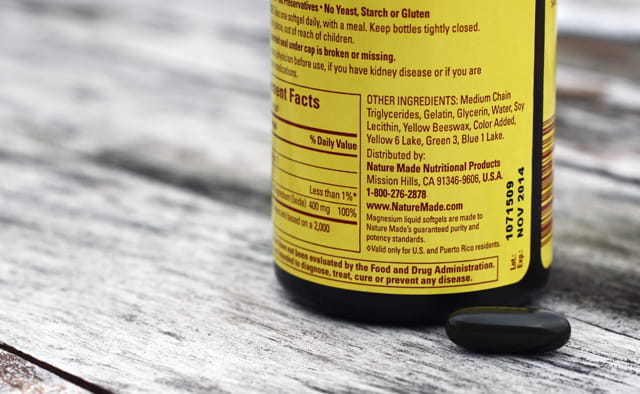 Yellow 6 Lake
Green 3
Blue 1 Lake
ARTIFICIAL COLORS!!!!!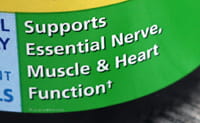 The USDA claims artificial colors are safe for human consumption. Our food supply is riddled with products that contain them. But the reality of it is, no one knows if they are safe and some studies have shown artificial colors may contain cancer causing agents and promote allergies and hyperactivity. Artificial colors provide no nutritional value nor do they contribute to taste or texture. They are purely aesthetic. So why put them in a supplement designed to provide support for proper function of the human body? Especially when the result is certainly not mouth watering – a greenish brown gel cap.
I am disappointed with Nature Made and I consider this a lesson learned. Nature Made is no longer a brand I trust for my health and well-being and I will be even more conscientious with my label reading.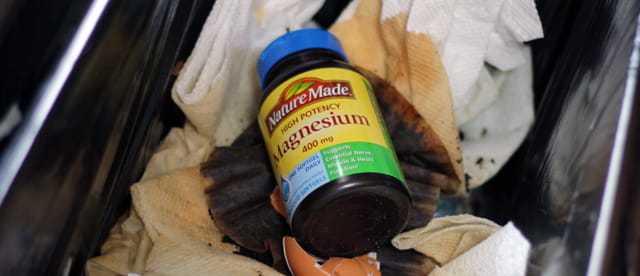 Unfortunately I have to live with the attitude that I am the only advocate for my own health and well-being.
Do you know what is in your vitamins?
Join our newsletter!
Subscribe to get updates and great stuff via email including subscriber-only goodies like free printables and giveaways.