It's that time of year again.
It gets cold. We eat a lot. We buy presents. We stay indoors. And we get sick. Repeatedly.
Picture this.
Little Sally has a runny nose. She goes to school having sneezed about eleventy-billion times into her hand. Then she touches doorknobs. Pencil sharpeners. Desks. Another child. Then that other child begins to sneeze. Of course, into their own hand. And then they touch another child's pencil. Well, probably every other child's pencil. Because they are kids and they can't keep their hands to themselves. Especially after sneezing into them.
Pretty soon the entire classroom is sneezing into their own hands, and who knows, maybe even each other's hands. And with your luck, each child has a different strain of germ that makes it's way through the classroom and leaves your child and your entire family sick from October through about 2035.
You could keep giving your kids OTC medicines all of this time to help relieve symptoms, but that can't really be good for them to constantly ingest some of the questionable ingredients in some of these products. Now, don't get all bent out of shape that I am dissing (do people still use that word?) modern medicine. I'm not. There is a time and a place for it. But I also believe that if there are natural alternatives that can do the same thing for mild ailments, then my kids are better served by using these natural remedies to help their own immune systems get stronger.
Winter Wellness: Help Kids Get Better, Naturally
Increase vitamin C intake – ideally through foods like broccoli and oranges but also through supplements as well.
Drink more healthy liquids – hot tea with ginger and lemon, water, and even low sodium chicken broth.
Diffuse or vaporize essential oils that can help boost the immune system and support a healthy upper-respiratory system.
Use local raw honey to sweeten things instead of sugar.
Another way to help your kids get better, naturally, is by using Maty's Healthy Products.
Maty's products are all natural. They are made from ingredients that come straight from Mother Earth so they have no harmful side effects or drug interactions. They have products for the whole family including petroleum-free vapor rub and nighttime cough syrups.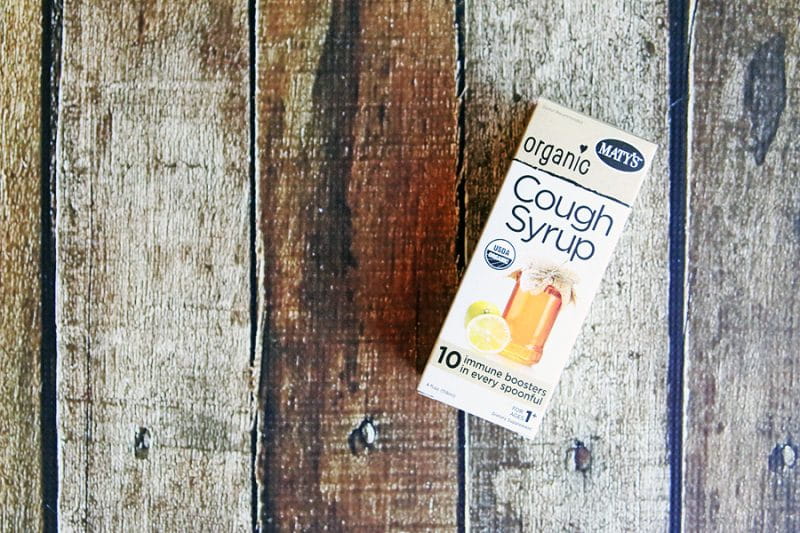 Maty's also has an Organic Cough Syrup suitable for the whole family (ages 1 and up). It is USDA certified organic, non-GMO and is a honey blend that is packed with 10 immune boosting ingredients and healthy antioxidants.
USDA Certified Organic
Packed with 10 Immune Boosting Ingredients
No Harmful Side Effects! No Drug Interactions!
Soothes Dry Irritated Throats
Fast, Drug-free Relief
Doctor Recommended
For Ages 1 Year and Older
I find this syrup to taste great but my son doesn't like honey so he wasn't overly thrilled with the taste. My son had his in peppermint tea and loved it!
I am so excited that Maty's has such great natural options that I can feel good about giving to my kids to help with their winter wellness. They won't teach them to stop sneezing into their hands, but they do offer safer options to help soothe coughs and sore throats.
Maty's Healthy products can be found at many local and online retailers. Find Maty's Healthy products near you with their product finder.
Keep in mind that I'm not a doctor. Please do not treat or not treat your child's illness a certain way because of the information provided here. Consult your doctor.
Note: This post is sponsored by Maty's Healthy Products, opinions are my own.
Join our newsletter!
Subscribe to get updates and great stuff via email including subscriber-only goodies like free printables and giveaways.