The entry way in my home has always been a bit of a problem for us. It is small and right at the foot of the stairs. Coming in to the house with 4 people in bad weather with two dogs greeting us upon our arrival makes for a very difficult situation, especially when you are trying to get the kids to keep their shoes on a 3'x2′ rug.
Needless to say, the floor was always filthy.
But it's not anymore!
A few weeks ago I was invited to design my own custom rug from Natural Area Rugs, and in addition to it being custom, it is natural as well, so it is right in line with the products we like to have in our home.

Why choose a natural area rug?
Natural rugs come from rapidly renewable plant and animal fibers.
Natural rugs do not contain toxic VOCs.
Natural rugs reduce airborn allergens.
Natural rugs are easier to clean.
Natural rugs are eco-friendly and help contribute to the stability of our planet.
What are natural rugs made from?
Bamboo
Wool
Cotton
Sisal
Seagrass
Shag
Jute
Cork
For more information about the benefits of a natural rug, check out this article: Advantages of Choosing Natural Fiber Rugs for Your Home.
Natural area rugs look great too!
It wasn't easy to select my rug. Let me re-word that. There were so many great choices, I had a hard time narrowing down which one I liked best. Once I did, selecting the options was easy!
I decided to go with a wool rug. I liked the weave and color options available. I measured my entry way and subtracted an inch or so in both directions because I wanted it to fit in the long rectangular space, and fill it, but still a little room on each end for aesthetics.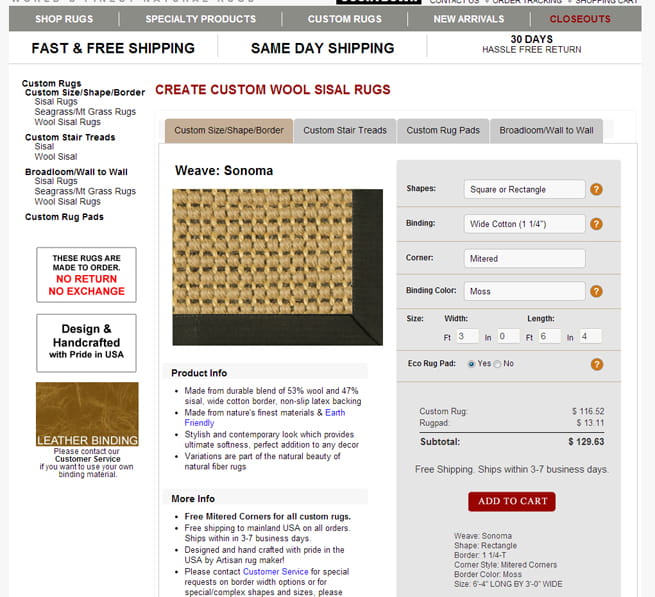 Natural Area Rugs makes it easy order a rug to your exact specifications.
I forgot to take a picture of the rug when we received it but it was shipped rolled up, top-side in, and wrapped in a heavy white packaging material. It was very well protected. We took the wrapper off and unrolled it and it only had to sit out for a short while before it laid completely flat.
The colors weren't quite what they showed in the picture on the order page – THEY WERE BETTER. The wool wasn't quite as yellow as it was and the border was more green than brown. It really turned out perfectly and just as I had envisioned.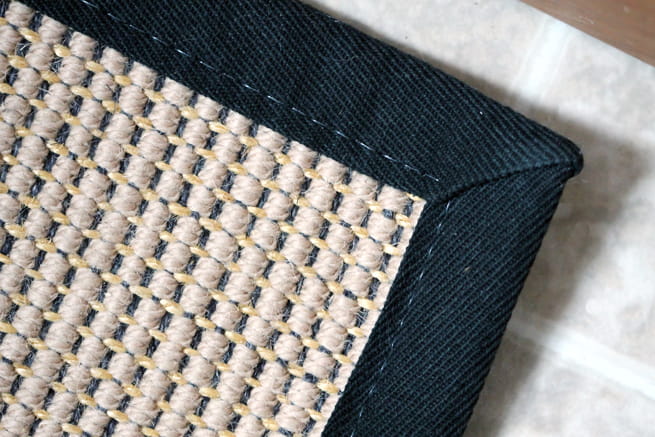 I was so very anxious to place it in our entry way!
After so many years with a small rug in that space, I wasn't sure how I would like a rug that filled the entire area.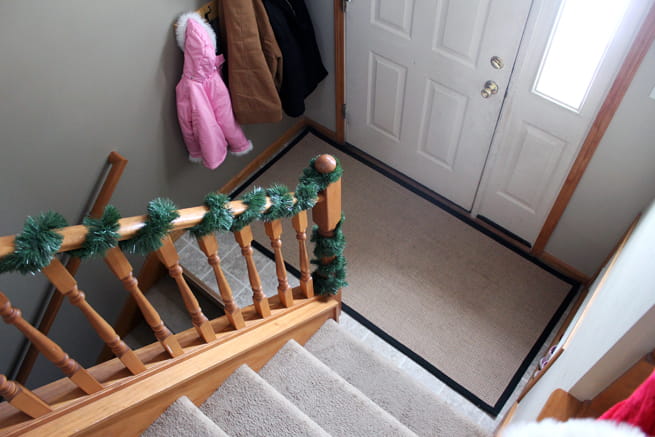 I can't believe I went this long without this rug. Every time we come home and we can all stand on the rug with wet boots, I appreciate it even more.
It's only been a few weeks but the rug is holding up great. I do notice some dirt right where we come into the house but it's not really noticeable because of the weave of the wool. I am going to tackle cleaning it, from what I have read it should be really easy to clean. Natural Area Rugs does offer cleaning tips on their website for the different types of rug materials.
Is there a space in your home that needs a custom sized rug? Have you ever considered an area rug made from natural materials?