I would imagine most people would enjoy being able to travel and experience the different cultures, food and architecture across the globe. Being able to experience first-hand the places you have only read about or seen on television can be a dream-come-true.
Even if you haven't created a formal bucket list, I bet you could name a few places you would love to visit in your lifetime.
I have a list too, and some of the destinations on my list are not only dream travel locations they would make great running spots as well. I would love to regale my grandkids with stories of "that time I ran from…" Or "that time I ran around…".
The Great Wall of China
Imagine a jog along such an epic, historical structure. It would probably take years to run the whole thing, but I'd love to visit Beijing and a do a couple of miles along the Great Wall.
The Grand Canal in Venice
I'm not sure how conducive to jogging the Grand Canal would be at peak times, but an early morning jog along the canal would be amazing.
The Colosseum
A couple of laps around the Colosseum would really allow you to take in the sights and sounds of ancient Rome.
The Irish Countryside
Jogging through the most gorgeous green countryside ever, with the possibility of stumbling across an old Irish castle, is an adventure of a lifetime.
Maui, Hawaii
Life would take on a whole other meaning lost in the peaceful pace of Maui. A jog along the beach could turn into a cooling dip in the ocean.
One-day, I do hope to visit and go for a once-in-a-lifetime run at each one of those amazing places. But until I get there, there is a way I can enjoy traveling to my dream locations – virtually.
My Virtual Mission Fitness Tracker App
There are a ton of fitness apps out there that let you track your route as you are running, walking or biking via GPS. They will tell you exactly where you went, for how long, and how far in your local area.
Every time you head out for your workout the map will look roughly the same. And if you look at your history you will see day after day of the same route, and the same distance. You don't get a cumulative look at the total distance you have traveled, only a snapshot of what you have done each day. If the app happens to tell you your total lifetime distance traveled, it only gives you a number that doesn't really mean anything.
My Virtual Mission is a new spin on a fitness tracking app. Not only does it allow you to virtually travel to your dream vacation spots, and motivate you to exercise more, it provides you with a way to set distance goals and virtually travel to those locations you hope to one day visit in person.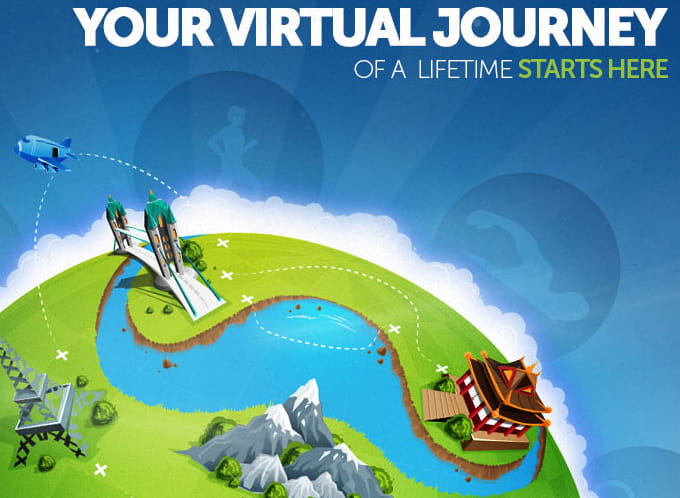 About My Virtual Mission
If you added up the distances of all your exercise sessions, such as running or cycling or whatever you do, how far would that take you around the world?

My Virtual Mission lets you track your progress towards completing an outrageous virtual journey. You can even raise funds for your favorite charity or own cause along your way (optional).
And it's FREE!
"It's not exercise anymore, it's a mission."
How to use My Virtual Mission
My Virtual Mission is super easy to use. You simply create a free account, design a mission and record your normal exercise distances. As you complete mileage, you will see your progress along your mission route.
You can have up to 3 active missions at any one time, each with their own profile photo, goals and optional fundraising.
Profile Page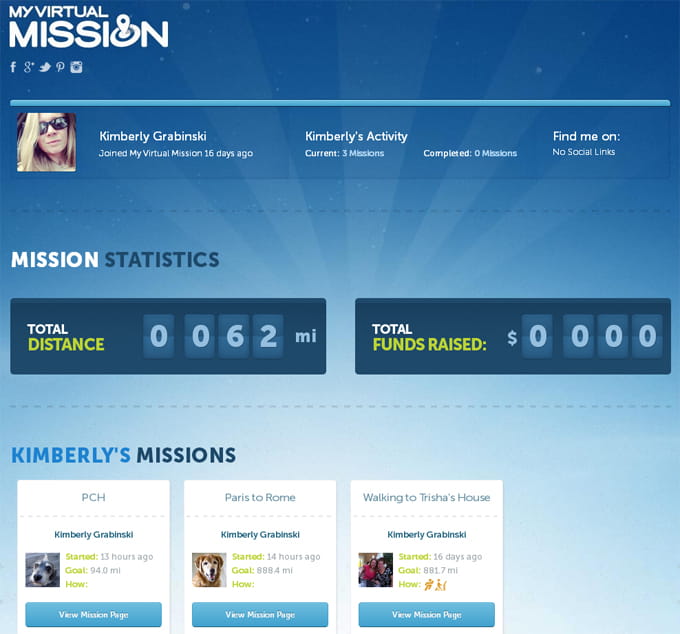 Create a Mission
In order to experience My Virtual Mission, I decided it would be fun to track my progress to get to my friend Trisha's house on foot. Most of my activity involves running and walking, and according to my average daily pace, it will take me 221 days to get there. My goal is to reach her house much sooner. I love how this app motivates me to get even more active!
When you setup a new mission, you will see an interactive map with search feature that let's you accurately and completely plot your mission path.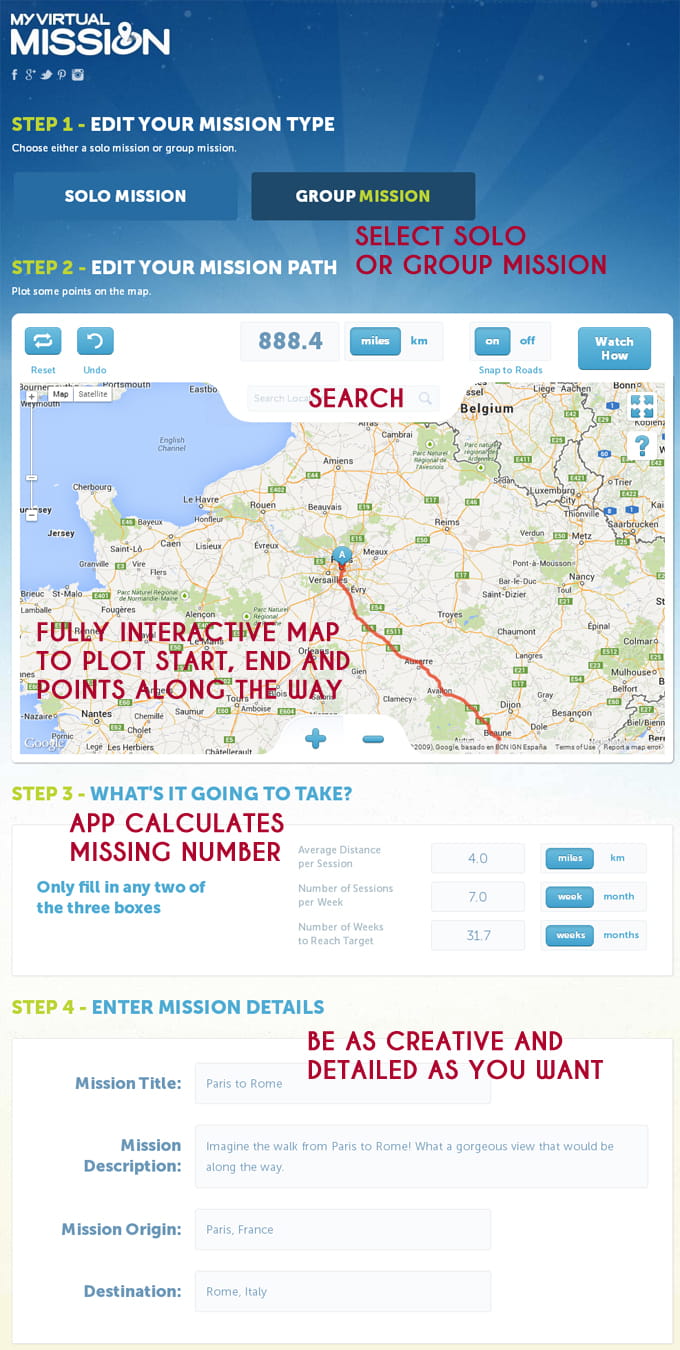 View Your Mission
Once the mission is setup, you begin adding your exercise sessions and watch your progress on the map!
Fundraising with My Virtual Mission
I haven't tested out the fundraising side of My Virtual Mission but I am very excited by the potential this app can offer to help you raise money for your favorite charity, fundraising for teams or organizations or even providing incentives for employees to get more active by committing to a shared charitable cause.
Easy to set up and administer. Anyone can set up a fundraising mission.
Instantly collect sponsorships for progressing your mission from your network or anyone who wants to support you/your group or the charity that you are raising funds for.
Offer rewards to your sponsors (optional). Things like t-shirts, or signed memorabilia, public recognition e.g. a sports team might put the sponsors name on their playing tops as a reward for a certain level of sponsorship.
Fun and healthy. Get fit and raise funds at the same time.
Very shareable! Your mission is easily shared through social media and people can always see your progress.
More Information about My Virtual Mission
My Virtual Mission is a brand new app with so much potential so you don't want to miss out on any updates or information. Make sure you are following all of their social media channels. I know that an app redesign is in the works along with integration with trackers such as Fitbit (my personal favorite) to make My Virtual Fitness a seamless and valuable fitness tool!
To join My Virtual Mission, visit the website and setup your missions. Then download the app in Google Play or on the App Store to track your journey.
Where will you travel to with My Virtual Mission?
I would love to follow along on your mission, if you start one, make sure to share it below so I can follow along and offer support.
Note: This is a sponsored article on behalf of My Virtual Mission. All opinions are my own.