Rare Editions Little Girls N Check Seersucker Dress with Ladybug Appliques, Navy/White, 6X
Note: My baby Clothes Boutique no longers seems to be in business, but there are some adorable ladybug dresses across the web. Just search for ladybug sundress and you will find a few options with the same applique shown in the dress I originally reviewed.
I never knew how much fun it was having a daughter until I discovered dresses.  I myself am not a big fan of wearing dresses but that hasn't stopped me from buying her one wherever I go.  She has a closet full of them, and she loves them all.  She looks so darn cute in almost any dress I put on her, so of course, I'm always on the lookout for the next adorable dress.
My latest quest has been to find Abby a dress with a ladybug
or ladybugs on it.  She absolutely adores them and wants everything she sees that has a ladybug on it.
And I found one!
Bonnie Jean Green Seersucker Lady Bug Dress
Description:

Your little girl will look lady-bug sweet in this too-cute sleeveless sundress that she'll ask to wear again and again. It features a single-file line of ladybugs along the sage green trim of its wrap-around skirt, and the fabric of the dress is a pretty coordinating gingham print in a matching shade of sage and white. This adorable dress also features a daisy appliqué at the left torso, with petals falling beneath the waist line to the perfectly gathered skirt. The petal motif is carried on along the wrap overlay of the skirt as well, making for a darling effect.
And to go with it, we also got an adorable ladybug hair bow
.
Medium Ladybug Bow
Description:

Medium Red and Black polka dot bow with a special ladybug in the center for a spectacular bow. This bow is made from 7/8 Grosgrain Ribbon, 3.5 inches bow and medium clippie. Easy to slip in clippie that you can be sure will stay in all throughout the day until you to take it out. This clippie is also great for little ones that still may not have much hair.

Details matter when it comes to crafting a Beyond Creations Bow. You'll never see the metal clasp on our bows because we take special care to cover each one. We take pride in creating the best quality bows on the market today, and that means paying attention to details. Our ribbons never fray because each one is hot sealed. Sure it's extra work, but it means our products last and last. Handmade in the USA.
Nothing speaks better about the cuteness of a dress and bow than seeing a little girl wearing it.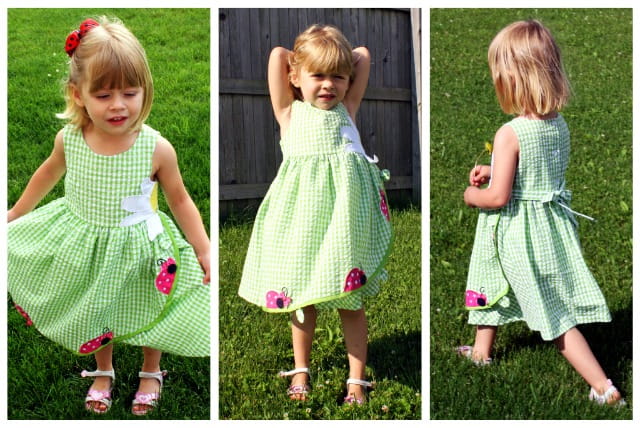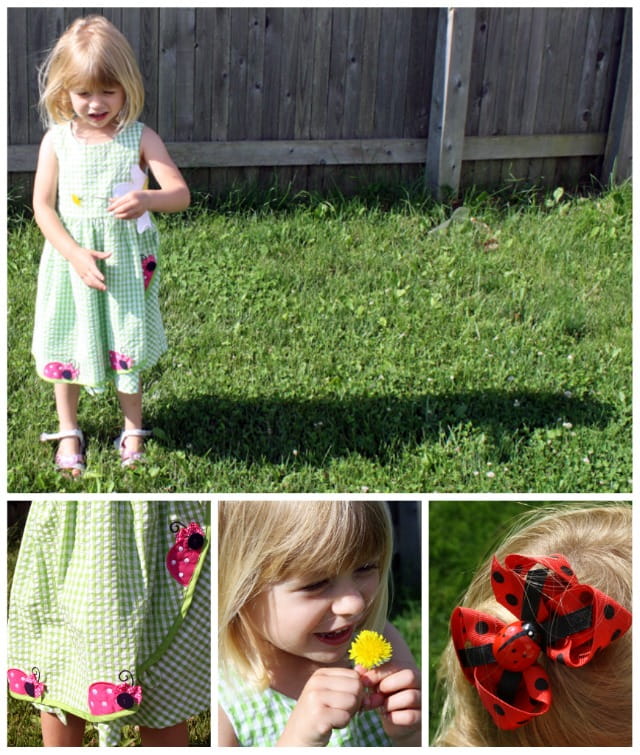 This dress is made of 62% polyester and 38% cotton with a lining made from 80% polyester and 20% cotton.  It is very soft and the gingham is just adorable.  It appears to be a wrap dress but it is not, it is a full skirt with a flap on the front where the ladybugs are.  Very good from a modesty perspective!  It is well put together and all the fun details seem like they will stand up to the abuse Abby will put her dress through.  She may be a girl and like dresses, but she runs and climbs and plays like a tomboy.  The only real issue we have is that the adorable petal from the flower wrinkles up after washing and needs to be ironed out.
We got the dress in a 4T and I think it fits true to size, maybe a bit on the small side.  Abby is a petite 3 1/2 and she does have some room to grow in it.
The hair bow is even cuter than I expected.  It does tend to slip out of her fine hair but mostly I think that is because she keeps wanting to "pet" the ladybug.  Sometimes I clip it onto the dress so she can see it AND pet it.
She asks to wear both her ladybug dress and hair bow EVERY SINGLE DAY.
As I mentioned, My Baby Clothes Boutique is no longer in business, but there are some similar options on Amazon. Check out a few of them below.
Hatley Little Girls' Lady Bug Garden-Layered Smocked Dress, Pink, 6
Lucky Red Ladybug Hair Bow Clips, 2 Count
WD2U Girls Red Black Buffalo Plaid Lady Bug Boutique Hair Bow French Clip USA
Bonnie Jean Little Girls' Black Pink LADYBUG Applique Corduroy Jumper Dress set, 5
Note: I received the products pictured from My Baby Clothes Boutique in order to facilitate my review.  Opinions expressed are my own.