When it comes to eating healthy, it's hard sometimes to match convenience with nutrition.  Whether you are 'dieting' or simply trying to eat less processed, more real foods lower in fat and higher in whole grains, protein & fiber, it becomes a challenge at lunchtime to be creative and tasty, yet stick to your nutrition plans.
I happen to love Mexican food and today at lunch I was considering making a bean burrito with refried beans but even the whole wheat tortillas are rather high in Weight Watchers PointsPlus points.  Then I remembered I had some Flatout Bread, and I got creative.
I have calculated the recipe to be 6 Weight Watchers PointsPlus values, please verify this with the actual brands/flavors you use.

Below is the recipe that emerged:
Print
Mexican Pizza for One Recipe: Weight Watchers friendly lunch idea
Author:
Prep Time: 5 mins
Cook Time: 10 mins
Total Time: 15 minutes
Yield: 1
---
Description
Fill your craving for Mexican with a low-fat, easy to make, tasty Mexican pizza for one with only 6 Weight Watcher PointsPlus* values. Please note I indicated the specific brands/flavors, deviating from this might affect the PointsPlus values, always double check for yourself.
---
Ingredients
1 Flatout Flatbread (I used Light Italian Herb)
1/2 cup fat-free refried beans (I used Rosarita)
1/3 cup 2% milk Mexican style shredded cheese (I used the Weight Watchers brand)
1 tsp Hot sauce (or mild, or none – I use Valentina Salsa Picante)
---
Instructions
Preheat oven to 350 degrees
For a crisper crust, put Flatout bread on a cooking stone or cookie sheet during preheat
Spread refried beans on Flatout bread
Spread hot sauce on top of refried beans
Sprinkle shredded cheese over top
Bake for 10-12 minutes
---
Notes
*Low-fat cheese does not melt as well as full-fat, keep that in mind when judging whether your pizza is ready.
*Weight Watchers PointsPlus is a product of Weight Watchers International and is not associated with this recipe. Values were independently calculated and you are encouraged to verify the PointsPlus amounts for yourself.
*Nutrition shown is based upon brands/flavors indicated in recipe. Adjust as necessary for modifications.
---
Nutrition
Note: Nutrition information is provided for information only. It may not be complete or accurate. 730 Sage Street is not responsible for inaccurate nutrition counts.
Serving Size: 1
Calories: 270
Sugar: .5 g
Fat: 7.5 g
Saturated Fat: 3 g
Carbohydrates: 34.5 g
Fiber: 14 g
Protein: 22 g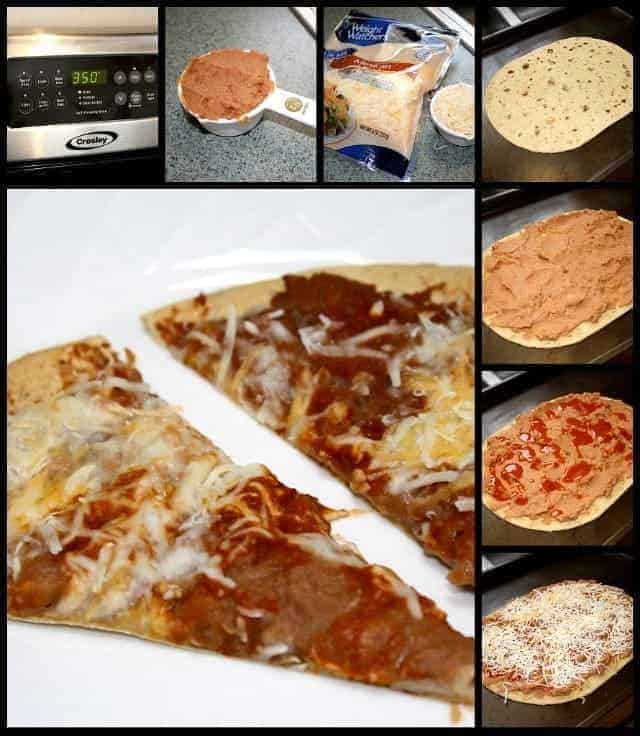 Join our newsletter!
Subscribe to get updates and great stuff via email including subscriber-only goodies like free printables and giveaways.