Bread crumbs, whether panko or seasoned, are essential to the structure and moisture retention of a meatloaf.
Whether you're a conventional beef meatloaf fan or want to branch out and try a turkey or vegetarian version, these 15 recipes will inspire you to try something new using bread crumbs.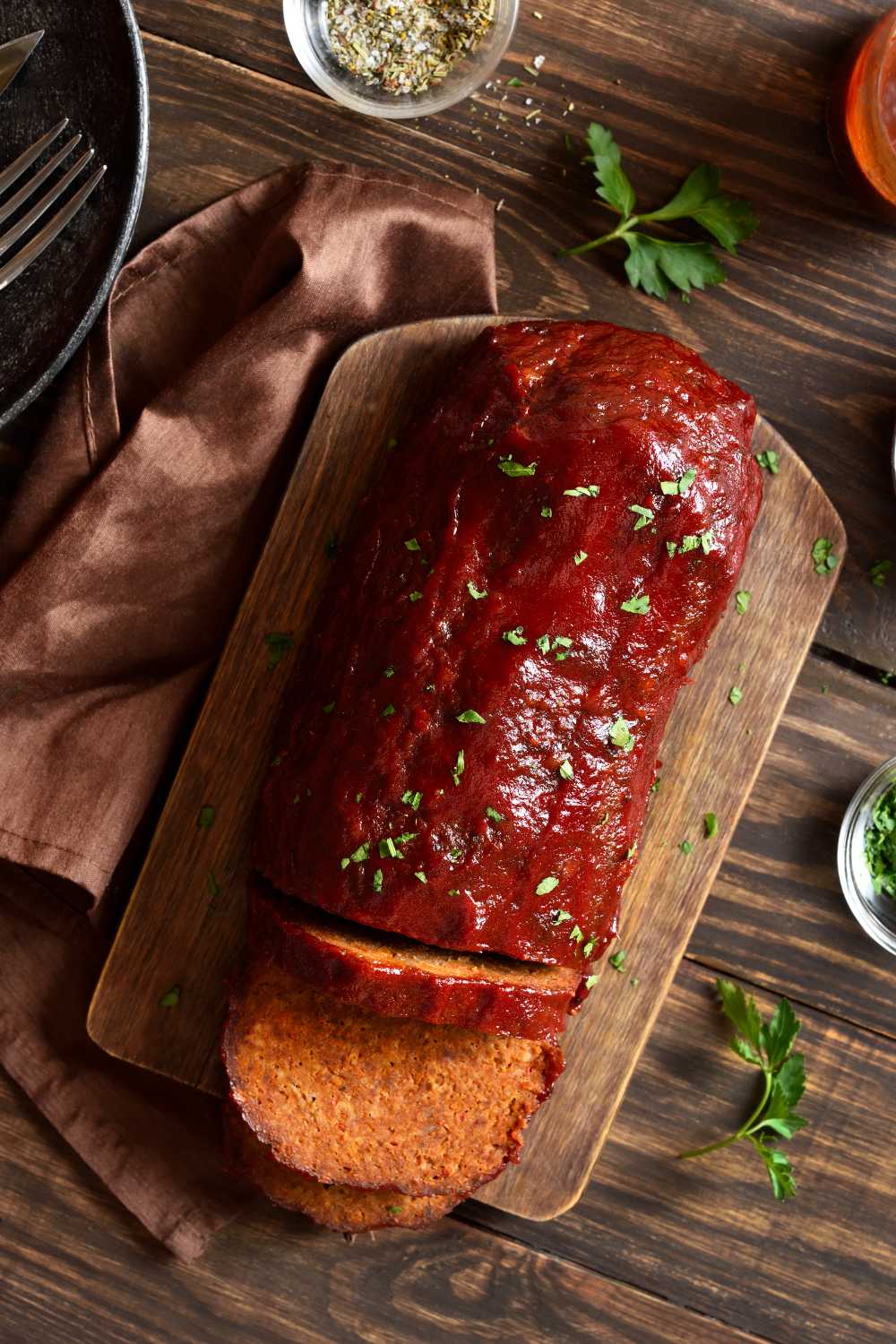 What Kind Of Bread Crumbs Should I Use For Meatloaf?
You can use any type of breadcrumbs for meatloaf, but the most common types are plain or seasoned breadcrumbs, panko breadcrumbs, or even homemade breadcrumbs. The type of bread crumbs you choose largely depends on your personal preference and the recipe you are making.
Can I Substitute Bread Crumbs With Oatmeal Or Another Alternative?
Yes, you can substitute bread crumbs with oatmeal or another alternative such as crushed crackers or cornmeal. Oatmeal is a great alternative for those who are looking to make a healthier version of meatloaf. Just keep in mind that the texture and flavor of your meatloaf may be slightly different when using a different alternative. Make sure to adjust the recipe accordingly.
15 Meatloaf Recipes With Bread Crumbs
These 15 meatloaf recipes that employ bread crumbs in inventive ways are excellent for a nice family supper or entertaining guests:
Get ready to indulge in the best meatloaf recipe you have ever tasted! This easy-to-make dish is packed with flavor and texture, making it the perfect comfort food. Made with a combination of ground beef, bread crumbs, onions, and savory seasonings, this dish will have you feeling warm and satisfied.
Topped with a delicious homemade sauce made with ketchup, brown sugar, and Worcestershire sauce, this meatloaf is a guaranteed crowd-pleaser. Serve it with your favorite sides for a cozy family dinner or bring it to a potluck and watch it disappear!
Air Fryer Meatloaf is a delicious and easy recipe that you can make in just a few simple steps. The mixture of ground beef, bread crumbs, onions, and spices, combined with a sweet and tangy glaze, will have your taste buds dancing with joy.
The air fryer helps to cook the meatloaf to perfection, ensuring a juicy and tender texture. The preparation is effortless, and cooking time is short, making it an ideal option for a quick and satisfying weeknight dinner. Serve it with your favorite sides and enjoy the comforting flavors of this classic dish.
If you're craving a meaty and saucy meal, this BBQ meatloaf is the perfect choice for you! This recipe features lean ground beef mixed with breadcrumbs, minced onion, egg, Worcestershire sauce, and thyme, all seasoned to perfection with salt and pepper.
The meatloaf is then formed into a traditional loaf and cooked to juicy perfection, topped with a sweet and flavorful BBQ sauce glaze. As a consequence, you'll have a filling and tasty lunch that will leave you totally pleased.
This mouth-watering bacon-wrapped meatloaf is a must-try for any meat lover. Packed with savory flavors, this dish is perfect for a hearty family dinner or even a casual get-together with friends.
The combination of lean ground beef, Italian seasoned bread crumbs, diced onions, and a ketchup glaze makes this meatloaf truly unforgettable. Wrapped in smoky bacon and baked to perfection, this dish offers a satisfying crunch and irresistible aroma that will leave you wanting more. Serve it with your favorite sides and enjoy the warm and comforting flavors.
These meatloaf muffins are a perfect twist on the classic meatloaf recipe. Made with a mixture of ground beef, sour cream, bread crumbs, and a flavorful blend of seasonings, these muffins are moist, tender, and bursting with delicious flavors. Each muffin is topped with a spoonful of ketchup, adding a tangy kick to every bite.
Making these meatloaf muffins is easy, and they cook quickly in the oven. Simply mix the ingredients together, scoop the mixture into a muffin pan, and bake until the muffins are browned and pulling away from the side of the pan. Serve them hot out of the oven, and enjoy the warm and comforting flavors. These muffins can also be frozen, making them a perfect make-ahead meal option for busy weeknights.
This turkey meatloaf recipe is the perfect healthier twist on classic comfort food. Ground turkey is mixed with breadcrumbs, onions, and a flavorful blend of Worcestershire sauce, garlic, salt, and pepper, then baked to perfection. The tangy glaze made with ketchup, brown sugar, and Worcestershire sauce adds a delicious sweetness to this savory dish.
Serve it up with some roasted vegetables and mashed sweet potatoes for a well-balanced and satisfying meal. Plus, with an internal temperature of 160 degrees F, you can feel confident that this meatloaf is cooked through and safe to eat.
The Greek-inspired meatloaf recipe is a delicious and flavorful twist on a classic dish. Made with lean ground beef, garlic, dehydrated onions, and a blend of Mediterranean herbs and spices like mint, oregano, and allspice, this meatloaf is packed with bold, herbaceous flavors.
The glaze made with HP sauce, honey, salt, and pepper adds a sweet and tangy finish to the meatloaf. Serve it up with some roasted potatoes and a fresh salad for a complete and satisfying meal. Don't miss out on this unique and delicious meatloaf recipe that will transport your taste buds to the Mediterranean!
Our next stop will be a delicious and comforting BBQ meatloaf recipe. This recipe is a mouthwatering twist on a classic meatloaf and is sure to become a new favorite.
Made with ground beef, bread crumbs, BBQ sauce, and a blend of seasonings, this meatloaf is bursting with smoky and sweet flavors. Topped with additional BBQ sauce and baked to perfection, it's the perfect comfort food for any night of the week.
Now, let's talk about a meatloaf recipe that's perfect for cheese lovers, thanks to the cubes of sharp Cheddar cheese that are incorporated into the meat mixture and the cheesy ketchup-based topping.
This meatloaf is full of taste and nutrition thanks to the use of lean ground beef, traditional oats, and a variety of chopped vegetables. Worcestershire sauce boosts the dish with a robust, savory taste, and the gluten-free breadcrumbs make it suitable for individuals with special dietary needs. Enjoy the melty, deliciousness of this meatloaf by baking it in a 9x13-inch glass baking dish.
Our next recipe is a classic beef and pork meatloaf that combines two types of ground meat for a flavorful twist. This recipe uses Ritz crackers, eggs, milk, and ketchup to bind the meats together and adds spices like garlic powder and dijon mustard to enhance the flavor.
A tangy glaze made with ketchup, brown sugar, white vinegar, and spices is poured over the top halfway through the baking process to add an extra layer of sweetness and flavor.
Our next destination is a gluten-free meatloaf recipe that is perfect for those with dietary restrictions. This recipe uses gluten-free breadcrumbs and includes a tasty glaze made with ketchup, raw honey, and mustard.
The meat mixture includes cooked onion, bell pepper, and garlic, which add a delicious depth of flavor. You can cook this meatloaf in the oven or in an Instant Pot for a quick and easy meal. Serve it up with your favorite sides for a hearty and satisfying meal.
This Cheddar-Stuffed Buffalo Chicken Meatloaf will change your meatloaf game forever. Panko breadcrumbs, white onion, garlic, salt, and pepper balance up the flavor profile of ground chicken or turkey in this spicy dish.
But the real star of the show is the oozing sharp cheddar cheese that's nestled in the middle, adding a savory surprise to each bite. Once baked to perfection and brushed with more buffalo sauce, this meatloaf is garnished with fresh green onion or cilantro for a pop of color and served alongside a cooling ranch or blue cheese dressing.
Add some spice to your dinner table with this mouth-watering Mexican Meatloaf! Made with extra lean ground beef, crushed tortillas, cheddar cheese, and a combination of salsa, taco seasoning, and green chilies, this recipe is packed with flavor.
The addition of green onions adds a fresh and crisp taste to every bite. Cooked to perfection in the oven, this dish is perfect for a family dinner or meal prep. Flip it over onto a serving platter, spread some more salsa on top, and enjoy it hot with your favorite sides.
This Classic Spicy Meatloaf dish puts a tasty spin on the classic meatloaf by adding some heat and flavorful spices. Richness and heartiness come from a mixture of ground beef and spicy pork sausage, while the addition of onion, carrot, celery, and garlic adds dimension.
Ketchup is used as a finishing touch, adding a touch of sweetness and enhancing the overall taste of the food. This meatloaf is soft and juicy, making it a great complement to any family meal or gathering when served hot and fresh from the oven. Serve it with mashed potatoes and steamed veggies for a flavorful meal.
If you're looking for something to make you feel warm and fuzzy inside, go no further than this recipe for Meatloaf with Brown Gravy. This flavorful and delicate meatloaf is a combination of ground chuck, fresh herbs, garlic, and onions. The meatloaf is complemented by the earthy and delicious brown mushroom gravy.
Mushrooms are sautéed in the meatloaf's drippings, which adds richness to the gravy. Slice the meatloaf and serve it with the brown mushroom gravy for an easy and satisfying supper. Make sure to pack up the leftovers for lunch the next day because this dish is bound to become a family favorite.