When it comes to a challenge revolving around weight loss, it's easy to get distracted by the scale. To let it define your failure or success. To let it paralyze you to the point where you give up.
When I started the Omron Fitness Challenge with Mamavation I weighed 162 lbs.
Today I weigh 162 lbs.
I'll be honest, it's frustrating, but in the back of my mind I know that at the point I am at in my journey to a healthy life (and weight), nothing happens quickly. And thanks to Omron I have the tools I need to achieve my goals, no matter how long it takes.
Previously I told you about the features of the Omron 510W Scale (even though the scale and I aren't friends right now, it really does help you see the big picture) and the HJ-323U connected pedometer (which I use daily to get at least 10,000 steps in per day). Last week we added a new tool into our healthy lifestyle arsenal – an Omron strapless heart rate monitor. The HR-500U is worn like a watch on your arm and measures your heart rate constantly (once activated) without straps and without having to touch sensors.
About the Omron-500U Strapless Heart Rate Monitor:
The new Omron Strapless Heart Rate Monitor (HR-500U) takes away the need to use an annoying chest strap while exercising. Easy-to-use and comfortable, the wrist monitor provides accurate, continuous monitoring. Users can simply glance at the monitor on their wrist to check their heart rate without interrupting their workout. You also can track your results and progress over time for free at OmronFitness.com on your own personal dashboard.

No Chest Strap: Just put it on your wrist and you're ready to go
Heart Rate: Measures blood flow through capillaries via an optic sensor on the wrist to determine heart rate on a continuous basis
Pace, Distance and Calories Burned: Accurately tracks pace, distance and calories burned during a run or walk
Color LCD Heart Rate Zone Alert: Programmable zones warn you if you're too high or too low with a simple, easy-to-read color
OmronFitness.com: Connect the monitor at OmronFitness.com with a USB cable to track results, set goals and share victories, stores 8 hours of data; Mac and PC compatible
Washable/Breathable Wrist Strap: Lightweight strap for added comfort
Additional Features: timer, clock, backlight, rechargeable battery, water resistant
Includes: heart rate monitor, wrist strap, battery, micro USB cable, instruction manual
After using the Omron heart rate monitor for a few days, I am wondering if the reason my weight hasn't budged is that it appears that much of my workouts are done with my heart rate near my max, which is not an ideal fat burning zone. It's very easy to tell exactly which zone I am in during my workout because a light blinks on the front of the watch as it is recording my heart rate. This light changes color depending upon which zone I am in.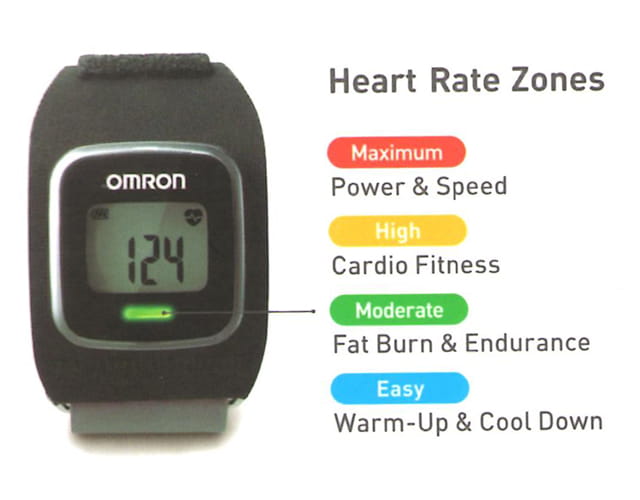 For more information about the Omron strapless heart rate monitor, check out the video below:
As I mentioned above, I haven't lost any weight from my initial starting weight for this challenge but my measurements continue to drop.
| | | | | | | |
| --- | --- | --- | --- | --- | --- | --- |
| | Chest | Waist | Hips | Biceps | Calves | Thighs |
| 12/31 | 40 1/4″ | 38″ | 43 1/2″ | R:11 1/2″ L:12″ | R:16 1/4″ L:16 1/2″ | R:26″ L:25 3/4″ |
| 1/7 | 39″ | 36 3/4″ | 42 1/2″ | R:11 1/2″ L:12″ | R:16″ L:16 1/4″ | R:25 1/2″ L:25 1/2″ |
| 1/13 | 38 3/4″ | 36 1/4″ | 42 1/4″ | R:11″ L:11 3/4″ | R:15 3/4″ L:16 1/4″ | R:25 1/4″ L:25 1/2″ |
| 1/20 | 38 1/2″ | 36″ | 42″ | R:11″ L:11 1/2″ | R:15 3/4″ L:16 1/4″ | R:25″ L:25 1/4″ |
| 1/27 | 38″ | 35 3/4″ | 42″ | R:11″ L:11 1/2″ | R:16″ L:16″ | R:24 3/4″ L:24 3/4″ |
| 2/3 | 37 3/4″ | 34 1/2″ | 40 3/4″ | R:10 3/4″ L:11 1/2″ | R:15 3/4″ L:15 3/4″ | R:24 1/2″ L:24 1/2″ |
I don't know if you can tell, but I see a definitely difference in my stomach and my jeans fit a bit looser.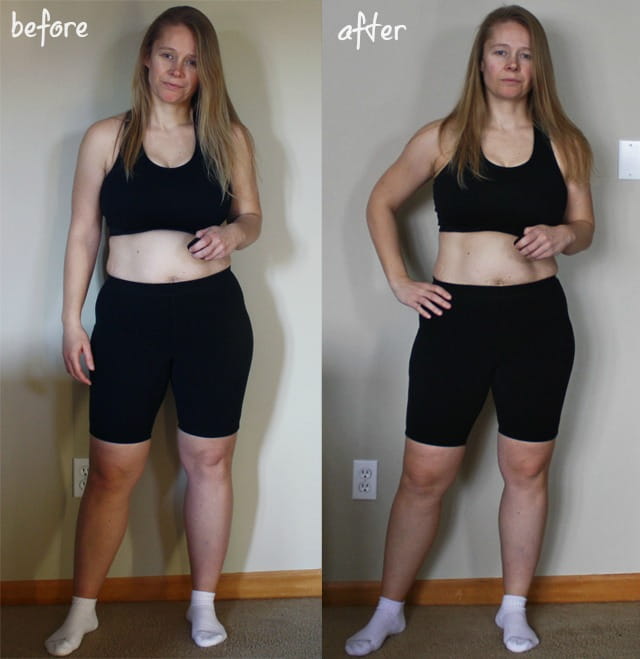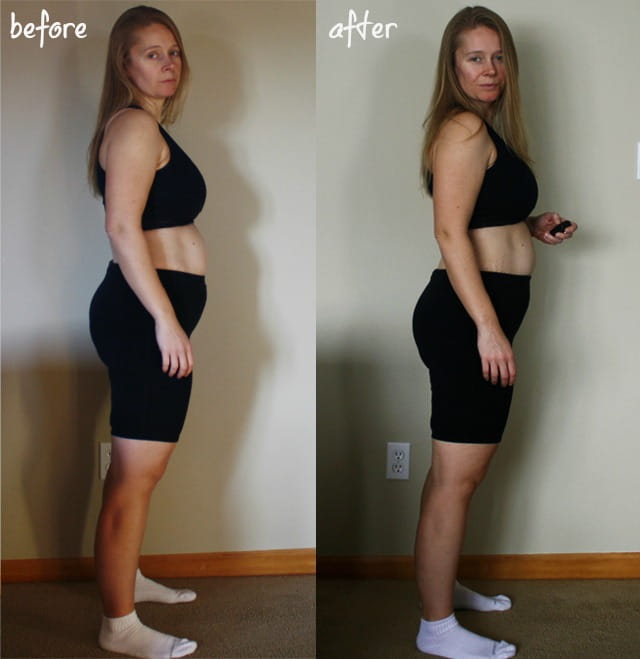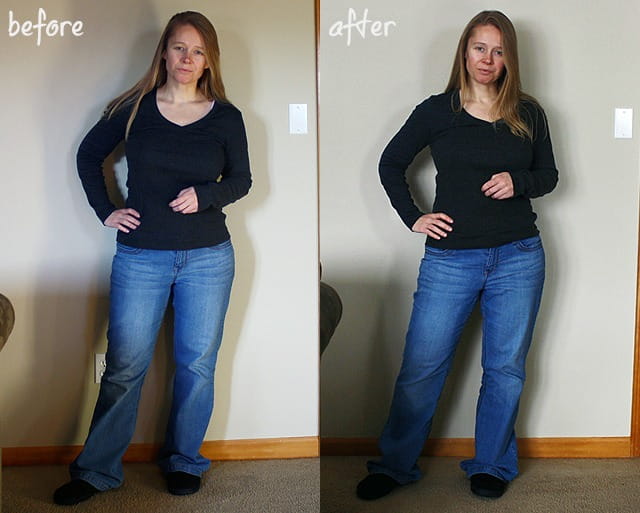 Now, just because you see "after" in those photos, the competition IS NOT OVER.
GAME ON until February 20th when the challenge ambassadors will converge upon Twitter and chat about the challenge and the great products we have been using in our journey to lose weight and get healthy.
#IHeartOmron Twitter Party details:
Panelists:
1. @Bookieboo–hostess, Mamavation creator
2. @Momma_oz –Mamavation Community Manager
3. @abirdandabean1–#iheartOmron Challenge Ambassador
4. @AGirlWorthSavin–#iheartOmron Challenge Ambassador
5. @busymommymedia–#iheartOmron Challenge Ambassador
6. @CleverHousewife–#iheartOmron Challenge Ambassador
7. @crunchybchmama–#iheartOmron Challenge Ambassador
8. @denverhousewife–#iheartOmron Challenge Ambassador
9. @formerlyphread–#iheartOmron Challenge Ambassador
10. @formulamom–#iheartOmron Challenge Ambassador
11. @frostedfingers–#iheartOmron Challenge Ambassador
12. @jeaniekswan–#iheartOmron Challenge Ambassador
13. @joanieatwater–#iheartOmron Challenge Ambassador
14. @jonbonjovious–#iheartOmron Challenge Ambassador
15. @justheather–#iheartOmron Challenge Ambassador
16. @maryheston–#iheartOmron Challenge Ambassador
17. @stitchblade–#iheartOmron Challenge Ambassador
18. @monicazyoung–#iheartOmron Challenge Ambassador
19. @ourordinarylife–#iheartOmron Challenge Ambassador
20. @parentpalace–#iheartOmron Challenge Ambassador
21. @Rachel_L–#iheartOmron Challenge Ambassador
22. @scrappinmichele–#iheartOmron Challenge Ambassador
23. @SensiblySara–#iheartOmron Challenge Ambassador
24. @shrinkingkimber–#iheartOmron Challenge Ambassador
25. @stacieinatlanta–#iheartOmron Challenge Ambassador
26. @TaraZiegmont–#iheartOmron Challenge Ambassador
27. @whatsthatsmell–#iheartOmron Challenge Ambassador
Giveaways:
HR-500U Heart rate monitor retails for $149.99 (2 winners)
HJ-323U Connected pedometer retails at $49.99 (2 winners)
510W scale retails for $79.99 (2 winners)
For more information on the party and to RSVP, go here: Omron Fitness Twitter Party.
Join us, trust me you want to win one of those heart rate monitors!
This post is sponsored Omron Fitness as a collaboration with Bookieboo Blogging Networkand Mamavation – a community dedicated to weight loss for women and obesity prevention for families.  I was provided with product and compensation for my time and honest opinions.