I have been dutifully following The 21 Day Sugar Detox plan for 10 days now. I am almost halfway through! I have been between level 2 and level 3 of the plan, although this weekend I was out of town and did have some black beans with my dinner which would fall under level one.
Last week I planned our meals for the first time ever and I found it to be a lifesaver both from a shopping and dinnertime perspective. It was so nice to be able to look at the plan in the morning, pull out any necessary frozen ingredients, and then prepare the meal at dinnertime.
I am hooked on meal planning and I think when you are following a stricter nutrition plan, menu planning is a critical tool to success.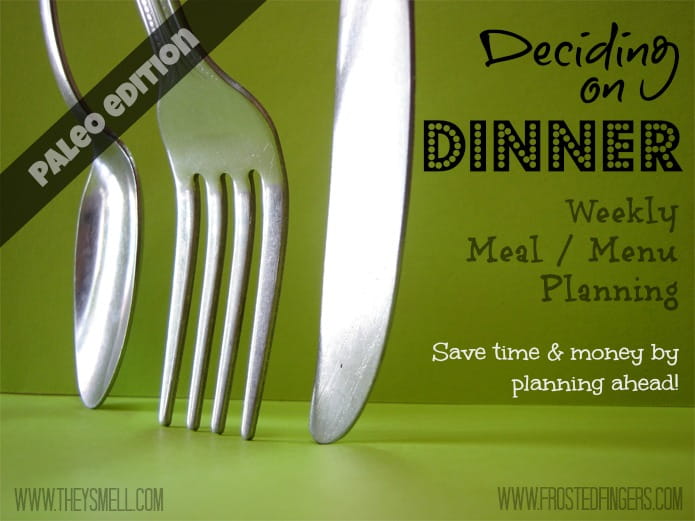 Below is my meal plan for the next 7 days.
Monday
Monday we are eating out thanks to Aurelio's. It will be a salad for me, likely with dressing I bring from home.
Tuesday
Goodman Family Meatloaf from the Earthbound Cookbook pg 85
Wednesday
Mustard Glazed Chicken Thighs from The 21 Day Sugar Detox book pg 114
Roasted Brussels Sprouts with Bacon or Crumb Topped Brussels Sprouts from The 21 Day Sugar Detox book pg 181
Thursday
Cilantro Cauli-rice from Practical Paleo pg 340
Friday
Roast Beast from the Eat Like a Dinosaur cookbook pg 101
Carrot Cashew Soup (with walnuts instead of cashews) from the Livwise cookbook pg 115
Saturday
Jalapeno & Bacon burgers (minus the jalapenos) with carrot "buns" from The 21 Day Sugar Detox pg 120
Butternut squash fries
Sunday
Shepherd's Pie from The 21 Day Sugar Detox pg 134
Tomato & Green Onion Faux-caccia from The 21 Day Sugar Detox pg 186
If paleo isn't your speed, check out Paula's "Busy Family" Meal Plan.
Join our newsletter!
Subscribe to get updates and great stuff via email including subscriber-only goodies like free printables and giveaways.