When you read a spring themed fashion magazine you probably enjoy seeing the latest styles for what is arguably the prettiest season of the year. You might enjoy seeing what your favorite celebrities are wearing, and getting tips and tricks for being fashionable on a budget. Or maybe you like advice for how to accessorize, or how to wear your favorite skirt 27 different ways. These magazines are filled with amazing inspiration for helping you take care of you so that you can feel beautiful and pampered.
StyleWatch Magazine is one of those magazines that can inspire "me time" in so many different ways, and I picked up a copy last week. It has fashion advice, the latest trends, tips and tricks for style on a budget and more. When I read this latest issue of StyleWatch, I realized all of the possible body parts that I need to tone up before the warm weather hits. Especially my arms. Tank tops, sundresses and all sorts of beautiful sleeveless attire awaits! Any excuse to hit the gym so that I can shop for a new clothes to show off new toned body parts definitely constitutes "me time." And besides, the gym has a water massage bed.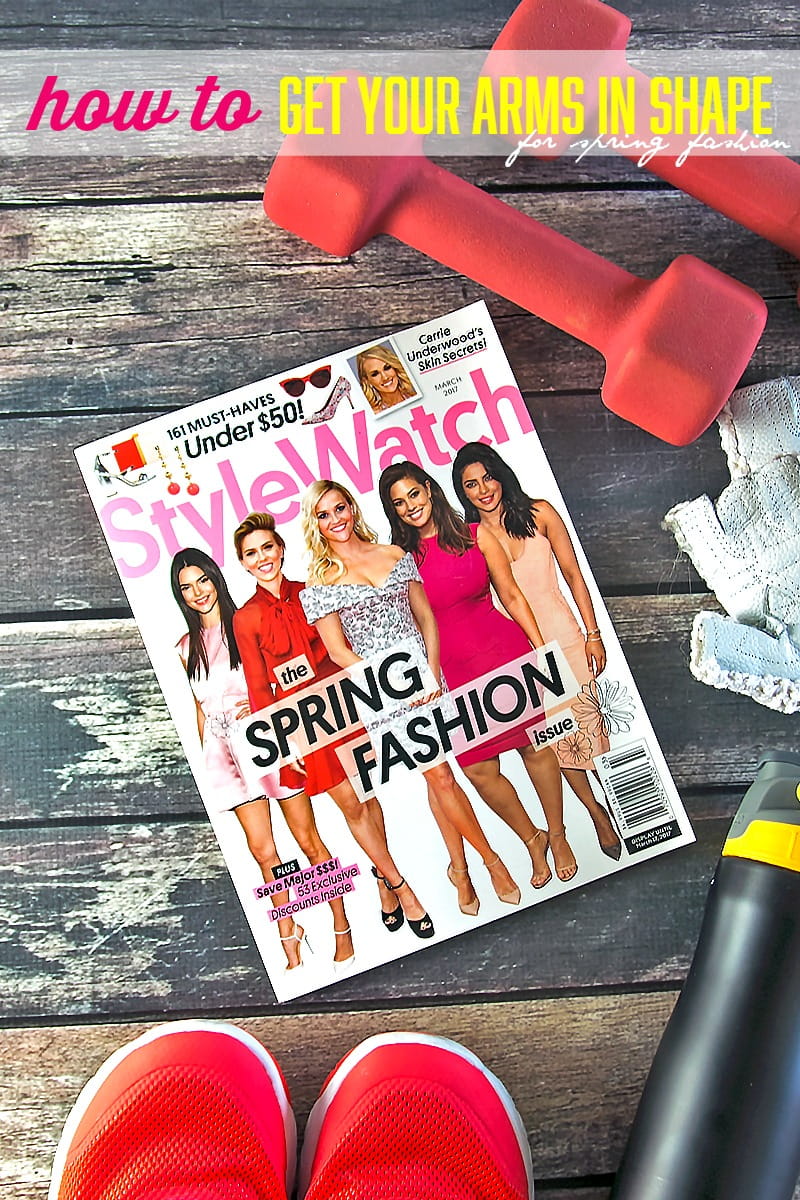 This desire to buy new clothes means that my well-intentioned, but as-of-yet unrealized, New Year's Resolutions have come back to haunt me. If only I had started back in January, I could be rocking those sleeveless tops right now. Luckily, there is still plenty of time to get in shape, so I can show off my toned arms and shoulders when spring hits.
I think my obsession with my arms being fit all started with my wedding dress. It was a lovely dress, the first one I tried on and was on the clearance rack. Score! But I had asked them to add cap sleeves to it because I wasn't a fan of how my arms looked in the sleeveless. When I went to my fitting after the alterations, they had added elbow length sleeves about two sizes too small. Despite this being a professional chain bridal shop, I was no longer confident in their ability to provide the sleeve style I wanted, so I told them to revert to the sleeveless and hoped that two weeks was enough to get my arms into shape. It wasn't. And now my not-so-fit arms are forever immortalized and hanging in my living room.
In addition to wanting to look nice in sleeveless tops, after age forty, gravity is no longer your friend and all of a sudden you develop these jiggly things under your arms. Seriously, one day your arms are just as you remember them. Maybe not as fit as they could be, but not too shabby. Then you wake up the next day, and you have flaps under your arms so droopy you wonder if you might be able to take flight if you move your arms fast enough.
Getting toned arms so that you can sport all of the fun new spring fashions isn't difficult. You will find what you need in StyleWatch Magazine, all you need is commitment to a routine. You can workout at the gym, which I prefer because it has something my basement doesn't – buff, pretty, men lifting weights. And they don't mind that you are staring at them. Just don't drool, that crosses the line towards creepy. Going to the gym also means time away from chores and responsibilities. It's a time where I can just worry about me. Which is something I don't do often enough.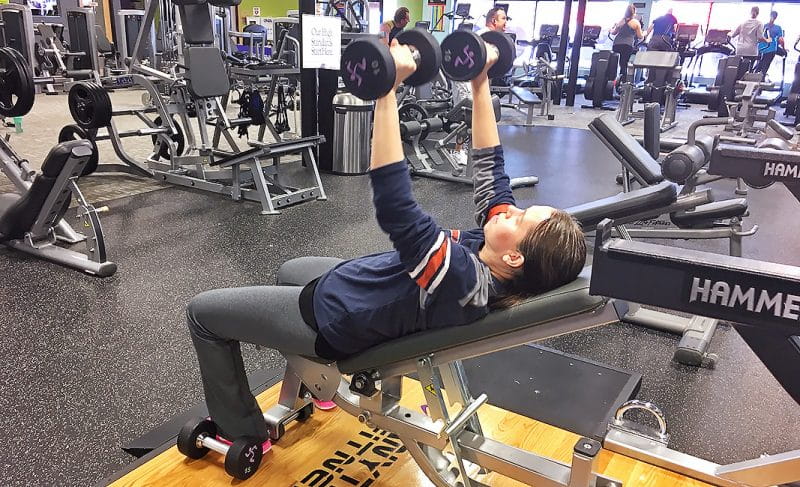 But, if going to the gym isn't your thing, you only need a set of dumbbells and a small area to yourself where you can do some essential exercises to get your arms ready to go sleeveless!
Tell your kids that you are doing some chore they hate and invite them to help. That's a sure way to get them to leave you alone.
Then, just start! But warm up first.
Get MOTIVATED with the best motivational audio books on Audible!
You can print this workout by clicking here:
Go Sleeveless ARM WORKOUT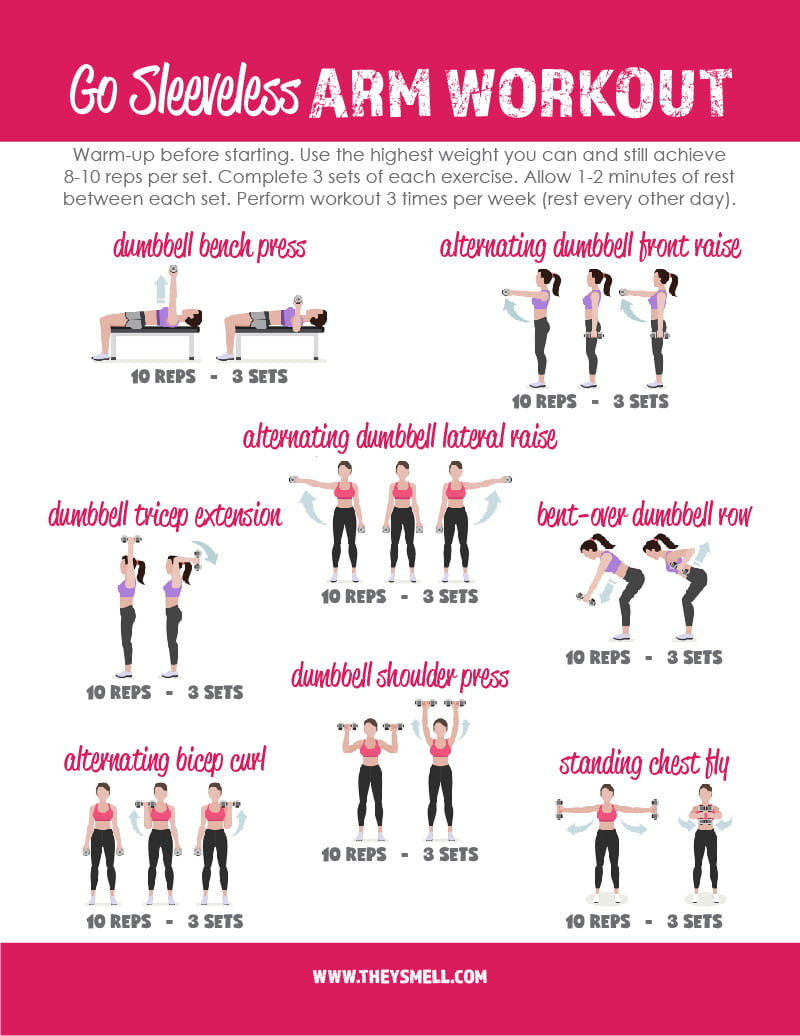 I recommend giving at least a day off between workouts. Your muscles will need to rest. You might want to give them two days off; you can always work on your legs in between. Get them ready for shorts!
How do you think you would be inspired by StyleWatch Magazine to award yourself with 'me time?' In addition to StyleWatch, PEOPLE®, Instyle®, and Real Simple® also have great 'me time' inspiration inside.
Follow Us on Pinterest
Pin it, Workout, Share it.