Hey, I don't want to read this, just SHOW ME THE RECIPE: CLICK HERE
In a man's world there are certain things they use to define themselves that, for the most part, we women just don't understand. A man determines his level of manhood by such things as the speed of his car, the length of his beard, the number of tools in his garage that he actually knows how to use and the quantity of alcohol he can consume without feeling tipsy.
And the quality and features on his grill.
Something about a man behind a big grill makes him feel like he can conquer the world. And since it means he does the cooking, I'm all about getting him the exact grill he wants for Father's Day this year.
My husband is so serious about his grilling that he is in the process of building what he calls a "grillzebo" to house his dream grill.
In this photo you can see some of the materials he will be using for the base of it.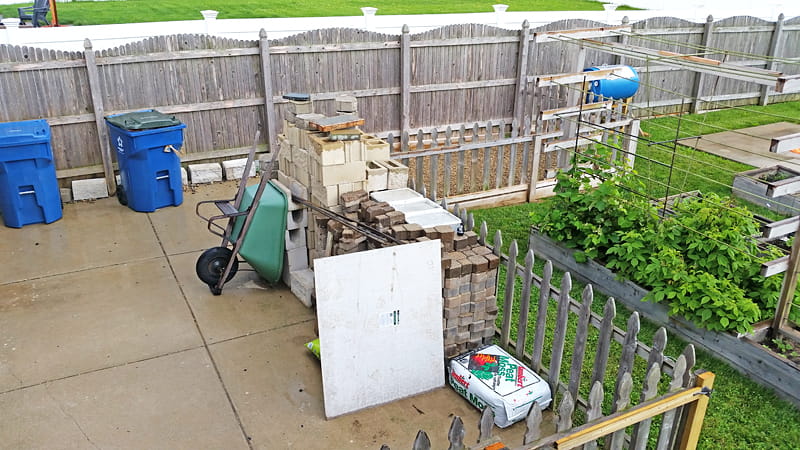 He already has the concrete pad poured for it, you can see it behind my garden beds.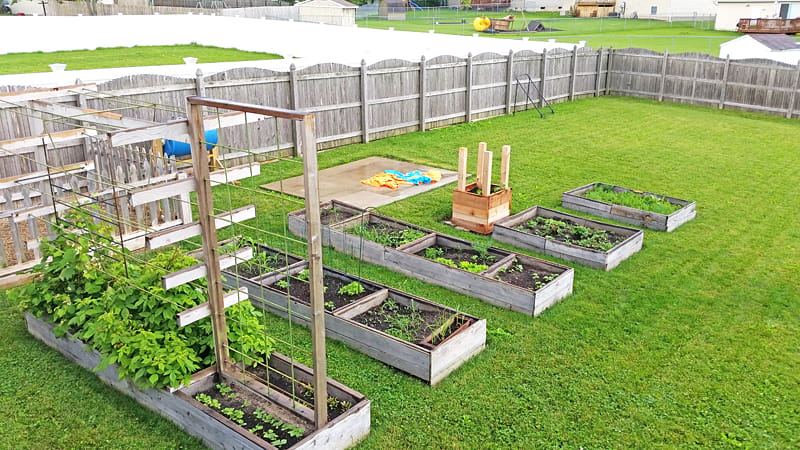 Now all he needs is the perfect grill.
He has had his eye on the Weber Genesis Stainless Steel Liquid-Propane Gas Grill.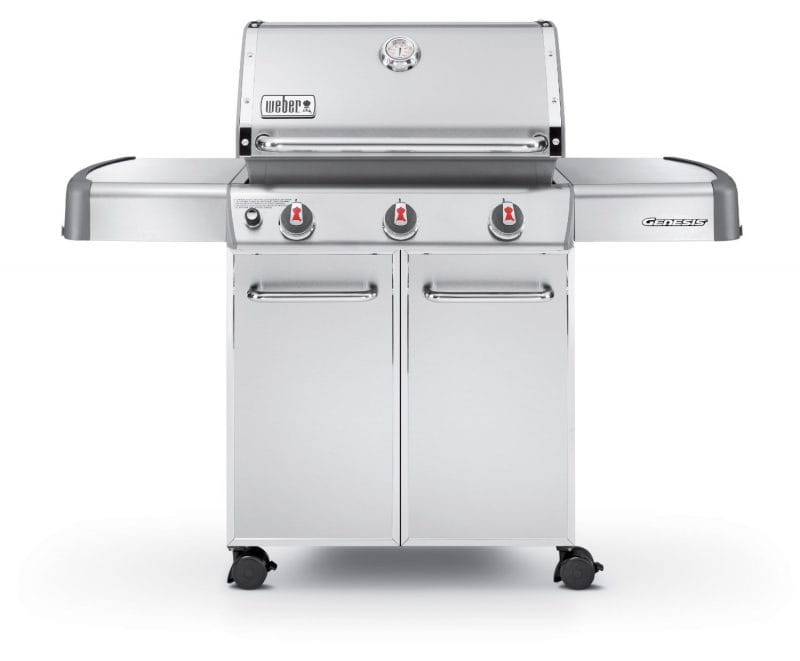 Father's Day would be the perfect time to get him his dream grill because I can't wait for him to make my most favorite grilled dish ever – Asiago Grilled Stuffed Pork Chops.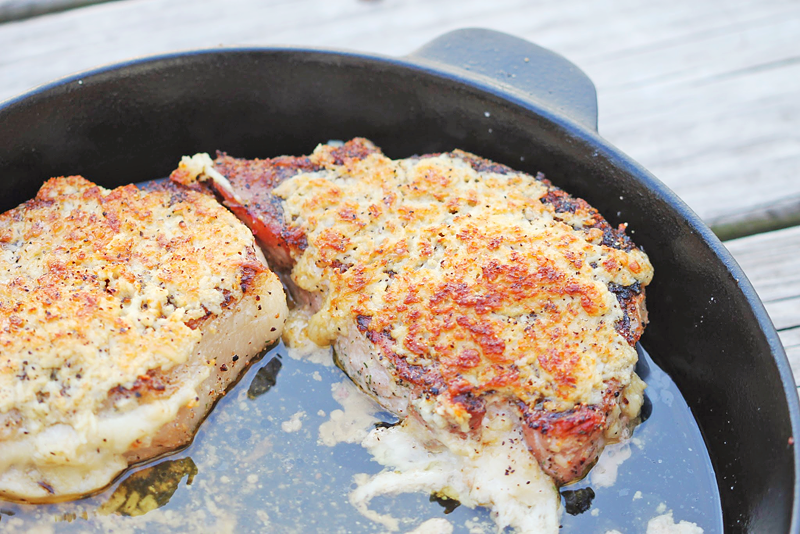 Print
Asiago Grilled Stuffed Pork Chops
---
---
Instructions
Divide Italian 3-cheese blend into 4 and stuff into pockets of pork chops.
Season both sides of chops liberally with garlic pepper seasoning.
Set aside and allow to come to room temperature, about 15 minutes.
Melt butter in a small saucepan and stir in ground mustard and ground mustard seed. Add Asiago cheese and stir until blended.
Light grill and sear pork chops about 2 min. each side.
Continue to cook chops, turning frequently, until internal temperature reaches 160 degrees (or your preferred temperature).
Remove chops from the grill and place in a cast iron skillet.
Reheat butter & Asiago mixture and pour over chops.
Broil on high in oven until golden brown and slightly crusty.
Serve.
---
Notes
*The Spice House Back of the Yards Garlic Pepper seasoning is their custom blend. According to their ingredients list it is hand mixed from: Tellicherry black pepper, garlic, Kosher flake salt, sugar, red bell peppers, shallots, parsley.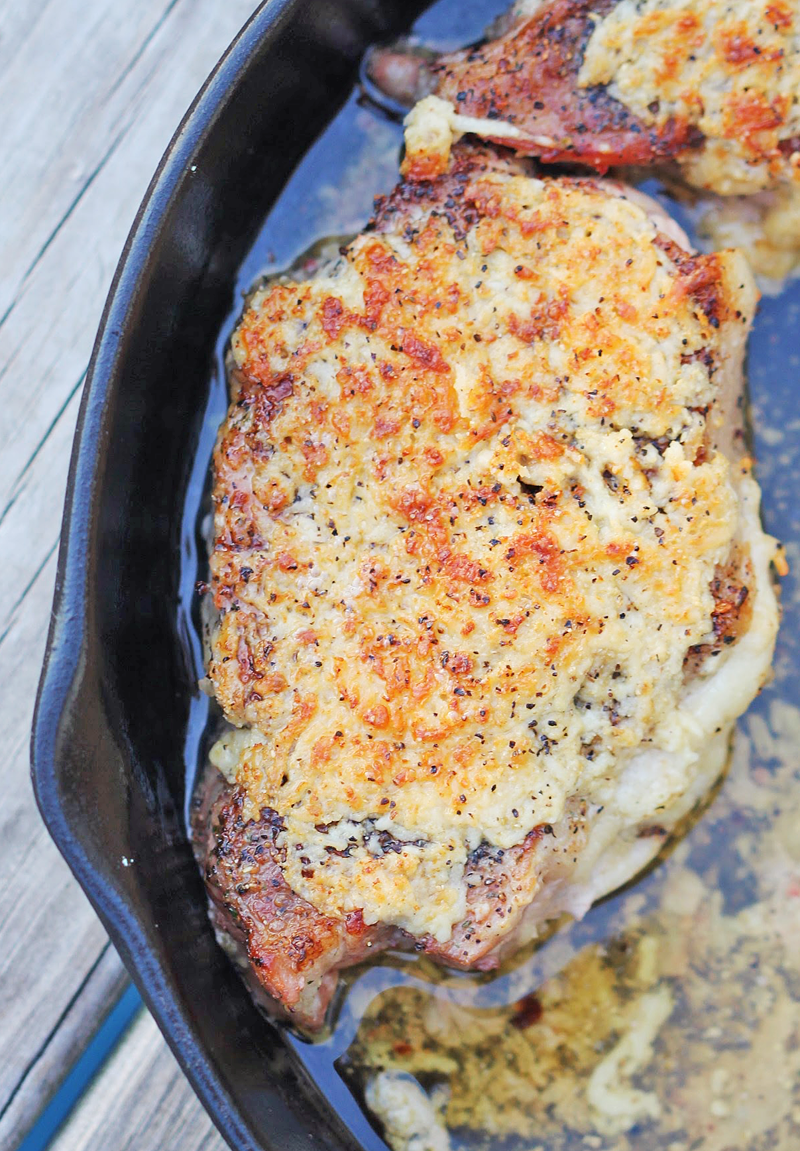 These are so good I dream about them.
What is your favorite thing for your grill master to make on the grill?
Continue the conversation on Facebook and Twitter.
Join our newsletter!
Subscribe to get updates and great stuff via email including subscriber-only goodies like free printables and giveaways.