Walmart
. All opinions are 100% mine.
As I mentioned previously, my kids and I are big fans of Mario.
You really can't go wrong with a Mario Bros. themed game and the Mario Party™ series of games is no exception.
Unlike the traditional Mario platform with worlds you traverse to move on to new worlds, the Mario Party games are a collection of mini games with puzzles and activities that you can play alone or against friends. The newest Mario Party™ game is sure to please the Mario fan in your life!
Mario Party™ Island Tour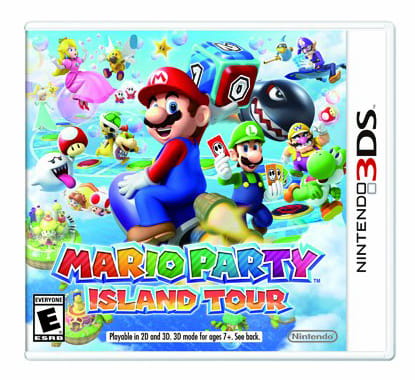 Face off against friends and family in an all-new Mario Party™ game for the Nintendo 3DS system. Connect up to 4 players* via local wireless and take on 7 new game boards, new modes, and 80 new minigames, all perfect for portable play.
In Mario Party Island Tour you can play alone or if your friends have a Nintendo 3Ds system, you can play against each other. It is the ultimate in portability allowing you to have fun no matter where you are or who you are with. My son loves when we get together with family and he can connect with other family members on their DS systems and play games together. It's a great feature! The 3DS system has a unique functionality that kids love and I can't even begin to tell you how many times my sanity was saved by having this portable device in the car on long road trips. It distracts them and keeps them bust so I can focus on getting where I need to go.
Key Features

Join 4 players locally in new multiplayer* modes.
7 new game boards, each with different rules and characteristics.
New boards and modes that take just minutes, ideal for portable play.
80 minigames exclusive to Nintendo 3DS.
New single player multi-floor minigame tower.
Use the StreetPass feature to meet and battle with other partiers.
Multiplayer Augmented Reality fun.
Party with up to 3 other people with Download Play.
Mario Party™ Island Tour is available at Walmart for $39.96 and because of the new multi-player modes is completely unlike any previous Mario Party™ games. It is rated E for everyone making it perfect for family play. It is recommended that parents disable 3D for children under 6 years old which can be done in parental controls on the 3DS.
Join our newsletter!
Subscribe to get updates and great stuff via email including subscriber-only goodies like free printables and giveaways.

This post brought to you by