Note: This album review is part of a sponsored campaign. Opinions are my own.
Anyone who ever happens to be a passenger in my car will learn two things very quickly. I enjoy looking at cars and commenting on their style or design, and I love to sing while I drive.
The other day I picked up my mom for our normal weekly grocery outing. We got into the car (I always go inside and visit her little dog before we head out) and my radio display was just black. Nothing on the screen. No clock. No radio station. No Bluetooth symbol where my phone connects. Just nothing.
So I drove for a few minutes, bad mouthing my car the whole time and running through possible trade-in options in my head. We went a few miles before I couldn't stand it any longer and I pulled over and restarted the car. Still nothing.
Now, you may be thinking that I shouldn't need music when I had my mom in the car and we could carry on conversation. And while this is true, I still need my music. Music grounds me. It inspires me. It helps me focus. It reminds me to cherish simple moments like the time I get to spend driving to the grocery store with my mom.
Music truly is the backdrop for everything that I do, and has been since I can remember listening to holiday songs on my parent's huge console record player at Christmas as a small child. My first record was the Grease soundtrack, but I also remember wearing out a Shaun Cassidy record (please don't do the math) as well.
My taste in music has always been eclectic. Certainly not mainstream, although I do enjoy some popular music as well. While my friends were listening to a-ha and Wham, I was proudly displaying my Olivia Newton-John cassette collection for anyone who would humor me and want to see it.
I still love some of my old favorites (da doo ron ron ron, da doo ron ron ron), and my playlists do reflect some of those oldies but goodies, but my current taste in music tends to favor the contemporary Christian genre. There is something so positive and reassuring about it. It has this way of sharing a message that speaks right to you in that moment. No matter what you are going through in your life, contemporary Christian music gives you the support and courage you need to not only persevere but come out of the situation better than you were before.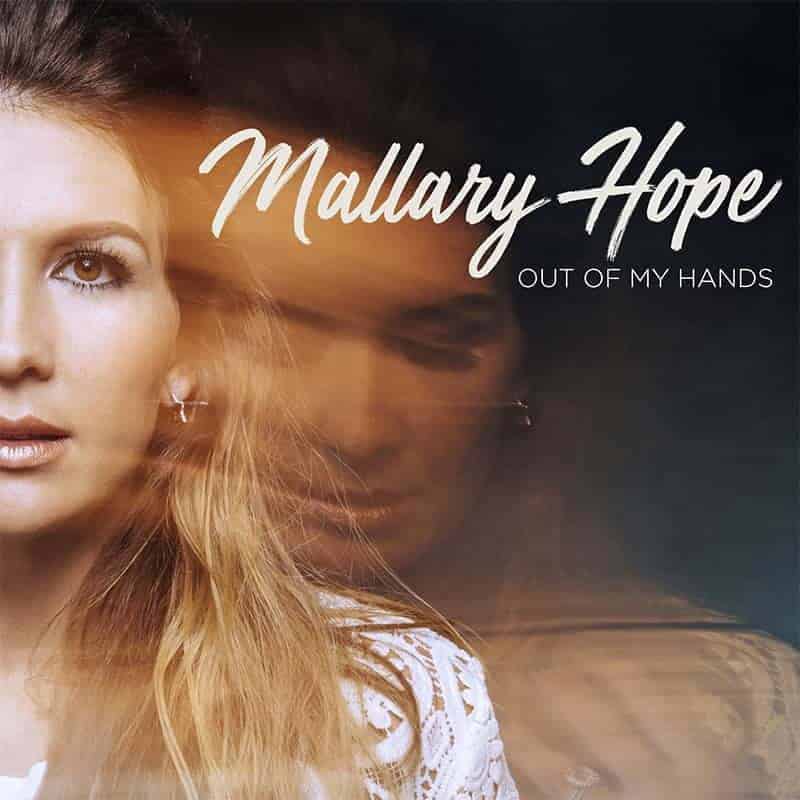 Mallary Hope – Out Of My Hands
I had the opportunity to preview the new album from Christian artist Mallary Hope called Out Of My Hands. Mallary is a singer-songwriter who has written songs for some of the biggest names in country music. Out Of My Hands is her first ever full-length album.
The album is filled with songs of the empowerment, self-esteem and positiveness that come from knowing that God is in your corner.
Track List
You Will Make A Way
Looking Back At Me
3:16 (No Greater Love)
Pray With You
Walking With The Light
Me
Out Of My Hands
Lay It Down
Love More
Home To The Water
Now
My Love
My God
Yours
Saving Me
Lay It Down (Acoustic)
My God (Radio Version)
The song "Me" pretty much sums up the vibe of the entire album. It is an anthem for being self-confident and comfortable in your own skin. It's about embracing the idea that it's ok to be exactly who you are.
I think my next most favorite song on the album is "Walking With The Light". It's upbeat and seriously the perfect song for anyone who is experiencing changes or upheaval in their lives. The title song, "Out Of My Hands" is also a favorite. It takes worry off the table if you take the words to heart.
"Looking Back At Me" is one of those tracks that really tugs at my heart. I'm not sure what inspired the lyrics, it appears to be an introspective song about self-worth. But the more I listen to it, the more I feel like it is not only speaking to my younger self, it's speaking to my daughter as well. So powerful!
Mallary's voice is just beautiful. Whether she is singing a ballad or a strong and powerful anthem, she has a storyteller's voice and you can't help but become entangled in the music and the message of each song.
And, maybe not-so-good-news for the passengers in my car, her tone is just right for me to sing along with.
Get Your Copy
Starting on April 26th, Out Of My Hands will be available to buy or listen on all of the popular streaming services. The CD will also be available on Mallary's website or on Amazon.com as well.