According to The Blaze, an 8th grader in Texas was confronted by his school for wearing a shirt that they deemed offensive because of the left sleeve which reads: "GOD, GUNS, COUNTRY." He was told to wear it inside-out or offered a loaner shirt.
The boy's father actually owns the company, Maker's Militia, that created the shirt.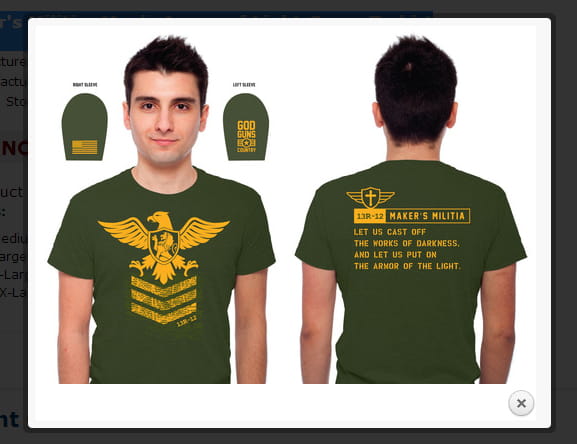 I believe in the right to bear arms. I actually own a gun. I am a Christian.
However, I'm not sure I would allow my son to wear it to school. I wonder if this is a judgement call where you err on the side of respectability and appropriateness and I think it may push the boundary over what a middle school student should be wearing.  It initiates a conversation that I am not sure most middle school children are equipped to handle and much like not wearing your hat inside a building, it might be proper etiquette to keep it out of school. I'm just not sure.
So my question to you is, "do you think he should he be allowed to wear the shirt to school?" Why or why not?
Also, if you like the shirt, is it appropriate for an 8th grader?
Join our newsletter!
Subscribe to get updates and great stuff via email including subscriber-only goodies like free printables and giveaways.