Disclosure: This is a sponsored post for Nielsen Computer and Mobile Panel I have been compensated through the SheSavvy Influence Network. All opinions remain my own.
Have you ever come across something so brilliant or clever and wondered how someone came up with the idea? Or how about the opposite? Have you ever seen something designed poorly that you know could be done better and wondered how you could provide your feedback? Companies actually solicit opinions from consumers all the time. They gather data from surveys and from reviewing people's habits to determine what they watch, listen to, and buy. Businesses use this information to shape their products and services.
Nielsen is a leader in providing consumer insights to businesses for the last 90 years through their global research. One way they collect this insight is by monitoring the way people use the internet and their mobile devices through an online panel called Nielsen Computer and Mobile Panel. Imagine using your computer knowing that way you use it can help companies improve their products and services so that they are more usable and a better fit for your needs. This panel helps shape the internet and is comprised of people just like you who want to impact future products and services.
You too can join the Nielsen Computer and Mobile Panel and be a voice for your community and earn rewards at the same time!

MY LATEST VIDEOS
Nielsen Computer and Mobile Panel
Sign up Process
Nearly any adult can sign-up for the Nielsen Computer and Mobile Panel. It's an easy process, and totally free, requiring some contact information and the completion of a demographic survey that includes questions about household members and household size. Your privacy is protected when you sign up, it is used only for research purposes and not used to sell you anything. The data is encrypted as well. After you complete the survey, you will be provided with a link to download the app onto your devices.
What Happens Next
Once you have installed the app on your devices, you are now a member of the Nielsen Computer Panel with other people (panelists) who have chosen to join as well. You don't need to do anything different than you normally do. You get to continue to be you! Going about your computer and mobile device usage as you normally do.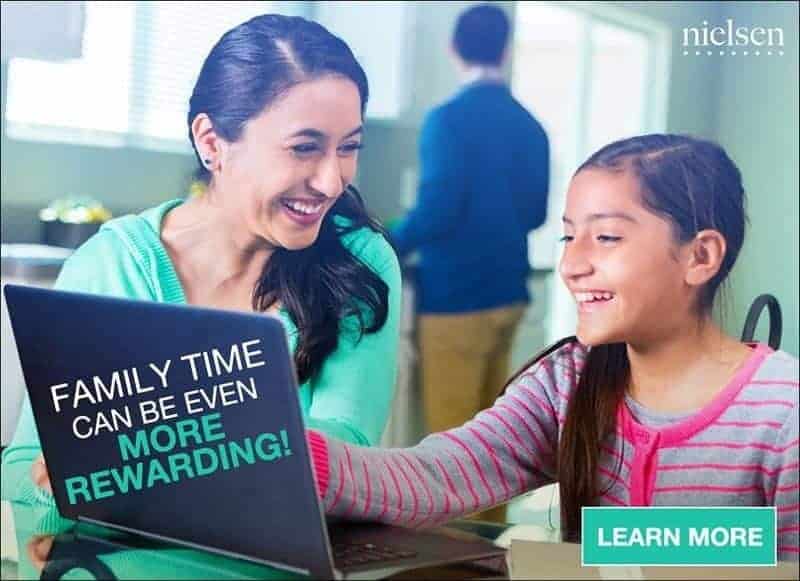 What's in it for You
As you use your devices you will earn rewards. As long as you are active with the panel, you will receive sweepstakes entries for each computer you have registered, where you can win up to $1,000 per month. For each mobile device that you have registered, you will earn points that you can redeem for gift cards or prizes.
Over the years, I have been quite active in different consumer panels and I really enjoyed knowing that my input was being used to help shape products and services that I might one day use. Being rewarded for it is an added perk!
Remember, Nielsen does not charge you for your participation and they take your privacy seriously. You can't really beat getting some perks for doing the things you already do every day!
Enter to win a $300 Visa Gift Card
a Rafflecopter giveaway