I am a stickler about our food being cooked enough. We spent $100 on a quality food thermometer and we are always conscious to make sure we cook things to the recommended temperatures.
But not everyone knows how important it is to make sure food is cooked properly.
Nearly two-thirds (64 percent) of families are not using a food thermometer regularly to check the temperature of meat and poultry and one-third (33 percent) are not using different or freshly cleaned cutting boards to prevent cross-contamination between different food products (such as raw meat and produce).
4 steps you can take to ensure your food is safe this 4th of July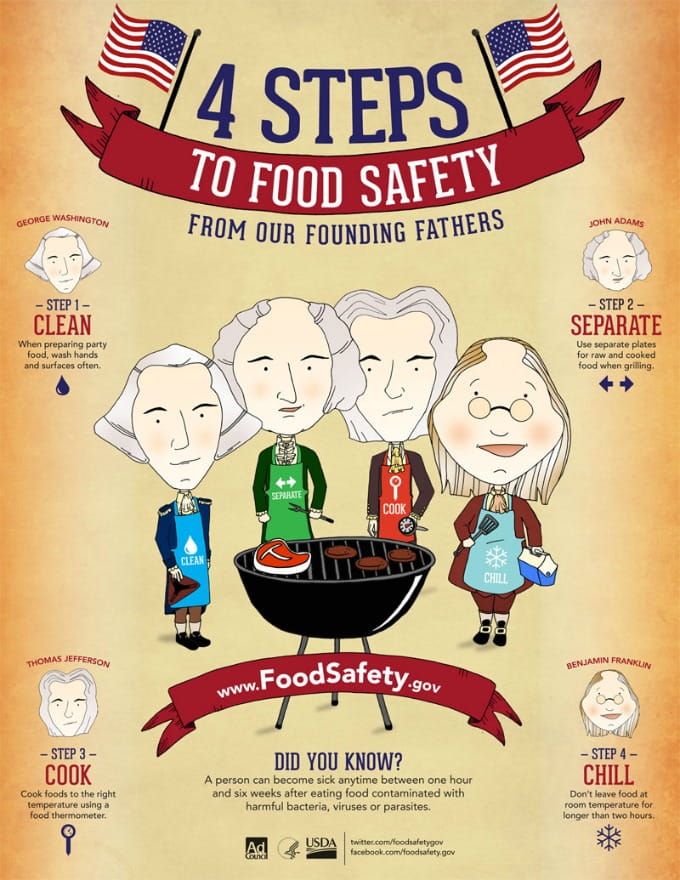 For more information about food safety:
Visit FoodSafety.gov to learn about best food safety practices, utilize "Ask Karen," an online database with nearly 1,500 answers to specific questions related to preventing foodborne illnesses, in both English and Spanish, or to call the USDA Meat & Poultry Hotline at 1-888-MPHotline.
Also, Check out USDA's tips for Safe Grilling.
Is it done yet?
Many people assume that if a hamburger is brown in the middle, it is done. However, looking at the color and texture of food is not enough— you have to use a food thermometer to be sure!
According to USDA research, 1 out of every 4 hamburgers turns brown before it reaches a safe internal temperature.
Meat and poultry should be cooked to a safe temperature to destroy harmful bacteria that may be present. Color of meat and poultry is not a good indicator of safety.  Use a food thermometer to make sure meats have reached a safe minimum internal temperature.
When a hamburger is cooked to 160 F, it is both safe and delicious! (Safe Cooking Temperature Chart: http://www.foodsafety.gov/keep/charts/mintemp.html)
Fore more information check out the Is It Done Yet? brochure.
Food Safety Twitter Party
Join the Twitter Party to learn more about food safety!
When: June 30th at 1 PM EST
Hashtag: #FoodSafe4th
Hosts: @martieparty @buzzmommy @usdafoodsafety
This post was made possible through the support of Element Associates. All opinions are my own.
Join our newsletter!
Subscribe to get updates and great stuff via email including subscriber-only goodies like free printables and giveaways.