This low carb pumpkin cheesecake recipe was inspired by Jewel-Osco O Organics® as part of a sponsored campaign.
Growing up in the Chicago area, we had our own unique way of referring to things that was somewhat different from the actual names. I guess you would call it slang, and it was handed down from parents and grandparents. Not intentionally, we just picked up the local vernacular because it's what we heard. Even if it didn't quite match what we saw. Take Jewel-Osco for instance. It's the grocery store I grew up going to but around here it's simply known as Jewels. Or, more specifically, the Jewels.
'The Jewels'
Shopping at Jewel-Osco is an integral part of my memories of growing up. The Jewels was always a weirdly exciting place for me. I remember quite fondly the one aisle where they kept the small toys, and in the magazine section where I could read all of the teen magazines while my mom did the shopping. Yeah, those were the days.
But as I got older and started to do things for myself, I learned to value Jewel-Osco for other reasons. The quality and the variety of food, and especially their fresh produce selection. When I was first on my own and on a strict budget, their great savings were a huge help for me to be able to buy brands I trusted without breaking the bank. When I was working 60+ hours a week right out of college, being able to get everything I needed, even prescriptions, in one place, was very, very helpful. And now, as a mom who aims to feed her family only the best quality foods, their O Organics® line makes it so much easier for us to eat healthier without spending a ton of money.
O Organics
O Organics products are available exclusively at local Jewel-Osco stores and all of the Albertsons Companies family of stores which includes: Albertsons, Safeway, Jewel-Osco, Vons, Pavilions, Randalls, Tom Thumb, Shaw's, Star Market, United Express, United and Carrs/Safeway. O Organics products are USDA certified organic and they are available throughout the store in many of your favorite product categories. In fact, Jewel-Osco has more than 400 USDA-certified O Organics products and you can find them in just about every aisle of the store.
Jewel-Osco has a tradition of offering great value and that carries over into their O Organics line as well. They believe that everyone should be able to have access to great-tasting, high-quality, organic foods at affordable prices. And thanks to their great selection, you don't have to compromise on your holiday baking because O Organics has all of the products you need to make your favorite holiday treats a bit healthier this year.
Low Carb Pumpkin Cheesecake
The holidays wouldn't be complete without pumpkin. I'm pretty much ok with pumpkin being in everything this time of year, which is why I was inspired by O Organics products to make a no bake, low carb pumpkin cheesecake. It's really pretty easy to make and the O Organics products help make it delicious.
How do you make cheesecake?
In most cases, cheesecake is actually baked in the oven in springform pans in a water bath with a graham cracker crust. It is usually baked at 325° F or 350° F for around an hour. My recipe is no bake. It's delicious without it. You probably could bake it but you will really need to grease the pan first before trying to bake it.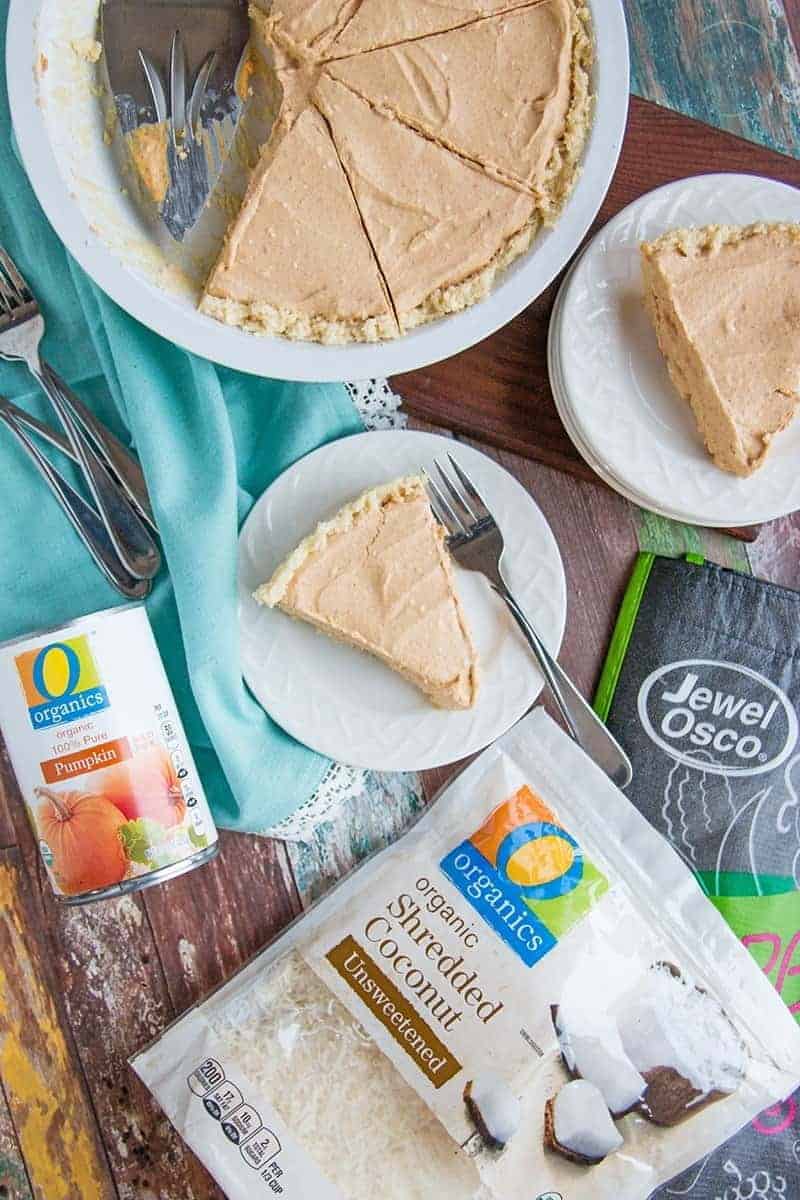 This is such an easy recipe to make, and Jewel-Osco had most of what I needed in their O Organics products. There are two main steps to this recipe, first to make the crust, then to make the filling. You then chill it overnight for best results.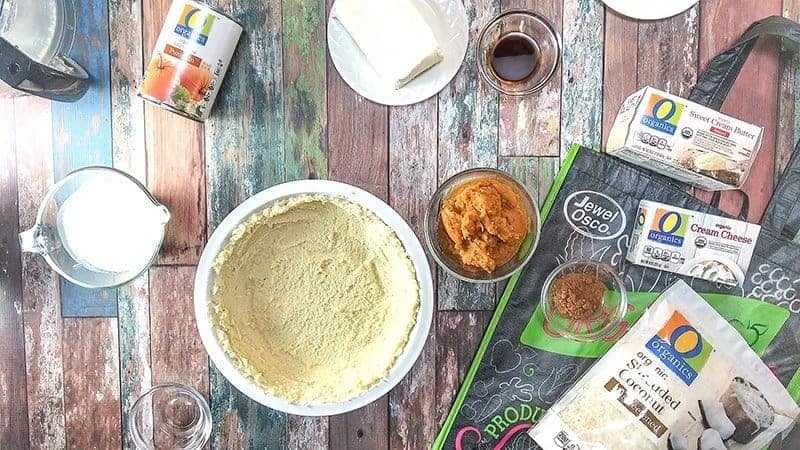 The crust is made from almond meal, butter and shredded coconut. You can add cocoa powder to the crust to darken the color but that will increase the carb count if that is important to you.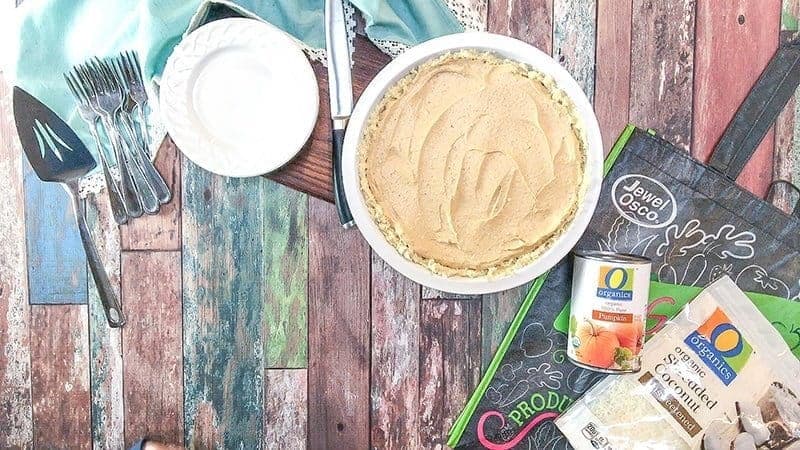 The pie filling is made with pumpkin puree, room temperature cream cheese, heavy cream, vanilla and stevia.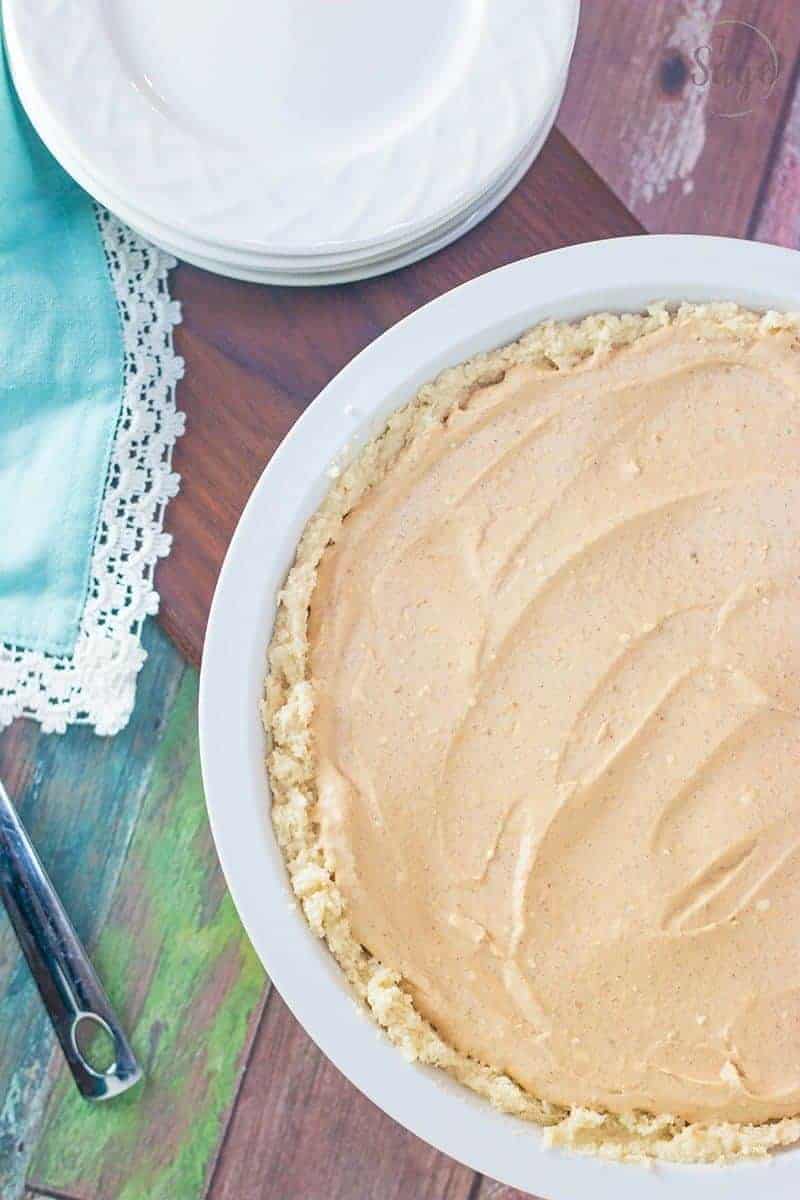 This turned out so delicious thanks to the creamy O Organics, cream cheese and 100% pure pumpkin. There was just the right amount of sweet and slightly crunchy O Organics shredded coconut in the crust too.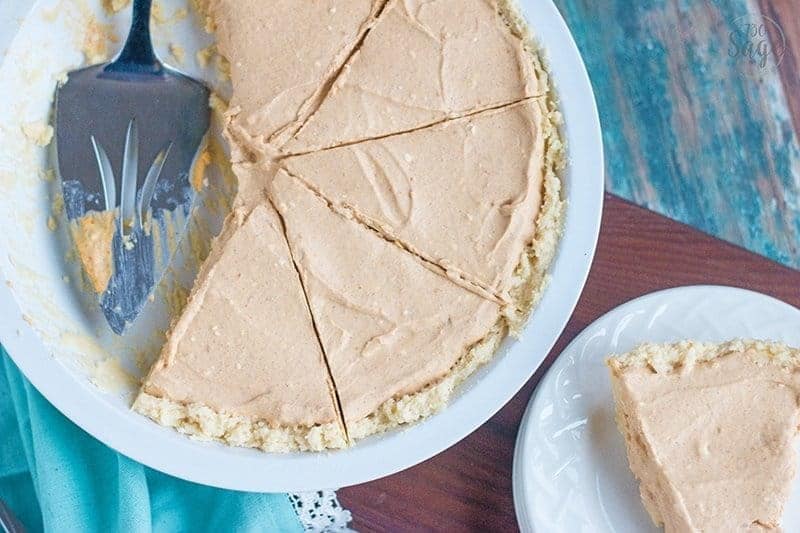 My crust stuck to the pie pan a bit so I would recommend a dusting of almond flour or a couple of sprays of coconut oil. It wasn't too terrible though if you don't bother.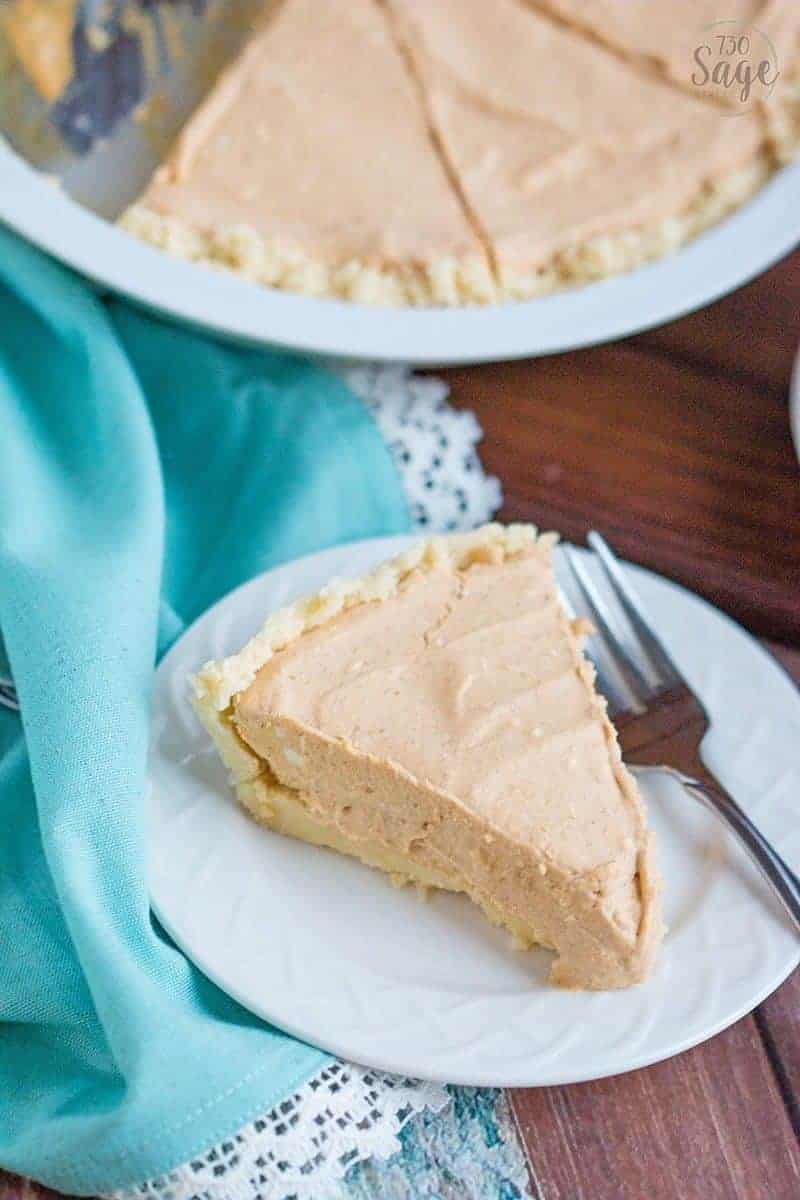 I love that I can make this for the holidays and no one will even know the difference. They will think they are indulging, and really it's a much healthier option to a holiday favorite. And with O Organics products, it contains real ingredients that you can trust.
I may have even eaten a piece for breakfast!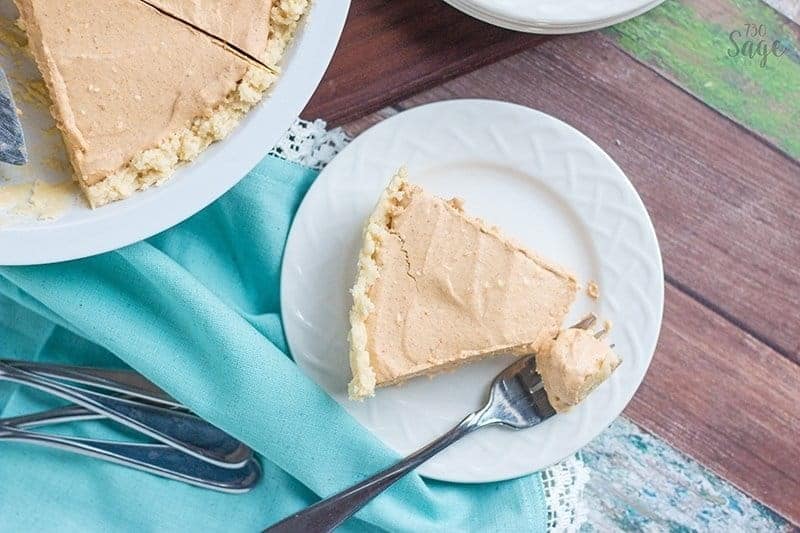 Watch the 'hands only' video below for a quick look at how to make this no bake low carb pumpkin cheesecake.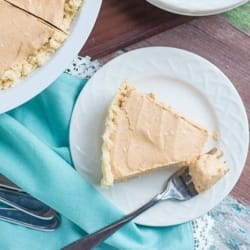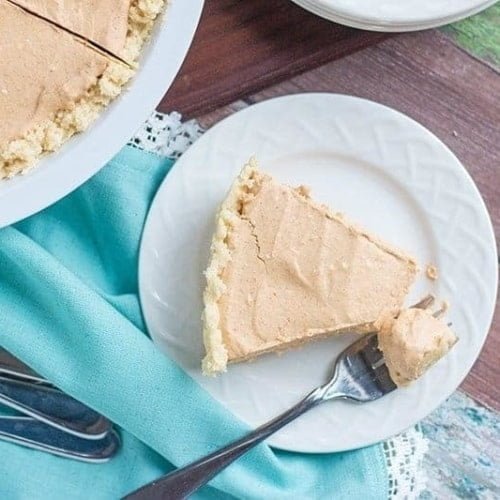 No Bake Low Carb Pumpkin Cheesecake Recipe
Print
Rate
chill overnight:
12
hours
Ingredients
For the Crust

1-1/2

cups

almond meal

1/2

cup

unsweetened O Organics Shredded Coconut

1/4

tsp

salt

8

tbsp

softened butter

For the Filling

8

oz.

softened cream cheese

1

cup

O Organics 100% Pure Pumpkin

1

cup

heavy whipping cream

1/2 to 1

tsp.

liquid stevia

I prefer the lesser amount

1

tbsp.

pumpkin pie spice

1

tsp.

vanilla extract

1

tsp

maple extract

optional
Instructions
For the Crust

Add all ingredients to a food processor

Combine until smooth

Press into a pie pan

For the Filling

Using a stand mixer, combine all of the ingredients EXCEPT the heavy cream.

Beat in heavy whipping cream until mixture is combined somewhat fluffy.

Spread into crust.

Refrigerate overnight.
Notes
You may want to dust the pie pan with almond meal or a coconut oil spray prior to pressing the crust into the pan. It stuck just a bit for me, but not too terribly.
Nutrition information shown is an estimate and is not to be assumed to be accurate. If accurate information is required for your diet or lifestyle, please calculate the nutrition yourself using a tool you trust.


Nutrition Facts
No Bake Low Carb Pumpkin Cheesecake Recipe
Amount Per Serving
Calories 397
Calories from Fat 351
% Daily Value*
Fat 39g60%
Cholesterol 102mg34%
Sodium 281mg12%
Potassium 168mg5%
Carbohydrates 8g3%
Protein 4g8%
Vitamin A 5940IU119%
Vitamin C 1.9mg2%
Calcium 87mg9%
Iron 1.4mg8%
* Percent Daily Values are based on a 2000 calorie diet.
Information shown is an estimate and is for information only. 730 Sage Street is not responsible for the factual accuracy of any nutrition information, calculations or claims.
This is a sponsored post written by me on behalf of Jewel-Osco.