This is a sponsored post written by me on behalf of Vita Bone®. All opinions are 100% mine.
Around here, our three dogs are treated like members of the family. They are allowed on the beds. They have more toys than my kids do. They are spoiled with love and affection and lead charmed lives.
Mostly.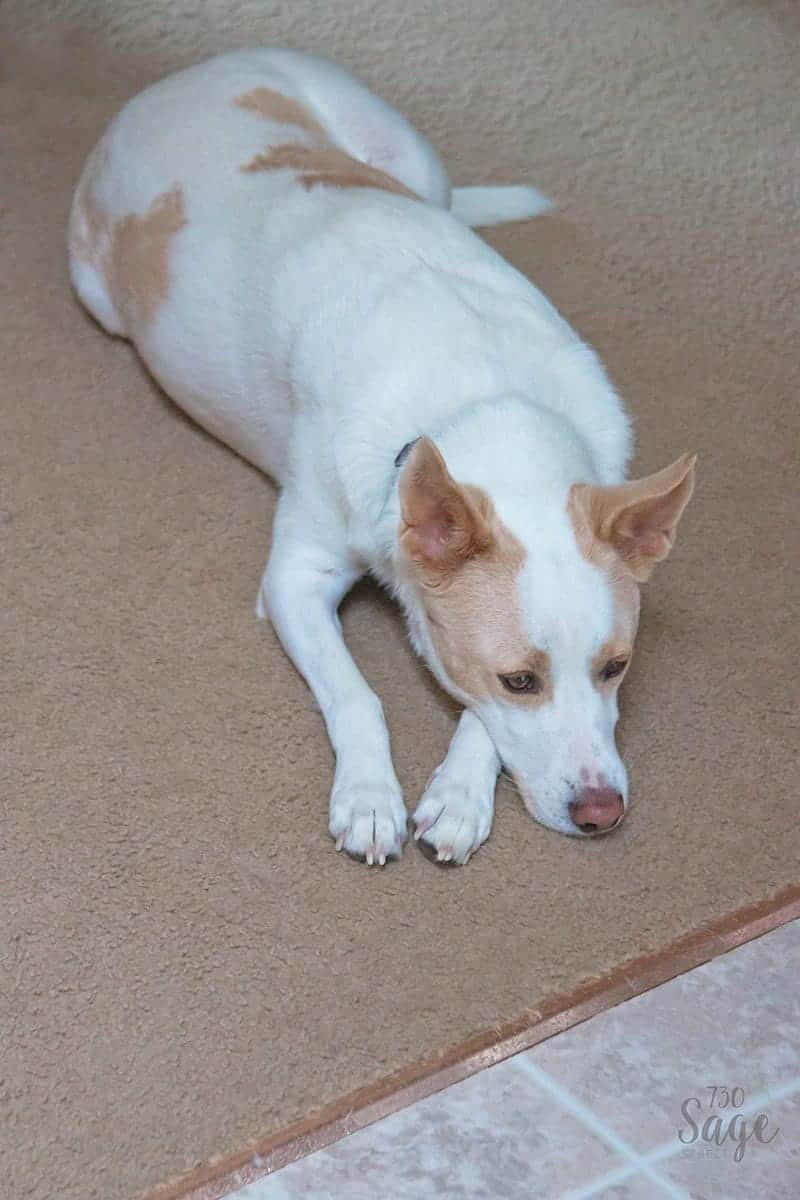 See that transition strip between the vinyl floor and the carpet?
Yeah, they are not allowed past the point when we are eating. When it comes to food around here, there is people food and dog food and they do not mix.
It is a very rare day when my dogs get any kind of people food. Not for lack of their trying, but we don't intentionally give them table scraps or leftovers. The leftovers are my lunch the next day! But also, dogs don't need people food, the food they eat has the right nutrition for a dog. Why upset that balance?
Besides, Sadie has a decidedly delicate stomach and would end up re-depositing the food on the carpet after she ate it.
Ain't nobody got time to clean up dog vomit. What's that smell?
Because of our rule about human food, we often find pathetic faces sneaking into the kitchen and staring at us when we are cooking or eating.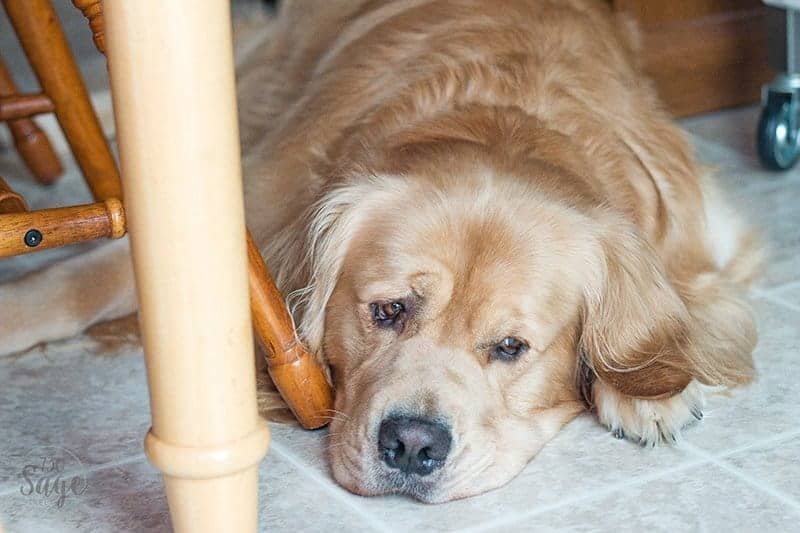 I know they are counting on an accidental drop or a child claiming an 'accidental' drop that was really them trying to sneak food to the dog. I'm sure that half of the time my kids cleaned their plates, much of the food wasn't eaten by them.
No child eats vegetables that quickly. No matter how much ice cream you have promised them.
But I'm not heartless to their desire for delicious foods. I see them sniffing the air as I cook or bake. It smells good, I can't blame them for wanting to eat it. Sometimes Sadie, who seems to have the most sensitive nose of the three, reminds me of a cartoon animal, seeming to float across the room following a delicious scent to its source. Sometimes I can even hear the noses sniffing at the air trying to pinpoint where the smell is coming from.
But again, what I view as a treat, even a human treat that is made with good ingredients, just isn't a great choice for a dog.
Lucky for my dogs there is Vita Bone® Artisan Inspired® Dog Treats.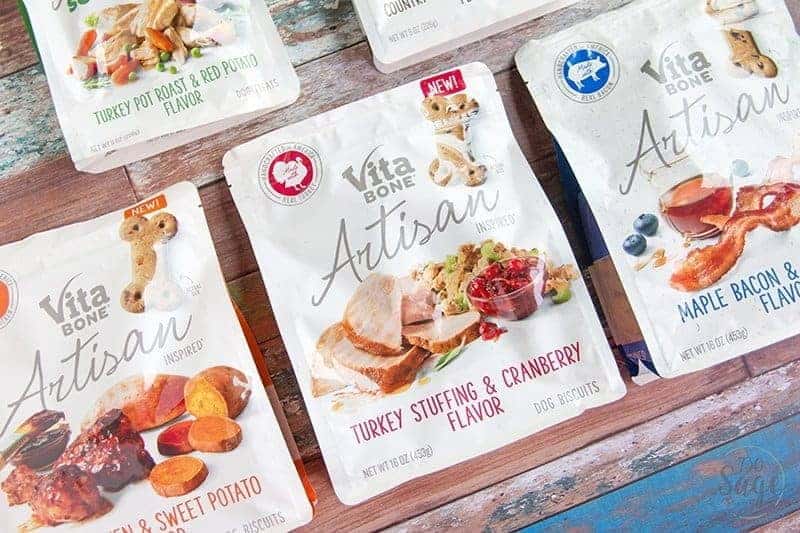 Vita Bone® Artisan Inspired® Dog Treats
Vita Bone® Artisan Inspired® Dog Treats come in kitchen-inspired flavors and are made with real meat, fruits and veggies. They don't have corn, soy, by-products or artificial flavors and are made in the USA (ingredients are sourced from the US as well) by a family owned company (since 1972). You can buy Vita Bone Artisan Inspired Dog Treats at Walmart, Walmart.com and other grocery stores across the United States.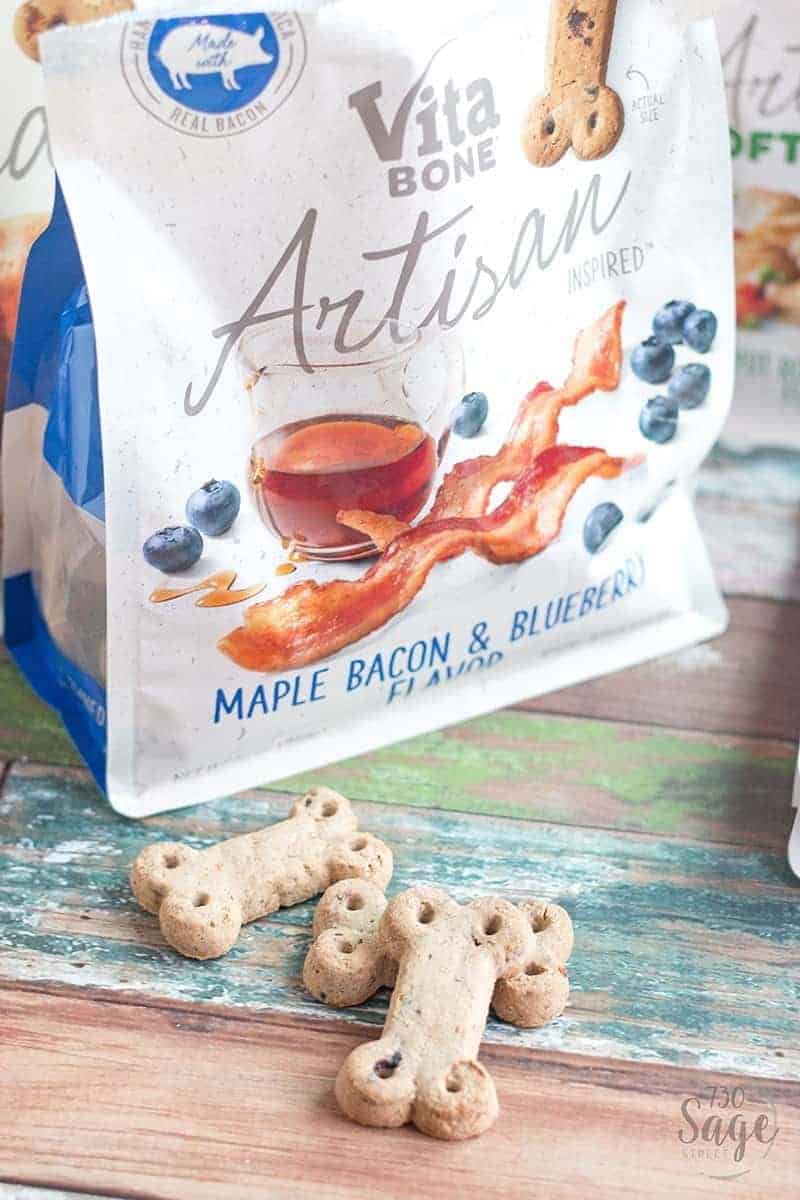 Vita Bone Artisan Inspired Dog Treats come in the following flavors:
BBQ Chicken & Sweet Potato flavor biscuits
Maple Bacon & Blueberry flavor biscuits
Turkey Stuffing & Cranberry flavor biscuits
Country Biscuits, Sausage & Gravy flavor soft treats
Turkey Pot Roast & Red Potato flavor soft treats
My dogs were all over the packages when I brought the treats in the house and when I opened them up, they really did smell good enough to eat. They smelled like the real food the flavors were inspired by!
My favorite aroma from the package was the Maple Bacon & Blueberry flavor biscuits. They smelled like breakfast! Like a warm blueberry muffin drizzled with maple syrup and a side of bacon. Yum!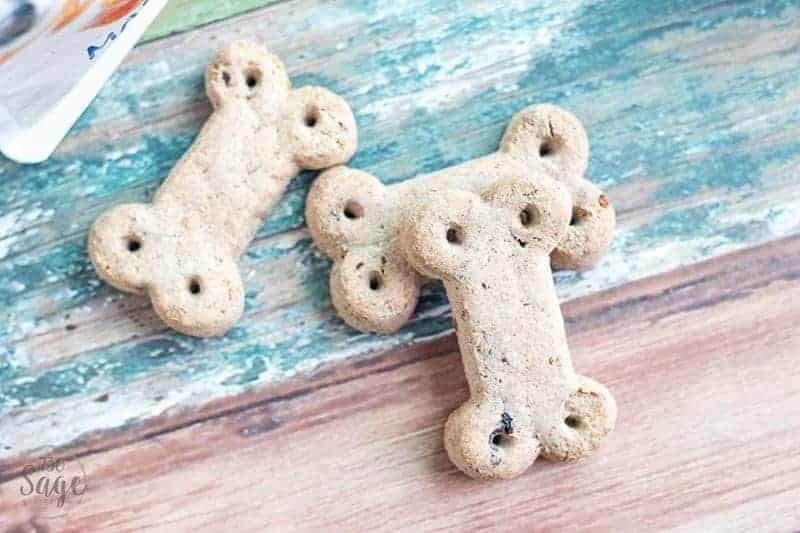 Now, as much as I was tempted, I didn't actually sample the Vita Bone biscuits. But I did let my dogs enjoy them, as I was inspired to make a treat of my own with those same flavors. I figured that way, my dogs won't feel left out because they can eat a treat designed for them that smells like what I am making. I came up with a delicious recipe, low carb maple bacon blueberry bread, inspired by Vita Bone Artisan Dog Treats.
Looks good right? It is! You will find the recipe for my low carb maple bacon blueberry bread at the end of the post.
Normally, my dogs don't get to sit at the table, but I figured I'd let Toby try it out and enjoy his treat while I enjoyed mine. He looked guilty the whole time like he knew he was doing something wrong.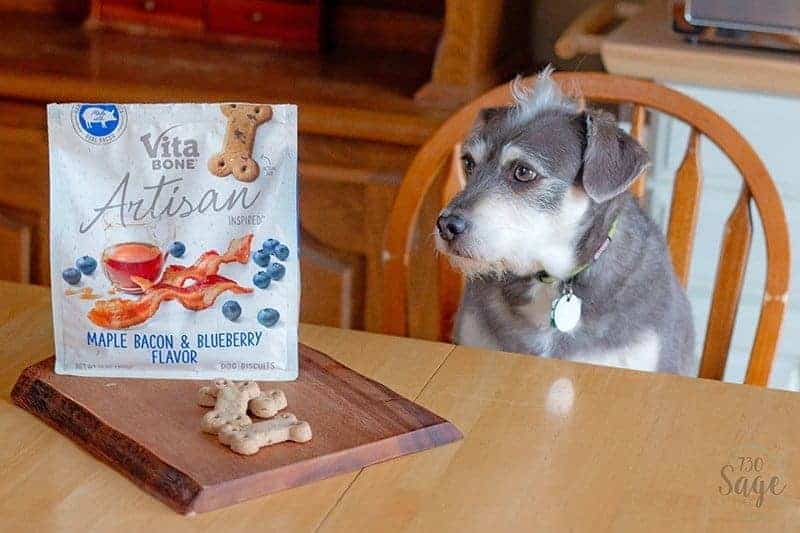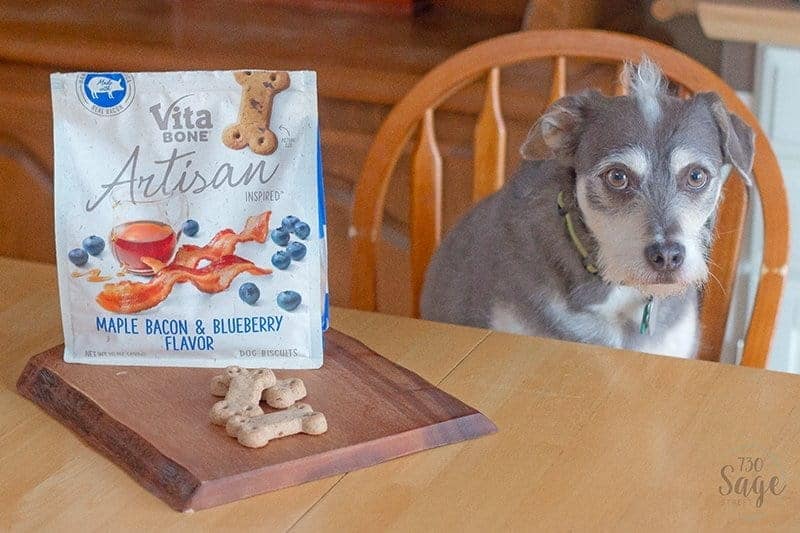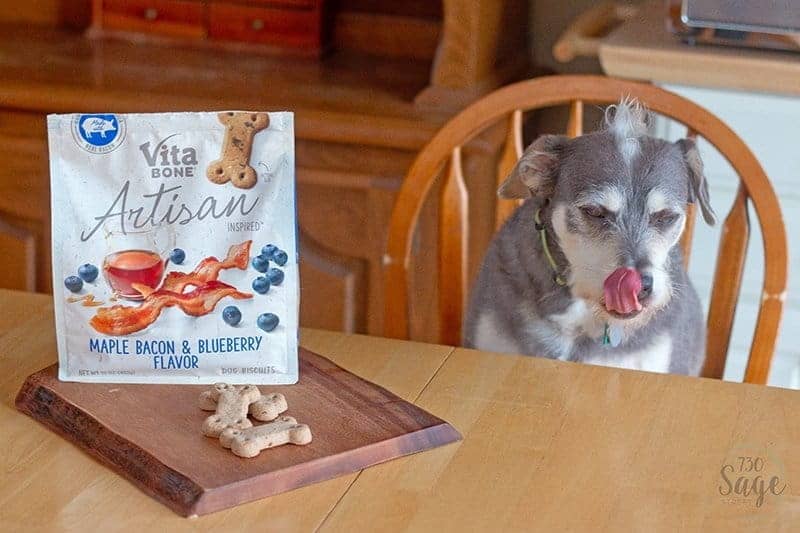 For more information about Vita Bone Artisan Inspired Dog Treats:
Low Carb Maple Bacon Blueberry Bread
Let them sniff the air as you bake this, and then toss them a Vita Bone Maple Bacon & Blueberry flavored treat!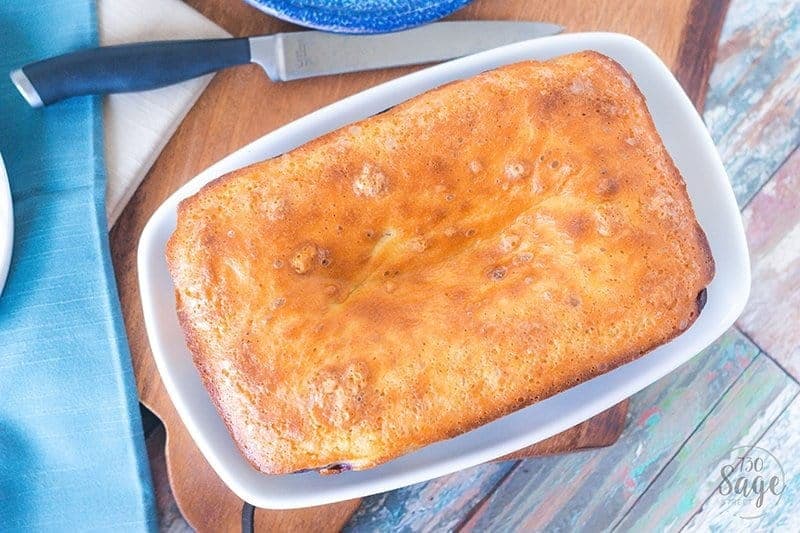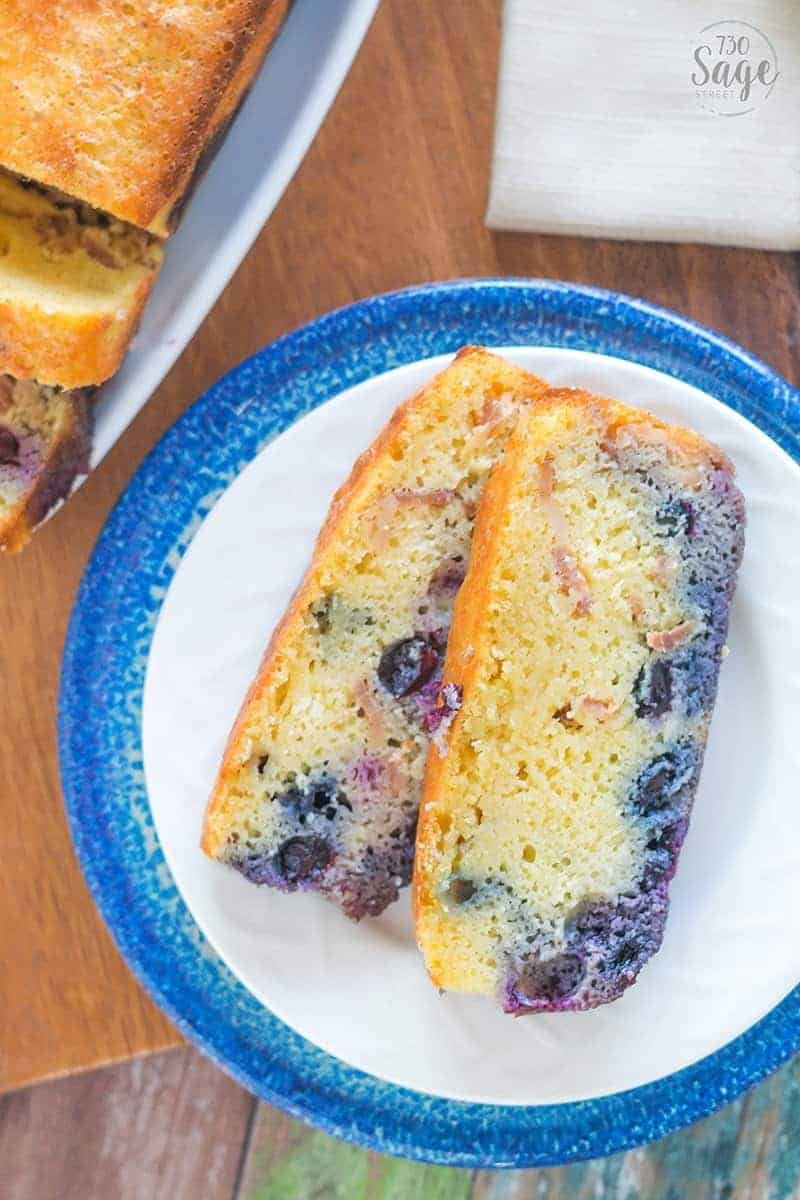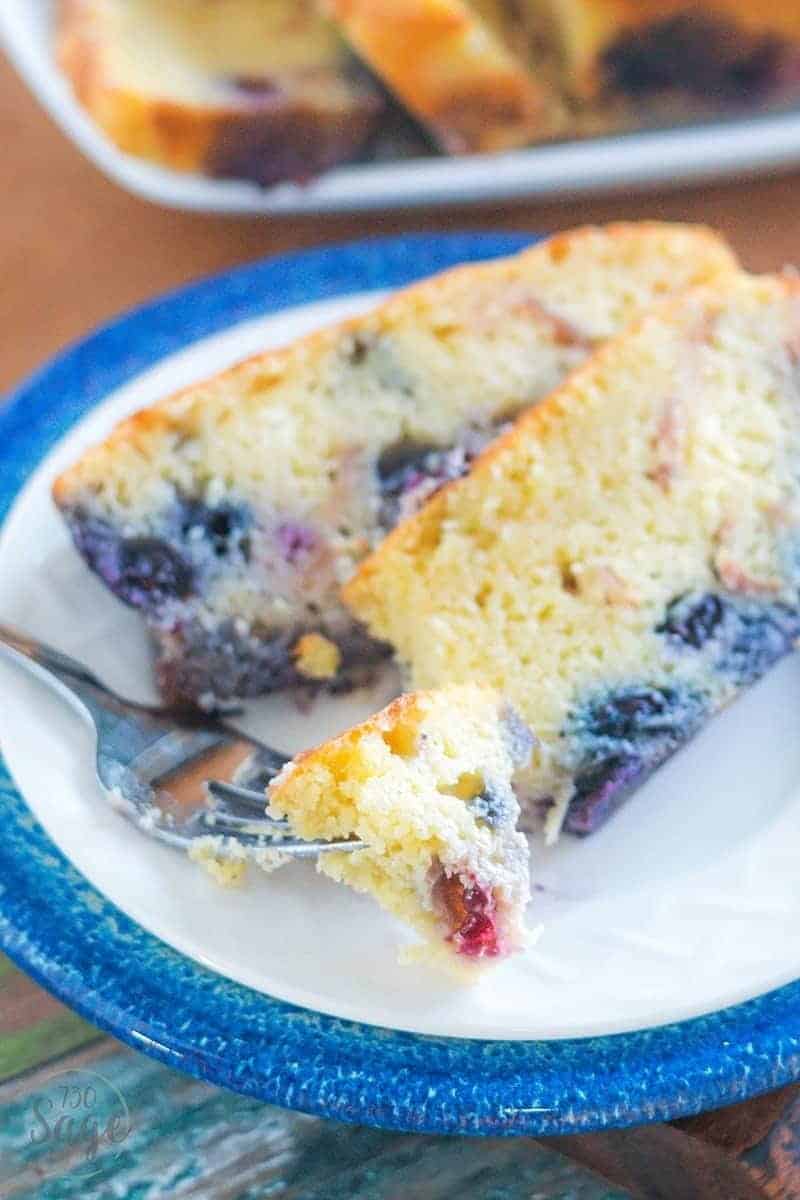 I was surprised by how good the maple flavor tasted in this low carb maple bacon blueberry bread. I didn't expect it to taste like real maple but it did. Also, the Pyure Organic All-Purpose Blend Stevia Sweetener did leave a slight after taste but I don't usually do any low carb baking so it's not a taste I am used to. I do think you could try halving the amount you use in this to 1/4 cup and I bet it still will taste so good.
Remember as you are enjoying this to treat your dog to a special treat from Vita Bone as well!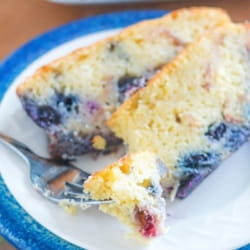 Ingredients
1-1/2

cup

almond flour

1

tbsp

baking powder

1/4

tsp

salt

2

tsp

maple extract

5

eggs

1/4

cup

butter

softened

4

oz

cream cheese

softened

3/4

cup

fresh blueberries

5

pieces

cooked

crispy bacon cut into small pieces
Instructions
Preheat oven to 350° F

With a hand mixer, beat together butter and sweetener until blended.

Add in cream cheese, eggs, and maple extract and beat until combined.

Stir in almond flour, baking powder and salt with a spoon.

Gently fold in blueberries and bacon.

Pour into a loaf pan lined with parchment paper (or greased).

Bake for 30-40 minutes.
Notes
I found that 40 minutes left my bread still a bit uncooked in the middle. Every oven is different. If the top is browned but the middle is still uncooked, you might want to cover with foil once it's browned and cook until a toothpick comes out clean.
I also didn't cook my bacon until crispy, I like it cooked but not crisp. For this recipe, I think being a bit crispy would have been better.
Note: nutrition information provided for reference only and cannot be guaranteed as accurate. Please do your own calculations.


Nutrition Facts
Low Carb Maple Bacon Blueberry Bread
Amount Per Serving (1 piece)
Calories 171
Calories from Fat 135
% Daily Value*
Fat 15g23%
Carbohydrates 4g1%
Protein 6g12%
* Percent Daily Values are based on a 2000 calorie diet.
Information shown is an estimate and is for information only. 730 Sage Street is not responsible for the factual accuracy of any nutrition information, calculations or claims.